Get Your St. Mary's Hockey Gear
The SMH Hockey Team's online store is now open!  Click on the link here to get some awesome swag!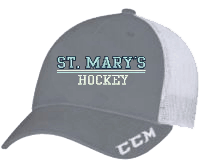 Men's Hockey captures WNY Club Small School Championship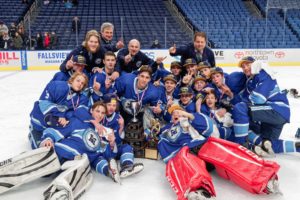 Our men's ice hockey team, after a year hiatus, has taken home the WNY Club Small School Championship this past Sunday where they faced Starpoint in the final.  After a scoreless first period, Lancers took a 2-1 lead at the end of the second with goals by Brendan Krawczyk and Lucas Prince.  Late into the third, defender Alex Bialkowski scored on an empty net, to make the final score, 3-1 Lancers.  Goaltender Kyle Karoleski took home the MVP honors with a fantastic job in net.  The Lancers are headed to Long Beach this weekend with the games added to the bottom of the schedule.  
2017-18 Varsity Hockey Schedule

Date
Time
Opponent
Home/Away
Location
Sat, 11/18
10:50 AM
Hilton
Home
Lakeshore Arena
Sat, 11/18
11:35 AM
Aquanis
Home
Lakeshore Arena
Sat, 11/18
12:55 PM
Webster
Away
Lakeshore Arena
Mon, 11/27
8:00 PM
North Tonawanda
Home
Hyde Park Ice Pavilion
Wed, 12/6
8:30 PM
Timon
Home
Cheektowaga
Mon, 12/11
6:00 PM
Niagara Falls
Away
Hyde Park Ice Pavilion
Fri, 12/15
7:45 PM
Potsdam
Away
Potsdam, NY
Sat, 12/16
1:00 PM
Canton
Away
Canton, NY
Sun, 12/17
8:00 PM
LewPort
Home
Harbor Center
Thurs, 12/21
5:30 PM
Sweet Home
Away
Northtown Center
Wed, 12/27
8:30 PM
Canisius
Home
Cheektowaga
Sat, 12/30
5:00 PM
Starpoint
Away
Hockey Outlet
Fri, 1/5
8:00 PM
IHC
Away
Malone, NY
Fri, 1/6
1:00/3:00PM
Con/Champ
Away
Malone, NY
Mon, 1/8
6:00 PM
St. Francis
Away
Harbor Center
Fri, 1/12
5:00 PM
Sweet Home
Away
Northtown Center
Sun, 1/14
6:00 PM
Lockport
Away
Harbor Center
Thurs, 1/18
5:00 PM
North Tonawanda
Home
Hyde Park Ice Pavilion
Mon, 1/22
8:00 PM
Amherst
Home
Harbor Center
Sat, 1/20
8:00 PM
Lockport (RESCHED from 12/1)
Away
Harbor Center
Thu, 1/25
8:30 PM
St. Joe's
Home
Cheektowaga
Sat, 1/27
3:30 PM
Amherst
Away
Northtown Center
Fri, 2/2
8:00 PM
LewPort
Away
Niagara University
Sat, 2/3
6:00 PM
St. Francis
Home
Holiday
Fri, 2/9
8:15 PM
Niagara Falls
Home
Hyde Park Ice Pavilion
Sat, 2/10
4:30 PM
Sweet Home
Home
Harbor Center
Sun, 2/11
TBD
Playoffs Play-In Game
TBD
TBD
Thurs, 2/15
6:45 PM
Playoffs - St. Francis
Home
Harbor Center
Mon, 2/19
6:00 PM
Semifinals
TBD
Harbor Center
Tues, 2/27
8:30 PM
Championship
TBD
KeyBank Center
Sat, 3/3
TBD
States
TBD
Coney Island Arena
2017-18 JV Hockey Schedule

Date
Time
Opponent
Home/Away
Location
Sat, 11/18
1:40 PM
St. Joe's White
Away
Brighton Arena
Fri, 11/24
9:00 PM
West Seneca West
Home
Cheektowaga
Sun, 11/26
7:20 PM
Frontier A
Home
Cheektowaga
Tues, 11/28
9:00 PM
West Seneca West
Away
Cazenovia
Sun, 12/3
7:45 PM
St. Francis Red
Away
Leisure Rinks
Fri, 12/8
9:00 PM
Bishop Timon/ St. Jude
Home
Cheektowaga
Sun, 12/10
7:00 AM
Grand Island
Away
Hyde Park
Fri, 12/15
9:00 PM
St. Joe's White
Home
Cheektowaga
Fri, 12/22
8:00 AM
Orchard Park- XMas Tournament
Home
Northtown Center
Fri, 12/22
9:00 PM
Grand Island
Home
Cheektowaga
Tue, 12/26
10:30 AM
Grand Island- XMas Tournament
 
Northtown Center
Wed, 12/27
12:00 PM
Bishop Timon/ St. Jude- XMas Tournament
 
Northtown Center
Thurs/Fri, 12/28-12/29
TBD
TBD SemiFinals- XMas Tournament
 
Northtown Center
Fri, 12/29
9:00 PM
St. Francis Red
Home
Cheektowaga
Fri. 1/5
5:45 PM
Canisus
Away
Liesure Rinks
Fri, 1/12
9:00 PM
Orchard Park A
Home
Cheektowaga
Sun, 1/14
4:00 PM
Frontier A
Away
Depew
Mon, 1/15
1:30 PM
Canisus
Home
Cheektowaga
Wed, 1/17
6:30 PM
Orchard Park A
Away
Depew
Sun, 1/21
2:30 PM
Bishop Timon/ St. Jude
Away
Rvierside
Fri, 2/2
7:00 PM
Grand Island
Away
Hyde Park
Fri, 2/9
9:00 PM
West Seneca West
Home
Cheektowaga
Roster
| | | | |
| --- | --- | --- | --- |
| # | First Name | Last Name | Grade |
| 1 | Cameron | Ruggerio | 12 |
| 2 | Michael | Walter | 10 |
| 4 | Joseph | Henry | 11 |
| 5 | Chris | Henry | 11 |
| 6 | Nickolas | Walter | 12 |
| 7 | Benjamin | Kosianski | 12 |
| 8 | Brent | Casillo | 10 |
| 9 | Ciaran | Hall | 9 |
| 10 | Caleb | Mangan | 10 |
| 11 | Michael | Chirico | 11 |
| 12 | Daniel | Pfalzer | 11 |
| 13 | Alex | Bialkowski | 11 |
| 14 | Jim | Richter | 9 |
| 15 | Conor | Dunne | 11 |
| 16 | Brendan | Krawczyk | 11 |
| 17 | Lucas | Prince | 12 |
| 18 | Robert | Stoklosa | 10 |
| 19 | Zachary | Micholas | 11 |
| 20 | Kyle | Young | 9 |
| 21 | Samuel | Dantonio | 10 |
| 22 | John | Galvin | 11 |
| 30 | Kyle | Karoleski | 10 |