Payne Named to All-Fed Team
Senior Connor Payne was named to the Section VI All-Fed Team! Way to go, Connor!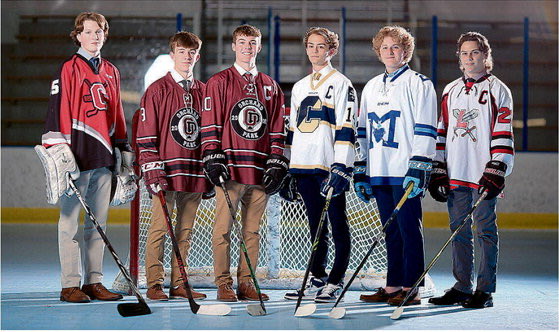 Lancers Bring Home Monsignor Martin Cup
St. Mary's has three men's hockey teams - that's right, three whole teams! 
The Men's Federation Hockey Team competes against the best schools in Western New York, including other private Catholic high schools and public schools. The team finished the season with a 12-3-1 overall record, beating the likes of St. Joe's, Lancaster, Canisius, and Amherst. 
The team clinched the Monsignor Martin League Cup for the first time in school history with a thrilling 6-5 overtime victory against Nichols on February 6th. 
Unfortunately, their quest for a second Niagara Cup fell just short, as the team lost to a tough St. Francis team 1-0 in the semifinals at HarborCenter.
The Varsity Blue and White Hockey Teams also had great years, finishing with wins and playing time for a lot of young men who love the game of hockey.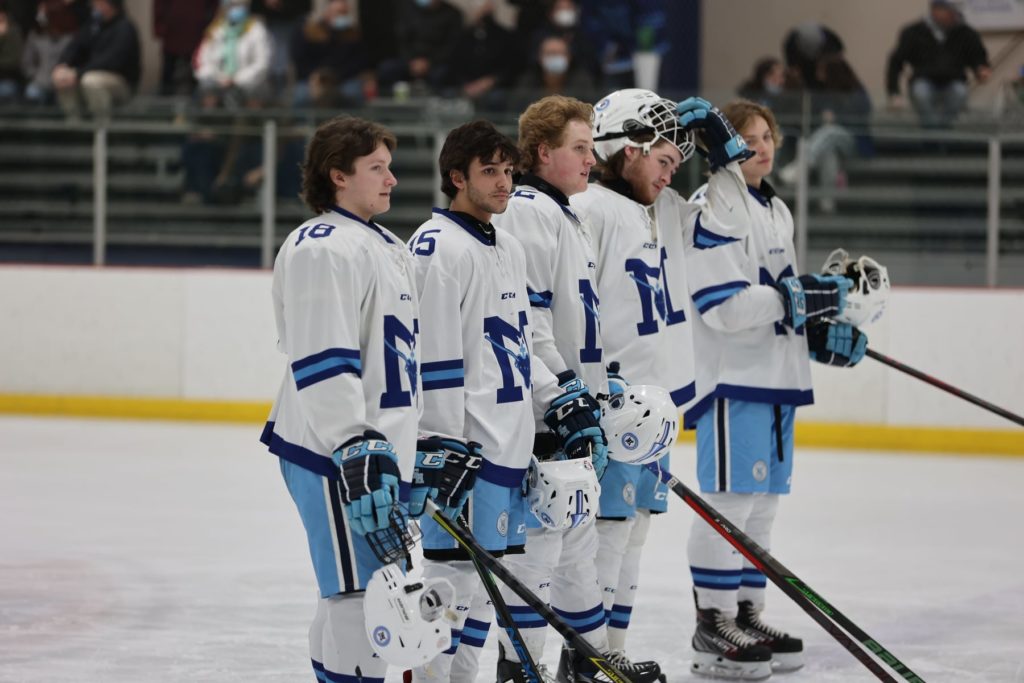 Lancers Named to All-Division Team
Senior captain defenseman Sam Dantonio was named First Team All-Division I for Men's Federation Hockey. He is joined by six other Lancers who were named to the Honorable Mention Team. They are seniors Zander Miller, Devin Golovin, and Noah Winiarski; juniors Kyle Young and Connor Cwiklinski; and sophomore Nick Reif.
Congrats boys!
Lancers Featured in NY Hockey Journal
Take a look at this awesome article in the New York Hockey Journal featuring our State-Champion Federation Hockey Team and their rise to the top! Looking good, Coach Mark Dantonio and soon-to-be Xavier Musketeer and team captain, Sam Dantonio!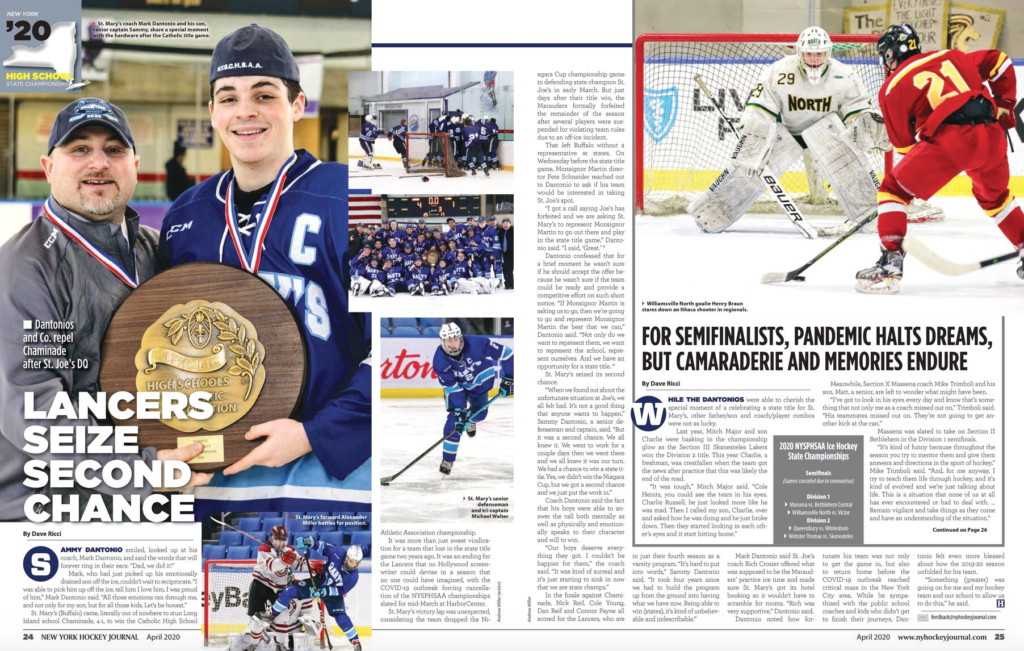 St. Mary's Hockey Wins 2020 State Catholic Championship
Just a week ago, St. Mary's Men's Federation Hockey Team thought their season came to an end. Today? They're State Champions. Take a read from The Buffalo News:
Days removed from thinking its  season was over, the St. Mary's boys hockey team won the state Catholic High School Athletic Association championship with a 4-1 victory against Chaminade on Saturday in Brooklyn.

St. Mary's lost to St. Joe's in the Niagara Cup final last Sunday, but St. Joe's forfeited the remainder of its season on Wednesday after an internal investigation revealed several players violated the school's code of conduct during a recent off-campus incident.

St. Mary's (13-8-3) stepped in and now brings the state title back to Western New York in its first state finals appearance since 2018.

The Lancers trailed, 1-0, after the first period but scored twice in the second to take the 2-1 advantage on goals by Nicholas Reif and Cole Young. Young's score came with less than six minutes remaining in the period.

St. Mary's scored halfway through the third period for a 3-1 lead on a goal by Daniel Reif.

Connor Payne capped the scoring with an empty-netter with less than two minutes left.
Four Years as a Program, Four Years in the Finals
St. Mary's Federation Hockey Team defeated Canisius in the semifinals 4-2 to move on to the championship against St. Joe's.
This is the 4th year in a row St. Mary's has found itself in the championship hockey game.
WNY Federation Hockey Announces All-Stars
The post-season accolades continue to roll in for the Federation Champion Lancer Hockey Team.  Seven Lancers were named to the Division Three All-Star Team. Check it out: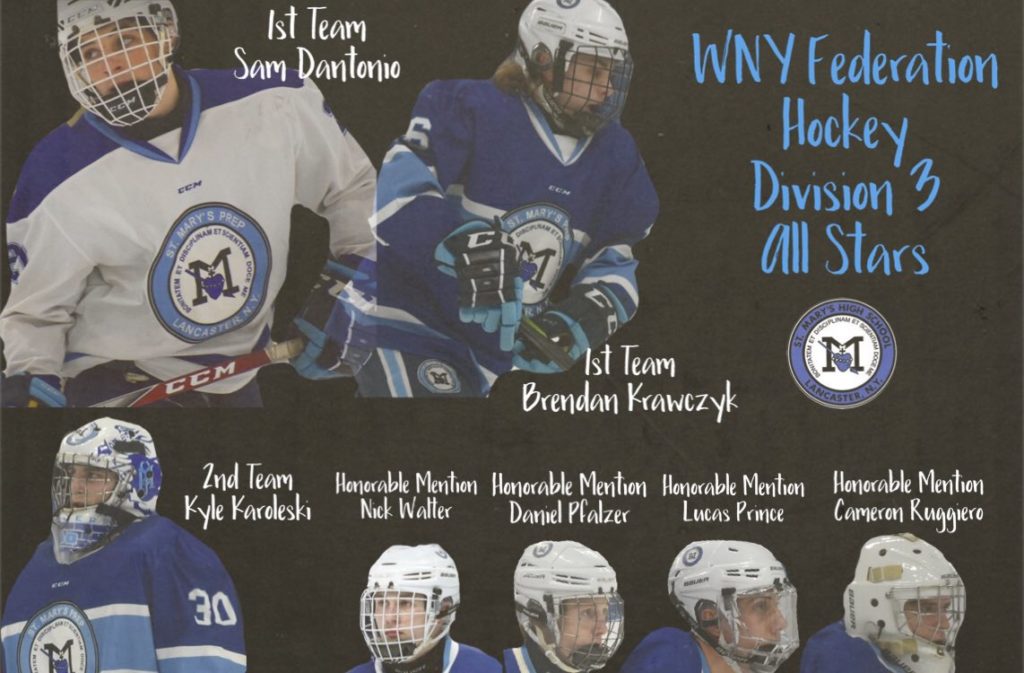 3 Players and Coach Dantonio Named to All-Bee Team
We have some more postseason accolades for the Federation Champion Hockey Team to share! The Bee Newspapers named their All-Bee Hockey Team, naming 18 players to 3 teams. St. Mary's is very well represented, with goalie Kyle Karoleski on the First Team, forward Brendan Krawczyk named to the Second Team, and defenseman Sam Dantonio named to the Honorable Mention Team. Oh, and special shout out to Coach Dantonio on being named the Bee's Coach of the Year in WNY! Well deserved!
You can check out the full article from the Bee here.
Men's Hockey Sends 3 Players and Coach to Bowman Cup
Postseason accolades are starting to roll in for St. Mary's winter sports teams.  St. Mary's Federation Champion Hockey Team will send three players to the Bowman Cup along with Head Coach, Mark Dantonio.  Juniors Kyle Karoleski and Brendan Krawczyk will join senior Lucas Prince on the team.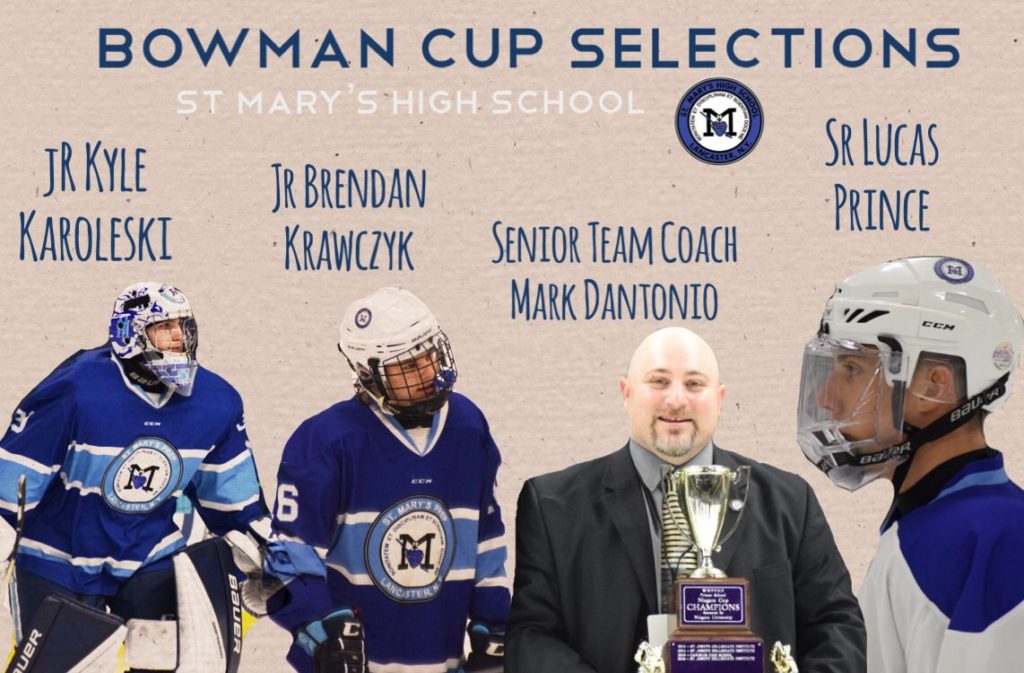 Men's Hockey Brings Home the Niagara Cup
In its first season in the Federation, St. Mary's men's hockey won the whole thing!  The St. Mary's Federation Hockey Team brought home the championship against St. Joe's at the conclusion of the team's first year in the highly competitive league.  St. Mary's took down all of the powerhouses on their way to the championship, defeating St. Francis, Canisius, and finally St. Joe's in consecutive games.  In the championship, Joe Henry scored with just 95 seconds left, giving St. Mary's a one goal lead and stunning the two-time defending state Catholic champions, St. Joe's.
Henry's tally came seconds after junior goaltender Kyle Karoleski made a sprawling blocker save to deny a 2-on-none break by the Marauders.  "It means everything," Lancers coach Mark Dantonio said. "It's almost Hoosiers-esque. These kids are that special and nobody gave them the benefit of the doubt other than the guys in that room."  Coach Dantonio has brought this program a long way since the 2014-15 season, building it up quite literally from square one.
The Lancers will now face St. Anthony's (L.I.) for the New York State Catholic High Schools Athletic Association championship on Saturday.  Good luck, Lancers!
Quote taken from The Buffalo News

Men's Hockey Takes Down Canisius in Fed Semis
The Lancers shut out No. 1 seed Canisius 4-0 in the semifinals of the Niagara Cup, earning them a match up against St. Joe's in the championship game on Monday night (2/26) at 8:30 p.m. at Key Bank Center.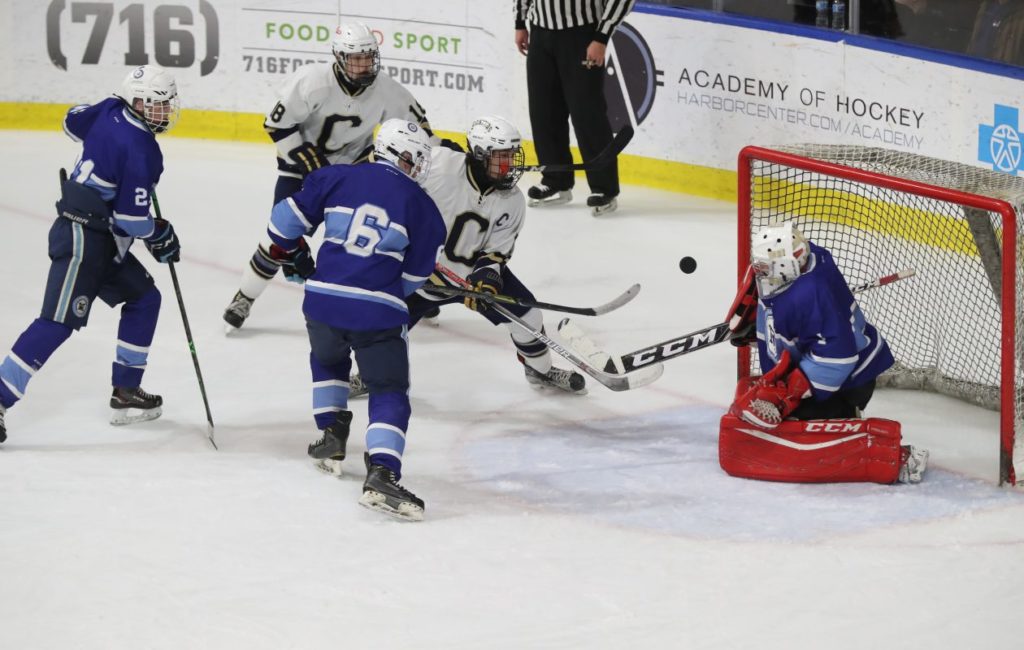 Photo courtesy of The Buffalo News
For more on this story, let's hear from Miguel Rodriguez from The Buffalo News, featuring our Lancer hockey team and their historic run to the Niagara Cup final:
Daniel Pfalzer scored two goals, while senior goalie Cameron Ruggerio stopped all 36 shots he faced in securing the Lancers' spot in the 8:30 p.m. championship game next Monday at KeyBank Center.

"It's a dream come true," said Pfalzer. "First year in the Fed, we're in the finals. We're the underdogs. We're not supposed to be in the final."

The Lancers, who dropped hockey after the 2014-15 season and returned to the ice as a club team last year – winning a championship at Super Sunday along the way.

"That was a great hockey league and that prepared us for here," Lancers coach Mark Dantonio said of St. Mary's brief time in the Western New York Club League. "I told the boys. This is history in the making. Two years ago we didn't even have a hockey team. We sat idle. We got a bunch of kids to come together and believe in what we're preaching."

That they are, as the Lancers (16-5-1) capitalized on their chances while denying Canisius (14-7-3) on its opportunities -- getting outshot 36-17.

Ruggerio tracked pucks through traffic and simply playing big. The Crusaders held a 15-3 edge in shots after the opening period. The Lancers fired the first two shots of the second period. Brendan Krawcyzk's found the back of the net as he scored off a goal-mouth scramble just 53 seconds into the frame.

It stayed that way for a while because of Ruggerio. The 5-foot-8 senior's biggest save came with 7 minutes, 7 seconds left when he denied Cole Beiter's breakaway chance with the rebound chance trickling toward an open net yet somehow staying out long enough for Ruggerio to reach back and freeze it.

"I just tried to be quick side to side," Ruggerio said. "After it went off my pad, if my defense wasn't able to get a stick on it, it would've headed straight into the net."

"He stood on his toes on that one," Pfalzer said.

Twenty seconds later, Pfalzer's wrist shot from the right dot off a rush snuck through the arm and body of the Canisius goalie to make it 2-0. The Lancers made it 3-0 off a 3-on-2 with 5:15 left as Robert Stoklosa received a pass of a give and go from Brent Casillo but instead of skating behind the net, quickly moved to the front and stuffed in a backhand shot.

Pfalzer's empty-net  goal with 59 seconds left capped the Lancers' first win against Canisius. It prevented the Crusaders (14-7-3) from reaching their fourth straight final.

"They believe in each other," Dantonio said. "I can't say enough about our kids."
Let's go Lancers! 
JV Hockey with Championship Run in Holiday Tourney
St. Mary's JV Hockey Team had quite the run over the holiday break, finishing second to Grand Island in a holiday tournament.  Freshmen Jim Richter and Kyle Young were named to the all-tournament team.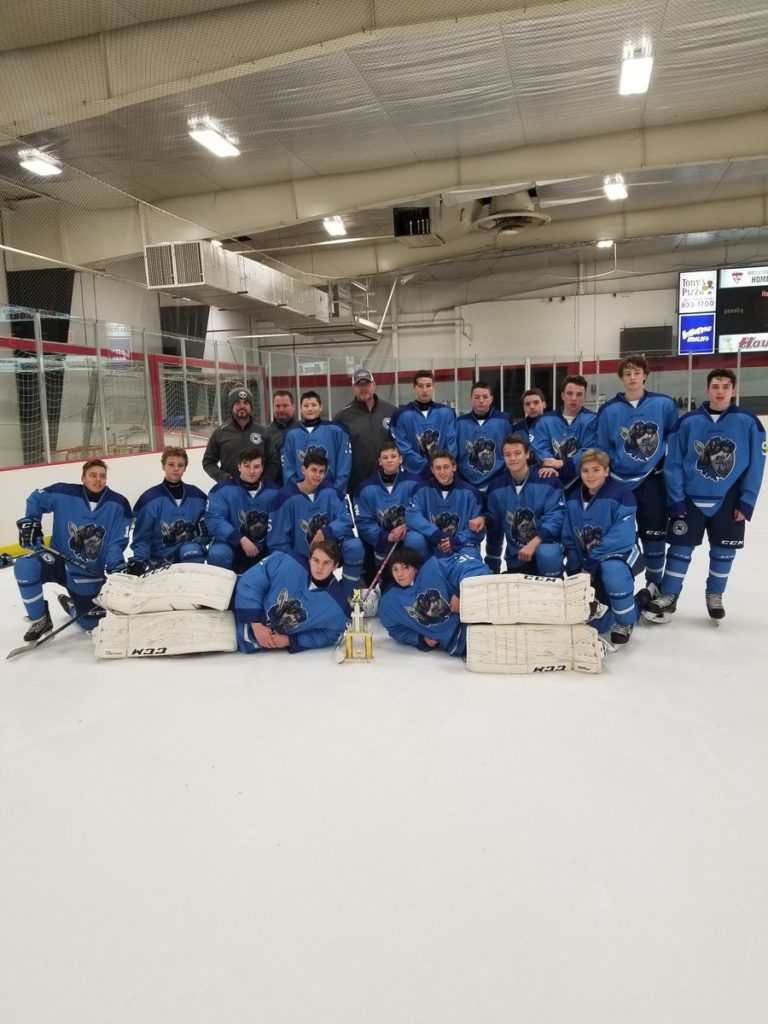 Lancers Get Wins in Three in a Row
St. Mary's took down Potsdam 3-1.  Junior Joe Henry had the goal to ice the game in the third.
The Lancers also defeated Canton on short rest, 4-1.  Junior Mike Chirico had two goals, including the game winner. 
The Lancers capped off the week with a 4-1 victory over Lewport.  Zach Micholas gets the game winner in this one.
St. Mary's Gets First Win in the Fed
St. Mary's beat North Tonawanda 4-3 to mark its first fed win.  Juniors Daniel Pfalzer, Brendan Krawczyk, Joe Henry, and senior Lucas Prince all tallied goals for the Lancers in the victory.
Lancers Hockey Start Season with Something to Prove
Video courtesy of "Icing the Fed"
JV Hockey Starts Season with a W
St. Mary's beat St. Joe's 3-0 to start the season off on the right foot!  Way to go, Lancers!