Girls Hockey Schedule
| | | | |
| --- | --- | --- | --- |
| Date | Location | Home | Away |
| 11/27/2023 Mon 4:00 PM | Cheektowaga Town Park, Ice Hockey Rink | St. Mary's High School | West Seneca West High School |
| 11/30/2023 Thu 4:40 PM | North Buffalo Ice Rink, Ice Rink | Monsignor Martin High School Athletic Association | St. Mary's High School |
| 12/4/2023 Mon 4:00 PM | Cheektowaga Town Park, Ice Hockey Rink | St. Mary's High School | Williamsville East High School |
| 12/5/2023 Tue 5:05 PM | Niagara University, Dwyer Arena | Starpoint Central High School | St. Mary's High School |
| 12/7/2023 Thu 4:30 PM | Hamburg Town Ice Arena, Ice Rink | Frontier Senior High School | St. Mary's High School |
| 12/11/2023 Mon 4:00 PM | Cheektowaga Town Park, Ice Hockey Rink | St. Mary's High School | Kenmore West High School |
| 12/12/2023 Tue 4:15 PM | Holiday Twin Rinks, Rink 1 | Lancaster High School | St. Mary's High School, Iroquois Central High School, Depew High School, Alden Central School |
| 12/18/2023 Mon 4:00 PM | Cheektowaga Town Park, Ice Hockey Rink | St. Mary's High School | Starpoint Central High School |
| 12/20/2023 Wed 7:00 PM | Cheektowaga Town Park, Ice Hockey Rink | St. Mary's High School | Webster-Schroeder High School |
| 12/21/2023 Thu 8:40 PM | West Seneca Ice Rink, Ice Rink | West Seneca West High School | St. Mary's High School |
| 1/4/2024 Thu 4:30 PM | Northtown Center, Feature Rink | Williamsville East High School | St. Mary's High School |
| 1/8/2024 Mon 4:00 PM | Cheektowaga Town Park, Ice Hockey Rink | St. Mary's High School | Lancaster High School, Iroquois Central High School, Depew High School, Alden Central School |
| 1/11/2024 Thu 4:30 PM | Northtown Center, Feature Rink | Amherst Central High School | St. Mary's High School, Sweet Home High School, Clarence High School |
| 1/22/2024 Mon 4:00 PM | Cheektowaga Town Park, Ice Hockey Rink | St. Mary's High School | Monsignor Martin High School Athletic Association |
| 1/23/2024 Tue 7:30 PM | Brighton Park, Rink | Kenmore West High School | St. Mary's High School |
| 1/29/2024 Mon 4:00 PM | Cheektowaga Town Park, Ice Hockey Rink | St. Mary's High School | Amherst Central High School, Sweet Home High School, Clarence High School |
| 1/31/2024 Wed 8:00 PM | Cheektowaga Town Park, Ice Hockey Rink | St. Mary's High School | Frontier Senior High School |
Women's Hockey Gets First Win!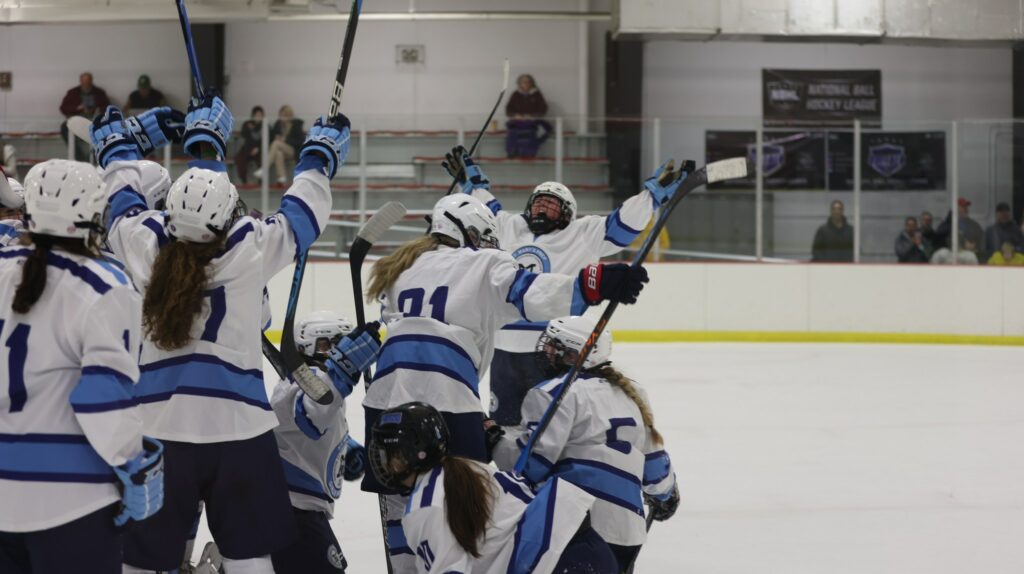 The St. Mary's Women's Hockey Team started off the season with a thrilling OT victory to mark their first official win in program history.
Congratulations to all of the players and the coaching staff!
St. Mary's High School Announces Girls Hockey Program
Lancaster, NY – St. Mary's High School in Lancaster, NY, through their athletic department, will be adding a girls hockey team to their interscholastic sports offerings.
St. Mary's High School is thrilled to welcome a girls team to the St. Mary's hockey family. St. Mary's currently has three boys teams participating at the WNY Federation and Club levels. The boys program has been to the state finals two of the last three years and is led by Director of Hockey, Mark Dantonio.  Dantonio will be instrumental in the development of this girls hockey program.
Local girls hockey participation numbers continue to grow, and there are several current female students at St. Mary's who also play hockey for outside club and travel teams. These factors formed the perfect landscape for St. Mary's to build their own women's team, which will be immediately competitive within WNY girls hockey. St. Mary's will participate in the WNY Girls Varsity Ice Hockey Federation.
"As a premier co-ed private school, it is important for us to be a leader when it comes to gender equality in all facets of our school community," said Kevin Kelleher, St. Mary's Head of School. "When there is a legitimate interest from our girls in a sport that isn't currently offered and the numbers are there, we have a responsibility to provide these types of opportunities for our students.  The right decision, here, is to form our own girls hockey program.  As with all of our students and student athletes at St. Mary's, there will be a tremendous amount of responsibility on these pioneering young ladies, as they will be expected to be leaders in the classroom, in the community, and in this case, at the rinks around WNY," Kelleher concluded.