Summer Workouts Announced
Looking to get ahead of the game this summer? Select teams will be hosting informal, voluntary workouts to help our student athletes get in shape this summer.
Cross Country – Meet at Como Park, in Lancaster, NY (Casino Building) starting Wednesday, July 6, 2022 at 6:00 pm and the every Wednesday thereafter at 6:00 pm. Sessions will last approximately one and a half hours. Contact Coach Charlie Planz with any questions at (631) 786-4668
Football – The weight-room will be open (Monday through Thursday 10am-Noon).  You can come in and complete your workout and conditioning anytime in that two-hour window.  St. Mary's Football requires that you attend at LEAST 2 days a week to build up strength and endurance for the upcoming season.  We will have coaches on site to make sure everyone is getting the proper lifting and running techniques and workouts will be geared to the athlete from beginner to our senior athletes.  There will be a Captain's Practice on Fridays from 10-Noon.  Our athletes will go over skills and play install on these days great for a refresher and for those new to the program.  For those athletes that will have difficulty making the morning workouts the weight-room will be open on Monday and Thursday at 7PM.
Major Athletics Awards Announced
After a two-year hiatus, St. Mary's held an Athletics Banquet at the end of the school year to honor student athletes on teams spread throughout all seasons. Coaches were on hand to present awards for individual teams, such as Coaches' Awards, Most Valuable Players, Most Improved Players, and more.
As tradition at St. Mary's, major awards were also presented to the senior class whose names will forever be enshrined on plaques that adorn the hallways of the St. Mary's Athletic Center.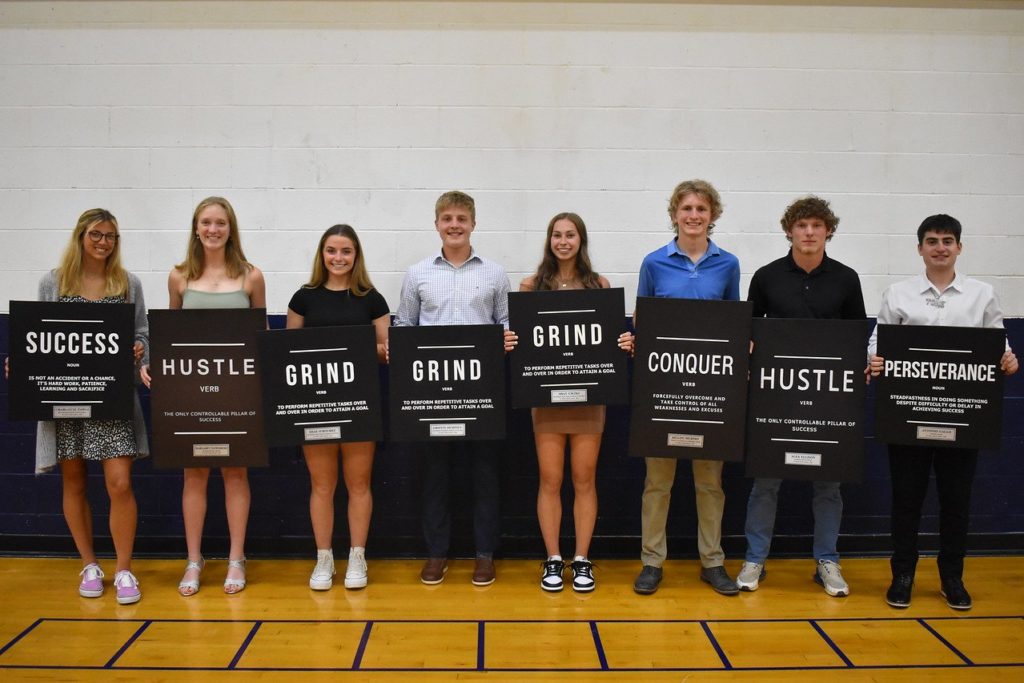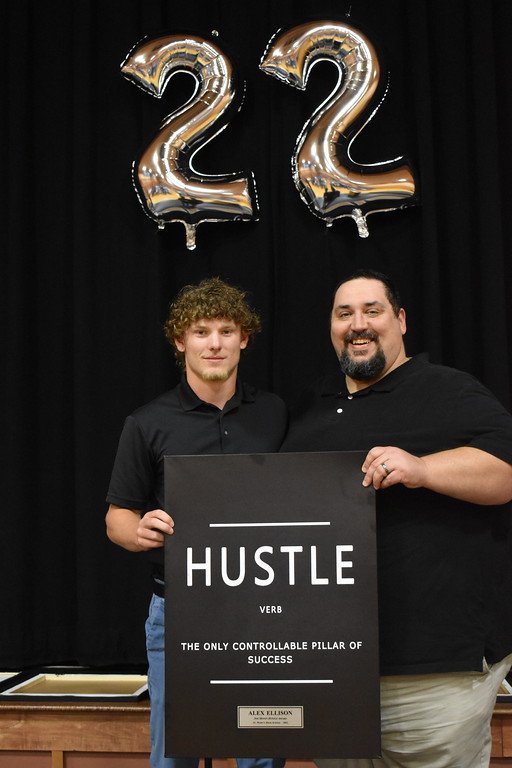 St. Mary's Announces Formation of Girls Hockey Program
Lancaster, NY – St. Mary's High School in Lancaster, NY, through their athletic department, will be adding a girls hockey team to their interscholastic sports offerings.
St. Mary's High School is thrilled to welcome a girls team to the St. Mary's hockey family. St. Mary's currently has three boys teams participating at the WNY Federation and Club levels. The boys program has been to the state finals two of the last three years and is led by Director of Hockey, Mark Dantonio. Dantonio will be instrumental in the development of this girls hockey program.
Local girls hockey participation numbers continue to grow, and there are several current female students at St. Mary's who also play hockey for outside club and travel teams. These factors formed the perfect landscape for St. Mary's to build their own women's team, which will be immediately competitive within WNY girls hockey. St. Mary's will participate in the WNY Girls Varsity Ice Hockey Federation.
"As a premier co-ed private school, it is important for us to be a leader when it comes to gender equality in all facets of our school community," said Kevin Kelleher, St. Mary's Head of School. "When there is a legitimate interest from our girls in a sport that isn't currently offered and the numbers are there, we have a responsibility to provide these types of opportunities for our students. The right decision, here, is to form our own girls hockey program. As with all of our students and student athletes at St. Mary's, there will be a tremendous amount of responsibility on these pioneering young ladies, as they will be expected to be leaders in the classroom, in the community, and in this case, at the rinks around WNY," Kelleher concluded.
St. Mary's Names New Athletic Director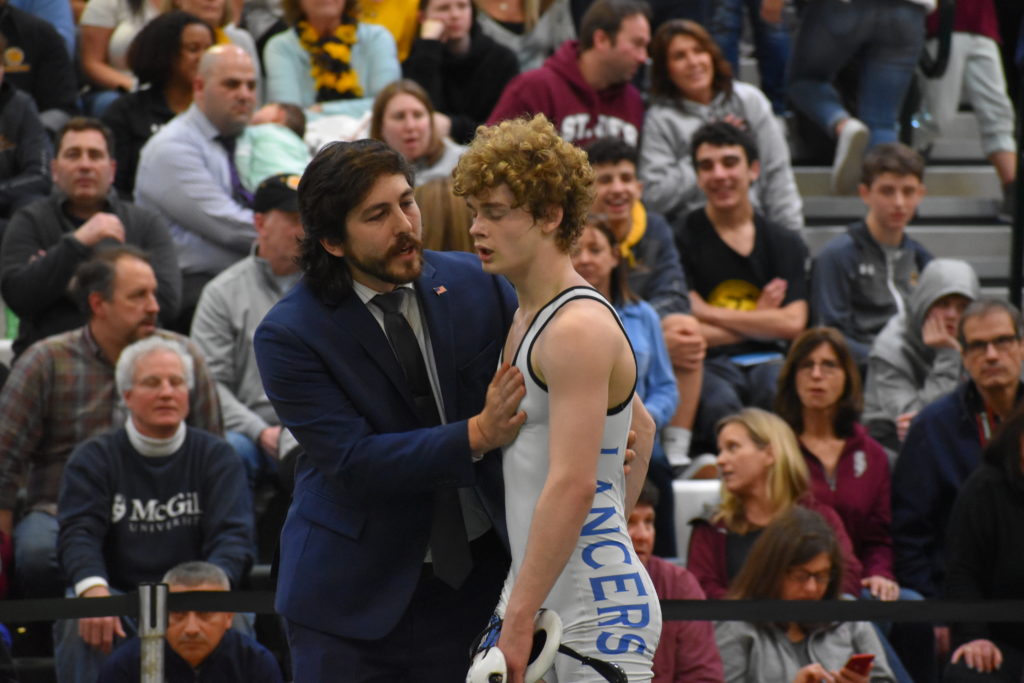 St. Mary's High School has named Zach Weiss '07 as the school's new Athletic Director.
As an alumnus of the school, Weiss has been a member of the St. Mary's wrestling coaching staff since he graduated and has been the head coach of the program for the past seven years. As a Lancer wrestler himself, he finished his career as one of the most decorated athletes in the history of St. Mary's Athletics. Weiss has also been a part of the St. Mary's Football and Men's Lacrosse coaching staffs for the past two seasons.
Weiss is a graduate of Medaille College with a degree in Media Communications and has worked at St. Mary's for the past three years in the Marketing and Athletics Departments, helping the school grow as a whole: "I've experienced the impact St. Mary's can have first-hand, specifically when it comes to being involved with athletics," Weiss said. "It is an honor to be able to help our current student athletes see what the school truly can offer."
Weiss takes the reins of an athletic program at an unprecedented time, not only in high school athletics, but in the world as a whole. Despite these new challenges, St. Mary's Athletics are synonymous with winning on the field, court, and track, capturing 21 championships in the last four years alone and dozens more in the decades before: "St. Mary's provides the opportunity for all to contribute to our success, from the players on the court to the alumni in the stands. Once you become a part of the St. Mary's Athletics Family, it stays with you."
"We are excited to have Zach Weiss on board in this role," Kevin Kelleher, Head of School said. "His passion for this school and our student athletes is unmatched. He's a very innovative and creative guy, so his support and the ideas he will bring to the table will really energize our coaching staffs," Kelleher concluded.
Weiss takes over the Athletic Director role after Brittany Heist accepted a full-time position with the Western New York Flash Academy as the Girls Youth Program Coordinator and Social Media Content Manager. Heist will continue on as the Head Women's Soccer Coach at St. Mary's, looking to defend the team's 2019 Monsignor Martin League Title.
Two St. Mary's Teams Earn Spots in Buffalo News' Final Power 10
Two St. Mary's teams in the Top 10? You better believe it! Congratulations to St Mary's Volleyball on earning the #2 spot and St. Mary's Hockey landing at #8 in the final Buffalo News power rankings of all WNY high school sports teams for the 2019-20 sports seasons. We know if spring sports had been played we could have gotten one or two more teams on the list as well. Congratulations to all of the other schools and teams represented on this extremely impressive list as well!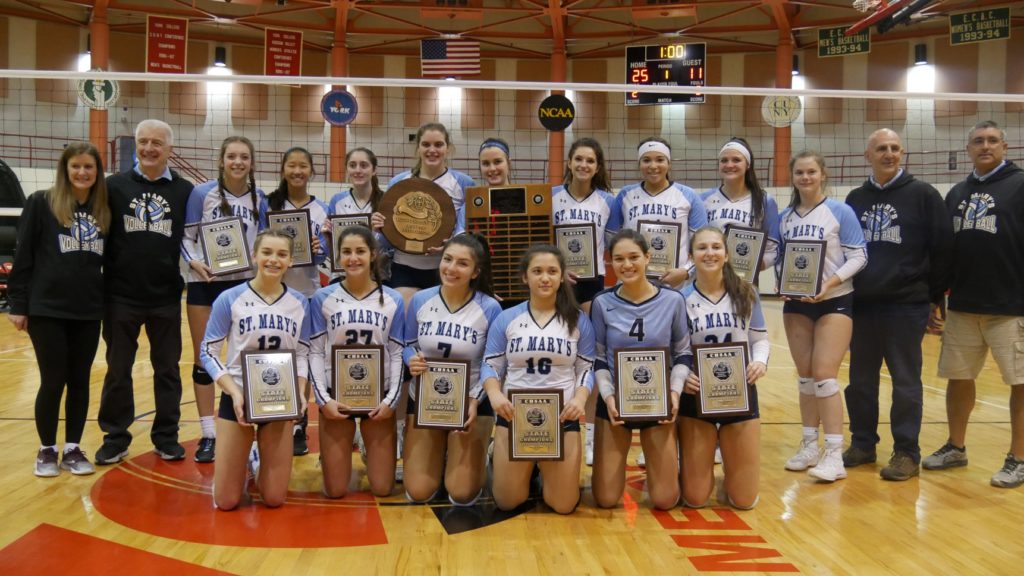 Kelly Cleversley Earns Prep Talk Player of the Year
From The Buffalo News:
BuffaloNews.com readers have voted St. Mary's volleyball player Kelly Cleversley and Frontier swimmer Robert Burkett as champions of the Prep Talk Athlete of the Week Playoffs for the 2019-20 academic year.
More than 3.6 million votes have been cast in the Prep Talk Athlete of the Week polls, sponsored by Sgroi Financial. Cleversley and Burkett advanced through five rounds of playoff voting that started May 4 and concluded this week.
Cleversley, a senior who will attend D'Youville College, was selected as Monsignor Martin Player of the Year and first-team All-Western New York in the fall after helping lead St. Mary's to a third Catholic state title in four years. She recorded 348 kills, 237 digs and 60 aces in her senior season.
Cleversley follows Hannah Mulhern as the second consecutive St. Mary's volleyball player to be Prep Talk Athlete of the Week Playoffs champion.
"That says a lot about St. Mary's volleyball," Cleversley said. "We have a tight-knit community and we come together to do what we need. This season, we had seven seniors and it was memorable to all be together one last time and leave a legacy for the underclassmen and people coming in."
Cleversley was the Prep Talk Athlete of the Week for Oct. 14, receiving 56% of the vote after the Lancers' strong showing in the Garden State Invitational. In the playoff matchups, Cleversley tallied 61% of votes in the opening round, 70% in the second round, 83% in the quarterfinals, 89% in the semifinals, and 80% in the championship round matchup with East Aurora cross country runner Megan McLaughlin. In total, Cleversley received 441,663 votes in the regular season and playoff polls.
"All of the support that was given to me, I couldn't have dreamed of it," Cleversley said. "There were people I didn't even know voting for me. It helped that I have a huge family and I couldn't have done it without my teammates and coaches."
Scholar Athletes Named
St. Mary's is so proud to have three Lancers represent us on the Section VI All-WNY Scholar Athlete Winter Sports Team. Congratulations to Sam Dantonio of the state champion men's hockey team, Brendan Murty of the men's winter track team, and Lauren Nawojski of the women's basketball team.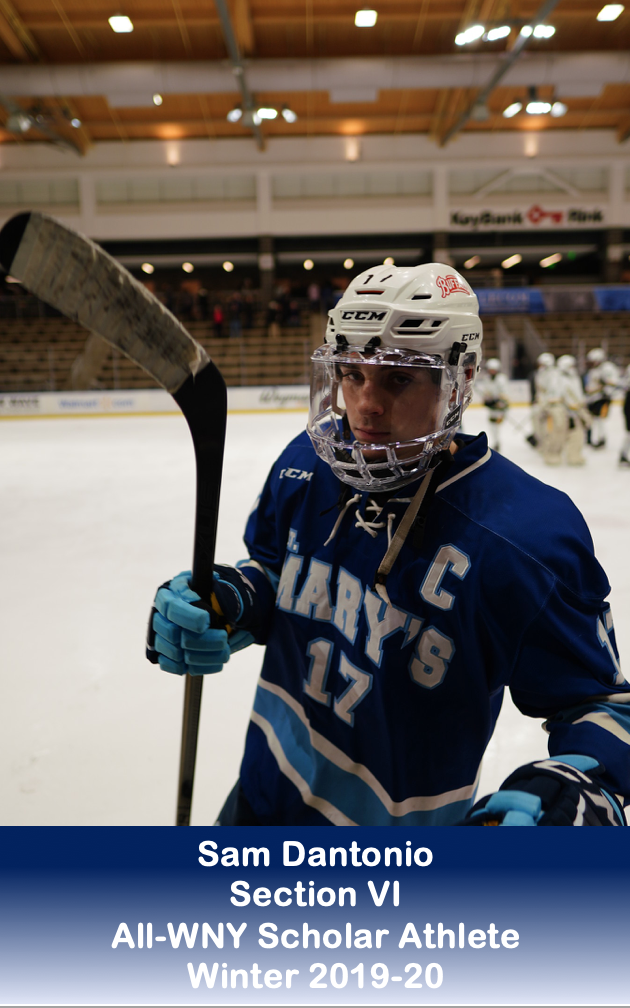 Special shout outs also go out to Matt Ash, Zach Ash, James Chmurzynski, Tyler Cruz, and Jadon McCartney for earning Honorable Mention consideration.
St. Mary's student athletes getting it done in the classroom and on the ice, field, and mat!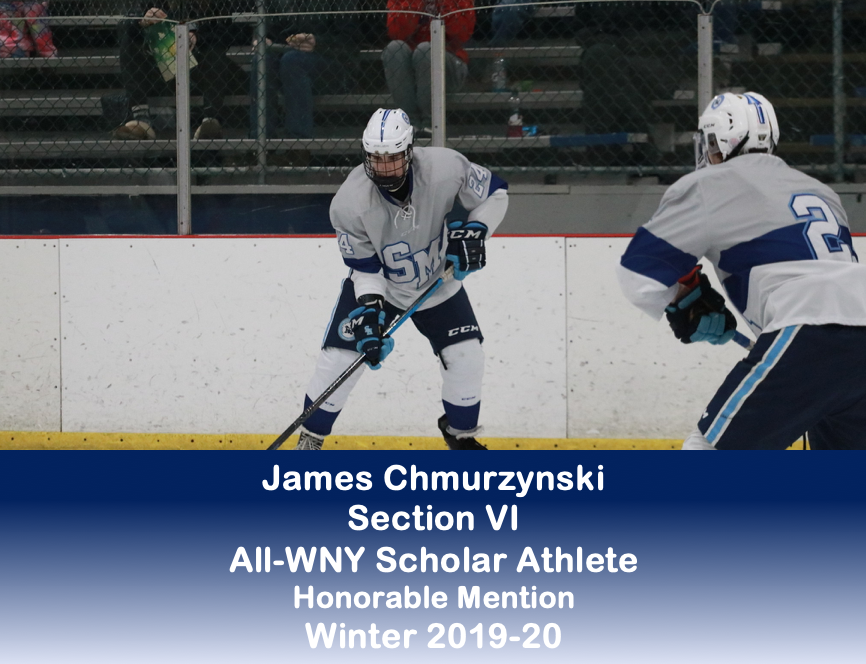 2020 Spring Sports Tryout Information
Men's Lacrosse – Tuesday, Mar 10 2:30-4:15pm, Gym
Women's Lacrosse – Tuesday, Mar 10 4:15-6pm, Gym
Baseball (JV and V) – Tuesday, Mar 10 6-7:30pm, Gym
Softball (JV and V) – Monday, Mar 9 2:30-4:30pm, Softball Central
Tennis – Monday, Mar 16 2:30 p.m. 3rd Court in the Gym
Track – Informational meeting on Monday, Mar 9 3pm
2019 Fall Sports Tryout Information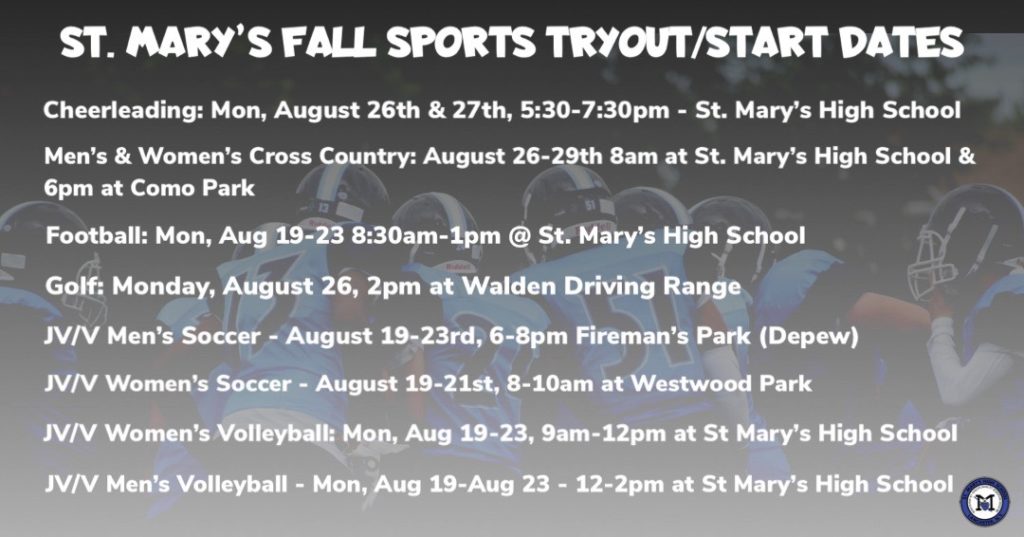 St. Mary's Softball Named Team of the Year
More exciting news coming out of the Athletics Department! Congratulations to the 2019 Monsignor Martin League Champion St. Mary's Softball Team on being named the Bee Newspapers Team of the Year!
Soccer Stars Land Big Chance
Sophomores Shae O'Rourke and Gabby Gambino were selected from players across the U.S. to participate in the ECNL National Training Camp in Portland, Oregon! The training camp will start July 26 and go through to the end of the month. These players will have the opportunity to play with and against the best athletes in the country in their age groups and learn from a staff of some of the country's top youth coaches. Congratulations ladies, and big things continuing for the St. Mary's Women's Soccer Program!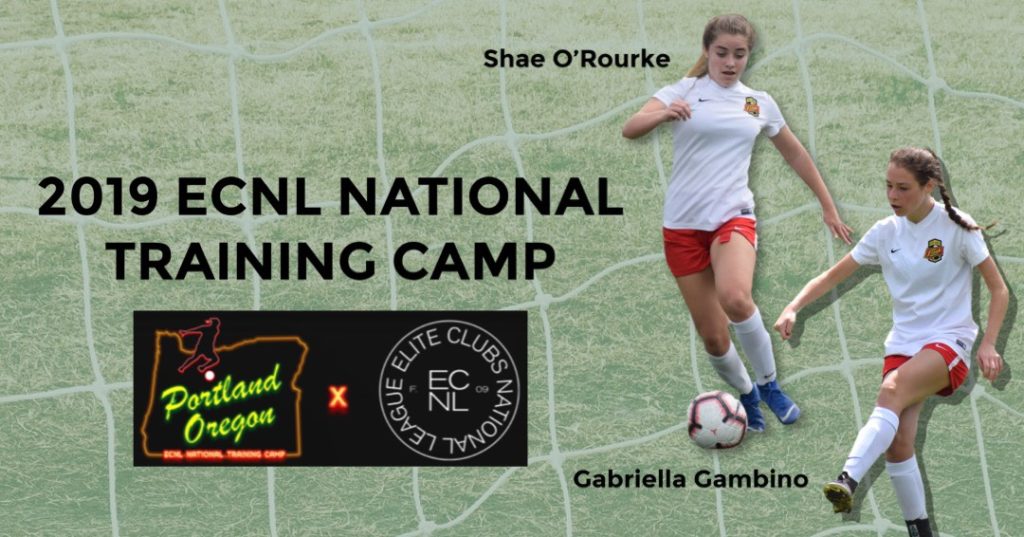 St. Mary's Adds Women's Wrestling as 24th Sport
It is with great pride that we have the pleasure of announcing that a 24th sport has been added to the St. Mary's lineup! This year, St. Mary's will offer Women's Wrestling as an official sport to any female students looking to participate. Coach Zach Weiss '07 has taken this program to new heights over the past few years and things continue to get better and better. What a HUGE step for the sport of wrestling in WNY and a great opportunity for St. Mary's as a whole. Hear the full story from a couple of wrestlers themselves: https://youtu.be/aBAS4m5iMXc
Fall 2019 Tryout Information – Coming Soon!
Lancers Name New Head Football Coach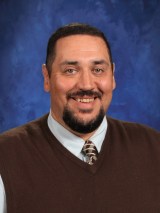 St. Mary's High School has named Matthew Ard as the head football coach for the 2019 season. Ard will become the 13th coach in program history after spending the last two seasons as offensive coordinator and coaching the linemen on both the offensive and defensive sides of the ball. Ard takes over the head coaching job after Chris Dickson stepped down to spend more time with his family and support his children in their activities.
Ard brings 20 years of coaching experience with him into his new position, coaching at high schools in West Virginia and Western New York. He has coached at University High School in Morgantown, WV and then back home at Williamsville East High School and held his longest tenured position at Maryvale High School, where he spent 11 years on that staff. At these schools, Ard learned from the head coaches he worked under and plans to incorporate those lessons into the St. Mary's program: "I would like to thank Steve Griffin, Dave Hersey, Chris Glenn, and Chris Dickson for being such great models over the past 20 seasons," Ard said. "They have instilled things in me that I will now use and expand upon as head coach."
Ard plans to use all of this experience to really build the football program at St. Mary's: "Our goal is to really rebuild the program and restore it to its former glory," Ard said. "St. Mary's has such a rich football tradition, so we want to instill that in our guys. We want to bring back alumni to have a role in this program again and really help build it up from where it is now to become one of the premier programs in the area."
Ard is confident in his coaching staff, who all bring vast amounts of experience and a wide range of talent to coach all of the positions on the field: "Beck O'Connor, Ryan Gallo, Nick Casillo, Anthony Zito, and Zach Weiss all bring an amazing amount of energy, enthusiasm, and experience of their own to this program," Ard said. "Take that and the support we get from the administration, like with the addition of our new state-of-the-art weight room, and this program is ready for the future."
Ard is a local product, graduating from Amherst High School in 1996. He then went on to get his undergraduate degree in adolescent education from West Virginia University and then came back home to complete a second undergraduate degree from D'Youville College before getting his Masters from the same school. In addition to being the head football coach at St. Mary's, Ard is also the head of the social studies department, which is currently ranked second in Western New York according to Buffalo Business First.
"I have no doubts that Matt Ard is the right guy to become our next head football coach," said Head of School Kevin Kelleher. "Matt brings a level of energy and intensity to just about everything he does. He's the kind of guy you want involved in your school in as many ways as possible and you'd want to build a program around." Athletic Director Brittany Heist agrees, "Matt brings so much experience to the table that our student athletes are going to really benefit from. We're excited to see what he does holding the reigns."
Fall Athletics Information
Fall athletics officially start on Monday, August 19th. Tryout dates will be posted online when they become available later this summer. I will also be speaking to Freshmen parents at the Parent Orientation on Thursday, August 22nd to answer any questions you may have about St. Mary's Athletics.
St. Mary's has a great tradition of athletics, with state and league championships, scoring leaders, and great sportsmanship. Thank you for choosing St. Mary's, as we know the sports teams – and the school as a whole – are better off for it.
Go Lancers!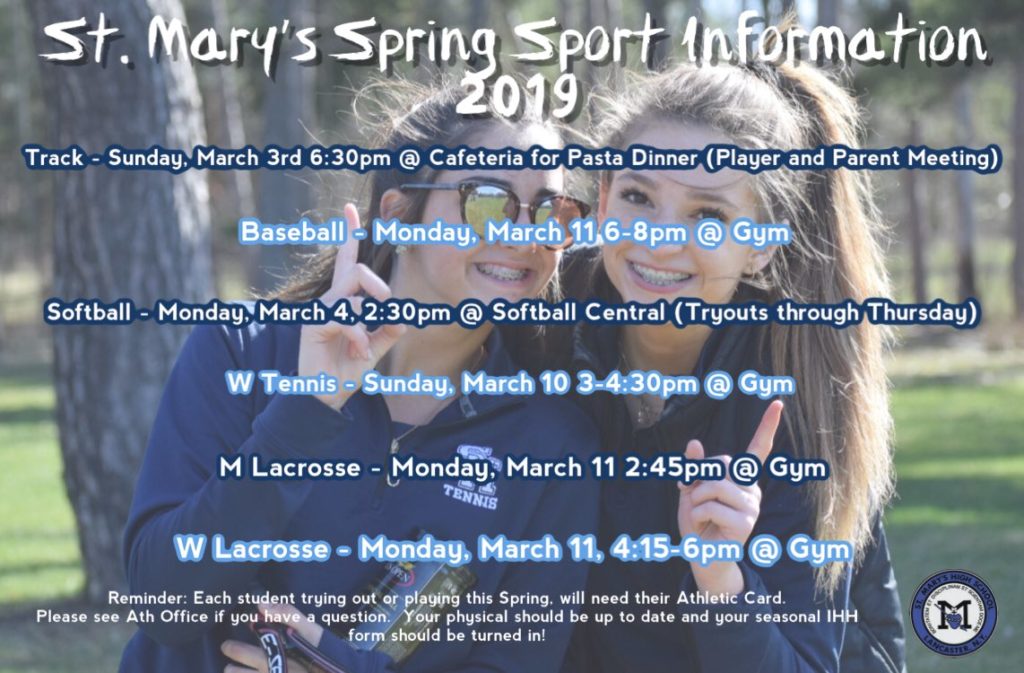 Winter Sports Banquet Date Set – March 20, 2019
Stay tuned for more information on tickets.
Winter Sport Tryout Information
Women's Basketball:
3-5pm
Mon-Wed
Men Basketball: Mon-Tues 5-7, Wed
4:30-6pm
, Thurs-Fri
3-6pm
Wrestling:
2:45-5pm
(GUS) Mon, Tues, Thurs, Fri (Will not be able to
on Wed
due to Sports Banquet)
2018 Fall Sports Tryout/Preseason Information
Cross Country
Coach: Charlie Planz
Contact: chargers365@aol.com
Monday, August 20- Friday, August 24th
Double Practices:
8am @ St. Mary's High School
6pm @ Como Park
Football
Coach: Chris Dickson
Contact: smhfootballcoach@gmail.com
Monday, August 13- Friday, August 17th
8:45am-12:30pm (Half hour break at 10:30am)
St. Mary's High School
Golf
Coach: Mark DiPirro
Contact: mdipirro@police.lancasterny.gov
Wednesday, August 15th and Thursday August 16th
3:30pm
Walden Driving Range
XXXXXXXXXXXXXX
Men's Soccer
Coach: (V) Al Franjoine ; (JV) Greg Ross
Contact: afranjoine@aol.com ; ssorgerg@gmail.com
Monday, August 13- Friday, August 17th
6-8pm
Bring water and proper gear: shin guards, cleats, soccer ball
Lancaster Middle School
Women's Soccer
Coach: (V) Brittany Heist ; (JV) Erin McCormick
Contact: bheist@smhlancers.org ; emccormick1996@gmail.com
Monday, August 13 – Wednesday, August 15
9-11am
Westwood Park Turf Field
Men's Volleyball
Coach: (JV & V) Pete Florczak
Contact: pnlflor@yahoo.com
Monday, August 13 – Friday, August 17th
4-6pm
St. Mary's High School
Women's Volleyball
Coach: (V) Don Pieczynski ; (JV) Lou Gasbarre
Contact: ivccs@aol.com ; gas412000@aol.com
Monday, August 13 – Wednesday, August 15th
9am-12pm *One day up to three days
St. Mary's High School
Cheer
Wednesday, August 15th and Friday, August 17th
5:30pm-7:30pm
St. Mary's High School
Fall Sports Sign-Up
If you are interested in playing a Fall sport, please make sure you check with the nurse, Mrs. Lynne Martin, to make sure you have an updated physical on file a lmartin@smhlancers.org.
If you have not signed up for a Fall sport, please contact our Athletic Director Ms. Brittany Heist at bheist@smhlancers.org.
You can pick up your athletic card on one of the dates below: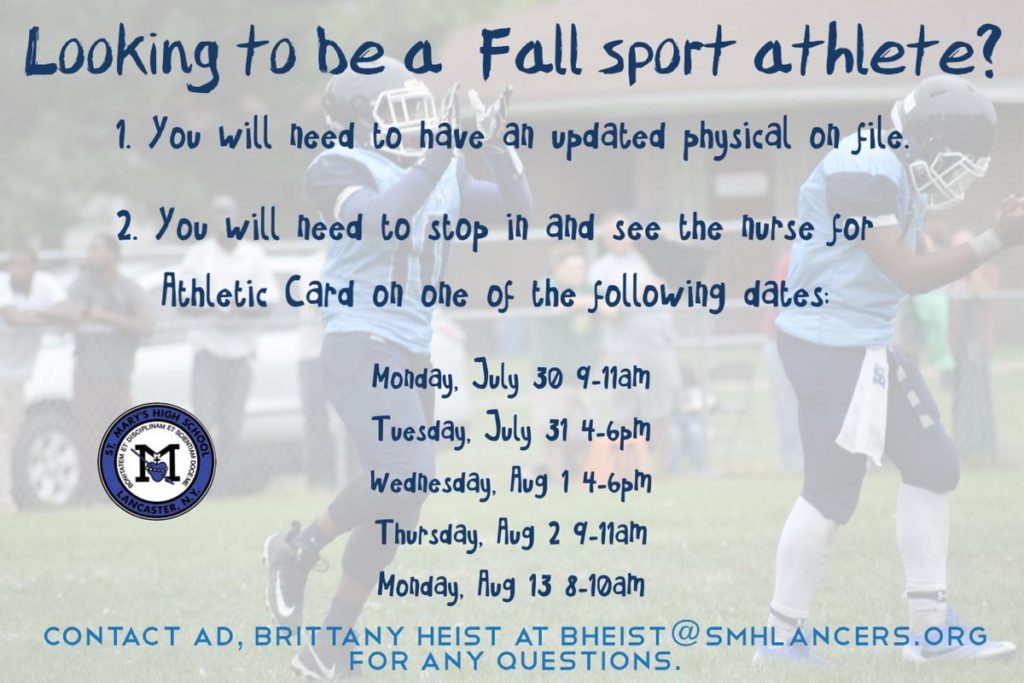 Seniors Honored for Athletic Accomplishments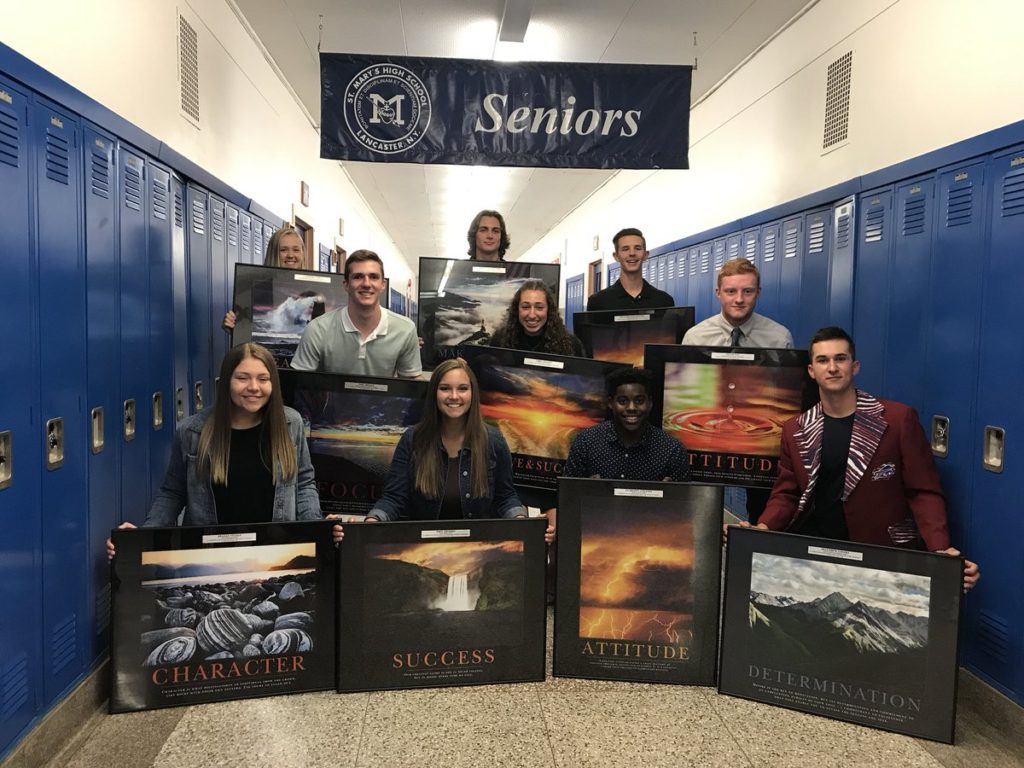 As part of the spring sports banquet, select seniors are given special awards to honor their great accomplishments during their time as a student athletes at St. Mary's High School.
Male Athlete of the Year – Christian Szablewski
Christian was a three-sport athlete (volleyball, basketball, and baseball). He was an All-Catholic selection in each of those sports and is heading to St Bonaventure to continue his education and play D1 baseball.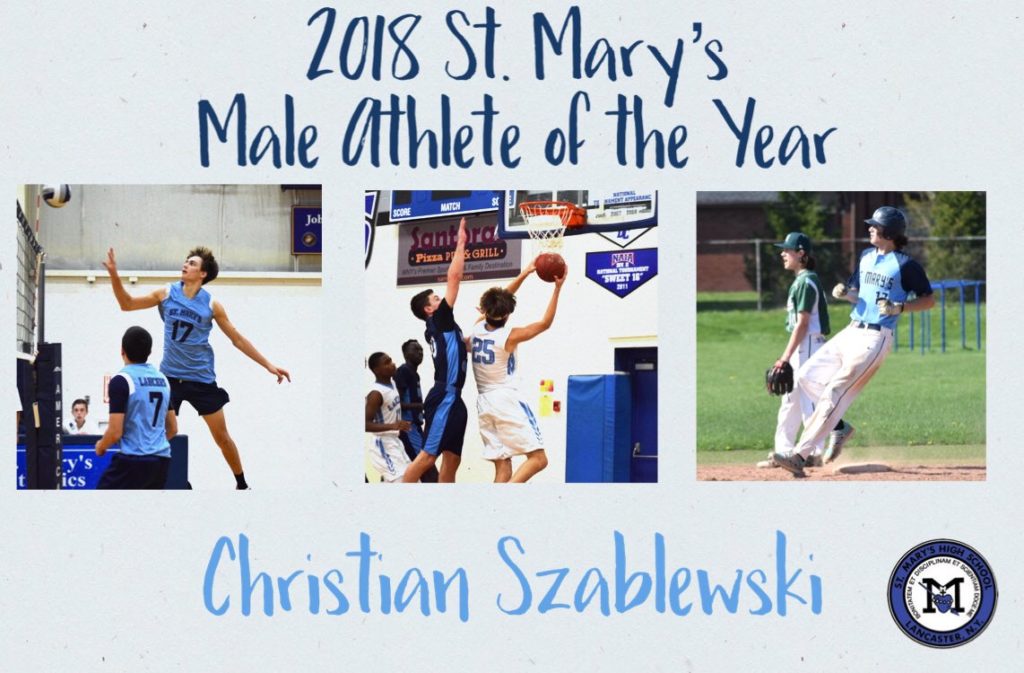 Female Athlete of the Year – Libby Benzer
Libby won the All-Catholic Cross Country Meet and has broken numerous track records at St. Mary's. She will be continuing her education and D1 cross country and track career at Canisius College.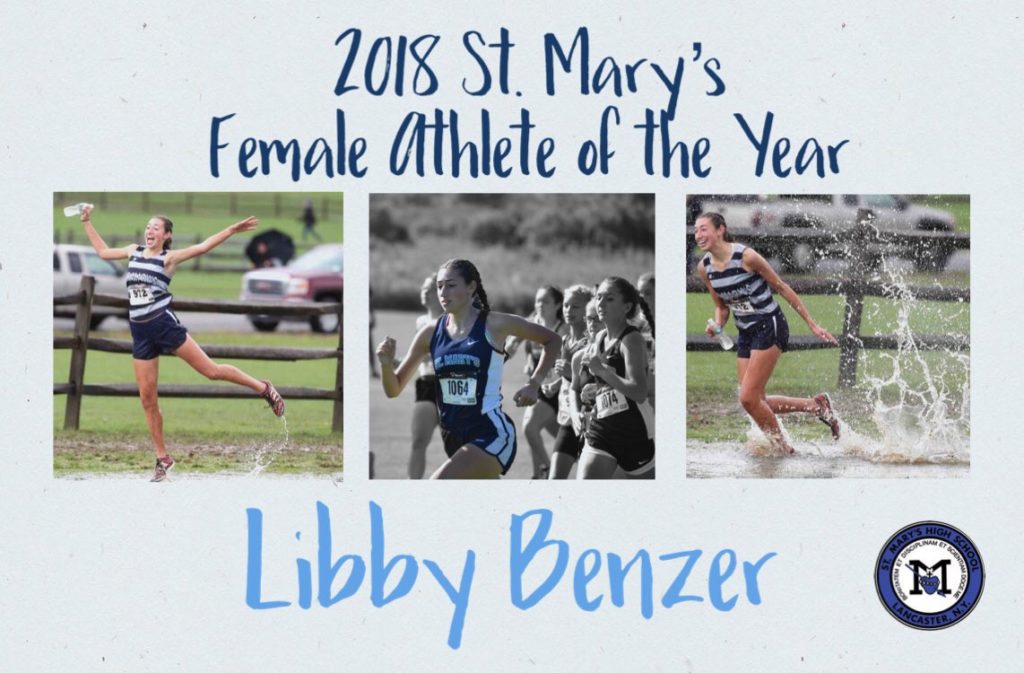 Ken Jakubowski Female Service to Athletics Award – Summer Slade
Summer was a captain, leader, role model. and an All-WNY and All-Catholic selection for the state champion women's volleyball team. Summer will continue her academic and D1 volleyball career at Duquesne University in the fall.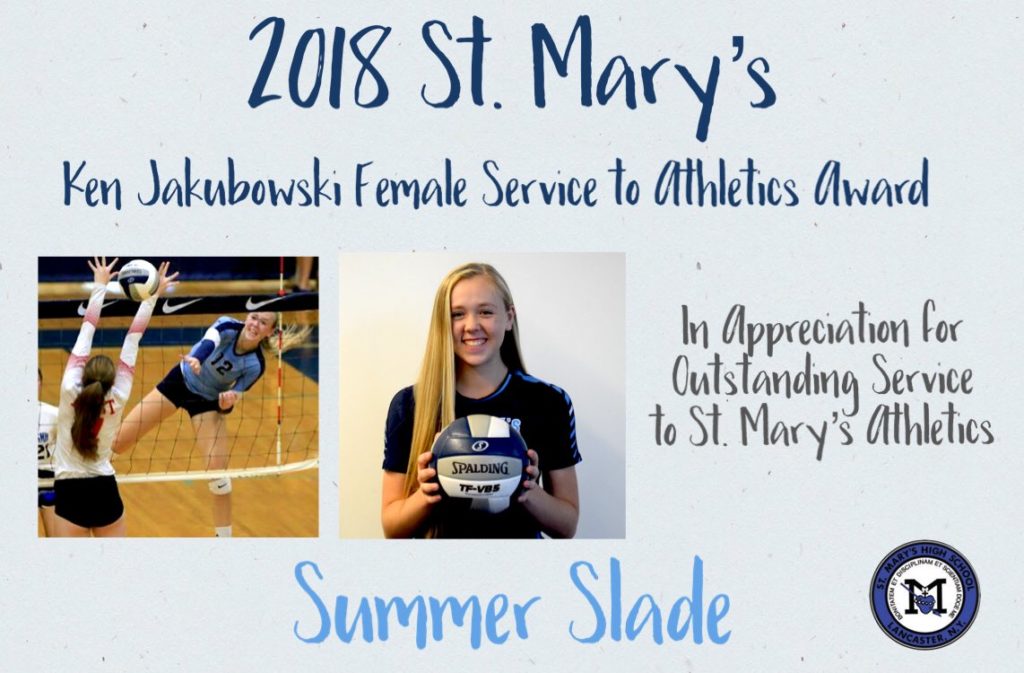 Lady Lancer Hustle Award – Jill Vitale
As the captain and setter on the state championship volleyball team, Jill was an active leader and player on a very successful squad. Jill is off to American University next year to continue her academic studies.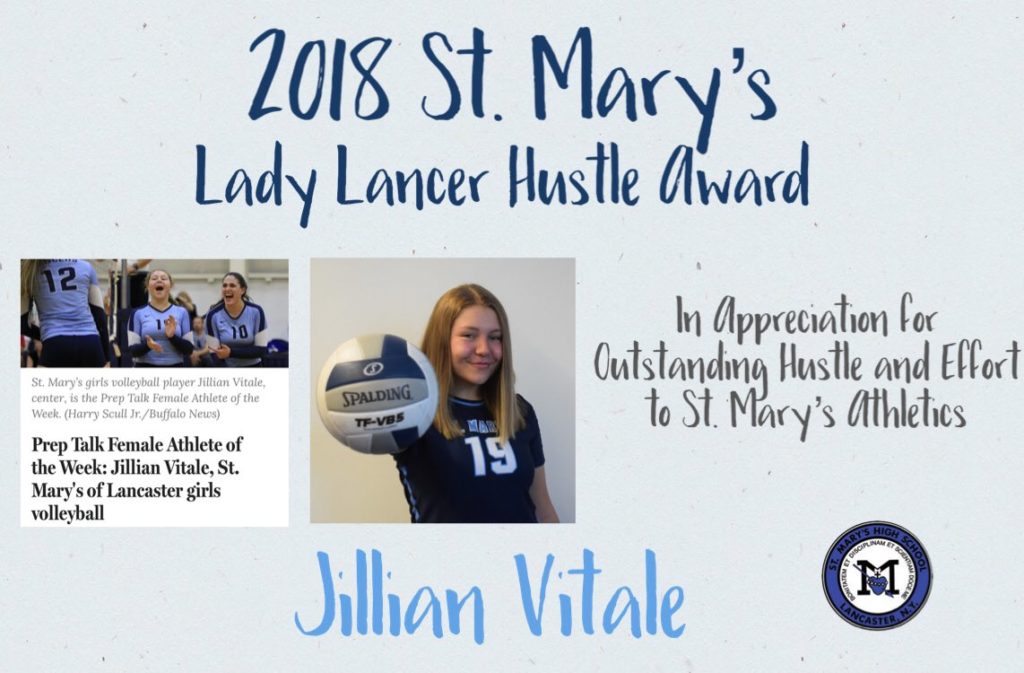 Chelsea Kiebzak Award for Excellence in Women's Basketball – Erin DiPirro
Erin was a captain and an on-and-off-court leader who worked hard. She will be continuing her academic and athletic career in lacrosse at Gannon University in the fall.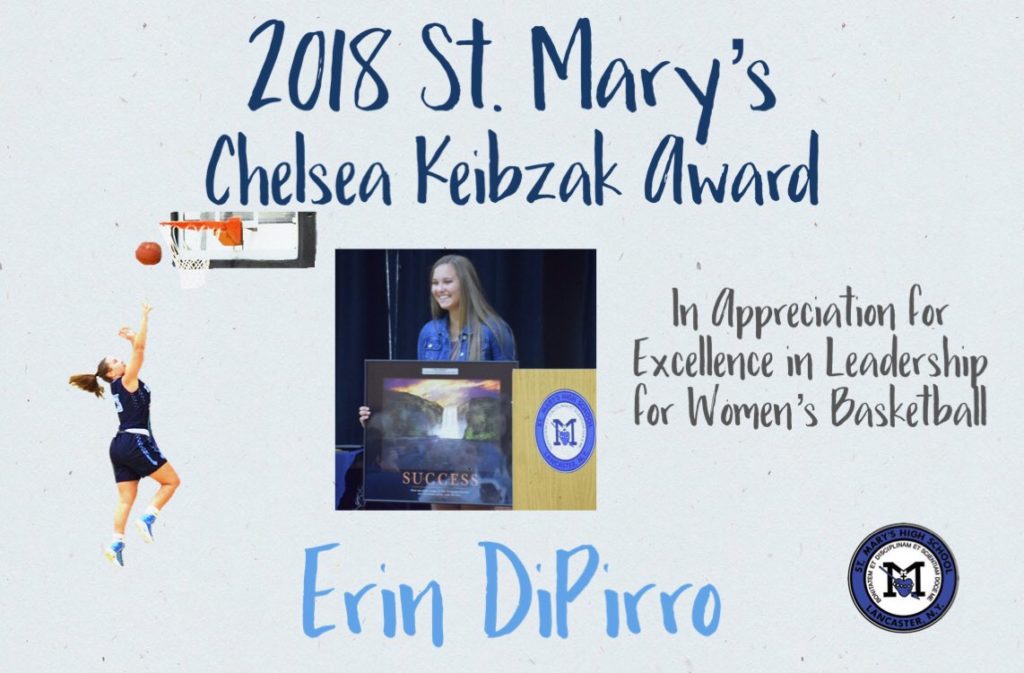 Harry Paul Service to Athletics Award – Eric Brown
Eric was an on-and-off-court leader. He was the exemplary student athlete and will be truly missed on the court and in the school! Eric will continue his studies at Geneseo.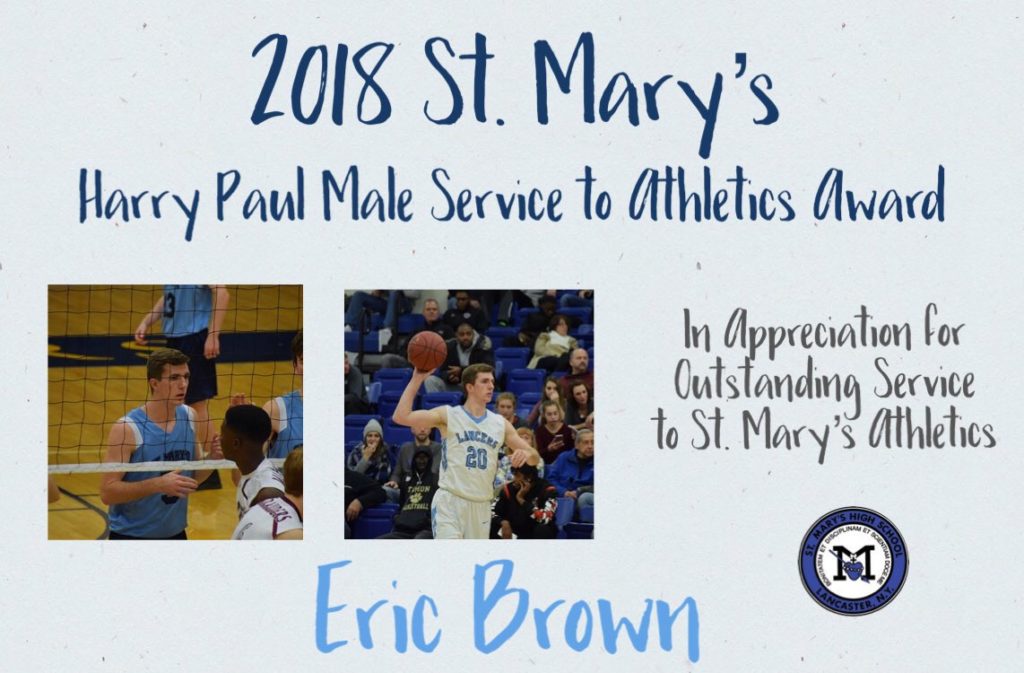 Harry Paul Service to Athletics Award – Jacob Fay
Jake is also a recipient of this award. He finished his senior wrestling season as the single season wins leader in St. Mary's Wrestling history, with a record of 33-12,including 26 pins. He will be missed on the mat, in the hallways, and in classes.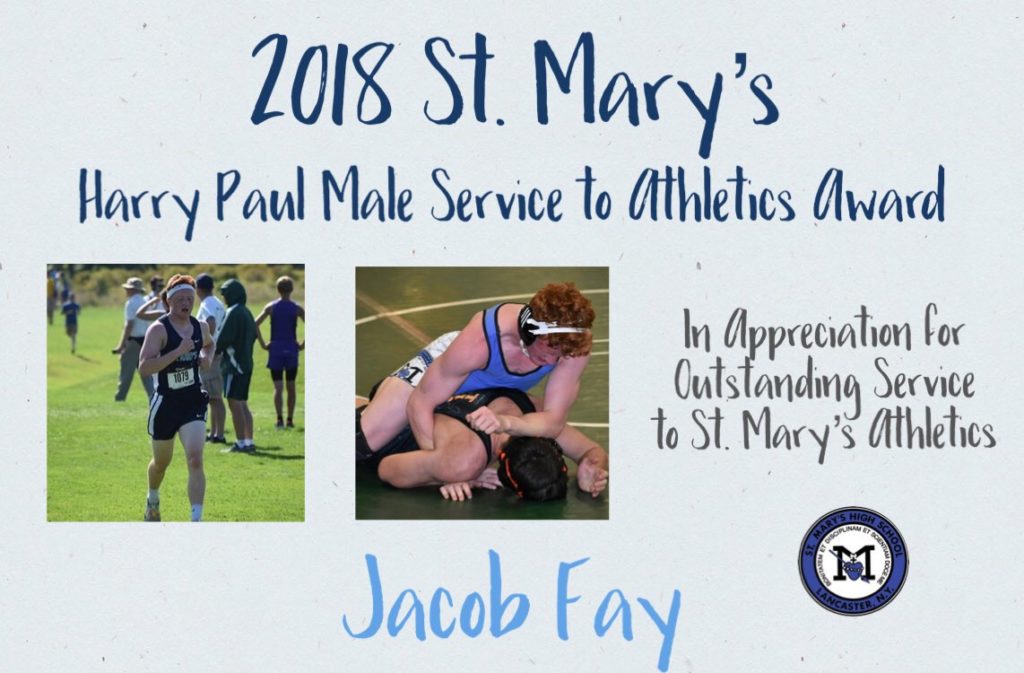 Dick Woj Service to Basketball – Matthew Ciezki
Matt will continue to further his education and basketball playing career at Keuka College. He was an instrumental part of the 2017 Manhattan Cup championship, in which he was named MVP.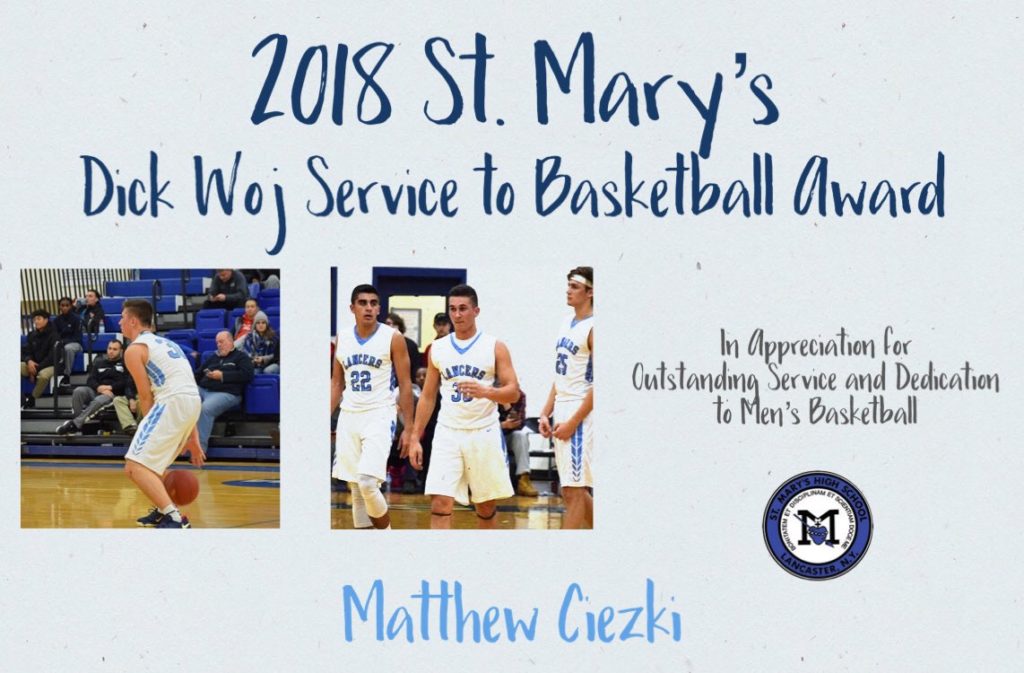 Banquet Recognizes Excellence in Spring Sports
Another successful sports banquet to close out the 2017-2018 athletic seasons! Congratulations to all of our spring sport athletes on their accomplishments.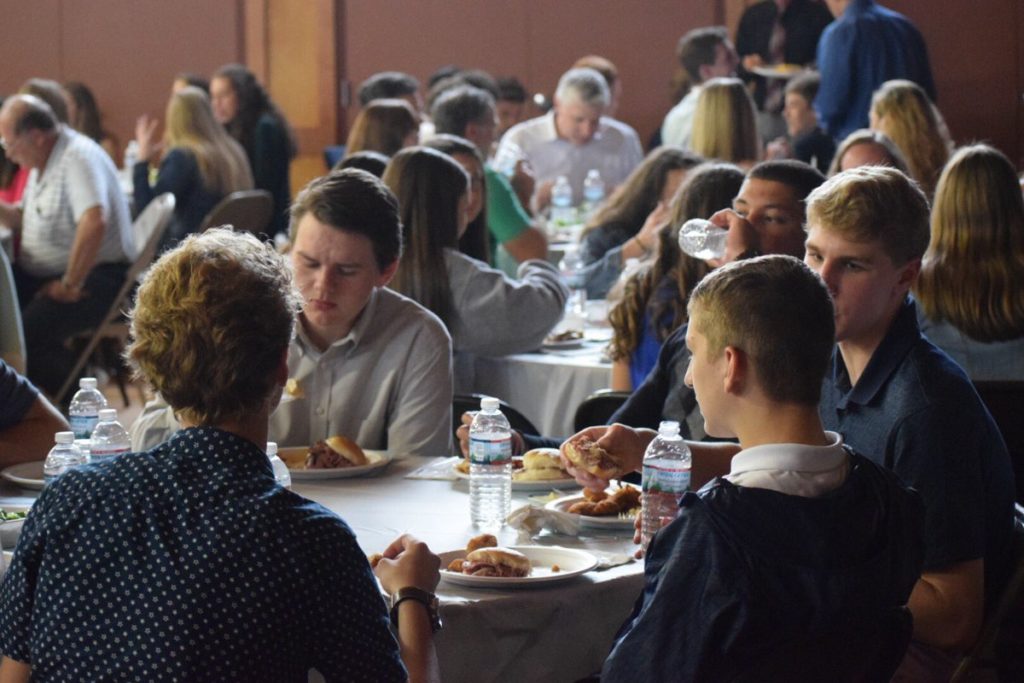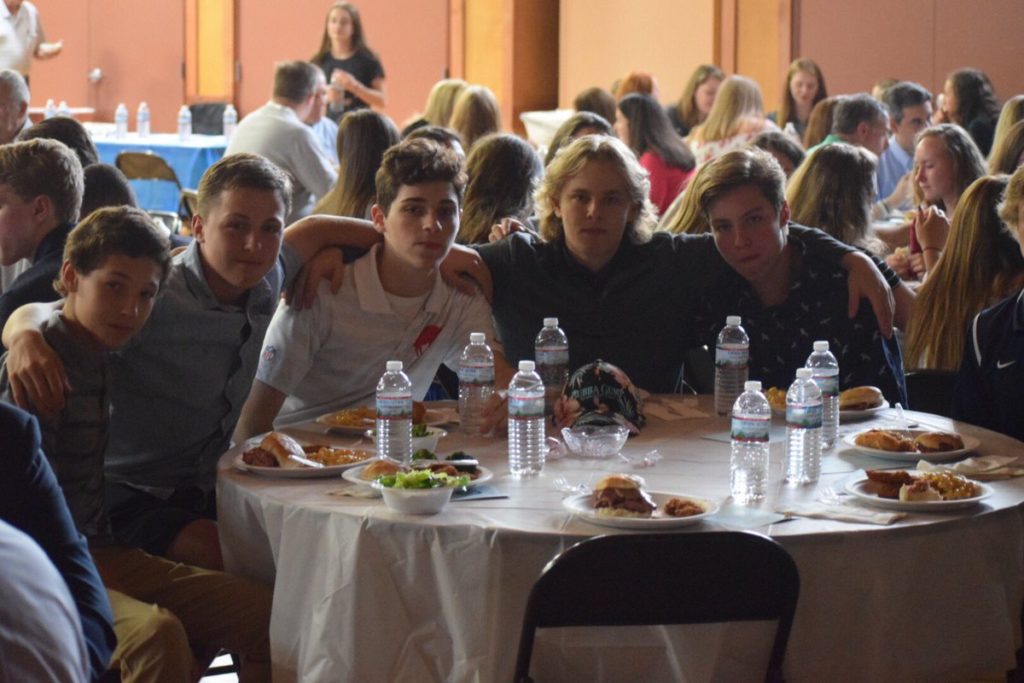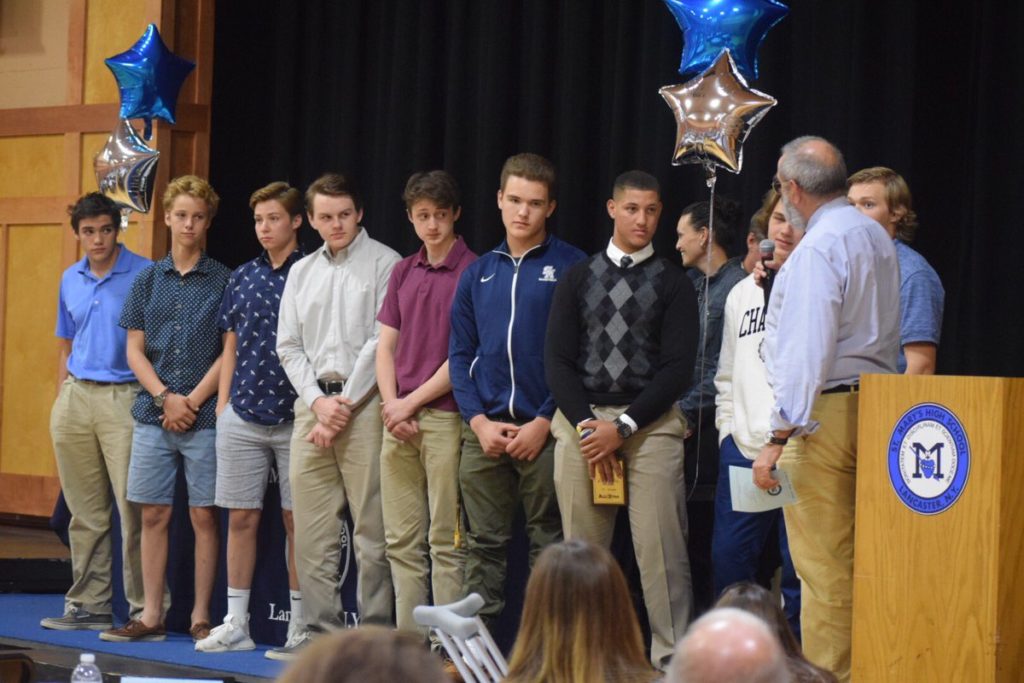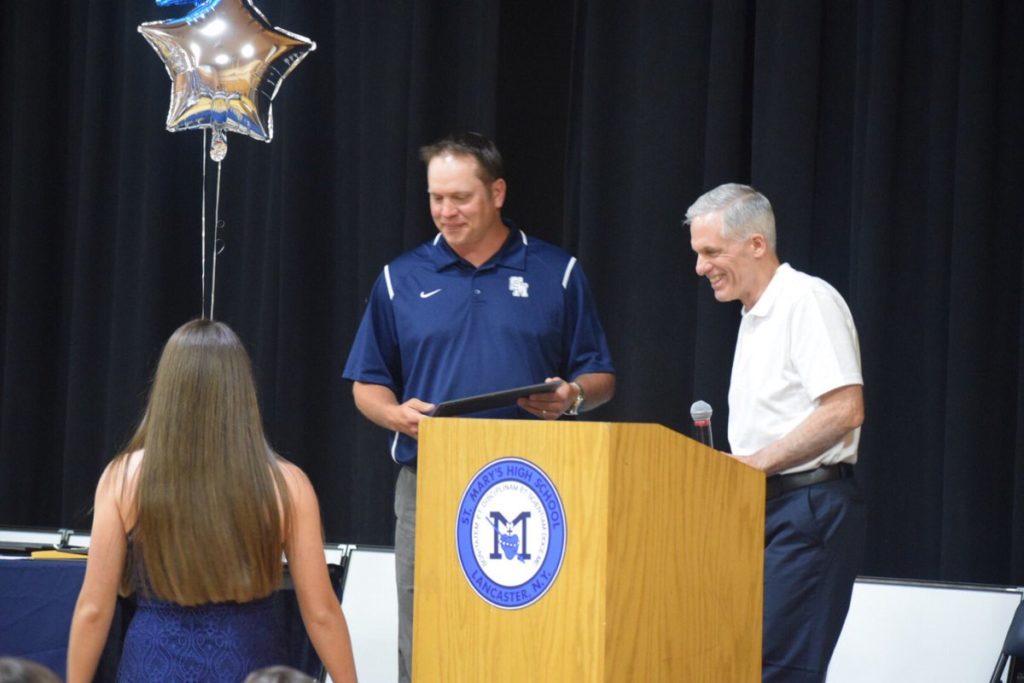 Lady Lancers Dominate in Crew
Some of our Lady Lancers competed in crew at Saratoga States. Olivia Nasternak, Kerry Sullivan, Destiny Severn, Gia Sacco, Grace Haxton and Jennamae Lipiarz represented St. Mary's, rowing under the banner of the Buffalo Scholastic Rowing Association. Olivia won gold in the Junior 4, earning the NY State Championship and also went on to win silver in the Lightweight Double. Kerry and Destiny won gold in the Novice 4, beating the closest competition by six boat lengths, also earning them the NY State Championship title. All the Lady Lancers placed in the top winning positions to qualify on Saturday for the finals that took place on Sunday. Way to go, ladies!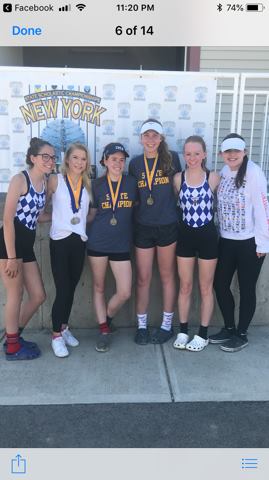 Spring Sports Banquet – June 5, 2018
If you wish to attend the Spring Sports Banquet this year, please have all appropriate forms and payment returned to Miss Heist.
Registration forms coming soon!
Winter Sports Banquet – March 21, 2018
If you wish to attend the Winter Sports Banquet this year, please have all appropriate forms and payment returned to Miss Heist.
Spring Sport Tryout Information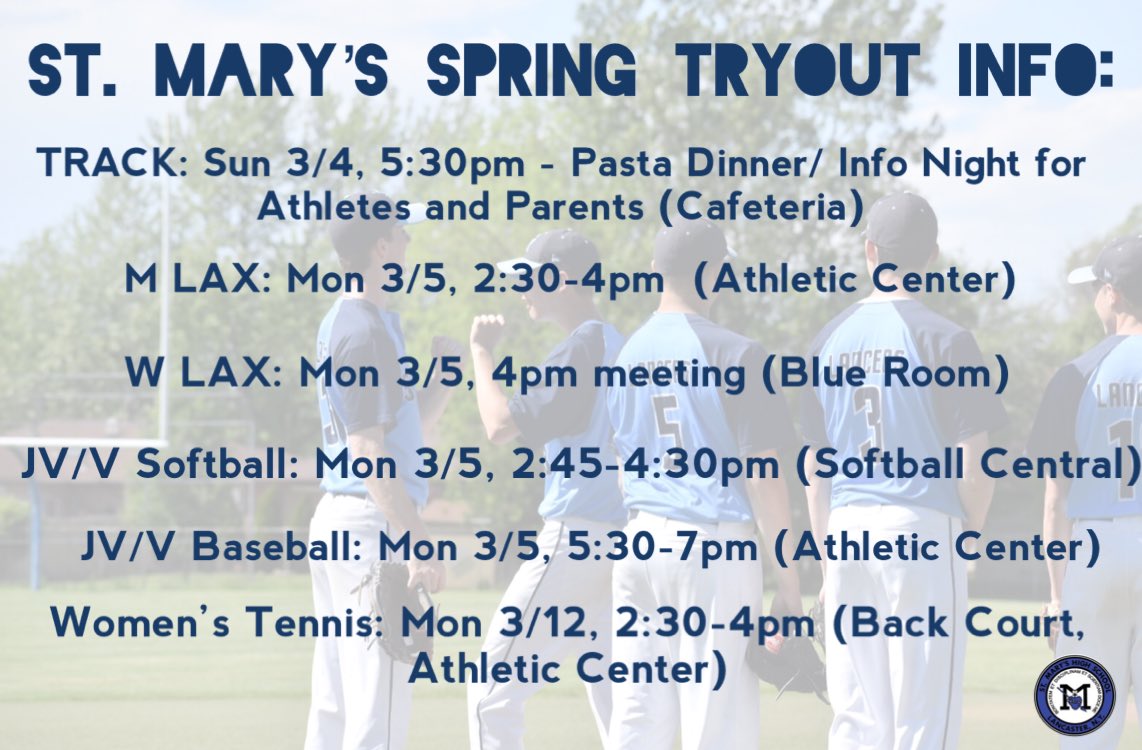 Don't forget that you need an Athletic Card to tryout, so you also must turn in your Interval Health History Form and have an updated physical on file.
Go Lancers!
St. Mary's Softball Program Heads to Italy
Members of the St. Mary's Softball Program will head to Italy August 2-10, 2017 for a the chance of a lifetime!
Follow along as the softball program heads to Italy to take in all of the culture and amazing sites of places like Rome, Venice, and all of other beautiful places the country has to offer… Oh, and as they play a few games too!
We'll be posting updates on Twitter at @stmaryslancers and @SMHAthletics, Instagram (stmaryslancers), and Facebook (St. Mary's High School Lancaster, NY) throughout the week, so make sure to check it out!
A big thanks to Coach Rappl for organizing this amazing experience for our Lancers!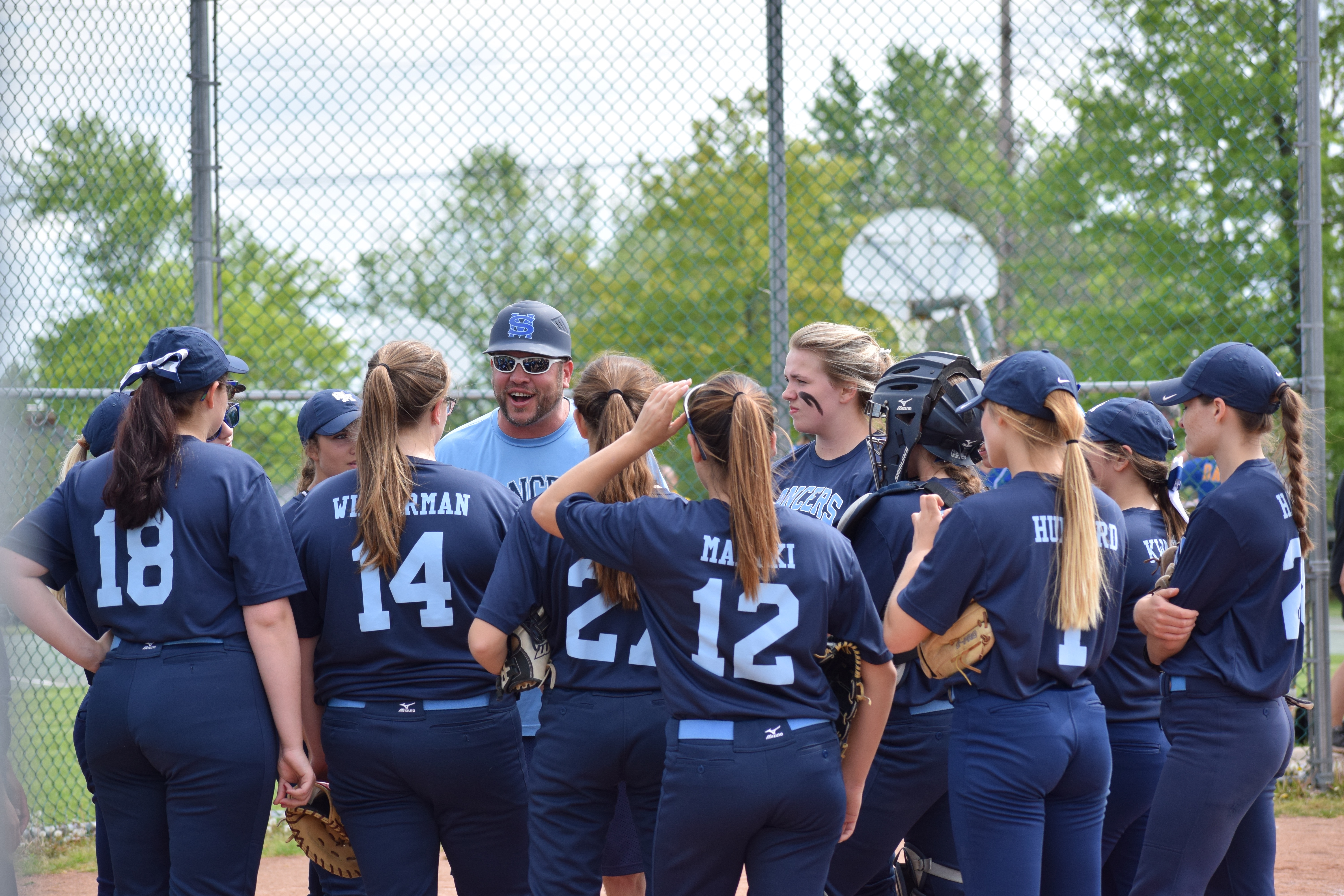 St. Mary's Women's Volleyball Team Named Lancaster Bee Team of the Year
The Women's Varsity Volleyball Team can add another post-season accolade to the trophy case, as the ladies received the Team of the Year honor from the Lancaster Bee. Read why they were chosen here.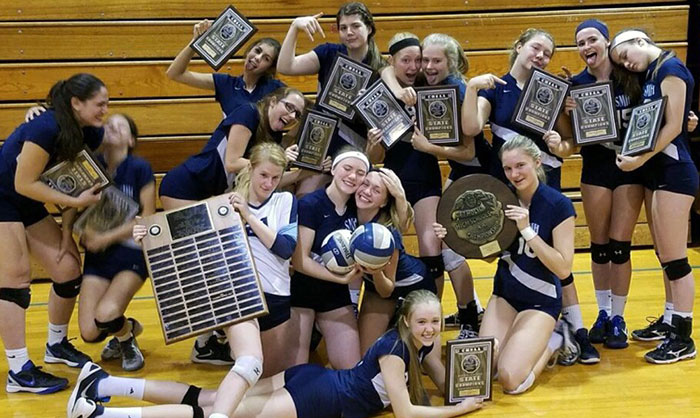 Erin DiPirro '18 Named to First Team All-Catholic Lacrosse
The accolades keep on coming for St. Mary's Spring sports. Junior Erin DiPirro made First Team-All Catholic Lacrosse after a stellar season for the Lancers.
Way to go, Erin!
St. Mary's Receives Three Buffalo News Prep Talk Award Nominations
St. Mary's received THREE nominations for The Buffalo News Prep Talk Awards on June 14, 2017. The Women's Volleyball Team was nominated for Team of the Year, Women's Volleyball Head Coach Don Pieczynski for Coach of the Year, and the entire St. Mary's Athletic Department, including all of our teams, for Program of the Year! Our Lancers are remarkable!
The Prep Talk Awards took place at the Hyatt Regency Hotel in Downtown Buffalo, where the volleyball team and Coach Pieczynski were in attendance along with St. Mary's Athletic Director Brittany Heist.
Take a look at the article from The Buffalo News for all of the details: http://bit.ly/2ss3Qsj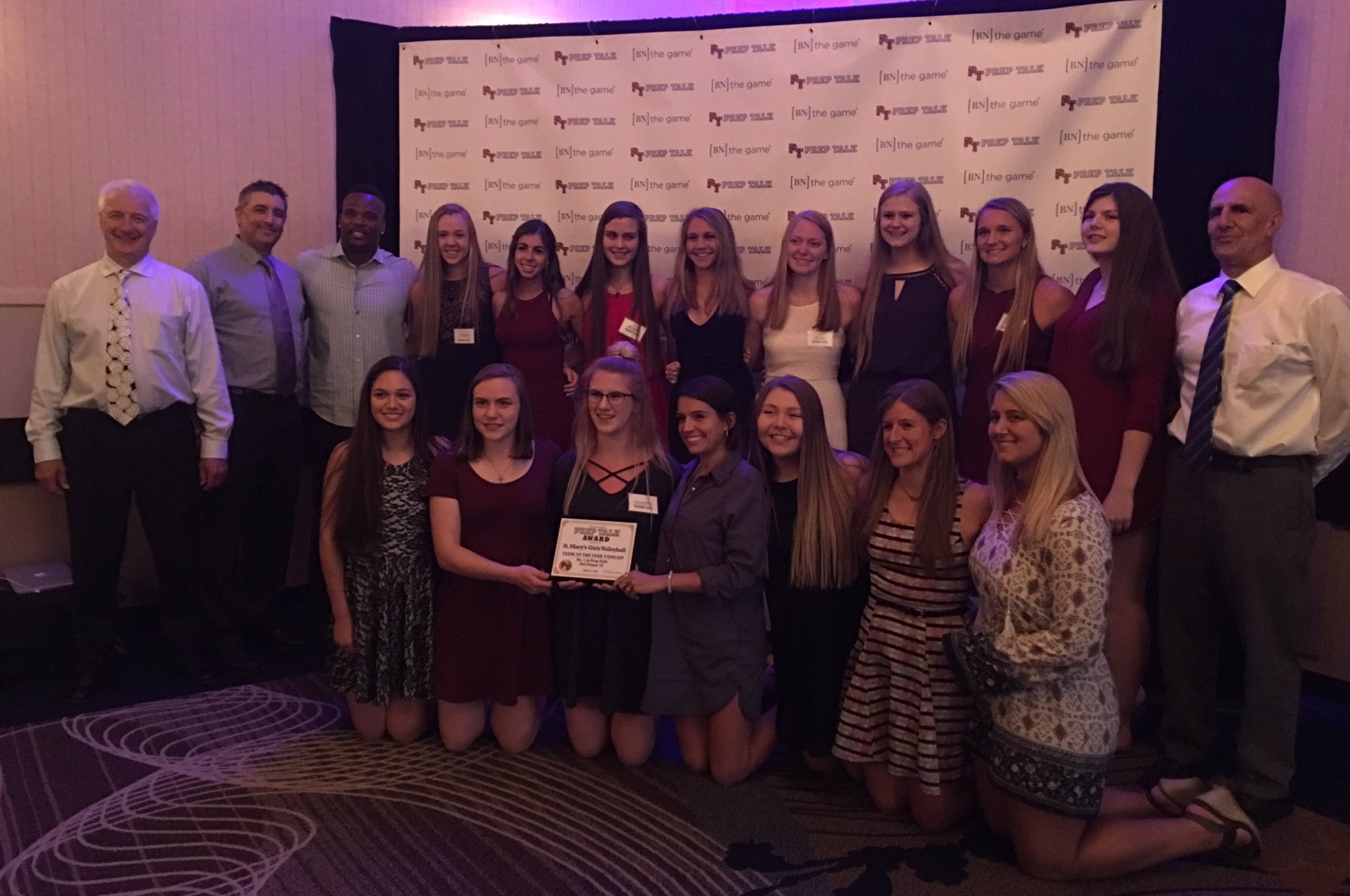 Women's Varsity Volleyball Team Receives Butler Mitchell Alumni Association's Athletic Excellence Award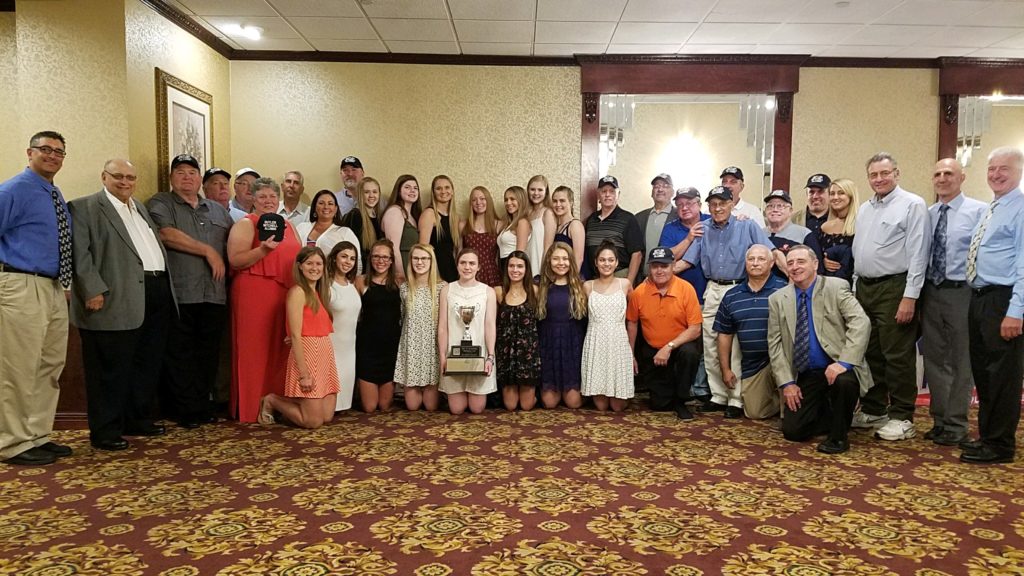 Women's Varsity Volleyball Team and coaching staff with Butler Mitchell Alumni Association members
St. Mary's Women's Varsity Volleyball can add another award to the trophy case. The Butler Mitchel Alumni Association named the Lancers as the recipient of their Athletic Excellence Award.
In 2016, St. Mary's went undefeated in New York State, adding its 15th state championship to its growing legacy and its 6th Monsignor Martin League title in a row. When you couple this dominance on the court with a high standard for academic excellence in the classroom, you have the perfect ingredients for a Butler Mitchell Alumni Association honoree: "There were several schools we considered for this award," said Joe LoTempio of the Butler Mitchell Alumni Association. "But when you look at St. Mary's and their history of dominance in girls volleyball, the choice was clear."
The Lancers received the award at a ceremony over brunch. St. Mary's Head Volleyball Coach, Don Pieczynski, knows that moments like these are special and will cherish the ceremony with his team: "To be recognized by such an incredible organization, like the Butler Mitchell Alumni Association, is such an honor," he said. "Our season ended a few months ago, so to get the team back together to celebrate their accomplishments and for one last 'hurrah,' makes it even more special."
With over 50 years of history serving Western New York's youth through charitable educational and recreational events, the Butler Mitchell Alumni Association has become a beacon for good works in the community.
Lancers Baseball Reaches Georgetown Cup Finals
A crowd of nearly 500 came to St. Mary's High School's home field for the final and decisive Game 3 of the Georgetown Cup Championship Series between St. Mary's and St. Joseph's Collegiate Institute. Games 1 and 2 were played at Coca-Cola Field, home of the Buffalo Bisons, but a rained-out Game 2 pushed the final game into a scheduling conflict, so the teams battled at St. Mary's home field.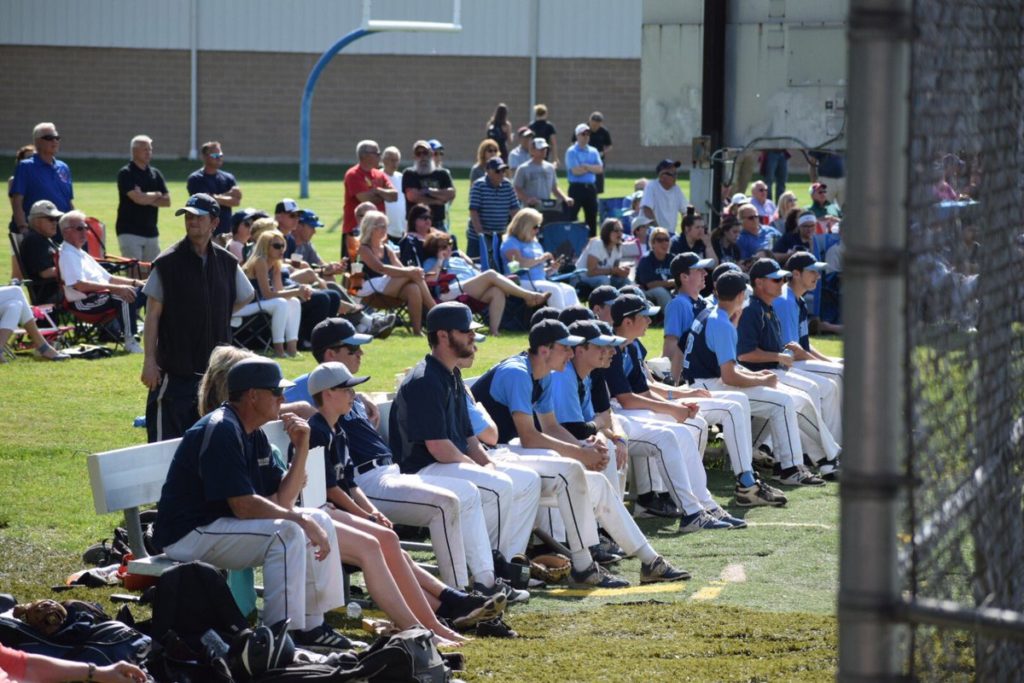 The Lancers held a 1-0 lead after five innings, but St. Joe's brought out the bats in the top of the sixth, scoring six in the frame, to secure the championship.
After such an exciting series and a remarkable season, Lancers Baseball will look to return to the top of the field next year and work their way back to the championship series.
Cheerleading Names Its New Coach
Cristina Fudoli, a Class of 2006 graduate, returns to her old stomping grounds to lead St. Mary's Cheerleading into a new era.
With over 10 years of coaching and competition experience in the towns of Lancaster and Orchard Park, Fudoli brings a wealth of experience and success to build the program into a real powerhouse.
Lancers Softball Wins Monsignor Martin League Championship and Names an MVP and All-Catholic Members
The Lady Lancer Softball Team defeated Mount Mercy Academy 14-7 to win the Monsignor Martin Championship at Sunshine Park in West Seneca.
The Lancers erased a one-run deficit in the third inning, plating four runs in the frame, and then really laid it on think with a nine-run seventh inning. Every player, from the top to the bottom of the order, contributed immensely to the team's win.
The championship is St. Mary's second in the past three years.
You can read about the championship game in The Buffalo News here.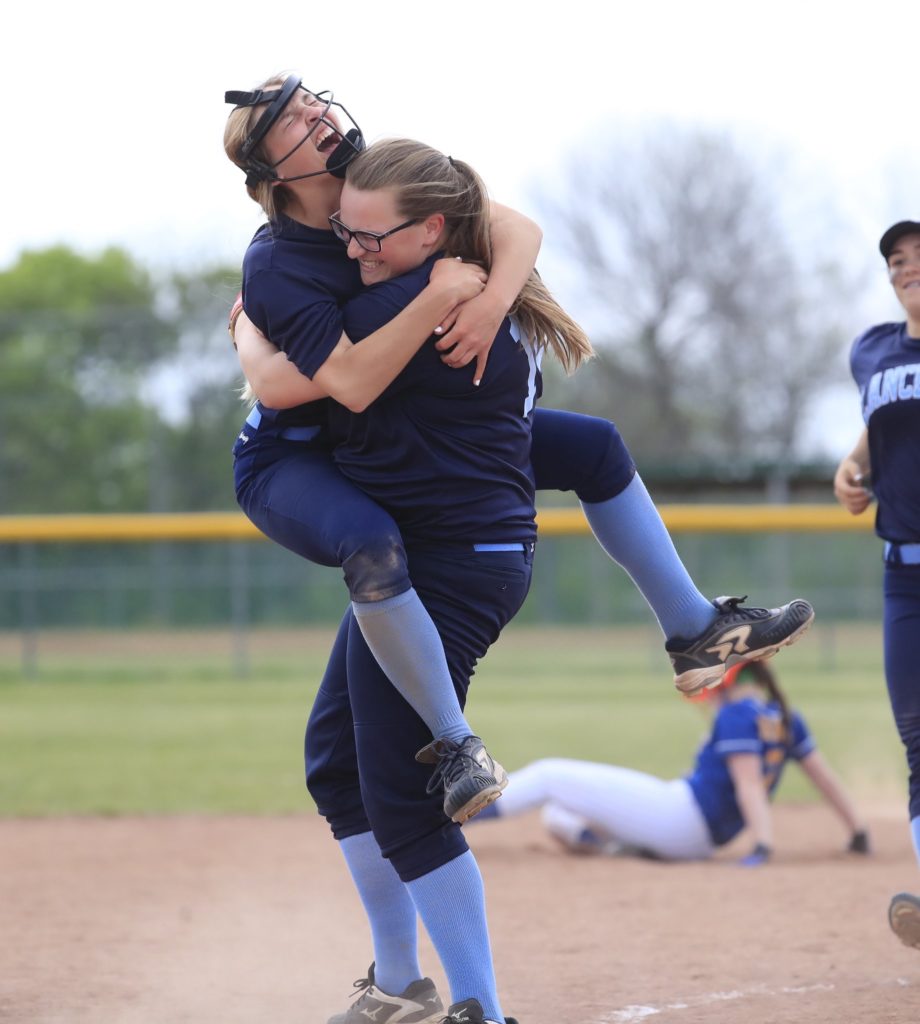 To add to the celebration, Senior Erin Hufford earned the league's Player of the Year honor and Junior Mackenzie Suto along with Freshman Maggie Kellner were named First Team All-Catholic.
You can see the full First and Second Team All-Catholic rosters here.
Nine Lancers Qualify for State Championships in Track and Field
Nine student athletes will make the trip to New York City this Memorial Day weekend to represent St. Mary's in the Track and Field State Championships.
Congratulations to:
Kayla Bestpitch '20
Bridget Vogl '19
Libby Benzer '18
Haley Wipperman '17
Kayla Leo '17
Kathryn Vogl '17
Erin Hufford '17
Daquan Hunt '17
Best of luck Lancers!
Honoring the Seniors- Spring Sports Edition
The Women's Lacrosse Team will honor their seniors when they face off against Lewport for their Senior Game on Friday, May 19th. Come support these hard-working ladies at Westwood Field!
The seniors on the lacrosse team are: Kaitlyn Kowalewski, Campbell Amatura, Courtney Kline, Sydney Zajac, and Grace Fuller.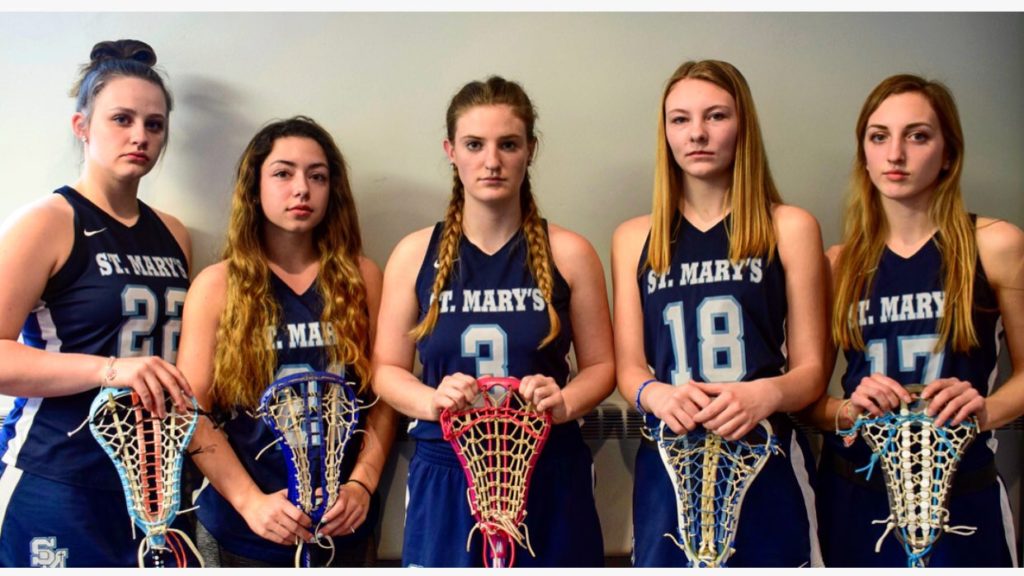 The St. Mary's Softball Team would also like to congratulate their three Seniors on remarkable careers. The Softball team will honor these ladies at their final home game on Wednesday, May 17th at Walden Ponds when they clash with CCA.
The seniors pictured below are: Erin Hufford, Haley Wipperman, and Victoria Jankowski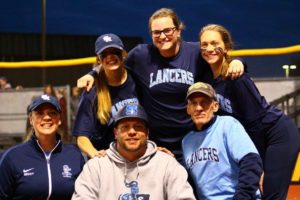 Men's Basketball Wins Manhattan Cup
In quite the dramatic fashion, the St. Mary's Men's Basketball Team won their first Manhattan Cup title in school history, defeating Nichols 64-61 at Canisius College's Koessler Athletic Center. Erasing a six-point halftime deficit, the Lancers' shooting heated up as the game wore on, and Junior Matt Ciezki hit a three-pointer that sealed the deal for St. Mary's with just 30 seconds left in the game.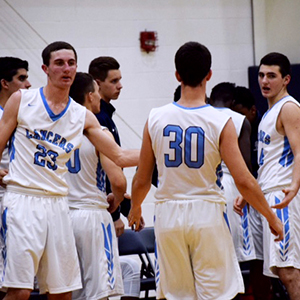 You can read even more about this historic game in the Buffalo News here!
Sign-Up for a Spring Sport Physical – Deadline: February 28
In order to play a Spring sport, each student-athlete needs to turn in an Interval Health History (IHH) form located in the main office, the athletic office, or the health office. As well as the IHH, the student needs to have an up to date physical on file. If you wish to have a physical completed by the school physician, they will be at SMHS on March 15, 2017. You MUST sign up with Mrs. Martin in the Health Office by February 28th. Parents may call 683-4824 x 220.
Hannah Pufpaff headed to Gannon University
Congratulations to Senior Hannah Pufpaff who will be continuing her soccer career down the I-90, in Erie, to play her collegiate years at Gannon University. She plans to study Physical Therapy as she becomes yet another St. Mary's student-athlete pursuing both an education and athletics in college.
Spring Sport Sign-Ups and Start Date – Monday, March 6th
Spring Sports start Monday, March 6th. Please stop in to the athletic office to sign up and get information on tryout times and locations. Go Lancers! Spring Student-Athletes will need to complete a Interval Health History, have an updated physical, and receive their Player Card before they are allowed to tryout.
Winter Banquet Date Announced – Wednesday, March 15th 6:00pm
The Winter Sports Banquet will be held, Wednesday, March 15th, at 6pm at St. Mary's High School. All winter Student-Athletes are encouraged to attend with family members. Please contact the athletic office for more information!
Fall Sports Banquet
Congratulations to the following Student-Athletes who were honored at the Fall Sports Banquet, held on November 16 at St. Mary's High School:
FOOTBALL:
Offensive Player of the Year – Derek Johnson
Defensive Player of the Year – James Miller
Lancer Award – CJ Ozolins
MEN'S VOLLEYBALL:
Best Offensive Player: Christian Szablewski
Best Defensive Player: Patrick Basil
Team MVP: Eric Brown
WOMEN'S VOLLEYBALL:
MVP: Caitlyn Meyer
Most Improved: Jillian Vitale
Most Versatile: Summer Slade
WOMEN'S JV VOLLEYBALL:
Most Improved: Marie Rhodes
Co MVP: Maddison Nuttle, Jasmine Brundage
MEN'S SOCCER:
Most Offensive: Nate Waley
Most Defensive: Dan Cress
MVP: Nino Marino
MEN'S JV SOCCER:
Defensive Player of the Year: Sam Mickel
Offensive Player of the Year: Jake Ciansiosa
MVP: Brendan Murty
WOMEN'S SOCCER:
MVP: Courtney Kline
Lancer Award: Grace Fuller
Best Teammate: Nicole Kruse
XC:
MVP: Libby Benzer
MIP: Maddie Benzer
Dedication and Commitment Award: Kayla Leo
GOLF:
MVP: Brady O'Brien
Coach's Award: Alex Bellet
Most Improved Golfer: Julia Hartloff
Honoring the Seniors
Prior to their match with Sacred Heart Academy, the Women's Varsity Volleyball Team honored the senior members of their team – Gina Appenheimer, Victoria Jankowski, Caitlyn Meyer, and Kathryn Vogl.
Congratulations, Ladies & Families!
Women's Soccer would like to congratulate and wish the best of luck to the fours seniors that have helped anchor the team this season. The team celebrated Senior Day with a 2-0 win over Christian Central Academy. The women's soccer seniors are: Kristi Smith, Courtney Kline, Marissa Loniewski, and Grace Fuller.