Head of School and SMH Alum - Kevin Kelleher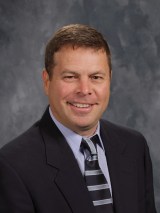 The Board of Trustees of St. Mary's High School recently announced that the school will be changing their governance and leadership model to a Head of School structure. The Board also announced that Mr. Kevin Kelleher, a 1989 graduate of St. Mary's, has been named the school's first Head of School.
After graduating from St. Mary's, Mr. Kelleher went on to earn his Bachelor's Degree in History from St. Bonaventure University, followed by his Juris Doctorate Degree from the University at Buffalo Law School. Upon earning his degrees, he moved on to work for the Atlantic 10 Conference in Philadelphia, where he served as the Assistant Director of Championships and Compliance. From there, he worked for a sports event management firm known as the Gazelle Group, where he was the Director of the Coaches vs. Cancer Classic held annually at Madison Square Garden.
In 1993, Mr. Kelleher became the founder of the Chris Wanat Memorial Foundation. Through the work of this foundation, the Foundation has given over $250,000 to the Lancaster/Depew community.
In the summer of 2000, Mr. Kelleher returned to St. Mary's High School, where he served as Athletic Director and Enrollment Director for six years. He also served as Coach of the Boys' Varsity Basketball Team and brought home the first-ever state championship for St. Mary's. He was also instrumental in the building of the state-of-the-art Athletic Center, which still stands as one of the best high school gyms in the state.
In 2006, Mr. Kelleher became one of the owners of Integrity Distribution and Vice President of Sales and Marketing for ADPRO Sports. In January 2014, he became Vice President of St. Mary's High School.
The change to the governance and leadership structure was precipitated by the resignation of school President Mr. Mark Tramont to become a Leadership Liaison to the Board of Trustees and the retirement of Principal Mrs. Rebecca Kranz.