Welcome Inductees for 2017-18
The Marian Chapter of the National Honor Society at St. Mary's High School inducted 23 new members in a ceremony recently held at the school.  Students are selected for NHS based on academics, character, service, and leadership.
The Induction was held in the Gus Galasso Performing Arts Center as part of a celebration that included a candlelight ceremony, reading of the new inductees' biographies, and reception featuring light hors d'oeuvres from Personal Touch.
The new members of the Marian Chapter of the National Honor Society are (in alphabetical order): Kristen Barczykowski, Patrick Basil, Libby Benzer, Caitlin Bish, Ashley Cruz, Claire Fahey, Christina Federico, Sarah Filion, Julia Hartloff, Kailey Kline, Nicole Kruse, Athena Mohamed, Hannah Mulhern, Olivia Nasternak, Brianna Propis, Susan Romance, Summer Slade, Payton Stachewicz, Jessa Syracuse, Emma Trapper, Matthew Vallone, Tara Wanat, and Jacob Was.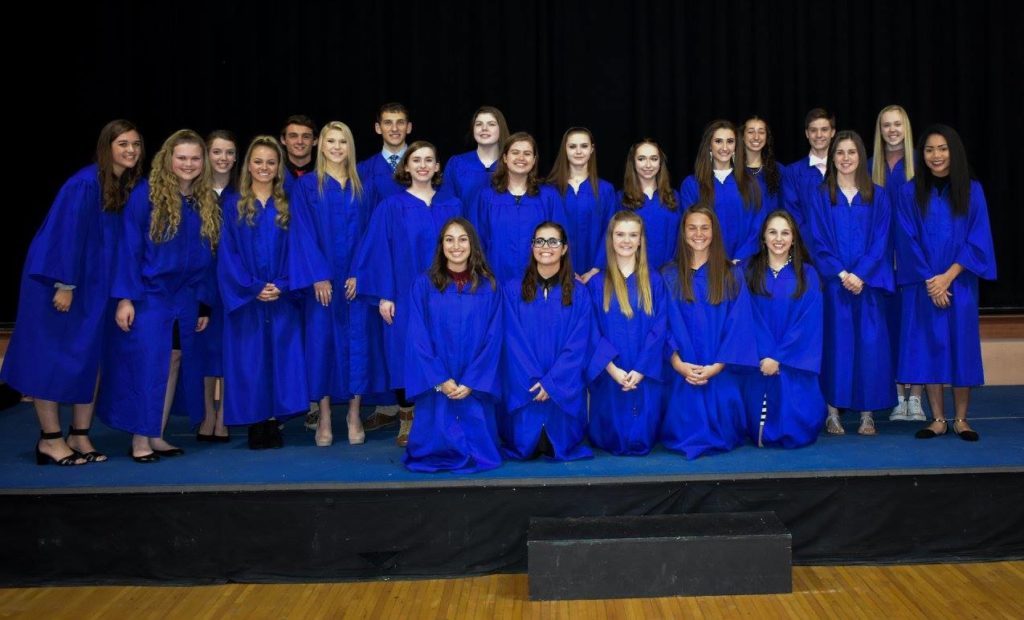 Marian Chapter of National Honor Society
Becoming a member
Membership into the National Honor Society is based on the ideals of scholarship, leadership, service and character. During the summer, the NHS Induction Coordinator reviews the academic records of all juniors and seniors to determine Scholastic Eligibility for selection. Scholastic Eligibility is having a cumulative average of 95 percent or higher. Eligible students of the Marian Chapter of National Honor Society will also be required to have finished Geometry A or Honors courses prior to being invited to be a candidate. The Induction Coordinator will meet with eligible students during the first couple weeks of the school year to distribute the Candidate Packets, which contains all forms that a candidate must fill out to be considered for selection. After reviewing the materials, the candidates are welcome to contact the Induction Coordinator at any time with questions up until the date students are required to sign the Notice of Intent, which will confirm their desire to continue the process of candidacy for the National Honor Society.
As part of the Candidate Process, the following will be completed: 
Activity Form – student lists his or her school, service, and/or leadership activities in and out of school.
Leadership Referral Forms – to be completed by supervisors of student's leadership activities.
Service Referral Forms – to be completed by supervisors of student's service activities.
Character Evaluation – to be completed by faculty and staff of St. Mary's High School.
Personal Essay – written by the student to summarize his or her achievements, interests, and other information the student would like to be considered.
Students are required to have completed 25 hours of service beyond what is required for Religion classes. Junior Candidates must complete at least 55 hours of service; Senior Candidates need to complete at least 85 hours.
All materials will be due by the middle of October. The materials will be submitted to the Faculty Council for their review and consideration.
If during the review process, the Council would like additional information, candidates may be asked to attend an interview conducted by the Induction Coordinator and/or members of the Faculty Council.
In early November, the Faculty Council will report to the Principal the results of the deliberations for final approval. The Induction Coordinator will then notify candidates in writing of their selection or non-selection into NHS.
Induction for new members will take place in November.
Continued Membership
Members of the National Honor Society must maintain a cumulative average of at least 94.0 and participate in all NHS activities (a minimum of 15 hours of attendance at NHS meetings and activities are required by the members). High standards of personal character must be maintained at all times.
Dismissal Process
If all four selection criteria standards are not upheld, the student may be recommended for dismissal from the Society. The National Honor Society Handbook indicates that in case of a flagrant violation of school rules or civil laws, a warning is not required for dismissal.
Transfer Students
Students transferring from another school who were members of the National Honor Society Chapter in their former school should see the St. Mary's Chapter advisor. Membership is automatically continued. All chapters are governed by the NHS National Constitution (available at www.nhs.us).