On stage at St. Mary's
The performing arts program is a favorite among St. Mary's students. Offerings include dance as an alternative to physical education, and a course dedicated to studying American musical theater. Additionally, there are different vocal groups for singers.
St. Mary's offers four main stage performance opportunities each school year. A dramatic production kicks off the season with a fall play. A Christmas concert showcases the dance, vocal and musical theater groups followed by the spring musical, which runs in late March each year. The Evening of Fine Arts Awards show is the final production and following an "awards show" format, mixes performances by all of the groups with the presentation of the Annual Performing Arts awards.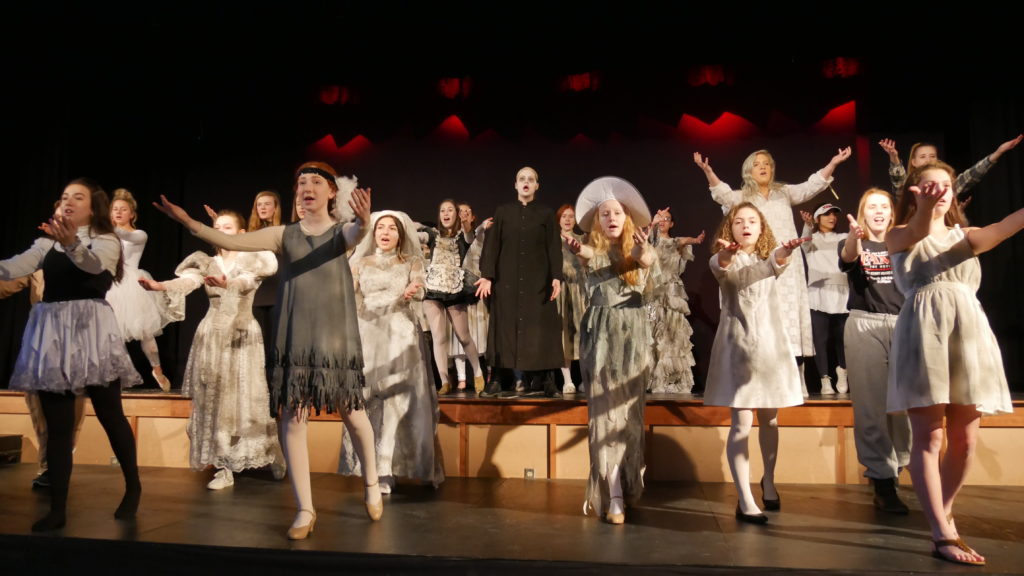 St. Mary's Announces Godspell as Spring Musical
After last year's musical, How to Succeed in Business Without Really Trying, had its curtain closed before it even opened due to the pandemic, the St. Mary's Performing Arts Department is thrilled to announce that they will be putting on a show this Spring. Godspell is a classic, and it's full steam ahead for the directors, cast, and crew of the show. The show will be produced virtually and tickets will be sold to view the show online for select dates later this month.
Here is so more info on the show itself from Music Theater International:
The first major musical theatre offering from three-time Grammy and Academy Award winner, Stephen Schwartz (Wicked, Pippin, Children of Eden), and it took the world by storm. Led by the international hit, "Day by Day," Godspell features a parade of beloved songs, including "Prepare Ye the Way of the Lord," "Learn Your Lessons Well," "All for the Best," "All Good Gifts," "Turn Back, O Man" and "By My Side."

A small group of people help Jesus Christ tell different parables by using a wide variety of games, storytelling techniques and hefty doses of comic timing. An eclectic blend of songs, ranging in style from pop to vaudeville, is employed as the story of Jesus' life dances across the stage. Dissolving hauntingly into the Last Supper and the Crucifixion, Jesus' messages of kindness, tolerance and love come vibrantly to life.

Prepare ye for the timeless tale of friendship, loyalty and love based on the Gospel According to St. Matthew.
We are so excited to see Godspell come to life on the St. Mary's stage! Here is the cast and crew: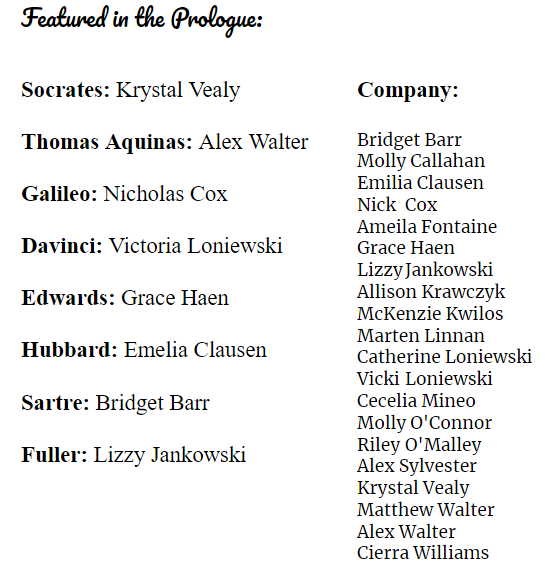 Lancers Grab SEVEN Kenny Award Nominations and Two Wins
At the annual Kenny Awards nomination ceremony, the St. Mary's High School Performing Arts Department finished the night with SEVEN total nominations for their performance of The Addams Family! What an impressive accomplishment for director and choreographer Heather Ruhland and musical director Ryan Kaminski. And the nominees are:
St. Mary's High School - Best Musical
Dylan Gurnari '22 - Actor in a Lead Role
The Ancestors - Best Ensemble Performance
Isaac Stearns '20 - Blossom Cohan Award
Marten Linnan '21 - Actor in a Supporting Role
St. Mary's High School - Outstanding Dance Performance
St. Mary's High School - Outstanding Costume Design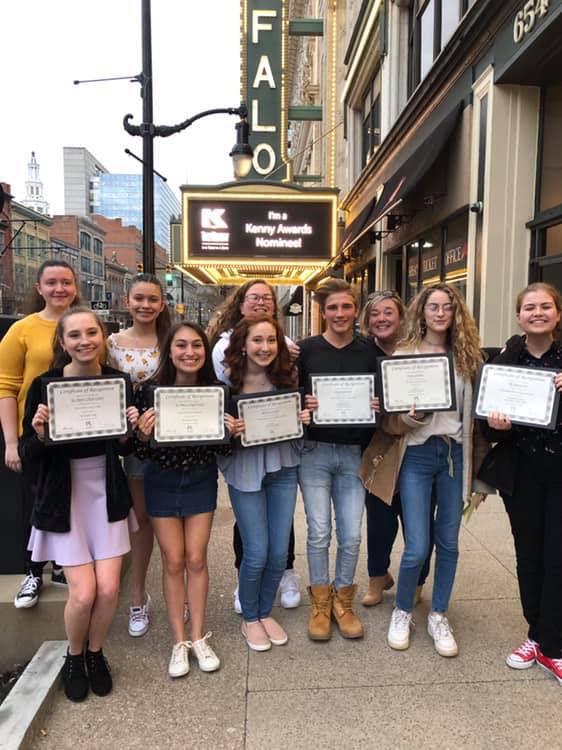 We then took home two trophies (the first of many for St. Mary's) for Best Costuming, and Marten Linnan '21 won for his supporting actor role as Lucas.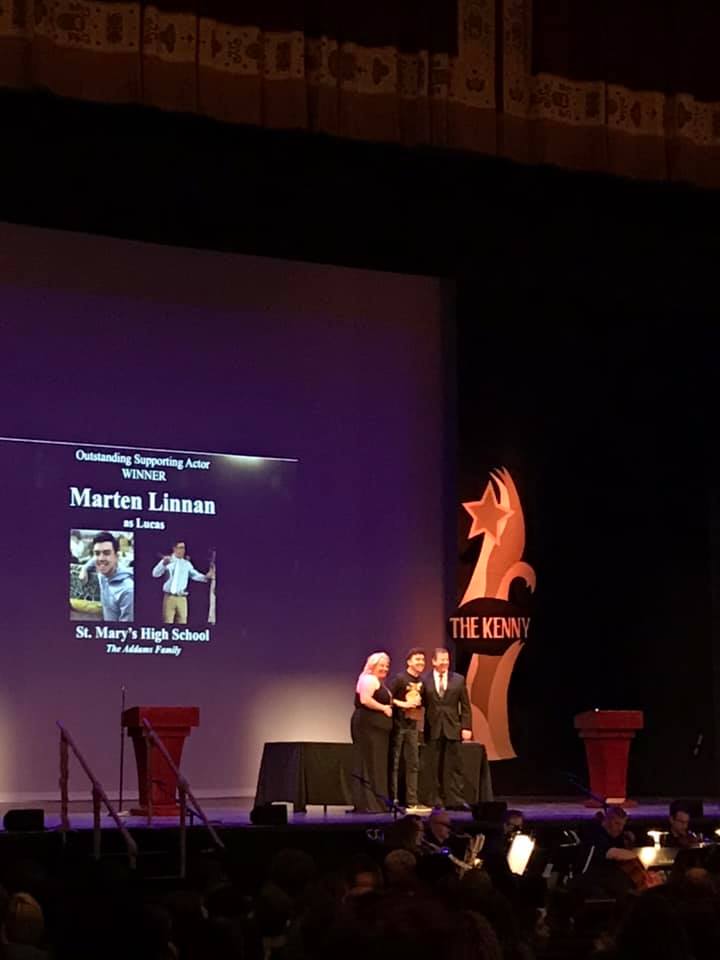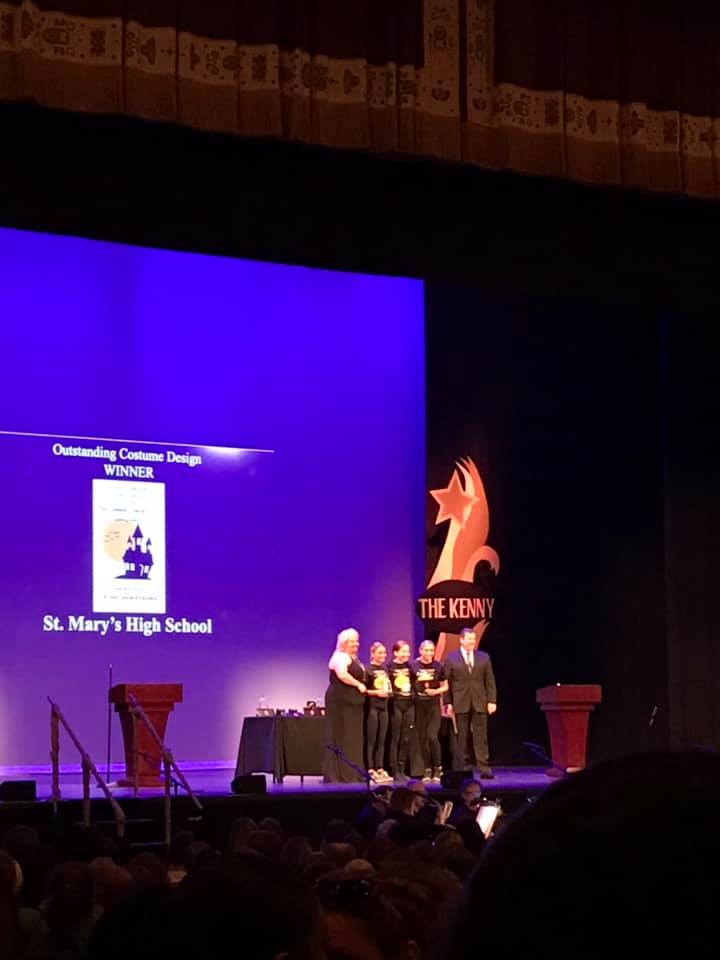 Performances through the years
2019 - The Addams Family
2018- Once On This Island
2017 - Fame
2016 - Seussical the Musical, Is there a Comic in the House?
2015 - Bye, Bye Birdie, The Creature Creeps
2014 - Footloose, 13 Past Midnight
2013 - Honk, Teen Antics
2012 - Aida, Our Town
2011 - Camp Rock, The Trouble with Summer People
2010 - Thoroughly Modern Millie, While the Lights Were Out
2009 - How to Succeed in Business without Really Trying, Turn Back the Clock
2008 - Copacabana, You Could Die Laughing
2007 - Anything Goes, Pride & Prejudice
2006 - Seussical, the Musical, The Plot, Like Gravy, Thickens
2005 - Once upon a Mattress, The Dining Room
2004 - Oklahoma, You Can't Take It with You
2003 - Guys & Dolls, Is There a Comic in the House?
2002 - Copacabana, The Crucible
2001 - Fame, A Midsummer Night's Dream
2000 - Pajama Game, Cocktails with Mimi
1999 - Grease, Mysteries of 1940
1998 - South Pacific, Twelve Angry Jurors
1997 - Guys & Dolls, Exit the Body
1996 - Anything Goes, While the Lights Were Out
1995 - Oklahoma
1994 - 42nd Street
1993 - Made in the USA
1992 - No Listings
1991 - Bye, Bye Birdie
1990 - Anything Goes, Harvey
1989 - 42nd Street, Exit the Body
1988 - Mame, The Game Show
1987 - Bye, Bye Birdie, Rehearsal for Murder
1986 - Carousel, Murder by Natural Causes
1985 - Oklahoma, Who Killed Aunt Caroline?
1984 - No, No Nanette, Charming Billey
1983 - Guys & Dolls, Let Him Sleep 'til It's Time for His Funeral
1982 - Flower Drum Song, Dracula Darling
1981 - Hello Dolly, Death by Arrangement
1980 - George M, The Imaginary Invalid
1979 - No, No Nanette, Spiral Staircase
1978 - Bye, Bye Birdie, Arsenic and Old Lace
1977 - South Pacific, The Haunting of Hill House
1976 - Fiddler on the Roof, Father's Been to Mars
1975 - Oklahoma, Love Is Contagious
1974 - Sound of Music, Harvey
1973 - Hello Dolly, The Bad Seed
1972 - Carousel, Pillow Talk, The Imaginary Invalid, Big Rock at Candy's Mountain
1971 - South Pacific, Arsenic and Old Lace
1970 - Apple Tree, Diary of Anne Frank, Up the Down Staircase
1969 - Antigone, High Cockalorum, Tom Jones
1968 - On a Clear Day You Can See Forever, A Man for Al Seasons, The Ghost of a Show
1967 - Showboat, The Chinese Wall, Rally Round the Flag Boys
1966 - Carnival, Apple Tree, Inherit the Wind, The Lark
1965 - Cinderella, Dear & Glorious Physician, The Mouse That Roared
1964 - My Fair Lady, Cyrano de Bergerac, The Mad Women of Chaillot
1963 - West Side Story, Mary Stuart, Midsummer's Night Dream, The Merchant of Venice
1962 - Wizard of Oz, Finian's Rainbow, The Little Man of Albin
1961 - Brigadoon, Hamlet, The Birds
1960 - The King & I, Merchant of Venice, The Little Dog Laughed
1959 - Seventeen, Doctor in Spite of Himself, One Red Rose, The Song of Bernadette
1958 - Finian's Rainbow, Curious Savage, Our Town, Parade at the Devil's Bridge
1957 - Ghost Wanted, Sorry Wrong Number
1956 - Church Street, Dark Star, Jenny Kissed Me, The White Phantom
Performing Arts Hall of Fame
Valerie Pawlowski Bello '97 (2012)
Alfred "Skip" Broska '63 (2009)
Gerald Forys '62 (2006)
Mary Louise Franier (2007)
Janet Pinataro Hansen '67 (2006)
Linda Wagner Herr '82 (2006)
Jordan Hokaj '08 (2016)
Ellen Horst '67 (2009)
Douglas Kern '82 (2007)
Barbara Link LaRou '63 (2006)
Paul Marlow (2013)
Carm Mercurio (2006)
Lori Lukasik Miller '82 (2008)
Nicole Owczarczak '99 (2008)
Ruth Hadsall Riley '77 (2007)
Susan Meiler Rozler '72 (2011)
Bill Smith (2006)
Rev. Gabriel Stapleton, SDS (2006)
Stephen Szapla '79 (2011)
Tom Trzepacz '98 (2009)
Matthew Walter '90 (2013)
Tom Wojciechowski '92 (2012)