Softball Takes League Championship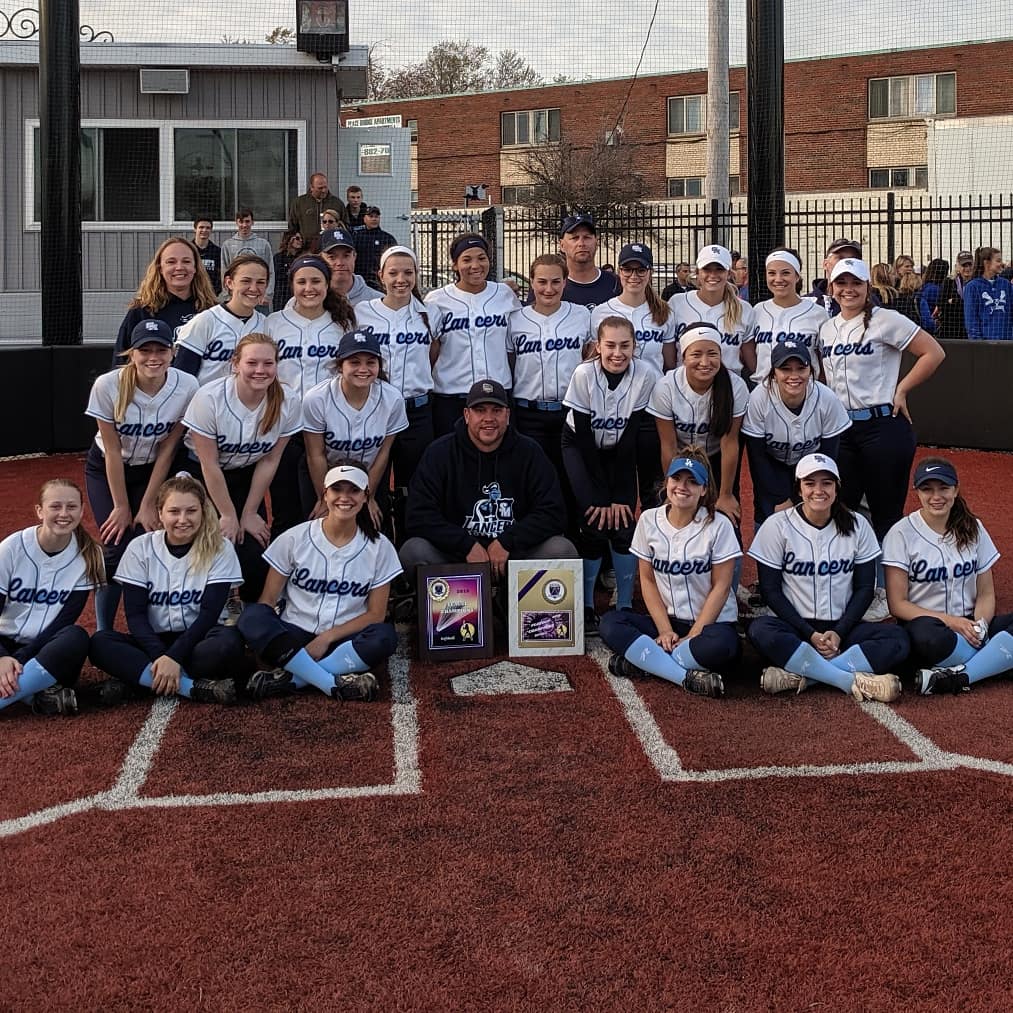 The Lancers defeated Mount St. Mary's 4-0 in the Monsignor Martin League Championship Game over Mount St. Mary's to add another year to their championship banner.
Here's a game recap from Miguel Rodriguez from The Buffalo News:
Torrie Jenkins had her reasons for transferring from Cheektowaga.

The St. Mary's Lancers (19-2) are beyond thrilled the junior chose to bring her talents to the Laverack Avenue school in Lancaster, as the Monsignor Martin Player of the Year in softball had a big role in helping her new team add another playoff championship to its trophy case.

Jenkins did a little bit of everything for St. Mary's during a 4-0 title-game win over Mount St. Mary on Tuesday night at D'Youville College's Dobson Field. Jenkins tossed a complete-game three-hitter, changing speeds and location effectively to keep thwart a young Thunder crew's bid at earning an historic championship win.

Jenkins also chipped into the offense during a three-run sixth that pretty much wrapped up St. Mary's third playoff title in five seasons.

"I feel like it's a big win for all of us and the team in general," said Jenkins, who struck out five and went 1 for 3 with a run scored. "We really wanted this one."

"Just a great kid. She was an 8-year old on the last 10-year-old team I coached," Lancers coach Kevin Hufford said. "She comes from a great family. She works her tail off. .... Thankfully she came to St. Mary's. We're very happy to have her."

The Lancers return to action next Tuesday in the New York City area in the state Catholic semifinals and finals against a still to be determined opponent.

The fact they get to make the jaunt downstate during Memorial Day weekend is a bonus to the program for a simple reason.

The Lancers failed to do it last year even though they believed they had a championship caliber team. They dropped a 1-0 decision in extra innings to Nardin – a defeat that prevented them from advancing to the state Catholic tournament.

St. Mary's, ranked first in the state in Class C, used that disappointment as fuel to get the job done this season.

Senior Catie Bish gave the Lancers the lead for good with a booming two-out, RBI double to left center in the bottom of the third that scored Riley Malicki.

It remained 1-0 until the bottom of the sixth, when Bish led things off with a walk to spark a three-run burst. Jenkins followed with a single and later scored. Bish scored on a single by Anna Dovey. Savannah Drozda drove in a run with a double.

"Last year's loss definitely gave us a lot of motivation," said Bish, who was a member of St. Mary's championship team in 2017. "We had that in the back of our minds the whole season. This game we knew we had to come in focused and with the right mentality to make sure it didn't happen again."

Mount St. Mary, which reach the final for the first time since 2003, seemed to take a 1-0 lead in the top of the third on Samantha Hare's sacrifice fly to deep center with the bases loaded.

However, the runner at third base failed to tag up correctly and wound up being the third out of the inning.

"She was halfway down the line before I could really say anything," first-year Mount coach John Rogowski said. "It didn't really take the life out of us. We were still firing, had the intensity but they're a great team. From 1-20, they're loaded with talent."

Hufford said the championship season wouldn't have happened without the efforts of Mike Rappl. The former longtime Canisius College coach and Greater Buffalo Sports Hall of Famer joined the program as an assistant when Hufford took over and plays a huge role in getting the Lancers mentally prepared for games.

"I think just because of him, every kid on this team feels if it was their turn they could knock the ball over the fence or drive that run in," Hufford said. "He does everything for us."
2019 Varsity Softball Schedule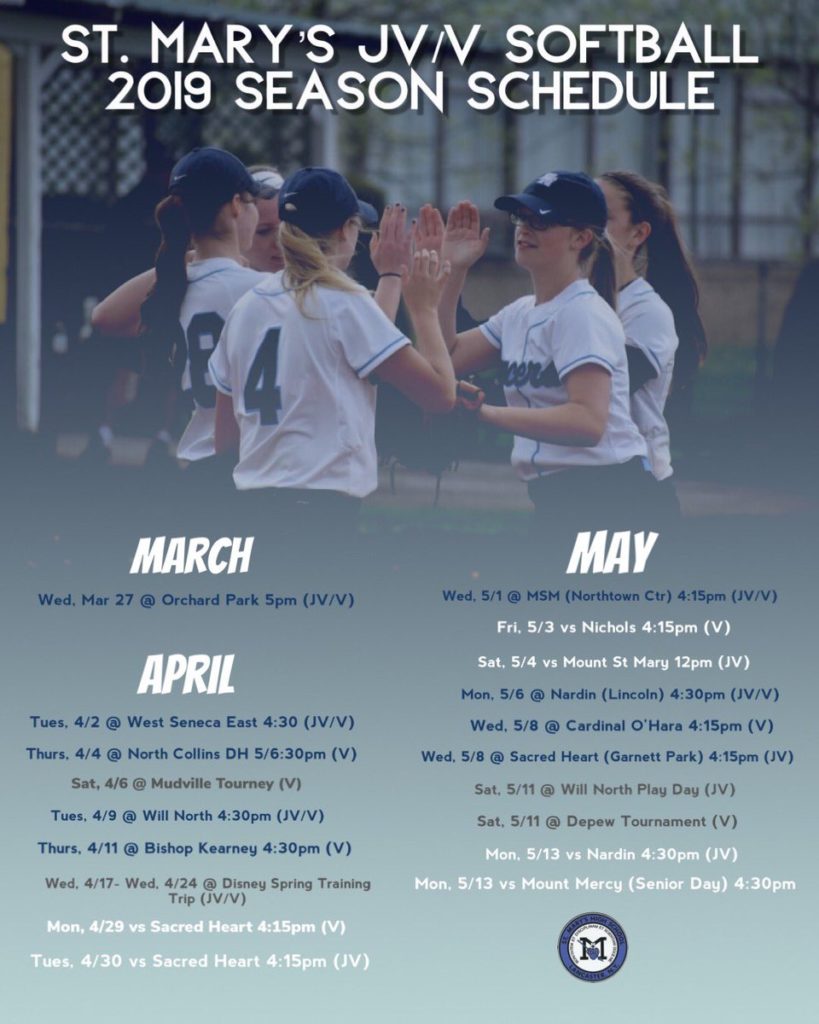 For the latest schedule updates due to weather or other scheduling conflicts, please refer to the master schedule here.
2019 Varsity Roster
| | | |
| --- | --- | --- |
| Number | Last Name | First Name |
| 27 | BISH | CATIE |
| 23 | BOJARSKI | SARA |
| 77 | DROZDA | SAVANNAH |
| 15 | DOVEY | ANNA |
| 13 | FAHEY | KATIE |
| 20 | FARINA | ISABELLA |
| 21 | JENKINS | TORRIE |
| 8 | JENSEN | MCKENZIE |
| 16 | KELLNER | MAGGIE |
| 9 | KWASNIEWSKI | HANNAH |
| 24 | LIVINGSTON | JULIA |
| 12 | MALICKI | RILEY |
| 4 | MILLER | AVA |
| 29 | SHEFFIELD | JESSICA |
| 1 | STERNER | KAYLA |
2019 JV Roster
| | | |
| --- | --- | --- |
| Number | Last Name | First Name |
| 14 | ARNOLD | GRACE |
| 6 | BEARDI | ALLY |
| 3 | CIEZKI | SHAY |
| 17 | COVELLI | MADDIE |
| 11 | ESMOND | MADISON |
| 32 | GARRY | SAM |
| 2 | LAUCK | LILY |
| 10 | LUDERMAN | HAYLEE |
| 18 | SELL | CHLOE |
| 5 | STOKLOSA | MADISON |