Hear what Lancer Families have to say about St. Mary's:
Vito Gallo, 2020
My parents, aunts, uncles and my siblings have all attended SMH, I am looking forward to my high school experience, and following on in my family's footsteps. I think St. Mary's will give me a strong academic foundation as a freshman and look forward to meeting new people and making new friends.
Karen Murty - SMH Parent (Shannon Murty '18, Brendan Murty '20, Aidan Murty '22)
"I am so grateful to you [Head of School, Kevin Kelleher] for leading our children's paths through St. Mary's High School! So many great kids are graduating out of St. Mary's now, and it's a result of your [Kelleher's] vision coming to fruition. Thank you for all of your hard work and dedication to all of the families! We are so happy to be a part of it!
Shannon is thriving at University of Rochester! Between getting to pursue her music passions at the Eastman School of Music and her academic passions of math and science through her chemical engineering major, we are amazed at she is doing while achieving Dean's List!
We can't wait for Brendan to start his journey at Syracuse University! He got that full ride because of St. Mary's! Literally everything my kids are now able to do is a result of their formation at St. Mary's. Thank you, thank you, thank you!
Mr. Mauro, English Teacher / Men's Hockey Manager
"St. Mary's high school has been a home to me since my entire family graduated from here. As a teacher for the last 16 years, being a Catholic high school educator has been rewarding as well as enriching to my career. SMH has a vibrant classroom setting, energetic activities and a dynamic faith life throughout the year and beyond."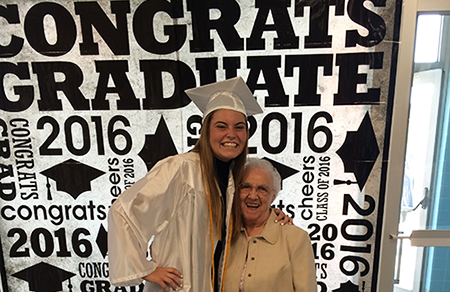 Kendra Ciezki '16
"I loved being involved at SMH in LAX, serving as the senior class Vice President and becoming a member of NHS. I will be attending the University of Alabama next Fall majoring in Bio Chemistry. I have loved my time at St. Mary's and am truly appreciative of the support and guidance of the faculty and administration here. Without their encouragement I don't think I would be as prepared and confident as I am to go away to college."
Carmen Monaco - Current Parent (Mikela '24 and Madison '24)
"My twin daughters are freshmen this year at St. Mary's, and they seem to meet new friends every day and say how everyone is so welcoming! Honestly, they grin ear-to-ear when they talk about school. The transition to high school has been uplifting for our whole household!"