Women's Volleyball Wins 16th State Championship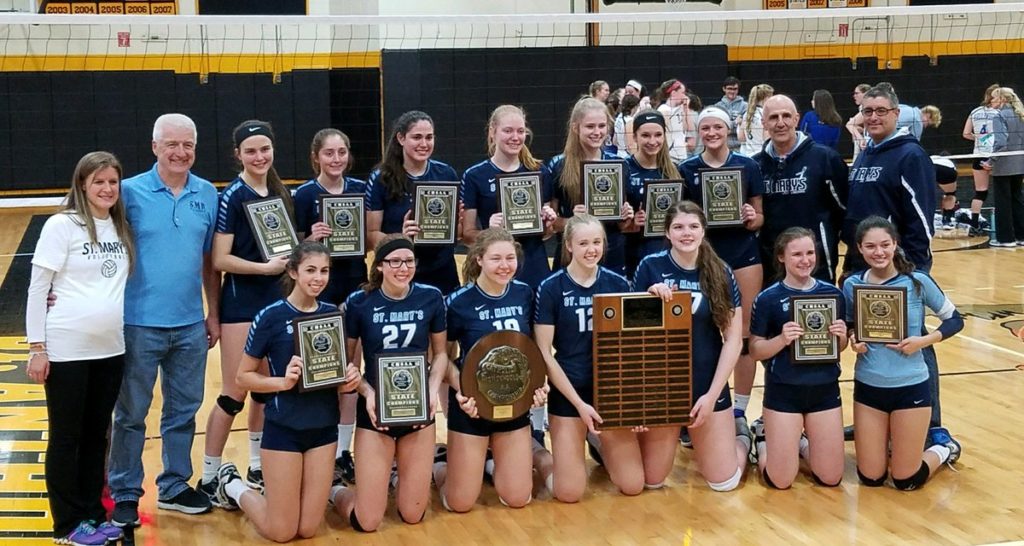 Sure, the number of championships may sound like a lot– 16 state titles is unheard of for any type of program in any sport.  But, as Coach Pieczynski says, each new season and new team brings its own challenges, its own personalities that make each season something special, and the road to number 16 was without question, something special.
The Lancers were on top of the WNY polls all season, with wins over perennial powerhouse and rival Eden, #1 large school Willimasville East, and capturing their seventh Monsignor Martin League title in a row. 
While down in New York City for the state championships, The Lancers triumphed, 25-16, 25-20 and 25-20 over Kellenberg Memorial, who the Lancers lost to in pool play.  St. Mary's won four of five matches in the tournament, defeating Mary Louis Academy of Queens and Kennedy Catholic of Somers, 2-0, in pool play and losing to Kellenberg, 25-20 and 25-19. The Lancers then defeated Mary Louis, 25-21 and 25-20, in the semifinals before taking on Kellenberg again for the championship.
In terms of statistics for the tournament, Senior Summer Slade had 53 kills, Hannah Mulhern had 39 kills, and Kelly Cleversley had 31.  Jillian Vitale had 136 assists in the 5 games, and Jasmine Brundage had 45 digs.
Summer Slade Signs Letter of Intent
SMH Volleyball Senior, Summer Slade, signed her letter of intent to play Division I women's volleyball at Duquesne University in Pittsburgh, PA.  Summer was joined by her parents, and brother and sister (also Lancers) for the big day, as well as a group of her biggest fans!  It's been quite the week for Summer after receiving league MVP honors and leading St. Mary's to a seventh-straight league championship.  Next up is a trip to NYC for a chance at another state title!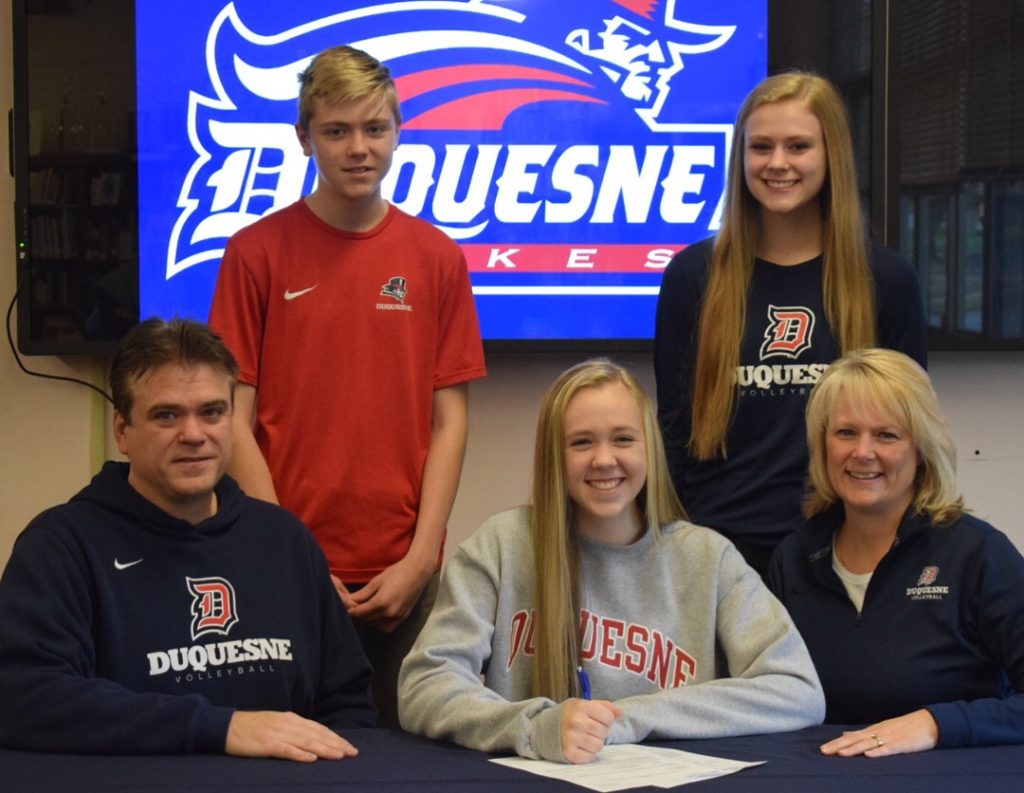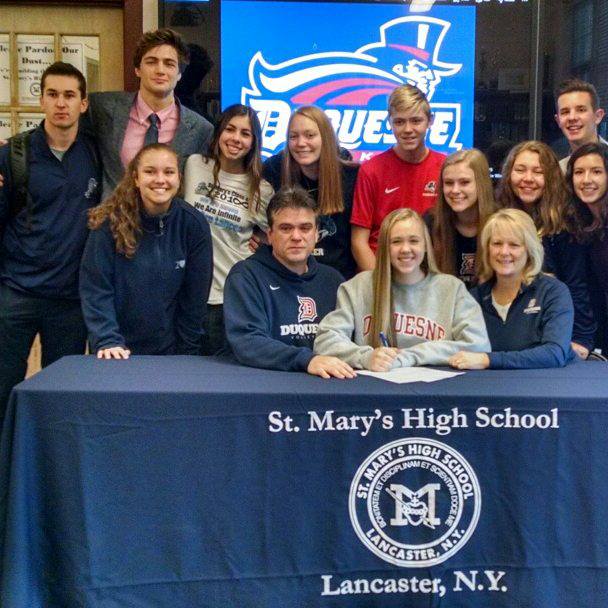 Women's Volleyball Starts Six All-Catholic Selections
Fresh off a 7th-straight Monsignor Martin title, the Lancers have 4 First-Team All-Catholic members, including League MVP Summer Slade '18, Jill Vitale '18, Hannah Mulhern '19, and Kelly Cleversley '20.  Also a special shout out to our Second Team All-Catholic members Caroline Zanghi '19 and Jasmine Brundage '20!
Women's Volleyball Captures League Title
The Lancers captured their 7th title in a row, taking down the Sharks of Sacred Heart 3-1.  Summer Slade '18 got on a roll with the serve game and Jill Vitale '18 had 40 assists to give St. Mary's the edge.  Way to go, Lancers!
You can read about the game from The Buffalo News here.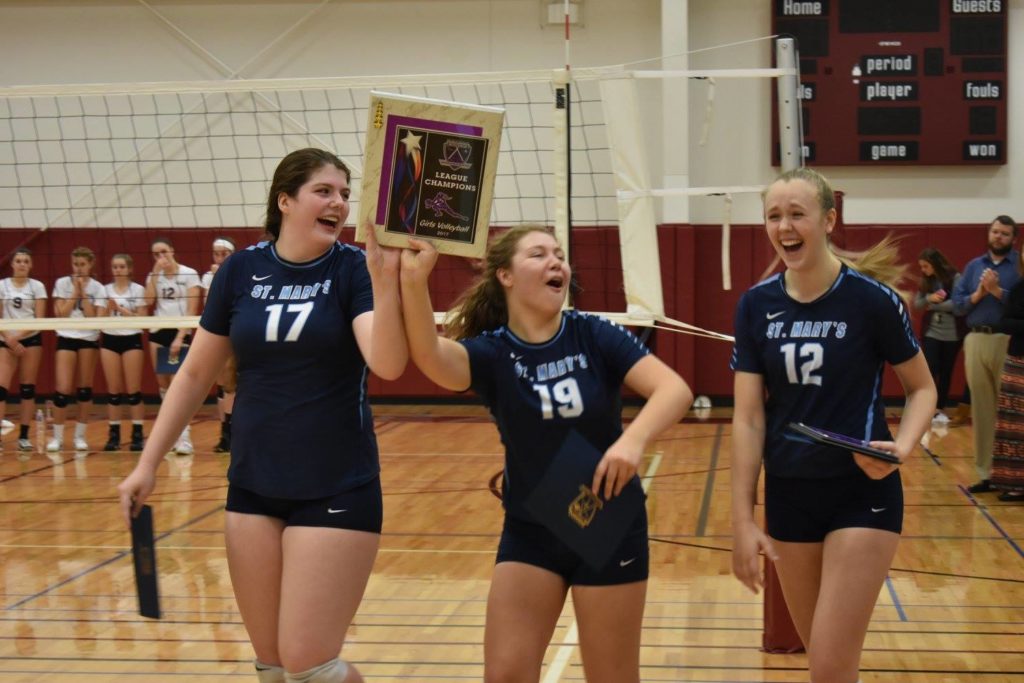 Jillian Vitale Named Prep Talk Female Athlete of the Week 
Senior Jillian Vitale of the St. Mary's Women's Volleyball Program was named Prep Talk Female Athlete of the Week by The Buffalo News.  The 5' 7" setter has grown to become one of the best women's volleyball players in WNY through her four years on the St. Mary's varsity team.  Jillian likes to think of volleyball as her outlet to escape, as she says, "I love that volleyball is my outlet, that I can forget about everything else when I'm playing my sport."  
Vitale has helped the Lancers get off to another remarkable start, ranking number one in the small school poll, taking down opponents like No. 1 large school Williamsville East, Lancaster, and inner league rival Sacred Heart.  
Congratulations, Jillian!  You can read even more about Jillian and her love of volleyball and St. Mary's here.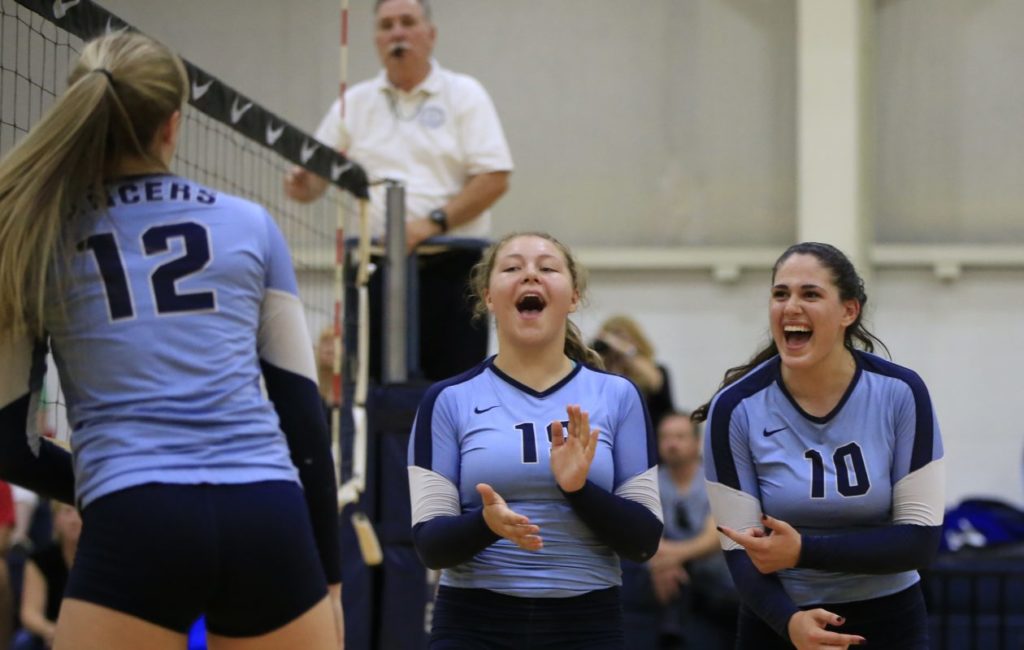 Photo courtesy of The Buffalo News
 St. Mary's Wins Home Tournament
What a great way to start the season!  The Lancers took the opening tournament of their volleyball season, the one that they in fact hosted, defeating Lancaster in the finals in the third set 19-17.  The Lancers look to build on this momentum as they begin league play.
Here is the link to the story in The Buffalo News.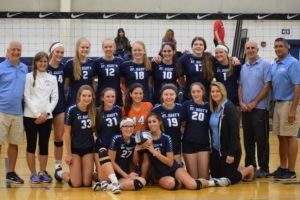 Women's Volleyball Ready to Roll Again
Coming off another Monsignor Martin League title and they're 15th state championship, the Lancers will look to fend off everyone who's gunning for them.
Here's a preview of the women's volleyball season ahead in The Buffalo News, featuring the Lancers.
15th State Championship!
Congratulations to the Women's Volleyball Team who won the New York State Catholic High School Volleyball Championship by defeating Mellenberg in the finals 27-25, 20-25, 25-21 and 25-15.
For the tournament, senior Caitlyn Meyer had 52 kills, junior Summer Slade had 31 kills and 39 digs, sophomore Hannah Mulhern had 30 kills, sophomore Caroline Zanghi had eight blocks, junior Jillian Vitale 130 assists, and senior Gina Appenheimer 46 digs.