2021-22
Trevor Sheehan Records Over 100 Wins
Trevor Sheehan '22 is the first Lancer wrestler in history to reach 100 career wins. He got to the century mark with a pin against Akron on January 24, 2022. Sheehan had a five-year Varsity wrestling career, including his eighth grade and sophomore years at Lancaster High School, but had his Sophomore year cut drastically short when the league was essentially put on pause because of the pandemic. Reaching 100 career wins is quite the accomplishment and something future St. Mary's wrestlers will aspire to.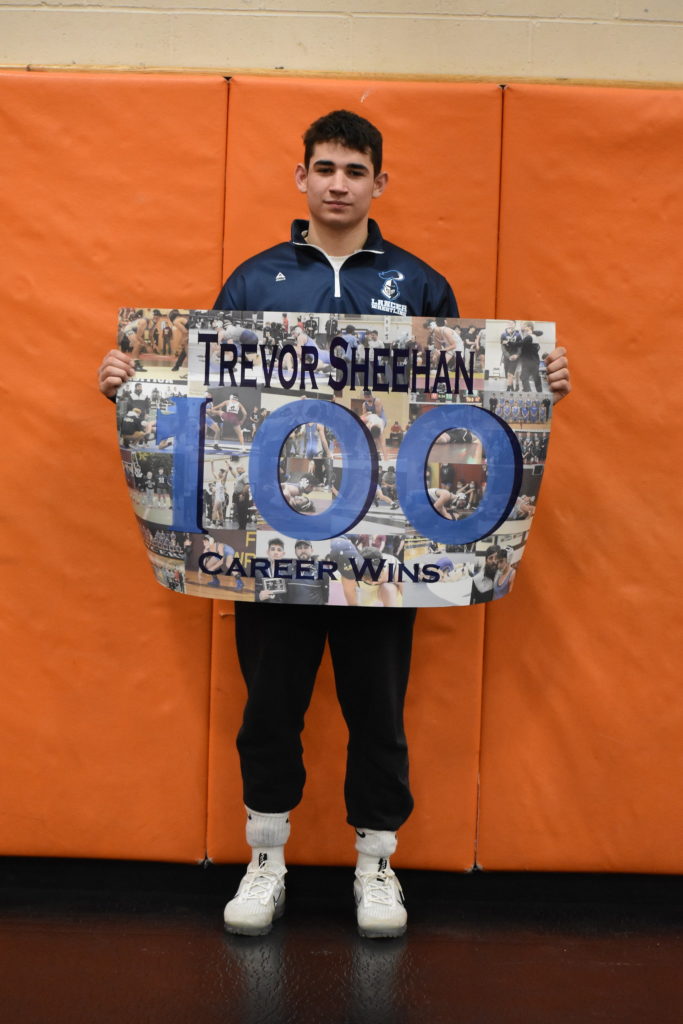 Women's Wrestling Grows
St. Mary's Women's Wrestling continues to be a force to be reckoned with. Seniors Grace Monheim and Bridget Martin and sophomore Ashley Burns wrestled in several important matches this year - against boys and girls alike. 
Ashley Burns won All-Catholics at the 102 weight class, and Grace Monheim graduated as the winningest women's wrestler in school history. These ladies also continue to make history, as Monheim and Martin are the first girl wrestlers ever to be named Buffalo News Scholar Athletes - Monheim was named a finalist and Martin was named to the honorable mention team.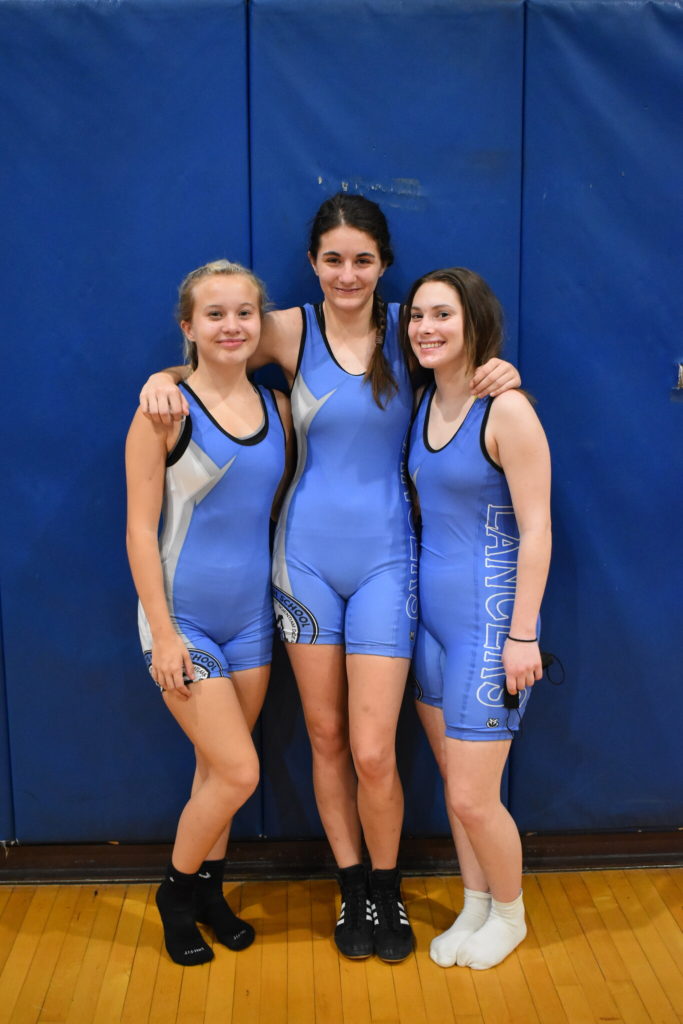 St. Mary's hosts CHSAA Wrestling Championships
For the first time ever, St. Mary's hosted the CHSAA Wrestling State Championships. February 13, 2022 was a great day for the sport and a true testament to how far Coach and St. Mary's Director of Athletics, Zach Weiss has brought this program in the past five years. 
2019-20
St. Mary's Officially Adds Women's Wrestling as 24th Sport
It is with great pride that we have the pleasure of announcing that a 24th sport has been added to the St. Mary's lineup! This year, St. Mary's will offer Women's Wrestling as an official sport to any female students looking to participate. Coach Zach Weiss '07 has taken this program to new heights over the past few years and things continue to get better and better. What a HUGE step for the sport of wrestling in WNY and a great opportunity for St. Mary's as a whole. Hear the full story from a couple of wrestlers themselves: https://youtu.be/aBAS4m5iMXc
2017-18
Fay Breaks Single-Season Win Record
Senior Jake Fay finished 2017-18 with the most wins in a season in St. Mary's wrestling history.  Fay went 33-12 with 26 pins.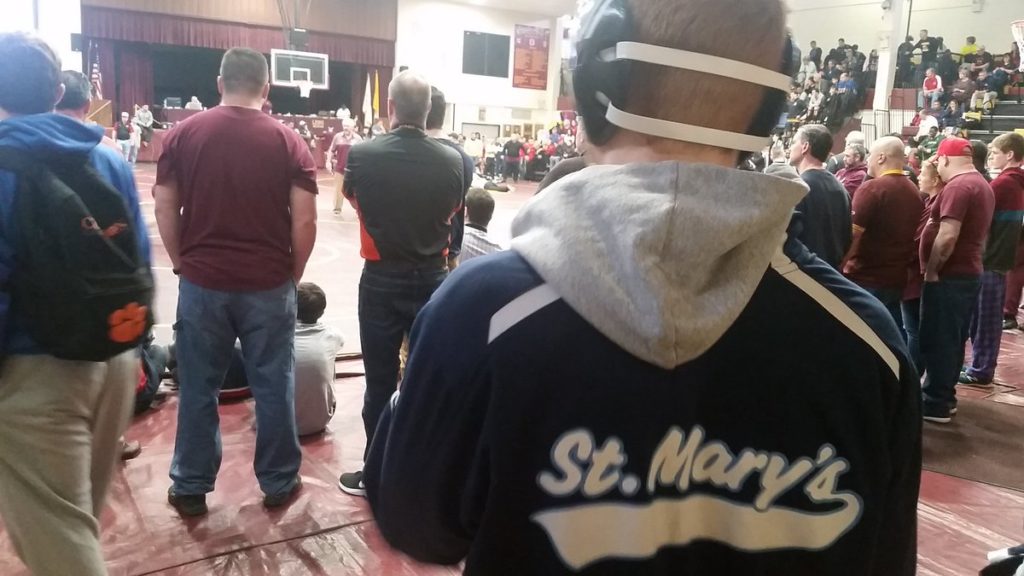 Weiss Named Coach of the Year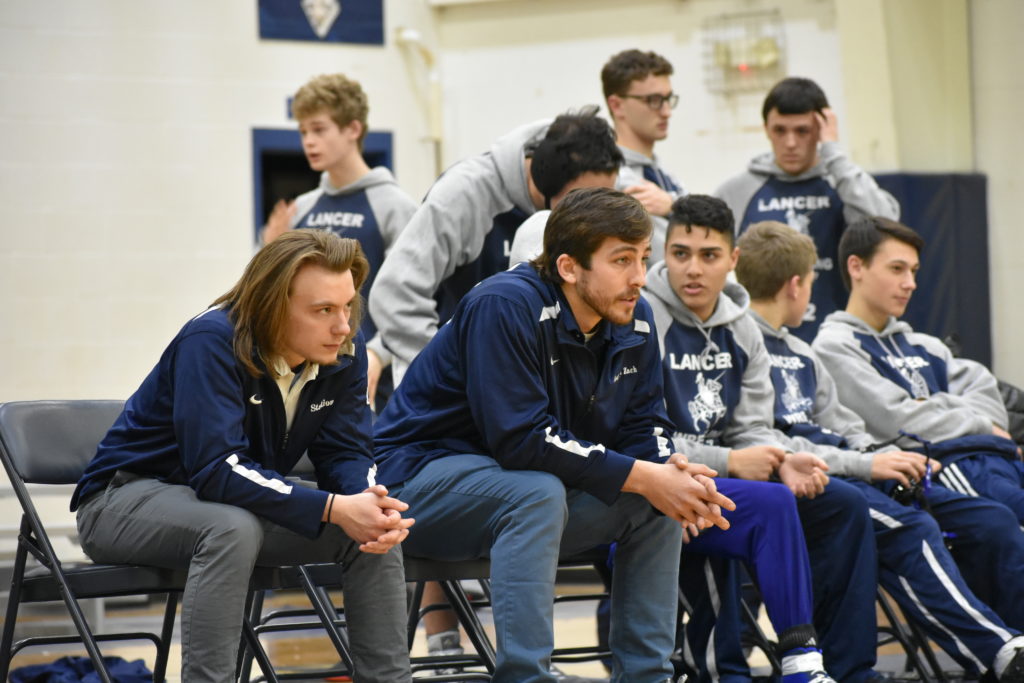 St. Mary's High School's wrestling coach, Zach Weiss, has been named the Monsignor Martin Athletic Association's Coach of the Year.  The vote is a result of a coach's poll within the league.
St. Mary's had its best season on the mats in recent memory thanks to Weiss's persistent drive to get students to come out for the team: "Some years, it's been a real struggle to get the numbers to compete consistently," Weiss said.  "So, to see how far we've come and the progression of the program as a whole, it's really been the biggest highlight of my coaching career."  St. Mary's had 19 wrestlers on the squad this year and were able to send out a competitive member of the team in a myriad of weight classes.
Weiss has been on the St. Mary's wrestling coaching staff since he graduated in 2007 as one of the most decorated wrestlers in the history of Lancer wrestling.  This year is his fifth as the head coach of St. Mary's.
As a young coach, Weiss is able to relate to his team, both on and off the mat, which helps each wrestler grow athletically, academically, and personally: "He [Weiss] is a fun coach, but he also knows when it's time to buckle down and get to work at practice," senior captain and four-year wrestler, Jake Fay said.  Fay has been with the St. Mary's wrestling program for four years and has experienced the growth of the program first-hand: "Coach Weiss has been so dedicated to building this team, taking it from just a group of four guys my freshmen year to a team of almost 20 kids now.  No one deserves to be Coach of the Year more.  We've always known that to be true, but it's nice to see Coach get some recognition for it," Fay concluded.
Fay is not alone in his sentiments.  The St. Mary's wrestling program attributes 100% of their success to their coach, while Weiss thinks the team's success has stemmed from the their trust in his overall plan: "Each member of the team is willing to buy into what we're trying to do here," Weiss said.  "They all want to work hard and build the program as a whole, each doing their part for the good of the team."
Weiss has no plans on stopping the momentum the wrestling program has built at St. Mary's.  Losing only three seniors to graduation, Weiss knows the future looks bright for Lancer wrestling.
Another Great Tournament Showing from Lancer Wrestling
St. Mary's has another fine outing at their latest tournament in Akron over the holidays.  The Ash brothers each metaled in their respective weight classes and sophomore Chris Kobis also took second in his own class.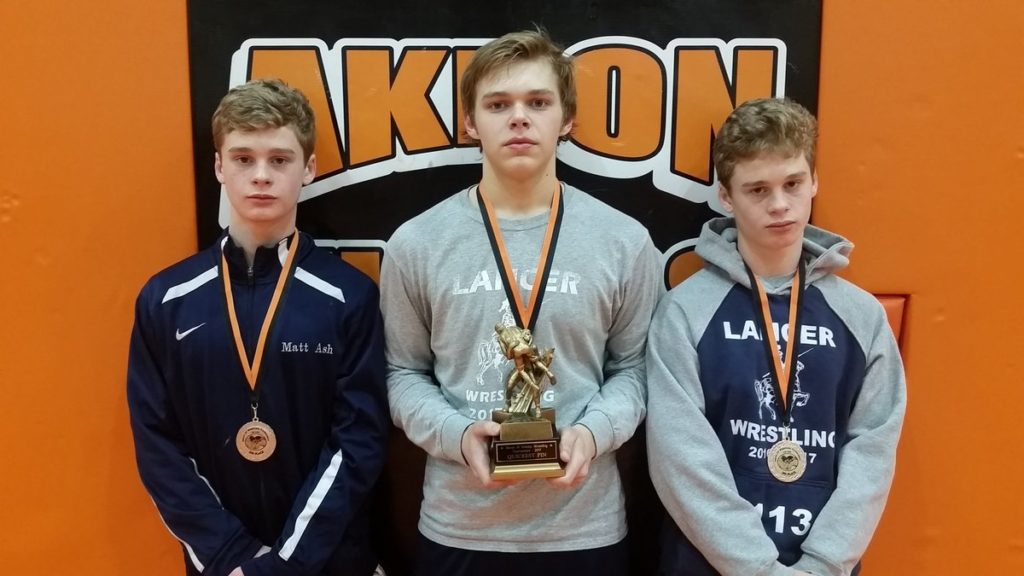 Three Lancers Place at NT Tourney
St. Mary's had quite the showing at the North Tonawanda Tournament.  Sophomore Matt Ash placed third in the 120 weight class, junior Nick Levea placed second at 195, and last but certainly not least, junior Parker Fay was the champion of the 152 weight class.  Way to go, Lancers!
St. Mary's Gets First W of the Year Against CSAT
Lancer Wrestling took down CSAT 54-27 to get their first team win of the year in just the second match of the year.  Go Lancers!