In October, St. Mary's High School took part in the "School Pride" Food Drive, sponsored by the Village of Depew and Tops in Education Program.  The food drive brought together St. Mary's, Lancaster High School, and Depew High School for a friendly, service-based competition to see who could bring in the most non-perishable foods to benefit three local pantries.
On Saturday evening, St. Mary's received its prize for winning the food drive.  The school hosted a dance for students, sponsored by the Village of Depew, with the music provided by Ultimate Events and a pizza party, with pizza donated by Lynn's Wings & Things of South Buffalo.  The Depew Village Mayor, Jesse Nikonowicz, and Depew Village Trustee member, Audrey Hamernik, also made an appearance to wish the food drive winners well.
Some very special St. Mary's students saw this prize not as a reward, but as an opportunity to pay it forward.  The Marian Chapter of the National Honor Society at St. Mary's turned the dance into a service project, charging $5 admission and holding a bake sale at the dance, with all proceeds going to benefit Make-A-Wish of Western New York.  Many National Honor Society members related to Make-A-Wish's mission and loved the idea – as kids themselves – of helping other kids: "[Make-A-Wish] children are so brave, and their stories are truly humbling," said Chelsea Okon, president of the Marian Chapter of National Honor Society.  "We are so fortunate for our health and the lives that we have, so we wanted to do our absolute best to change the lives of some very deserving children and families."
St. Mary's raised over $700 at the dance and plans to hold another fundraiser later this month to help bolster the total donation to Make-A-Wish.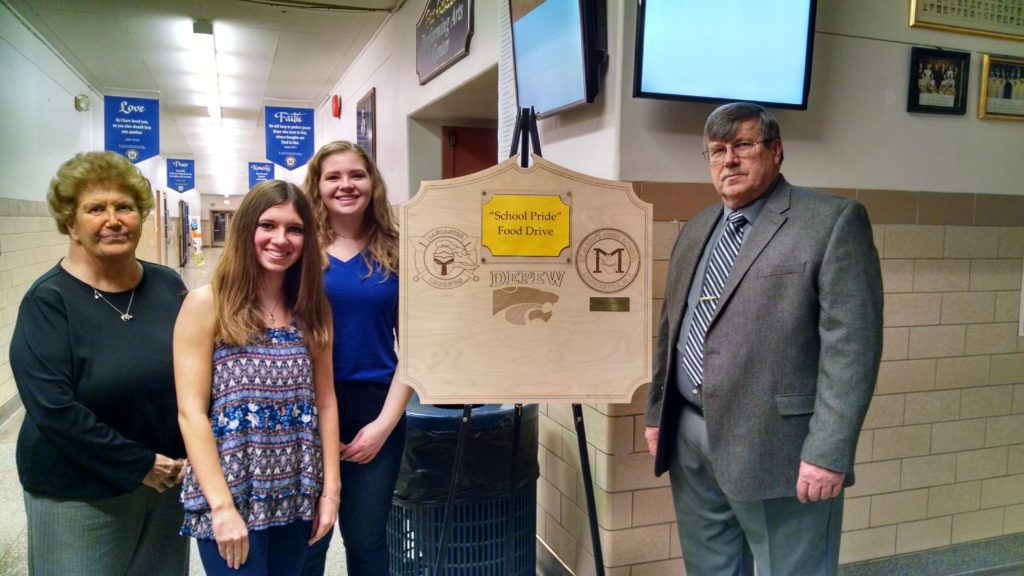 Picture Caption: (From left to right) Depew Village Trustee member Audrey Hamernik, St. Mary's National Honor Society President Chelsea Okon '18, National Honor Society member Stephanie Baran '18, and Depew Village Mayor Jesse Nikonowicz pose with the plaque gifted to St. Mary's for winning the "School Pride" Food Drive outside of the St. Mary's school dance this past weekend.