Women's Basketball Takes Home Class A Championship
Not to be outdone by their male counterparts, the St. Mary's Women's Basketball Team won the Class A Championship with a 75-68 victory also over the Nichols Vikings (below). The entirety of the game went back and forth before the Lancers were able to pull away at the end with some timely free throws. Penn State-commit Shay Ciezki led the way with an incredible 51 points in the championship game. 
The team then went onto Long Island for the State Tournament Semifinals to face Holy Cross. Unfortunately, the Lancers were unable to advance to the finals, but still had a season to be proud of!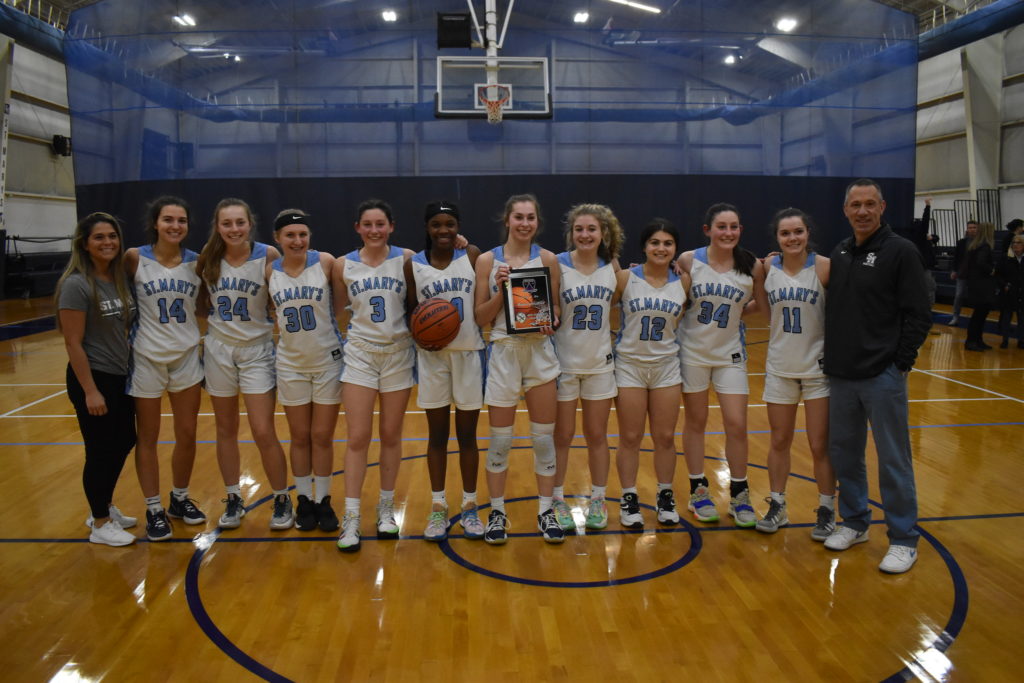 Ciezki Breaks Monsignor Martin All-Time Scoring Record
St. Mary's senior guard Shay Ciezki continues to pad her legacy as one of the best basketball players Western New York has seen.
On Saturday against Nardin, Ciezki scored 43 points to set the Monsignor Martin career scoring record for girls basketball with 2,083 points in 83 games and the association's single-season scoring record with 713 points.
She set both in the first quarter of an 84-57 Monsignor Martin semifinal victory.
"I think it's just kind of crazy," Ciezki said. "Just because of how different it is from breaking the school record to the Monsignor Martin. Not only am I leaving my mark on my school, but I'm also leaving it on Monsignor Martin."
She needed three points to surpass Jontay Walton of Holy Angels and Cardinal O'Hara in career scoring and eight points for the single-season record, set by Sacred Heart's Siobhan Ryan in the 2019-20 season.
There are only a few milestones left as the Penn State signee and three-time All-Western New York first-team selection nears the end of her high school career. Next is another chance at the Monsignor Martin championship.
Ciezki will be in attendance for Penn State's senior night on Sunday vs. Minnesota. Once she returns home, her focus will be on St. Mary's playing for the title against host Cardinal O'Hara at 6 p.m. Tuesday. The winner will represent Monsignor Martin in the Class AA state Catholic tournament.
"It would mean a lot," Ciezki said on the significance of potentially dethroning O'Hara. "I had a lot of accomplishments this year, and these past four years. For me to go out and win us a Class AA championship and head down to states, that would be huge for me. I just want to make the most out of my senior year."
O'Hara has been a dominant force in Monsignor Martin and has won the last eight championships, beating St. Mary's in the title game the last two seasons.
As Ciezki's last opportunity to win what's long eluded her and the program, the impact of a banner making its way to Lancaster is significant.
"It would be a really great accomplishment for her in her career and a nice accomplishment for the school and the program," St. Mary's coach Anthony Ottomano said.
Their meeting against O'Hara comes a few weeks after the teams met, which saw Ciezki score her 2,000th career point in a 37-point effort in the Lancers' 62-51 loss. She's scored her 1,000th and 2,000th career points against O'Hara.
She had 27 in the first meeting between the teams this season, a 55-44 win by O'Hara in mid-January.
"We've always said to be the best, we got to beat the best," Ottomano said. "If it were to happen, it would just be a really great and impactful moment for the program. She would add another piece to her career legacy that she's leaving behind at St. Mary's."
Ottomano is impressed with Ciezki's dedication to the pursuit of her goals, despite having already signed with Penn State. Being one of the top players in the country – No. 56 on ESPN's list – she could have easily stepped back and let her focus wander this season.
Instead, she's wanted to add achievements to solidify where she stands among the players before and after her.
"She hasn't had time off since the minute she said she's going to Penn State," he said. "She's played every minute of every game as if it's her last game. Some kids don't do that once they know where their road is headed. I think she's got to rank at the top, if not the top, of Monsignor Martin."
Having known her since she was a pre-teen, Ottomano has had a front-row seat to Ciezki's rise, both as a player and a person.
"It's just been an incredible ride," Ottomano said. "To be part of it just sitting on the sidelines watching it, it has been really cool and kind of amazing and special. It's hard to put it in words. I don't know if I'll ever coach a player like this again. It's just been really special."
Women's Basketball Honors Two Seniors
St. Mary's celebrated the seniors on the Women's Basketball Team - Shay Ciezki and Chloe Sell. The accolades and records set by Shay Ciezki are too numerous for one post, but St. Mary's all-time leading scorer and 2,000-point scorer is headed to Penn State this Fall to continue her academic and basketball career. Chloe Sell is also a solid contributor to the team and is looking forward to the softball season coming up this Spring.
Congrats, Chloe and Shay!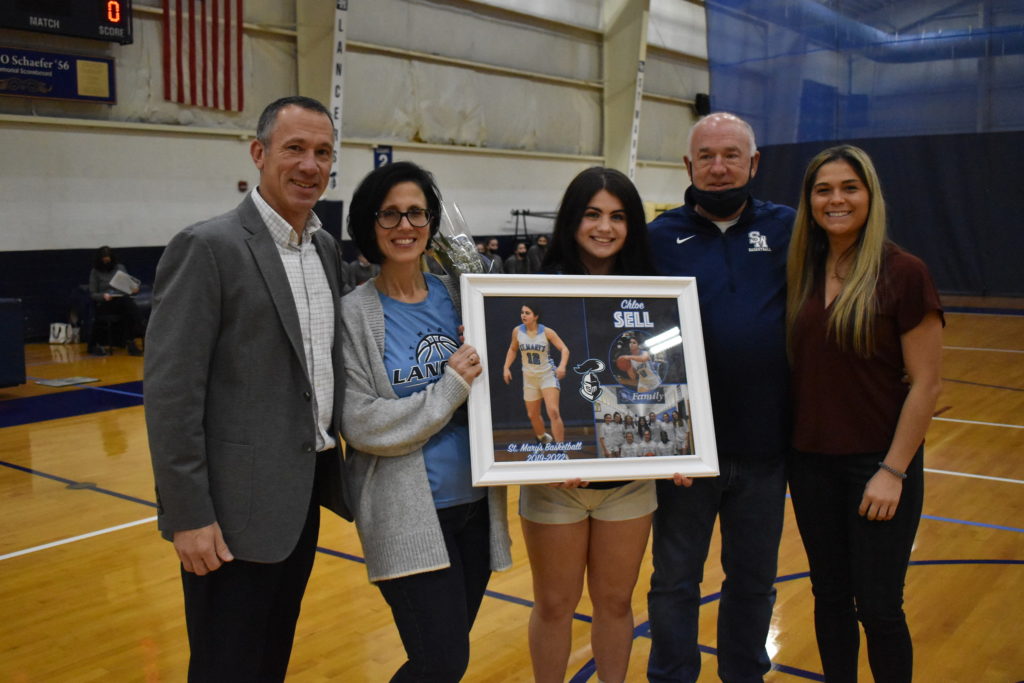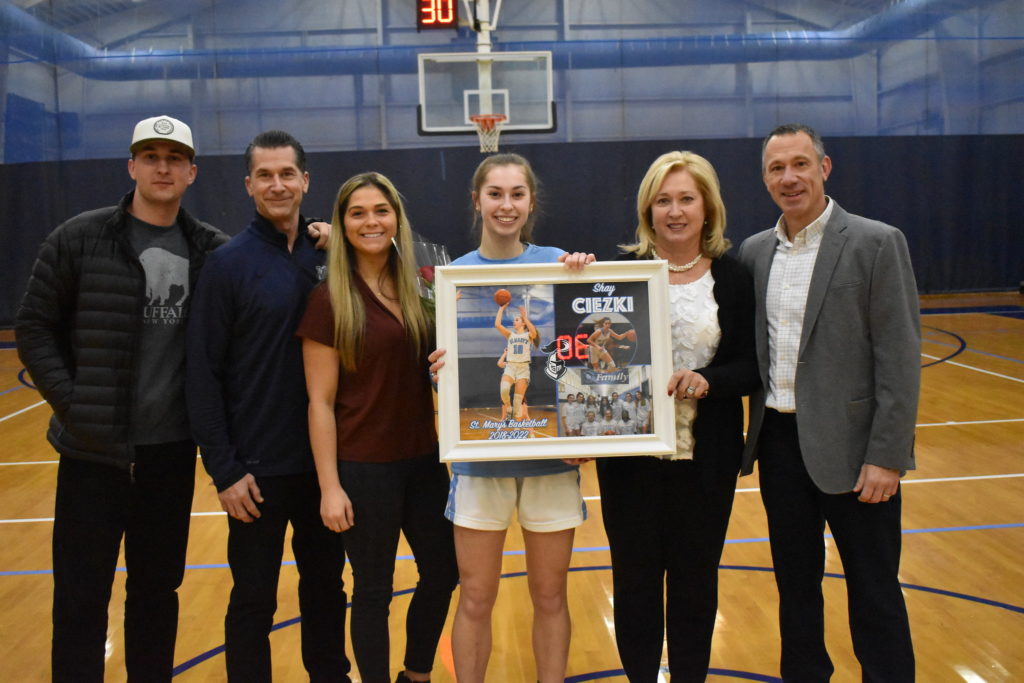 Ciezki Eclipses 2,000-point mark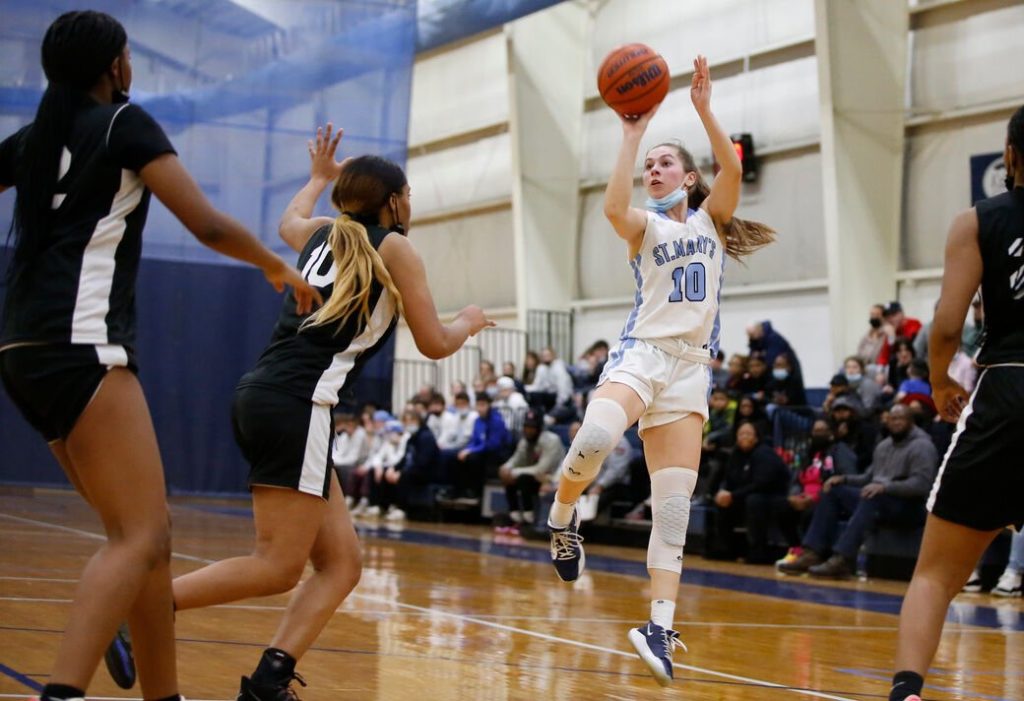 From The Buffalo News:
Part of St. Mary's senior Shay Ciezki's pregame routine is showing up to the gym an hour before she's supposed to. The extra hour allows her to get shots up and prepare.

On Wednesday afternoon, she arrived early with teammates knowing the evening could end with history made and a freshman year goal achieved.

Ciezki eclipsed the 2,000-point mark at the 7:11 mark of the third quarter on a three-pointer, in a 62-51 loss against Cardinal O'Hara, as she finished with 37 points to give her 2,019 for her career.

By coincidence, her 1,000th point came against the rival Hawks as a sophomore. The schools have dueled repeatedly in the Monsignor Martin Association and for supremacy in The News' rankings.

"It's a pretty big deal because I just know the work I put in to make this happen tonight," Ciezki said of the milestone. "And especially for the people around me that helped me get to the point where I am today, especially coach (Anthony) Ottomano, my teammates and my family."

Making the Penn State signee's accomplishment more impressive is her points came over 81 games in four seasons, unlike some players who have amassed totals playing on varsity teams as junior high students.

Ciezki, a three-time All-Western New York first-team selection, occupies the No. 2 spot in career scoring, according to Monsignor Martin records. Former Holy Angels and O'Hara player Jontay Wilson is No. 1 with a career total of 2,043 points. She is No. 3 for scoring in a single season with 649, behind former Sacred Heart star Siobhan Ryan, who had 677 points in the 2019-20 season, and Wilson, who had 662 in 2012-13.

"I think one of the biggest things is she hasn't let the number affect her game or approach to the game," Ottomano said. "She is still extremely focused on the team and the team winning. Not about herself hitting a goal. She was the same way as she approached the school record that we had. It's a sign of her maturity and how she just approaches each practice and each game."

Ciezki is already St. Mary's career leading scorer regardless of gender. She recently passed current assistant coach Raeann Stilwell's 11-year-old record of 1,776.

For the season, Ciezki ranks second in the state in scoring at 34.7 points per game and is also averaging 10 rebounds, 5 assists, 4.3 steals and 1.3 blocks.

Her senior season, and career with the Lancers, are all over the record books.

"The biggest thing for me is I wanted to go through these four years and leave my legacy at St. Mary's, not only as a basketball player but as a teammate," Ciezki said emotionally. "I'm trying to mentor all the young ones on the team and hopefully I make an impact on their lives. Coach Ottomano and I have had a long run. It's going to be a sad ending."

While there is more to do before her high school career ends, Ciezki already knows what she wants to accomplish next.

"One main goal is to work hard and try to start next year at Penn State, possibly try to make the freshman team in the Big Ten," she said. "Just always aiming for the high goals and to just keep chasing them."
Ciezki Breaks School All-Time Scoring Record
What a day to have a day! Senior Shay Ciezki needed 22 points vs. Elmira to break Raeann Stilwell's '11 record of 1,776 points for the most points in St. Mary's history.
Shay broke the record as she does everything - in style - with a fade away off the glass, finishing the game with 36 points and 1,791 points and counting.
The National Honor Society student with a GPA in the top 10% of her class, Shay is the 55th-ranked player in ESPN's Top 100 and the #10 point guard. She will head to Penn State University this Fall to continue her playing career.
Congratulations, Shay!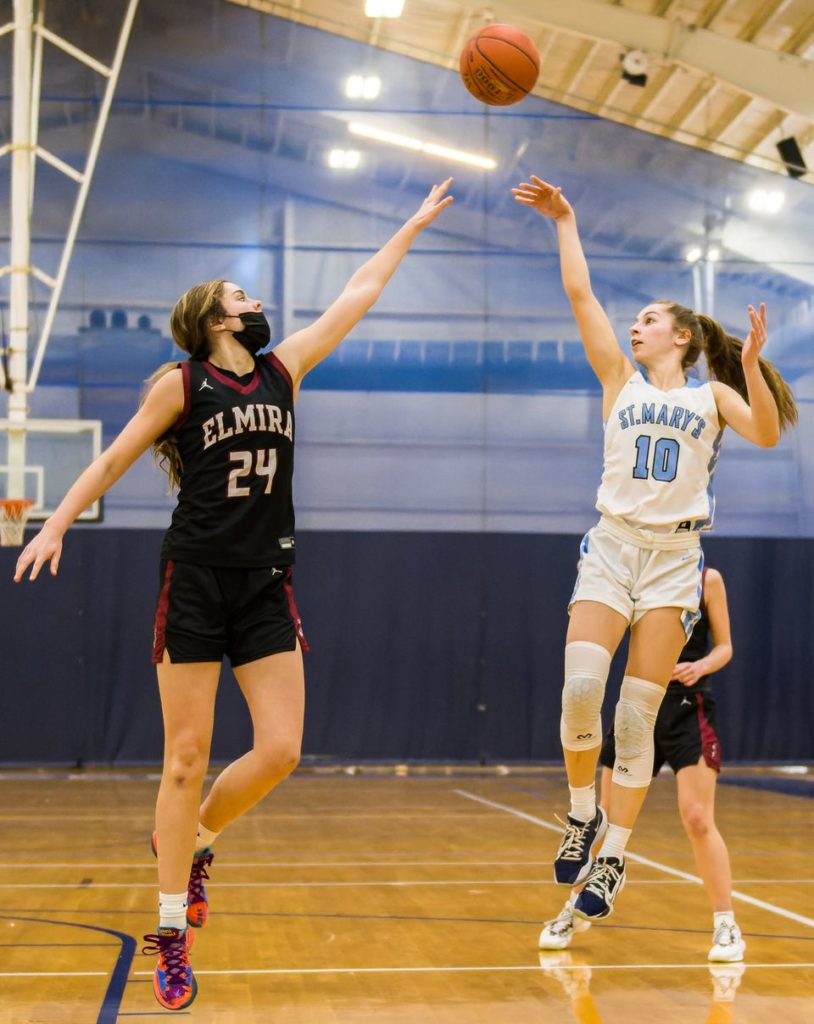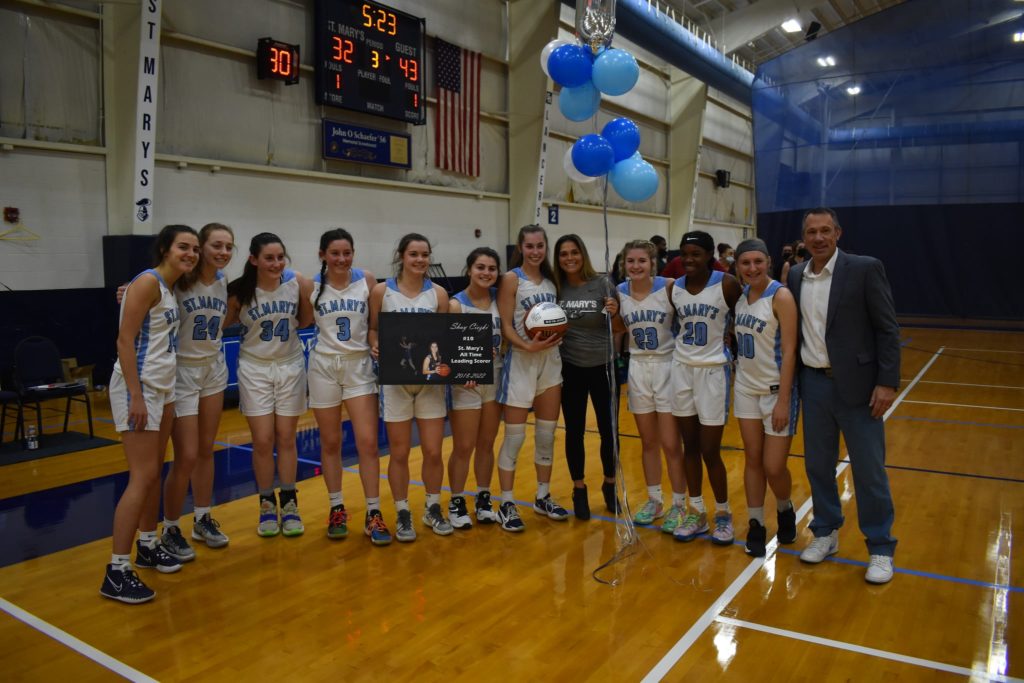 Senior Ciezki Commits to Penn State
Senior Shay Ciezki has committed to play basketball at Division I Penn State University. Congratulations, Shay!
Three Lancers Named First Team All-Catholic
Congratulations to sophomore Shay Ciezki, junior Sydney Ottomano, and senior Lauren Nawojski on being named First Team All-Catholic. Shay was also named MMHSAA Player of the Year.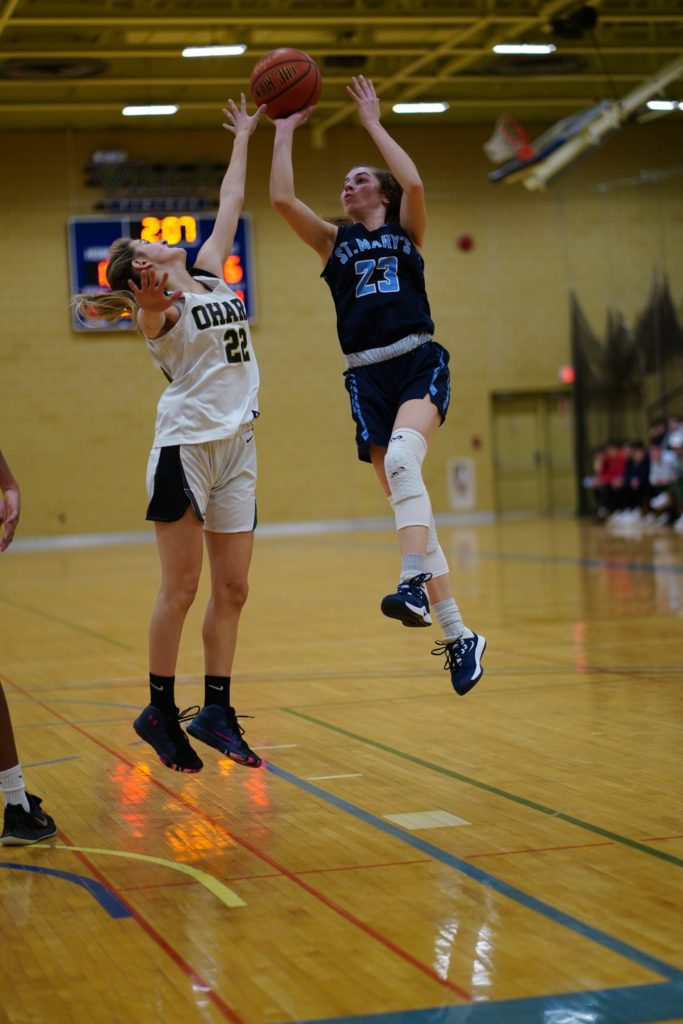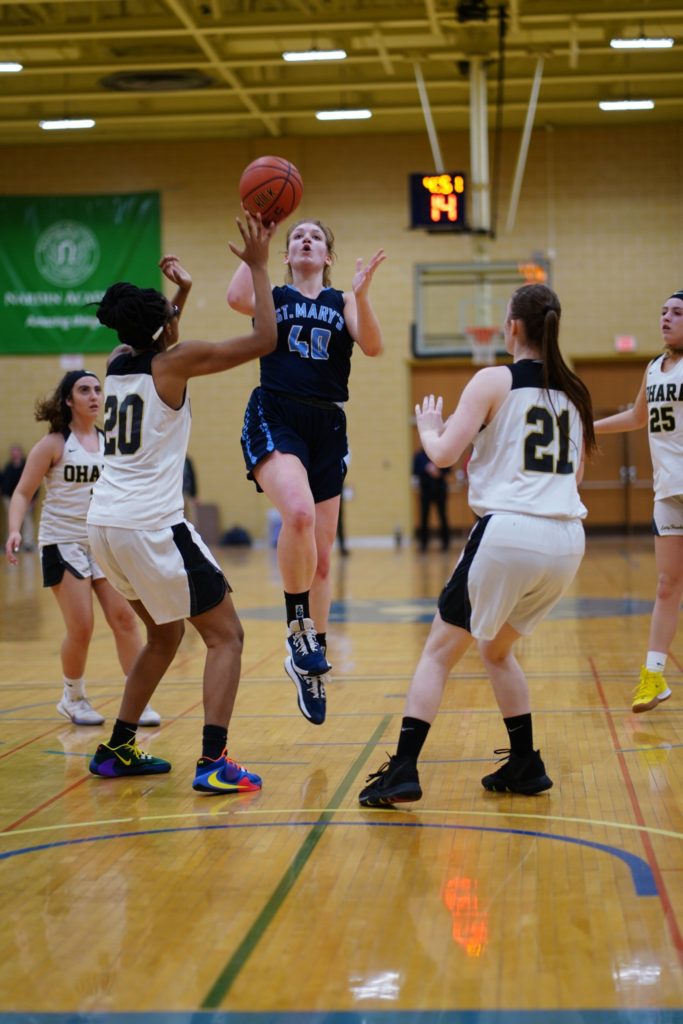 Sophomore Ciezki Joins 1,000-Point Club
Sophomore Shay Ciezki scored her 1,000th point in the Monsignor Martin Championship Game on March 6, 2020. Congratulations, Shay! Can't wait to see what the next two years have in store.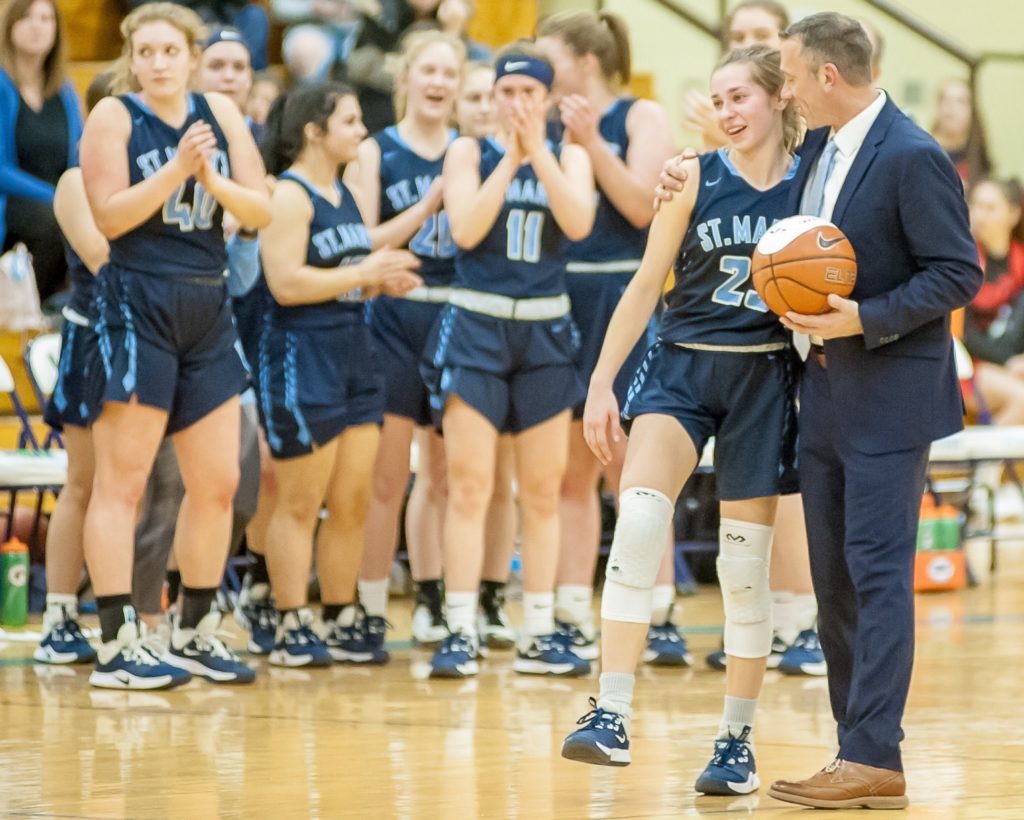 Women's Basketball Falls to O'Hara in Championship
The St. Mary's Women's Basketball Team fell to Cardinal O'Hara in the Monsignor Martin Championship, but it was still a fantastic season and the program as a whole keeps going up and up!
JV Women's Basketball Finishes Strong Season
The JV Women's Basketball Team finished another strong season, with 18 wins.
Women's Basketball Celebrates Senior Night
Thank you to seniors Lauren Nawojski and Parris Maroney for their hard work and dedication to the St. Mary's Women's Basketball Team over the past 4 years. Good luck in the next phases of your academic and playing careers! Oh, and the team got a 50-point victory to cap off the night too.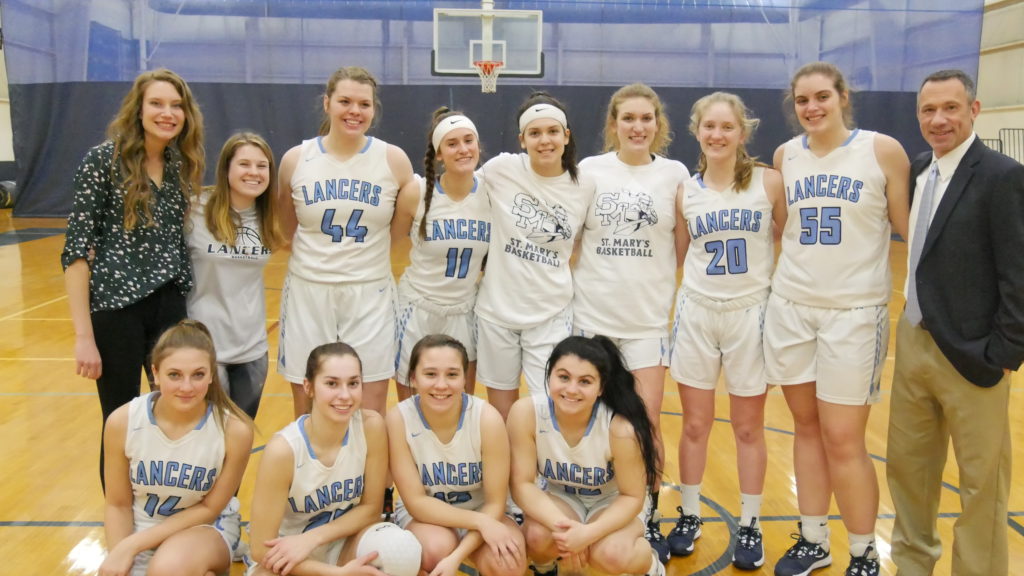 St. Mary's Splits Early Season Trip to Syracuse
The Lancers picked up an early season win against Section III's Bishop Ludden 61-56 but fell to Jamesville-Dewitt 58-55 in a close battle.
Senior Nawojski Commits to St. John Fisher
Senior Lauren Nawojski has decided to continue her academic and playing career at St. John Fisher College. Congratulations, Lauren!