On September 8th, St. Mary's will unofficially kick-off the 2020-21 school year with the Lancer BLOCKED Party & Tuition Raffle! In the past, we have held a big party under the tent on the front lawn, but we realize that is just not feasible right now because of the pandemic. However, each $100 ticket purchased still gets you a chance to win the grand prize – YOUR son or daughter's tuition for the 2020-21 school year – as well as a chance to win several other prizes. To really make it worth your while, there will only be a maximum of 250 tickets sold. So, let's think about the odds here – a $100 ticket gives you at least a 1 in 250 chance to win thousands of dollars with that grand prize. Those are some great odds!
Take a look at the flyer below for some details: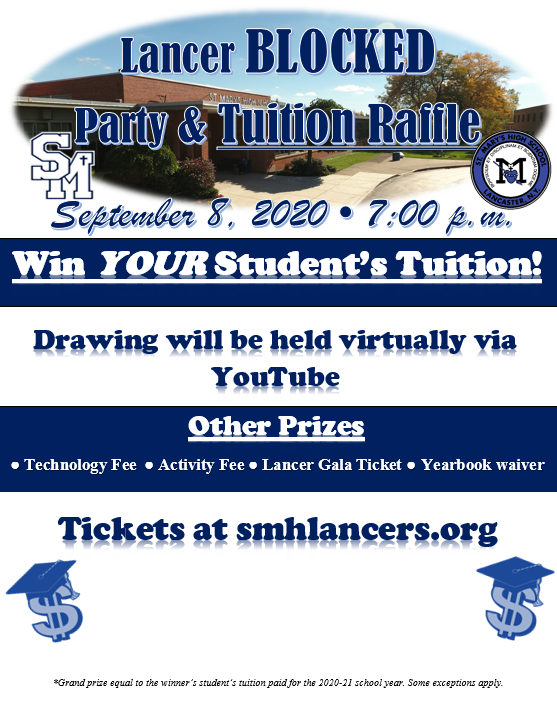 This is a "ticketless" drawing and all entries can be purchased below:
All ticket buyers' names will be assigned a number and entered into the drawing to receive free tuition.
Winners will be drawn on September 8th at 7:00 p.m., and a link to view the drawing will be sent out to all families via email to view at a later date.
Interested in buying tickets? You can do so below or by emailing Marketing Director Amy Kawa at akawa@smhlancers.org.