Summer fun is right around the corner!  Our administrative team is already hard at work planning an amazing 2021-22 school year.  To get everyone excited, we are going to have quite the kick-off to the school year with the "Welcome to the Family!" Lancer Block Party & Tuition Raffle on Thursday, August 26th at 7:00 p.m. All St. Mary's families are invited to the school for an outdoor party with drinks, music, and a chance to win the equivalent of your son's or daughter's tuition.  Yes… you read that right – we will be raffling off the equivalent of what you pay for your son or daughter to attend St. Mary's High School for the 2021-22 academic year.
So how does this all work? Each $100 ticket purchased gets you and a guest access to the party and a chance to win the grand prize as well as a chance to win several other prizes. To really make it worth your while, there will only be a maximum of 400 tickets sold. So, let's think about the odds here – a $100 ticket gives you at least a 1 in 400 chance to win thousands of dollars with that grand prize. Those are some great odds!
Take a look at the flyer below for some details: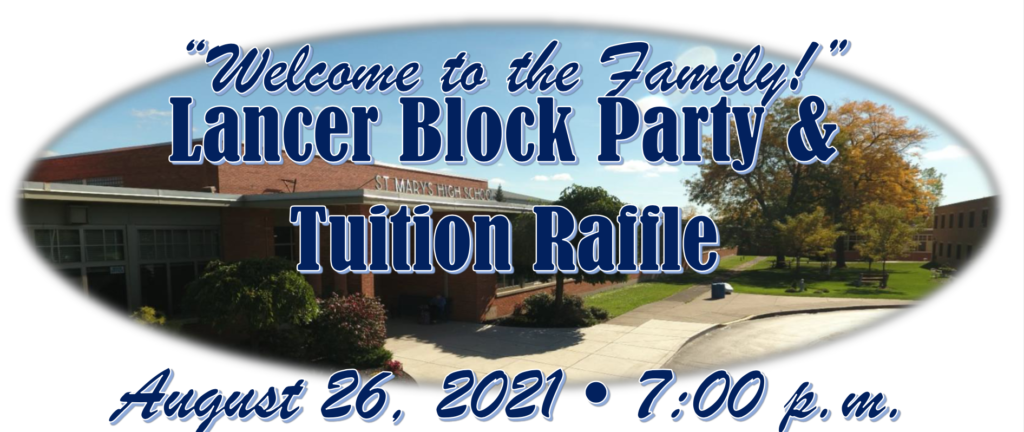 This is a "ticketless" drawing and all entries can be purchased below.
All ticket buyers' names will be assigned a number and entered into the drawing to receive free tuition.
Winners will be drawn on August 26th at the Lancer Block Party right on the school's front lawn! Come mix and mingle with other St. Mary's families, faculty, staff, and administration, and see what it means to be a part of this St. Mary's Family!
Interested in buying tickets? You can do so below or by emailing Marketing Director Amy Kawa at akawa@smhlancers.org.