We've all been looking for things to do around the house. So, have you been cleaning out your old files? Are you worried about how to safely destroy old medical documents, bank records, legal records, tax fillings? We have a solution for you! On Saturday June 6, 2020, bring those records to St Mary's for proper destruction via Shred–It!
Time: 9:00 am – 12 pm
Where: SMH parking lot – front entrance
We are asking for a $10 donation per box (8.5" x 11" or "bankers" box size)
Have no fear! You will not have to get out of your car. We will have volunteers ready to remove boxes from your trunk and move them to the on-site Shred–It truck for proper destruction.
See you there!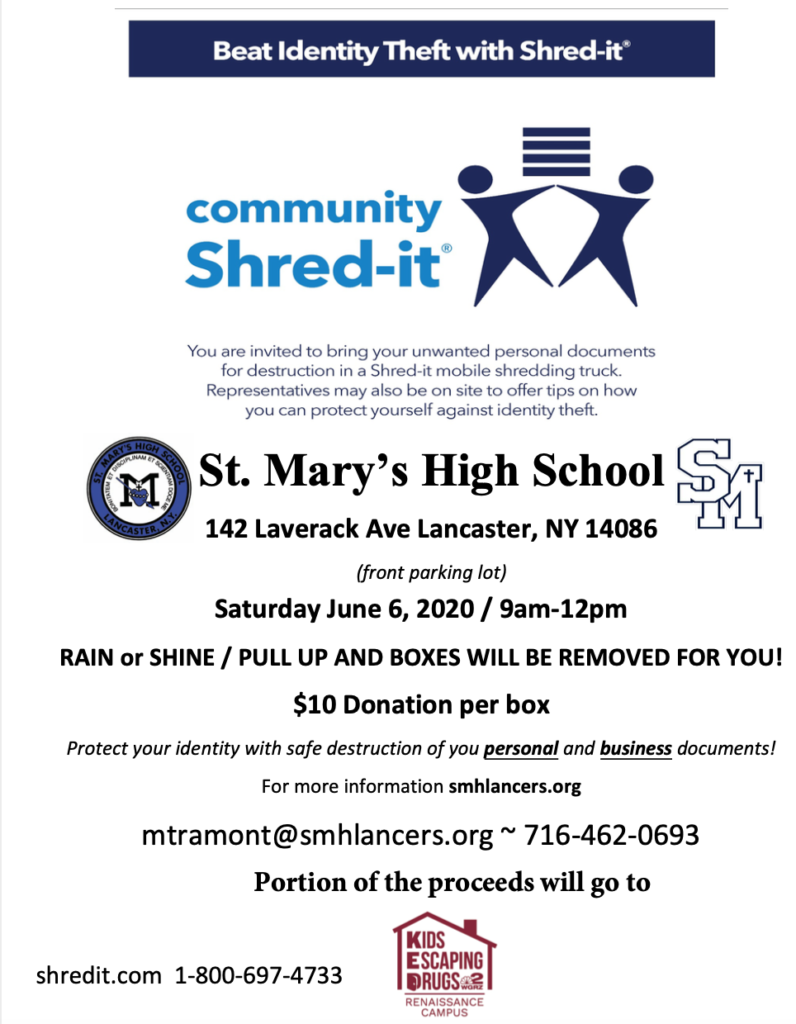 Curious as to what documents can be shredded? Here are some guidelines:
 Paid bills
Any past bills over 3 months can be destroyed
Pay stubs
Only keep the most recent few until you get the last one for the year
Bank or Credit Card statements
Should be tossed and only saved digitally
Retirement Account statements
Keep only quarterly and annual statements; monthly and old quarterly should be destroyed
Taxes
In most cases, you should keep tax returns for at least 3 years, since that's the time limit to amend a return or for the IRS to audit good-faith returns.  (There's no time limit for the IRS to audit fraudulent returns.)
Auto Records
Keep the title in a safe place, and keep maintenance records as well until you sell the car.
Auto and Property Insurance Papers
When you get the new insurance card in the mail, throw away the expired cards.  You don't need to keep paperwork for insurance that expired or that covered property you no longer own.
Health Insurance Papers
Keep recent records and throw out the older ones; most are available via your doctor or their on-line service.
School papers
Keep only those that you know you will refer to in the future; commit as many to digital storage and discard the rest
Warranties and Manuals
If you have any warranty paperwork that is expired or manuals for appliances that you no longer own, give them a toss.
Most Papers Can Be Scanned
If

it

is signed letter from President Lincoln KEEP

IT

 and bring

it

to the Antiques Road Show or Pawn Stars. If

it

is a card from your 4th grade valentine, SCAN

it

.
When you want to save a document,

it

doesn't mean you need to save the actual paper. In most cases, a digital copy is as valid a form of documentation as the original. Keep paper copies of important papers, such as your car title, as mentioned above. Scan less important papers, such as account statements.