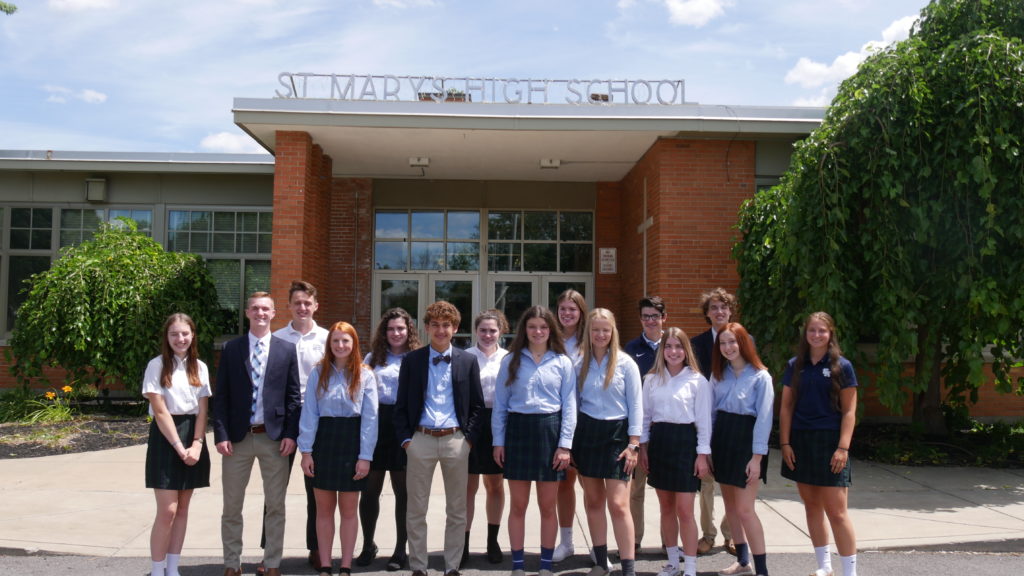 (As presented to parents 8-4-2020)
St. Mary's High School has released its reopening plan for the 2020-21 school year. The plan outlines three different scenarios. As the current conditions allow, St. Mary's plans to reopen on September 9, 2020 with every student on campus for in-classroom instruction every day of the week.
This plan is highlighted by separate entrances to the school based on grade, temperature checks, socially distant classroom settings, spreading out larger classes (i.e. lunch periods) amongst multiple spaces in the building, frequent sanitization of desks and other high-touch surfaces, installing hand sanitizer stations, requiring face masks be worn while on campus and in classrooms at the discretion of the teacher, limiting locker usage to prevent hallway congestion, and making all assignments paperless.
"I am confident in our ability to continue to provide our students with a preeminent college-preparatory educational experience in as safe an environment as possible," said Kevin Kelleher, Head of School at St. Mary's.  "As a private educational institution, in this case, we are fortunate to have a smaller student population than what the public schools have to try and navigate around and have a building that has more than enough room to spread everyone out the way we need to. We're going to get creative in the way we use some of our multi-purpose spaces – like our auditorium and athletic center – but that type of creativity will foster the type of environment that is most conducive for our students to learn," Kelleher concluded.
"So much of how we've been able to be successful as a school during this pandemic has been thanks to the collaboration of our students, parents, and faculty," explained Keith Junik, Dean of Academics and Curriculum. "Everyone's world got flipped upside down five months ago, and we're ready to get back to some sense of normalcy at St. Mary's – taking all of the necessary precautions, of course," Junik concluded.
There is still much uncertainty as to what the coming months will look like in terms of what the State will allow due to COVID-19. Therefore, St. Mary's has two additional plans prepared if deemed necessary to switch to them.
What happens when a student or staff member tests positive for COVID-19?
Erie County Department of Health Flow Chart
Please stay tuned to this page for any and all updates from the school and NYS.
Rolling Enrollment
Take advantage of our rolling enrollment process! We are always accepting applications for new and transfer students.
We will be in touch with you soon!