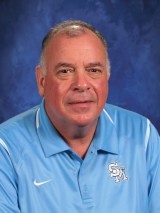 Title: Chief Financial Officer (CFO)
Years at St. Mary's: 4 years
Years of Experience: I have over 35 years of financial and operational experience.
Where Have you Worked Prior to Coming to SMH:  I have worked at several entities, from Big 4 CPA firm KPMG for 9 years to Adelphia Communications for 5 years.
Hometown: Buffalo, NY; proud graduate of Canisius College (year to be unnamed) and have lived in North Buffalo, Williamsville, and East Amherst.
Accolades:  I have been a CPA for over 30 years, member of the Canisius College Council on Accountancy for 20 years, and was one of the inaugural recipients of Buffalo Business First 612' C Level Award.
Fun Facts: My wife, Donna, and I have 5 grown children and 3 grandchildren.  Two of our children live in Williamsburg, VA and Los Angeles, CA, which we like to visit as often as possible.