As part of the St. Mary's Grand Reunion Weekend, classes ending in a 3 or an 8 are joining together for some informal gatherings on Friday, June 29th.  Any events that St. Mary's is aware of for this night will appear on this page.
Don't forget to keep the festivities going on Saturday, June 30th with a celebration at St. Mary's High School!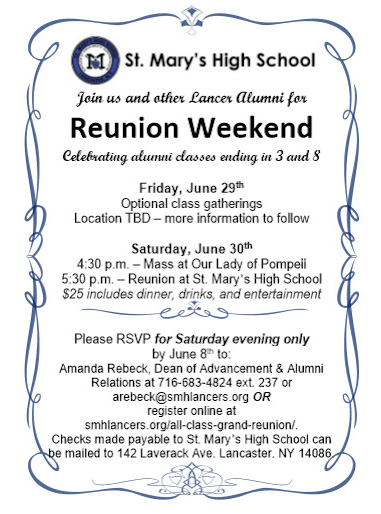 Make a Gift to St. Mary's in Honor of Your Reunion!
Honor all of the memories you shared with your fellow classmates in the hallways of SMH with a gift to the school to support the education and programs that had such a profound influence on you as a student all of those years ago.
Class of 1958
Where: Ripa's Restaurant
4218 Walden Ave. - Lancaster, NY 14086
When: 5:30-6:30 p.m. meet and greet (cash bar)
Dinner will be served at 6:30 p.m.
For dinner options and to RSVP, please print out the attached letter and return to Ms. Barb Kielty per the address on the letter.
Class of 1973
Where: Frank's Restaurant
5820 Broadway - Lancaster, NY 14086
When: 7:00 p.m.
Class of 1975
Where: 189 Public House
189 Main Street - East Aurora, NY 14052
When: 8:00 p.m.
Class of 1978
Where: Lancaster Beer Tent
When: Monday, July 2, 2018** 
Please note date difference from the 29th - 7:00 p.m.
Class of 1988
Where: Route 78 Street Bar
6036 Transit Rd. - Depew, NY 14043
When: 7:00-10:00 p.m.
What: $25 at the door includes includes Blue Moon drafts, Deep Eddy, and Three Olives Vodka and appetizers
Check out the flyer here.
Class of 1998
Where: Riverworks
359 Ganson St. - Buffalo, NY 14203
What: Cash bar