Three Lancers Named All-WNY
Senior Claire DeAngelis and juniors Kristin Middaugh and Lina Panella were named First Team All-WNY. Congratulations!
Soccer Takes State Runners-Up
The St. Mary's Women's Soccer Team took on the State Championships for the second year in a row this past weekend, and won their semifinal match before falling to downstate powerhouse, St. Anthony's. After winning the Monsignor Martin League Championship, this young team looks ahead to a bright future. Congratulations to the team!
Read more here.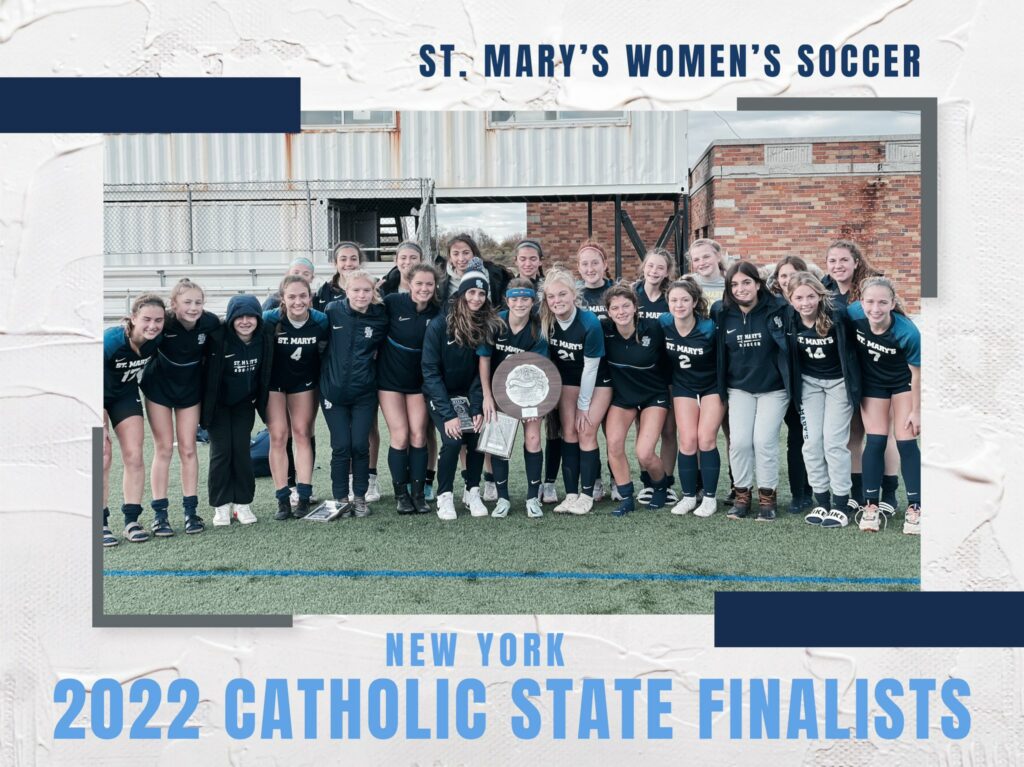 Five Lancers Named to All-Catholic Teams
The St. Mary's Women's Soccer Team is State Championship bound! Best of luck to these ladies as they head downstate to play in the State Semifinals.
We also want to give our congratulations to members of the All-Catholic Teams which were announced earlier this week.
Senior Claire DeAngelis and junior Lina Panella were named First Team All-Catholic and juniors Teddie Osinski, Gabriela Martin, and Kristin Middaugh were named to the Second Team.
Lancers Win Back-to-Back Monsignor Martin Championships
Back-to-back!
St. Mary's Women's Soccer Team defeated Nichols 4-3 in OT for the Monsignor Martin High School Championship. What a resilient, gutty performance from this team, and they're not done yet. It's on to the State tournament.
These ladies get it done on the field and in the classroom, as the Women's Soccer Team boasts the highest team GPA at 97.02. Can't beat that!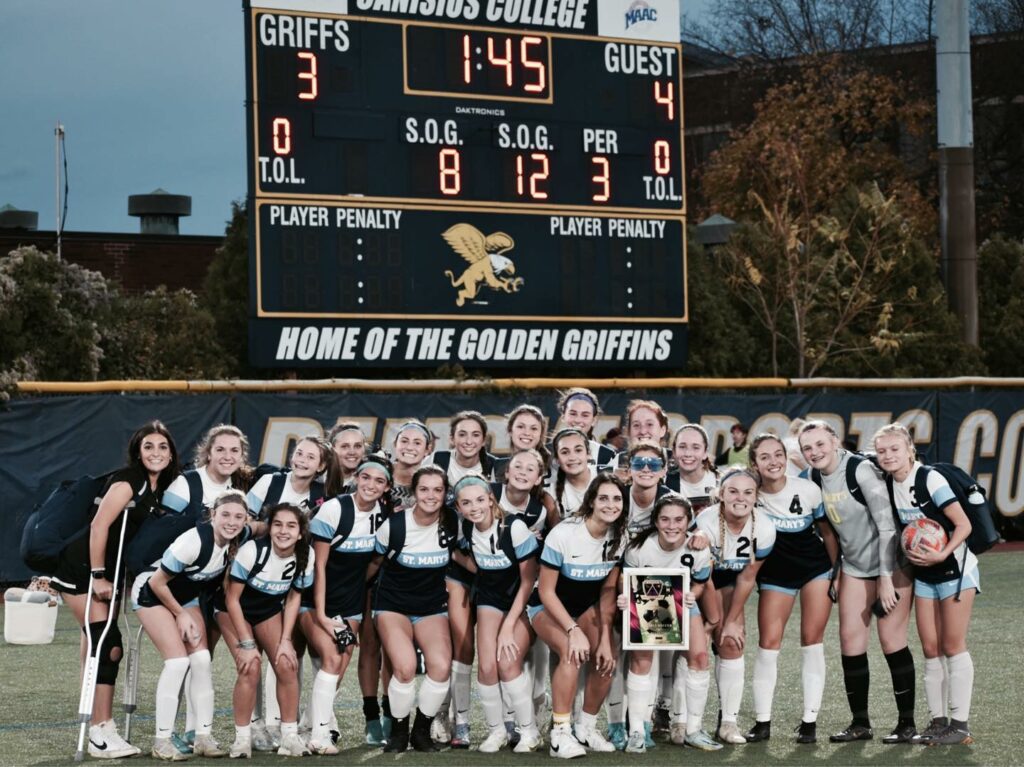 Soccer Wins State Semi Thriller in PKs but Falls in Finals
Women's Soccer is on to the NYS Catholic High School Finals after a thrilling win in penalty kicks 7-6!
The girls then fell to perennial powerhouse St. Anthony's 3-0, but had the best season in St. Mary's Soccer history.
Read about the final game here.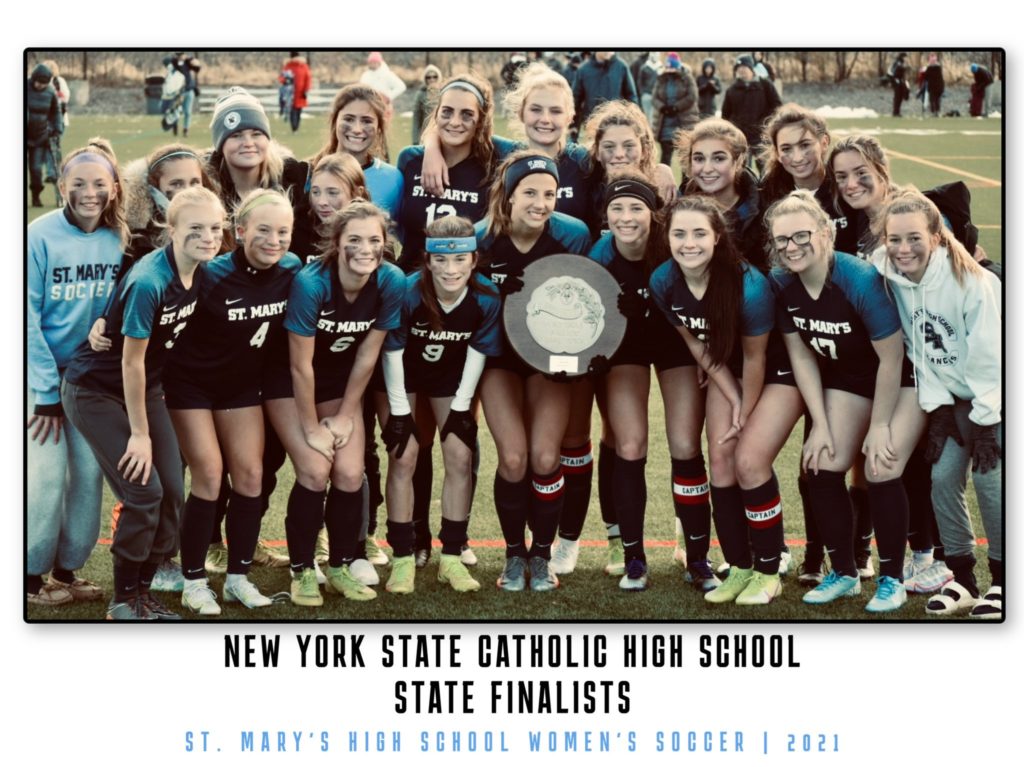 Women's Soccer Wins Monsignor Martin
The Lancer defeated Nichols 4-1 to win the Monsignor Martin Championship - their second title in three years.
To read more about the game, check out The Buffalo News article here.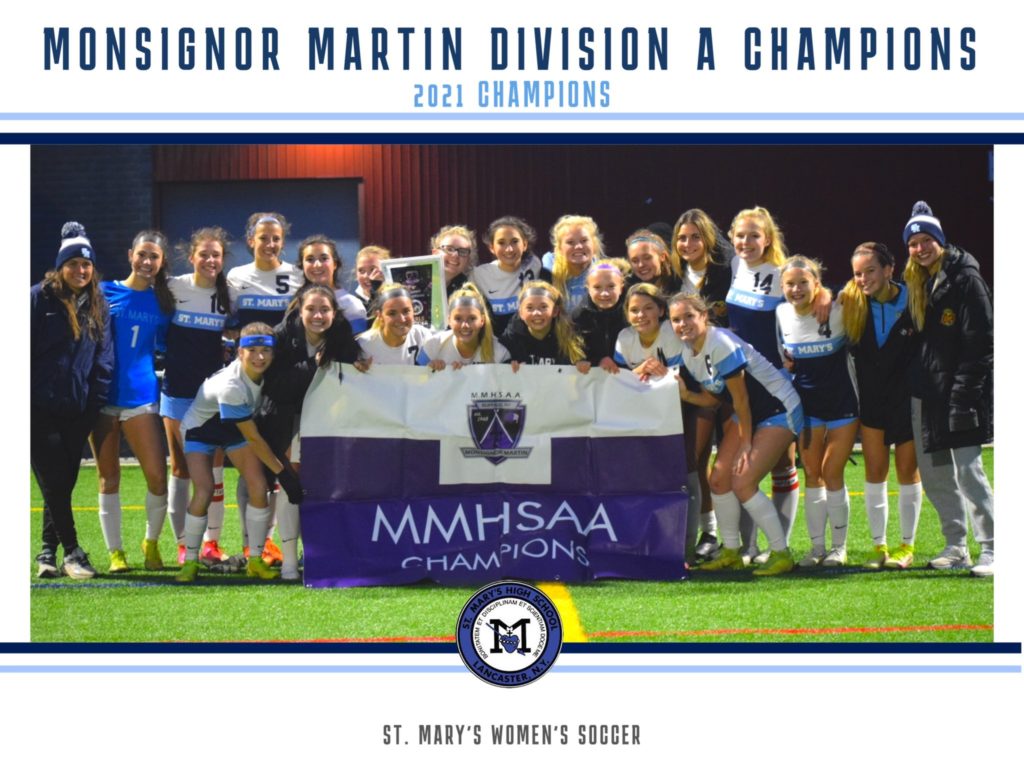 Soccer Honors Seniors
You'll be hard-pressed to find a group of student athletes more responsible for changing a program than these ladies on the St. Mary's Women's Soccer Team along with their coach, Brittany Heist, over the past four years. These seven exceptional players, students, and people have won countless games, a league championship, been named to All-Catholic and All-WNY teams, and have made St. Mary's Soccer a powerhouse. With three D1 commits who are also National Honor Society students (This team boasts five NHS students total. We know... woah!), the sky is the limit for all of these ladies.
Thank you to Shae O'Rourke, Charlie Pawli, Mia Moore, Gabby Gambino, Hailey Miller, Ava Hickok, and Jayne Zygaj for their hard work and dedication to the program over the past 4 years. Once a Lancer, always a Lancer!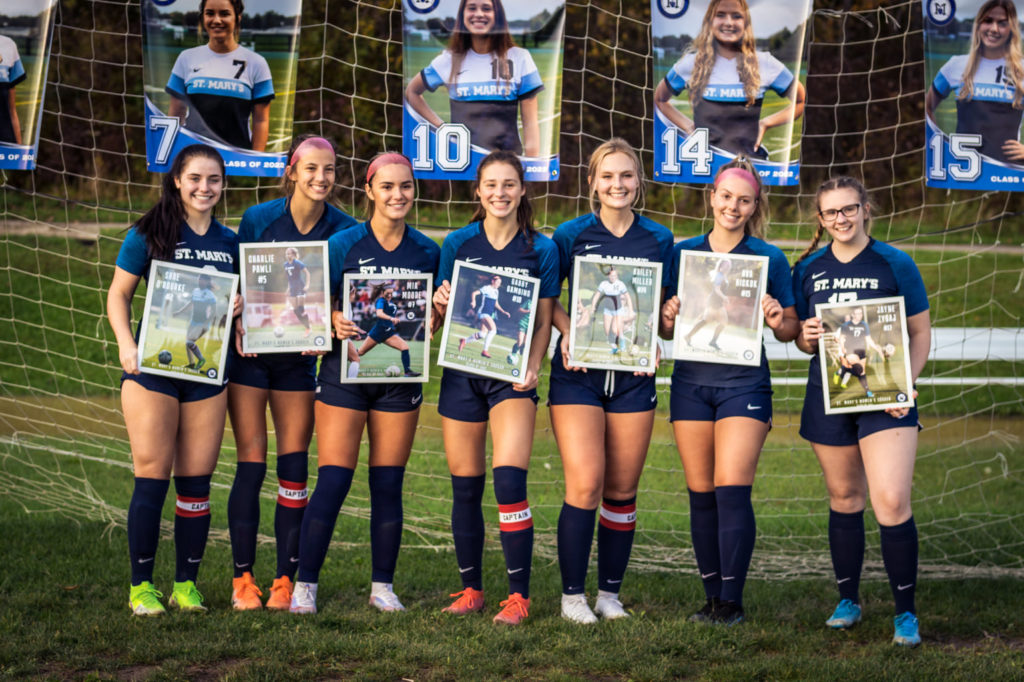 O'Rourke Named USA Today Player of the Year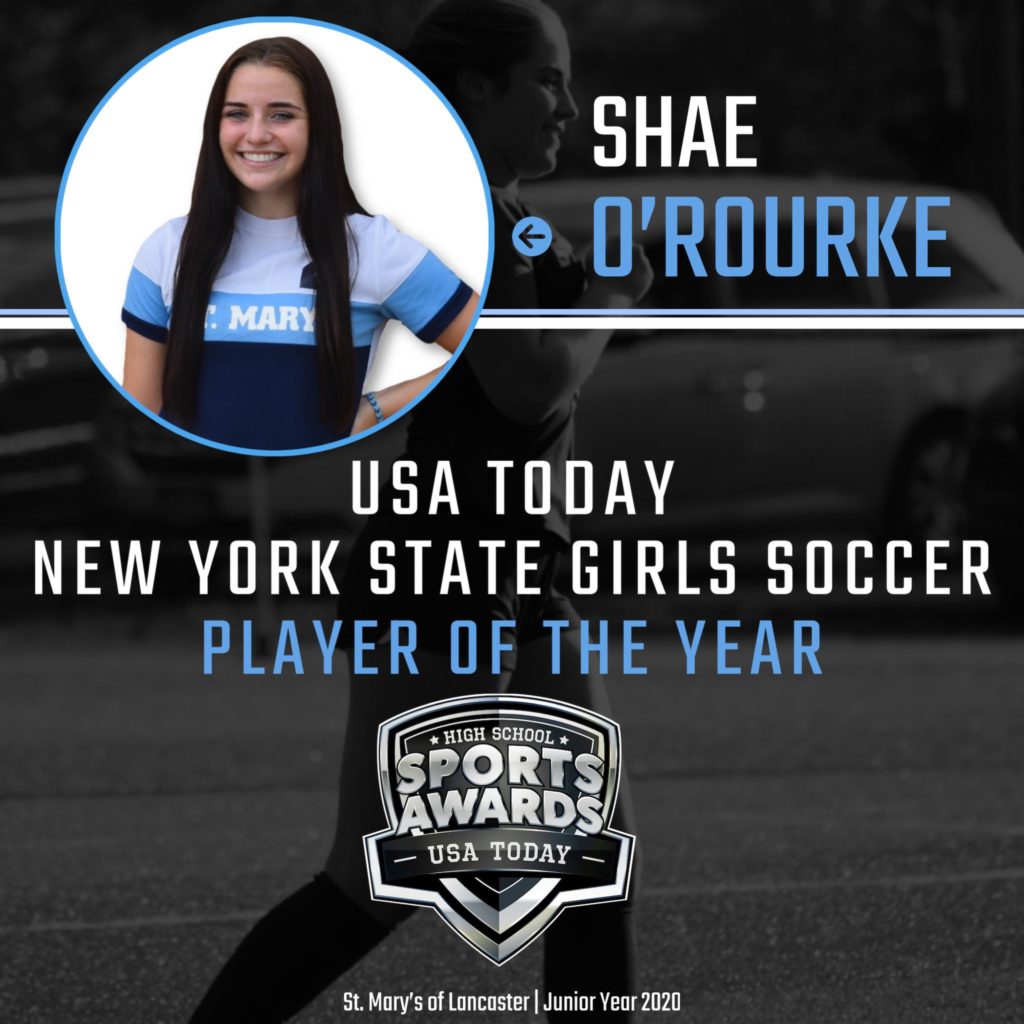 Pawli Commits to Albany
Senior Charlie Pawli has joined the train of commits and will sign to continue her education and soccer career at the University of Albany.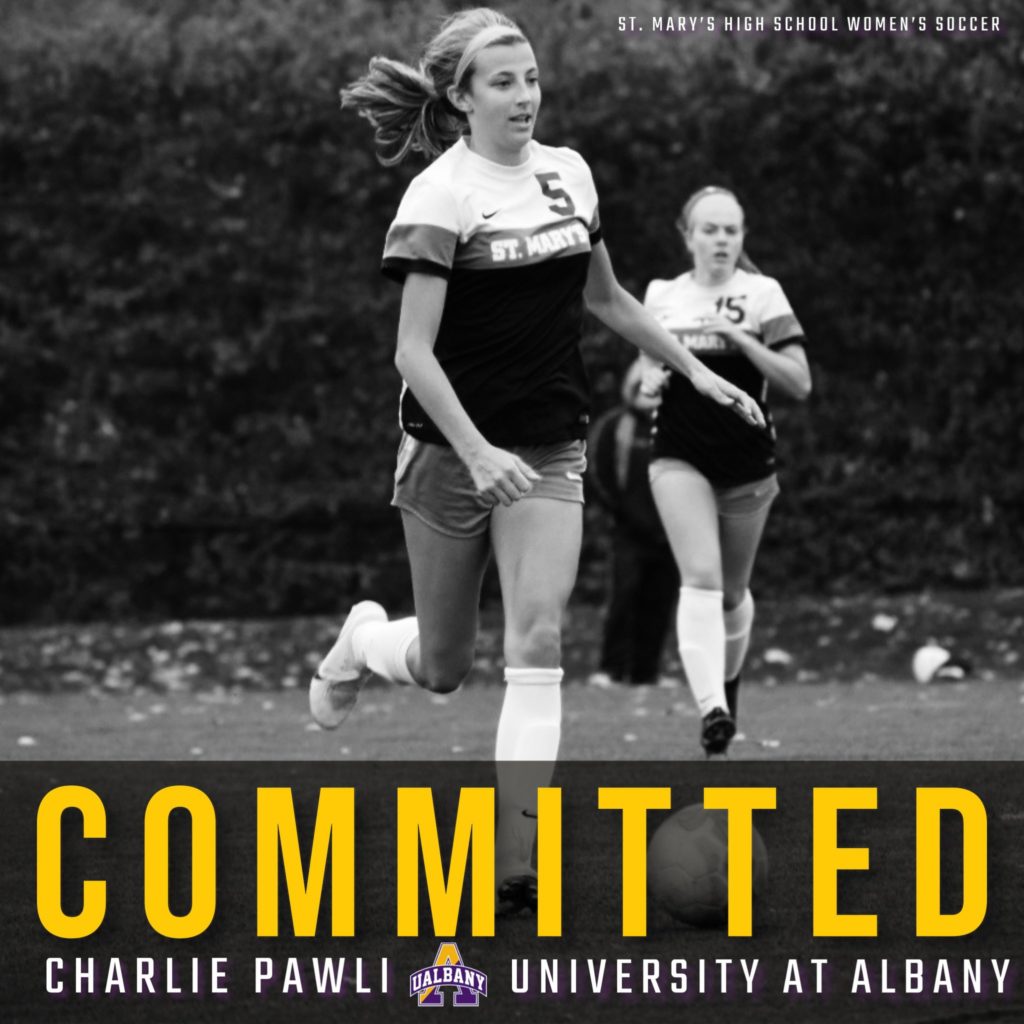 Gambino Commits to Clemson
Senior standout Gabby Gambino has committed to continue her education and soccer career at Clemson University.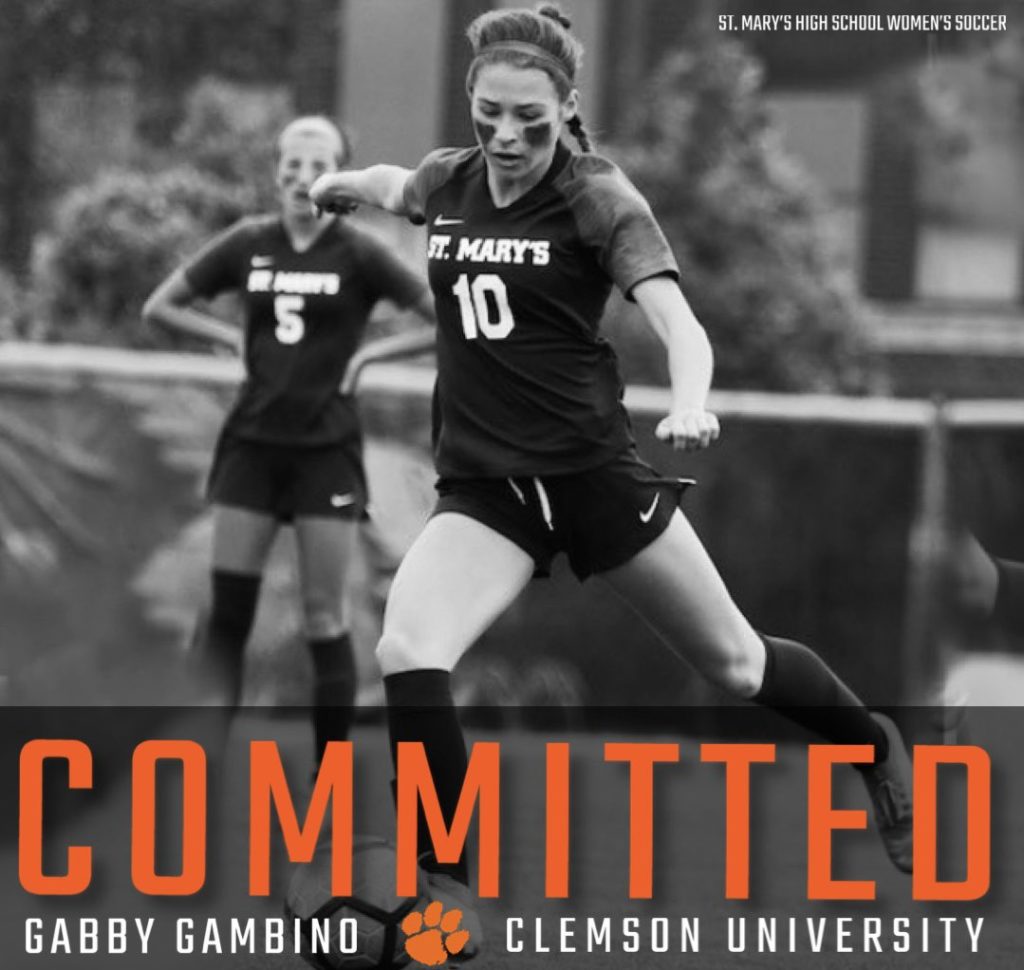 Shae O'Rourke Named Gatorade Player of the Year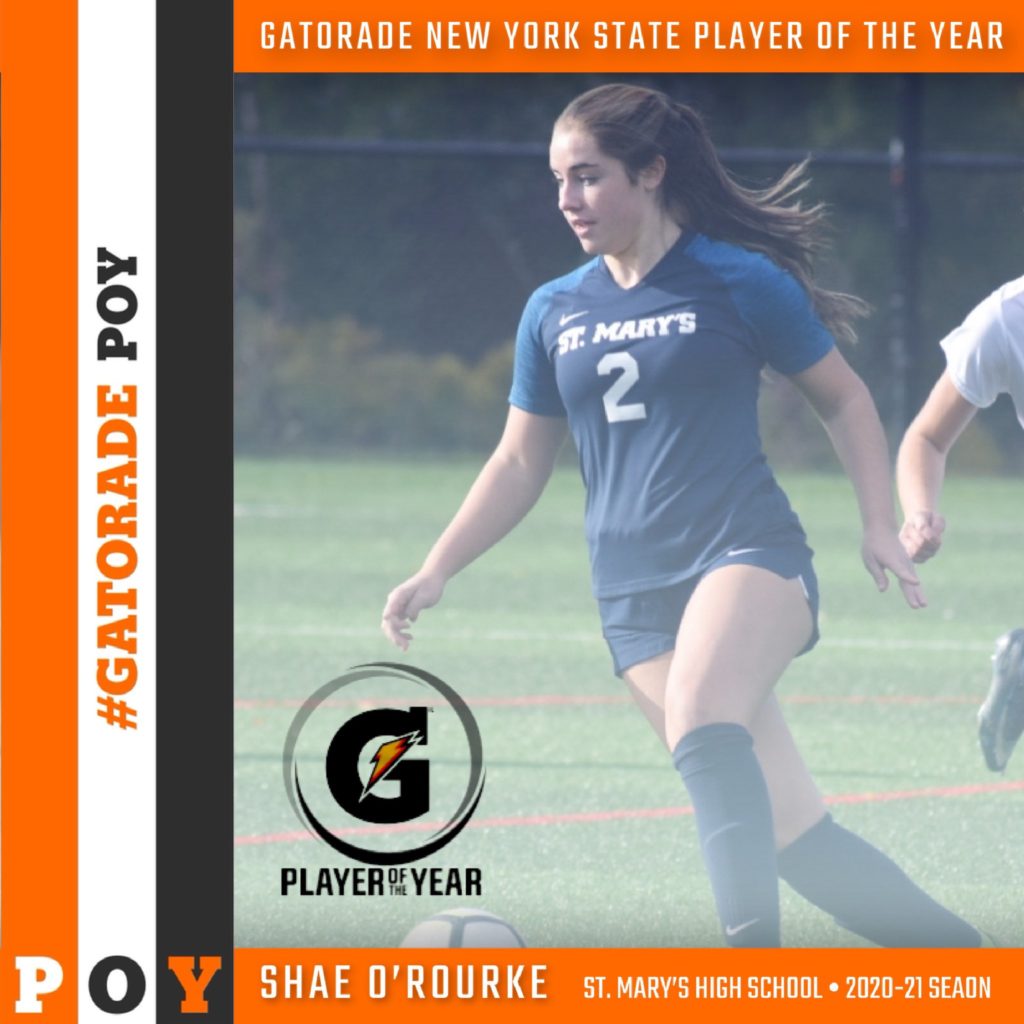 Varsity Gets the Best of Nichols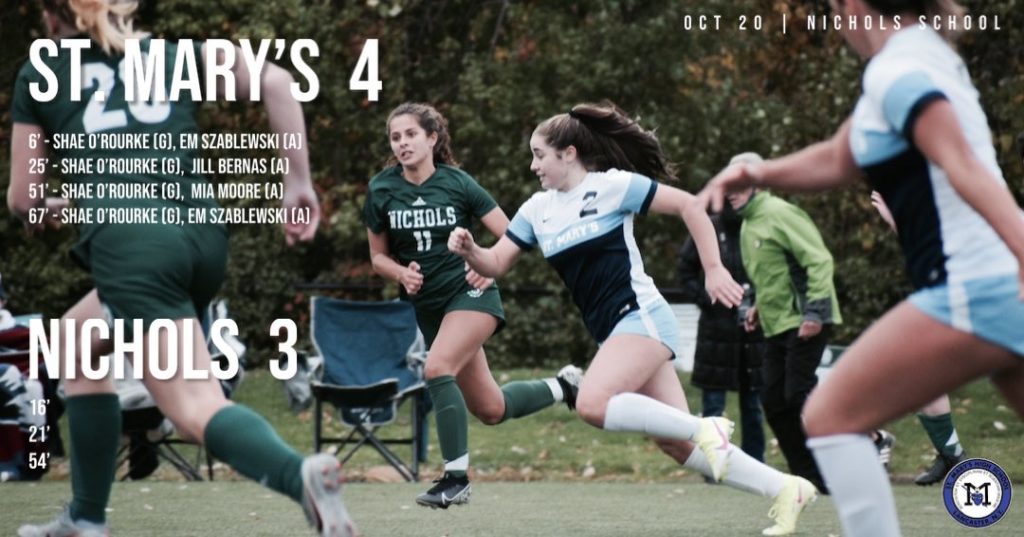 JV Soccer Falls to Sacred Heart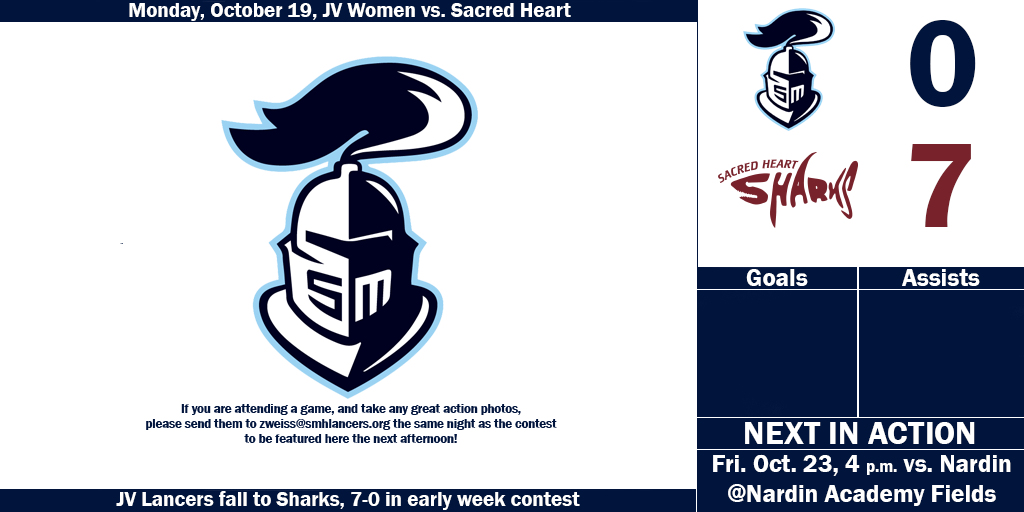 JV Soccer Can't Find the Back of the Net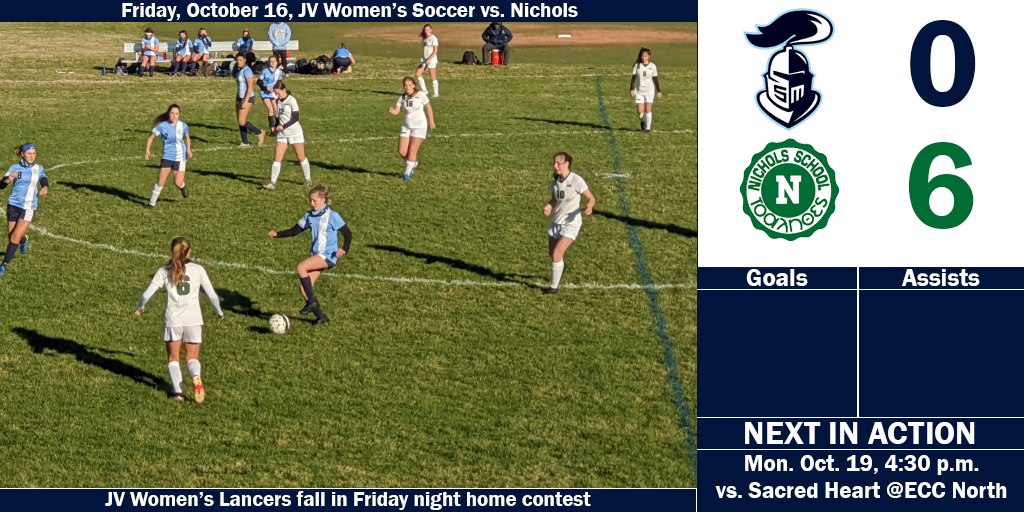 Double OT Thriller vs. Nardin Ends in Draw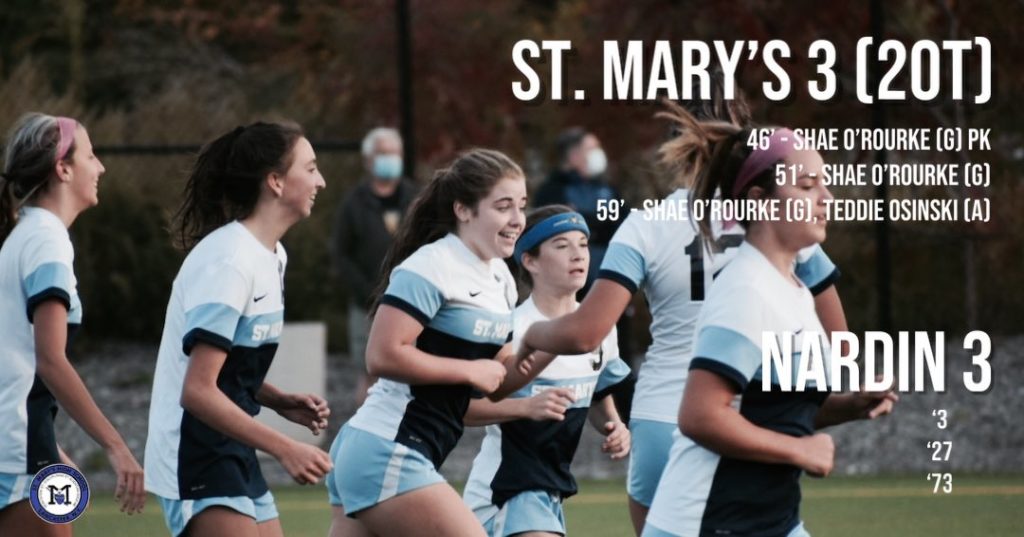 JV Loses to Nichols

Varsity Soccer Starts Title Defense with Solid Win vs Nichols

JV Soccer Falls in First Game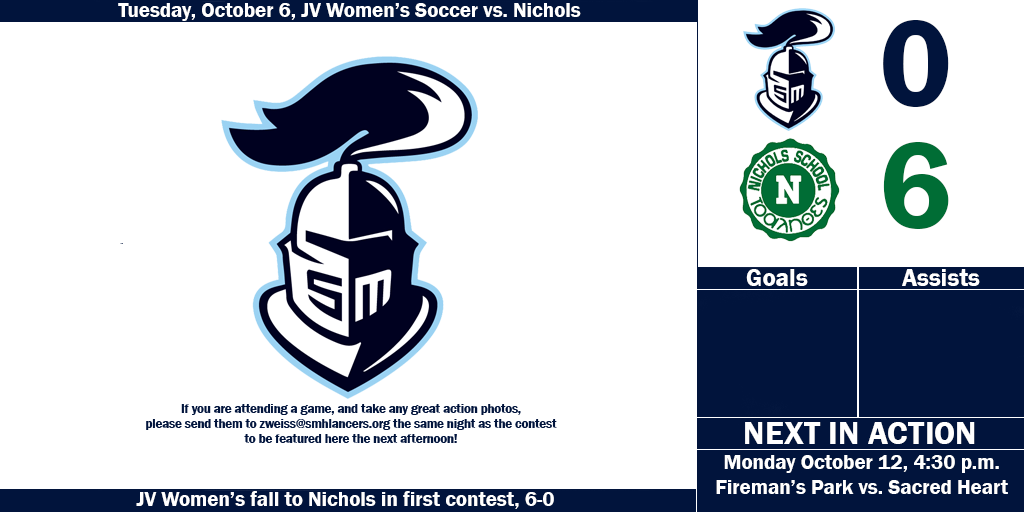 Three Lancers Named to All-WNY Team
Congratulations to sophomores Gabby Gambino and Shae O'Rourke and senior Skye Baun for being named to the All-WNY Women's Soccer Team.
Women's Soccer Names 5 to All-Catholic Team
After capturing the Monsignor Martin title, five Lancers were named to the All-Catholic Team. Congratulations to:
Shae O'Rourke '22
Charlie Pawli '22
Skye Baun '20
Gabby Gambino '22
Rose Sambuchi '22
Women's Soccer Captures Elusive Title
After a heartbreaking defeat in the 2018 league championship game, the St. Mary's Women's Soccer Team captured the MMHSAA title with a 3-0 win over Nichols. Senior Sam Carlson scored the game winner early in the 13th minute and sophomore goalie Carly Howard and a staunch defensive attack held the line the rest of the way.
Now, it's onto the state championships!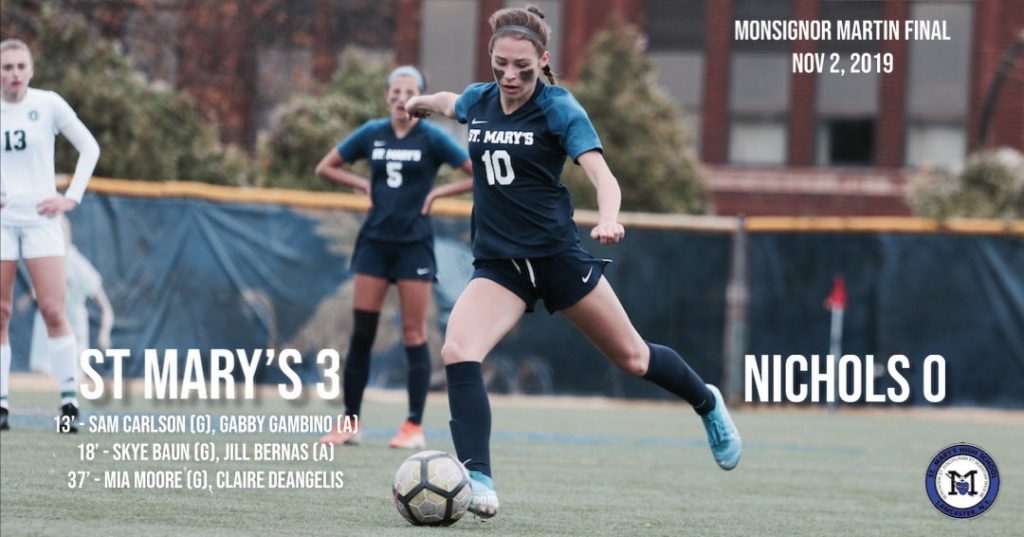 Women's Soccer Enjoys Midseason Bonding
After a brutal non-league schedule and a tough 2-1 loss to Nichols in a weather-delayed finish, women's soccer got back to basics and headed down to Ellicottville for some team bonding. The team went for a haunted hayride, a team dinner, and competed in a ropes course at Sky High Adventure Park! Now, the team is ready for the final push of the season as they look to capture that elusive leave championship.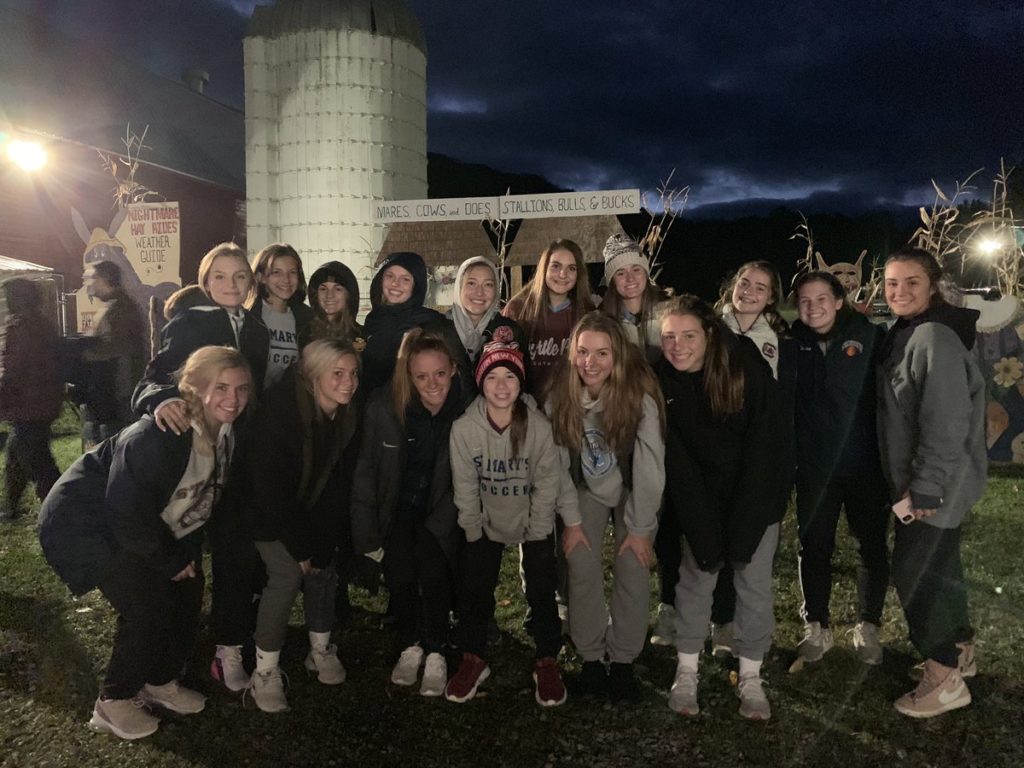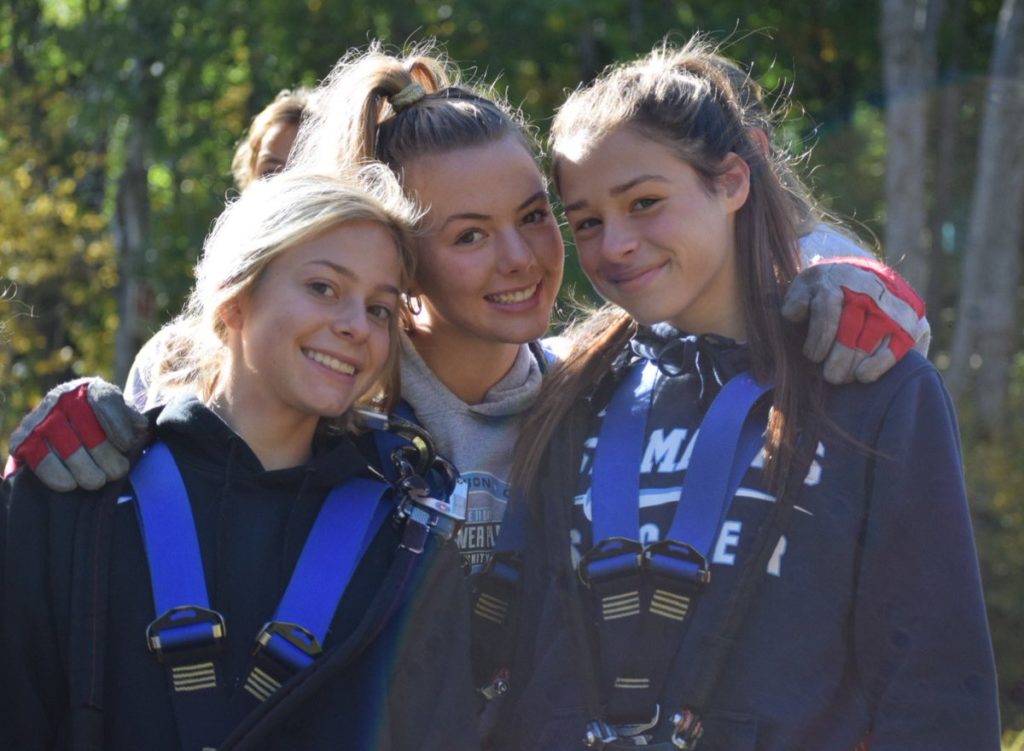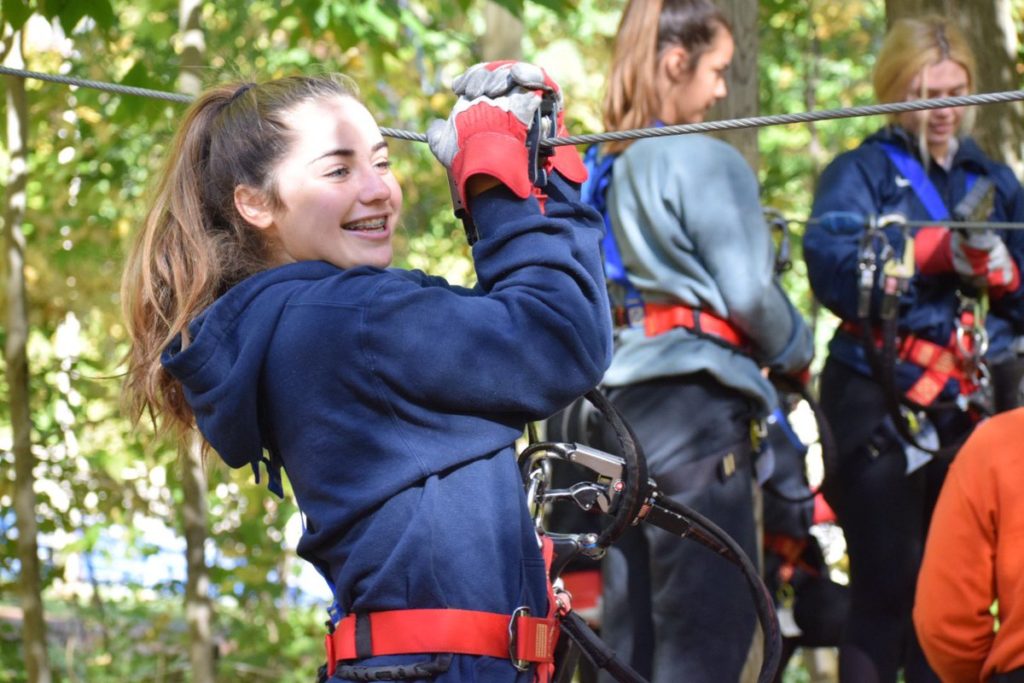 Finishes Non-League Schedule Undefeated
St. Mary's Women's Soccer finished an incredibly difficult non-league season undefeated with a 8-5 victory over Niagara Wheatfield. The Lancers did;t shy away from anyone early on this season and built a challenging schedule to prepare them for league play.
Sophomores Shae O'Rourke and Gabby Gambino Already Cementing Quite the Legacy
Sophomores Shae O'Rourke and Gabby Gambino have led the Lancers all season and have quite the story on how they both ended up at St. Mary's. Check out this awesome story from The Niagara Gazette here.
Shae O'Rourke has already committed to the University of South Carolina, but this future Gamecock still has a lot she wants to accomplish on the high school stage. See what her plans on for the Lancers this season and into the future in this article from The Buffalo News here.
Soccer Stars Land Big Chance
Sophomores Shae O'Rourke and Gabby Gambino were selected from players across the U.S. to participate in the ECNL National Training Camp in Portland, Oregon! The training camp will start July 26 and go through to the end of the month. These players will have the opportunity to play with and against the best athletes in the country in their age groups and learn from a staff of some of the country's top youth coaches. Congratulations ladies, and big things continuing for the St. Mary's Women's Soccer Program!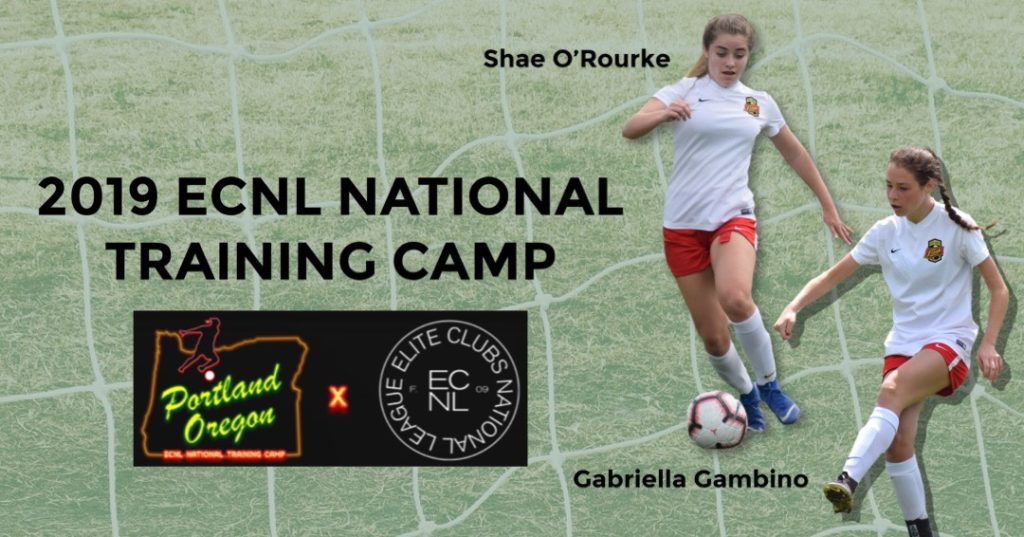 Women's Soccer Continue League Play with a Pair of Big Wins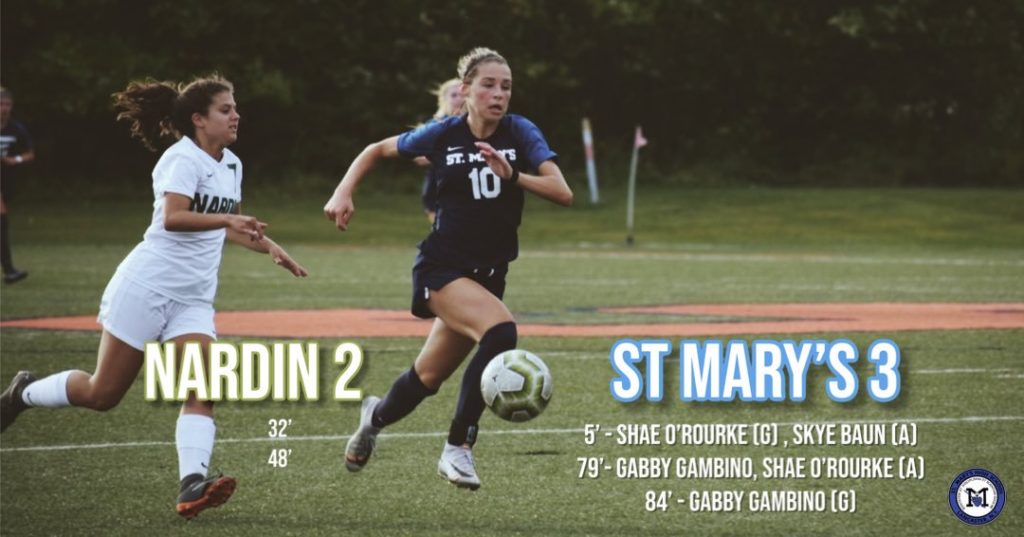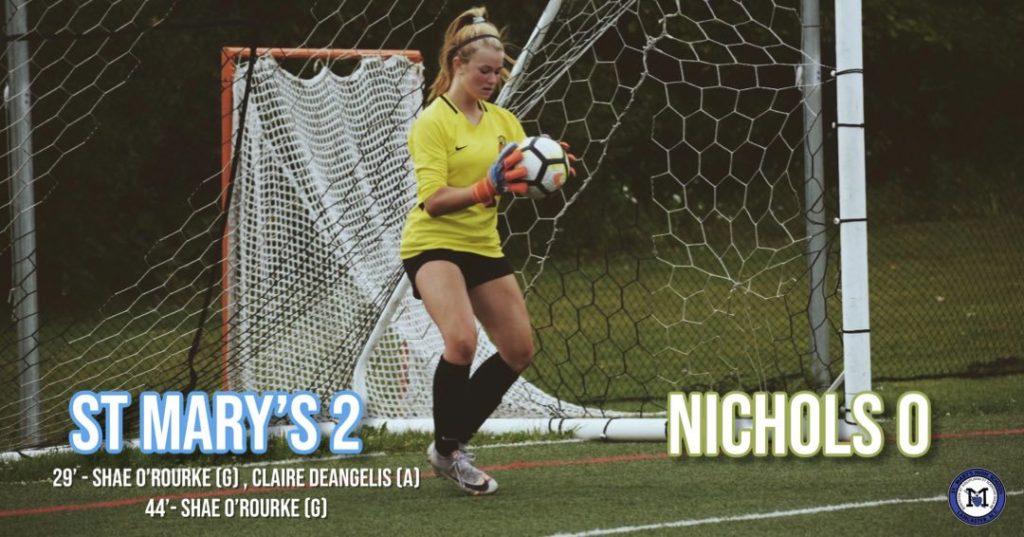 Annual Preseason Trip Is a Blast!
In what has become a preseason tradition, the St. Mary's Women's Soccer Team took to the road and spent a few days traveling as a team. This year's trip took the team on a 4-day adventure to Vermont and Rhode Island for some team bonding and good soccer. Who wouldn't want to go on a trip like this?
Team adventures and a lunch at Mount Killington, VT.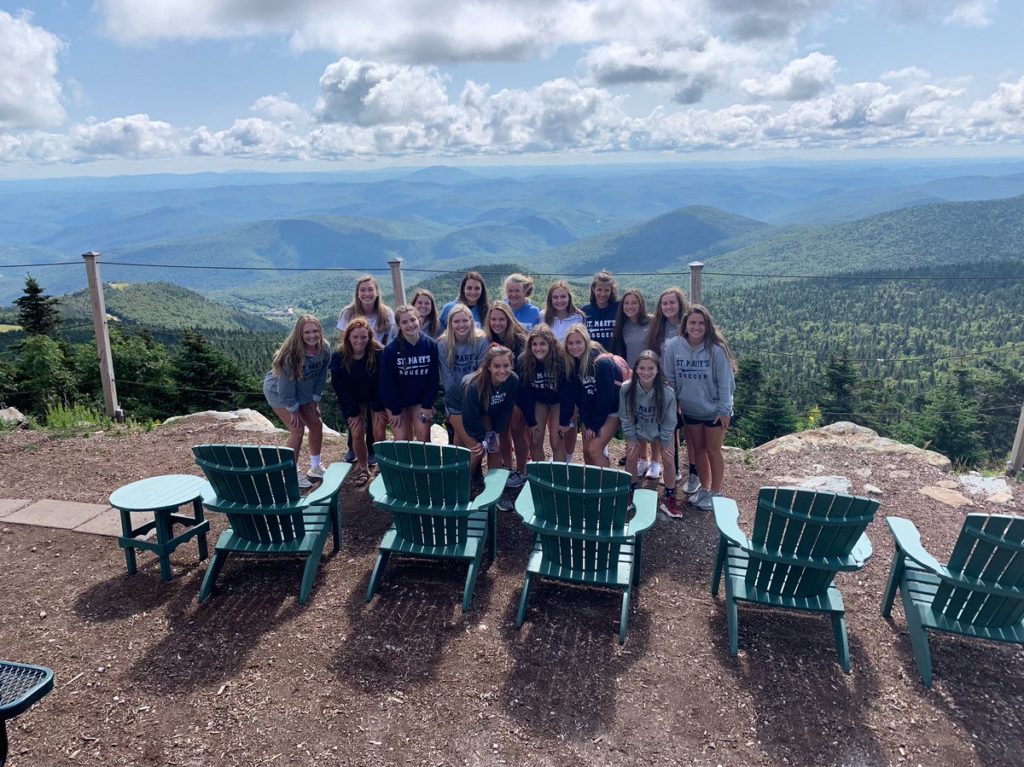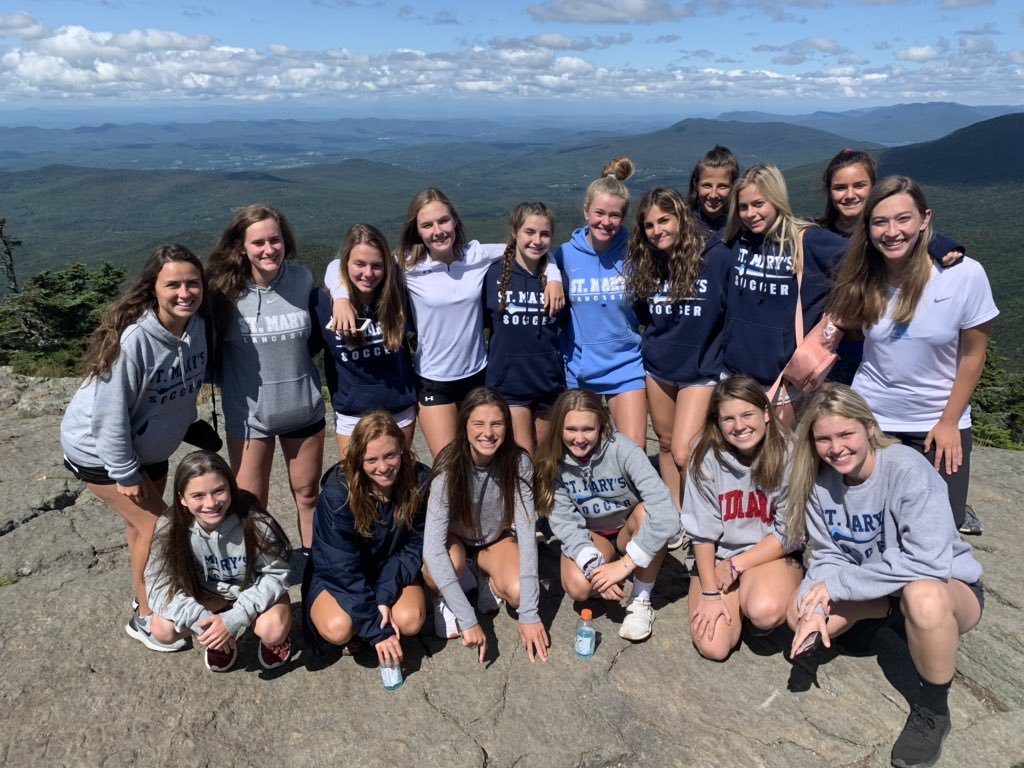 New Hampshire brought team adventures on the waters of Black Brook, sunset training, and other team-building activities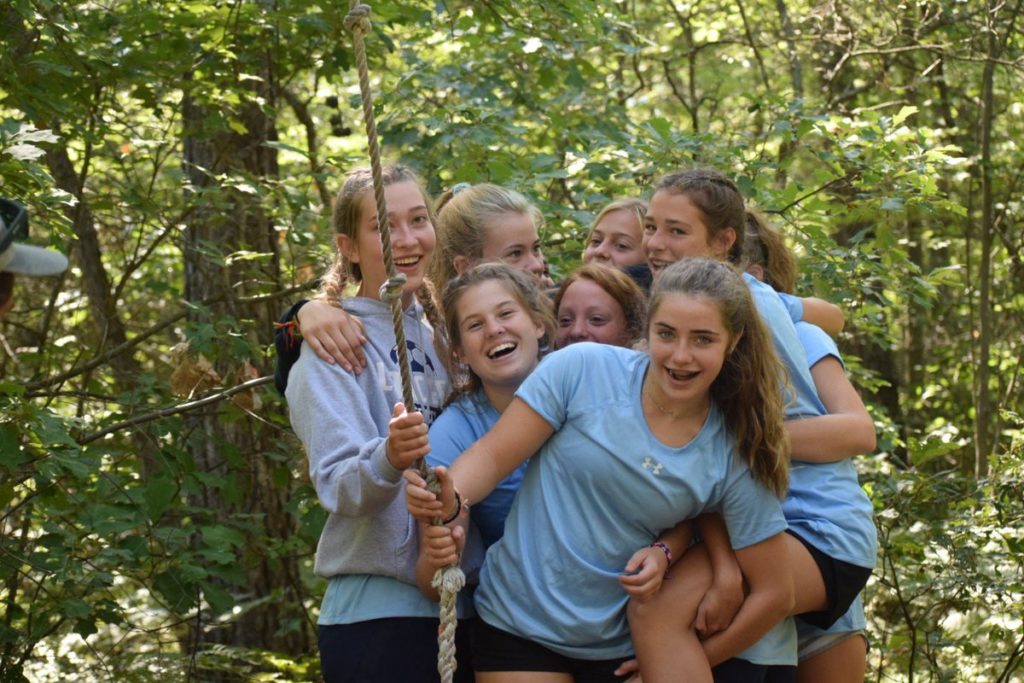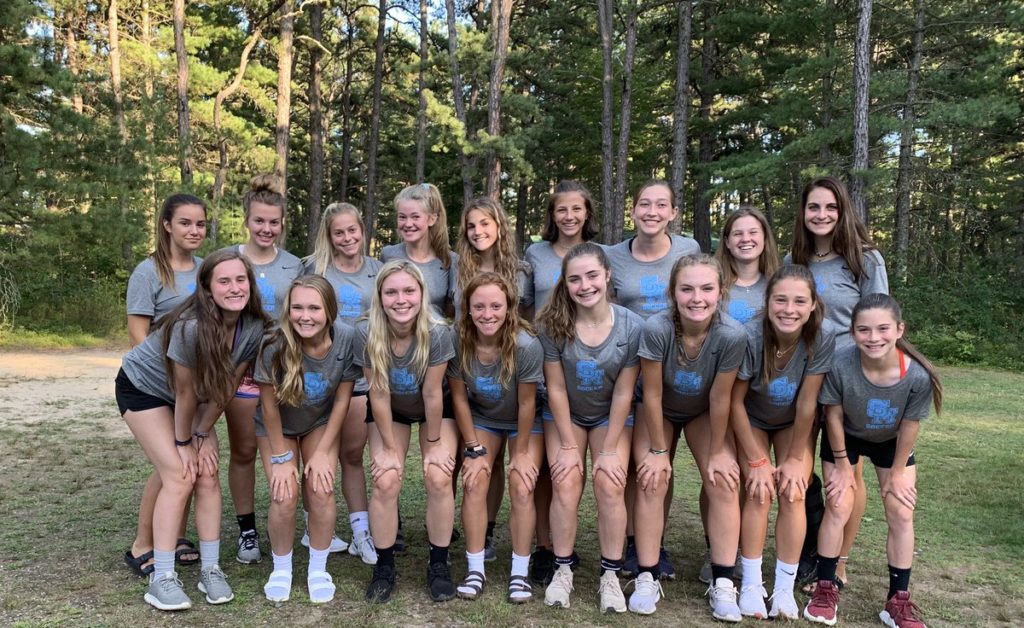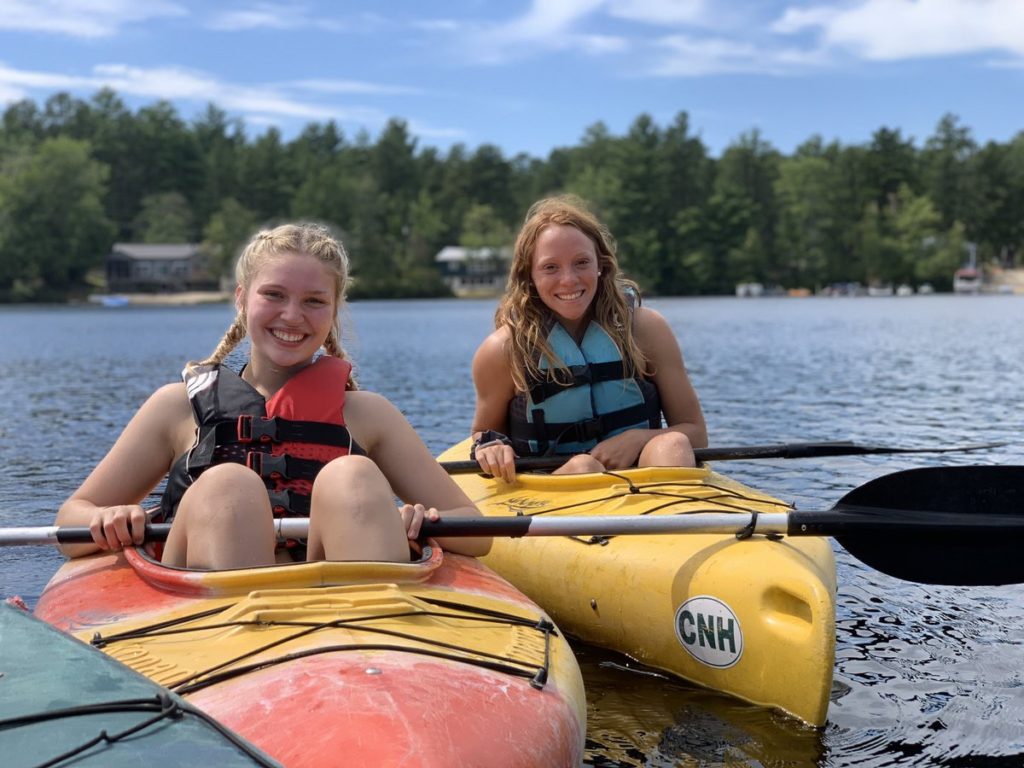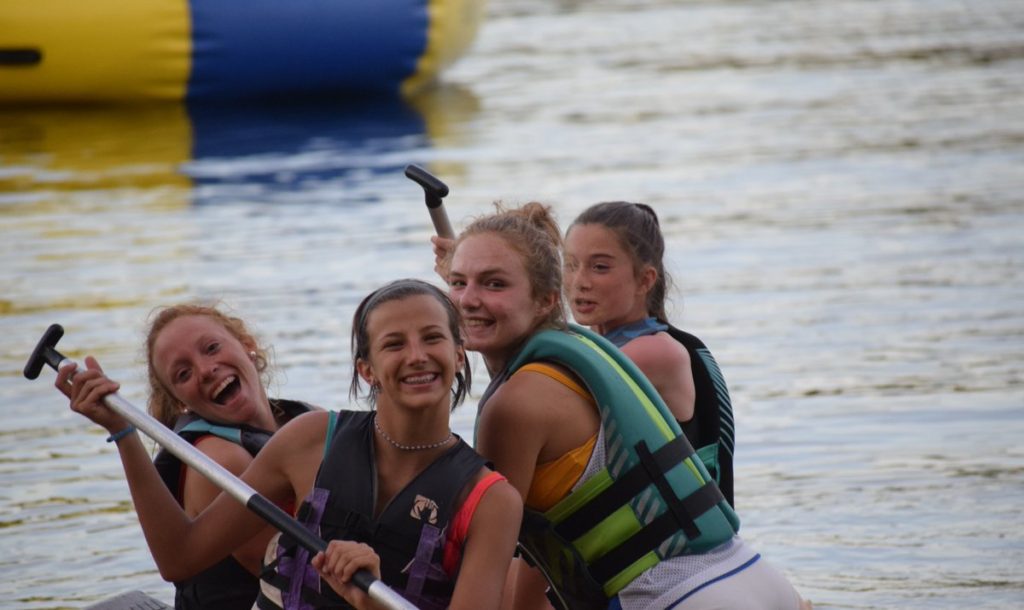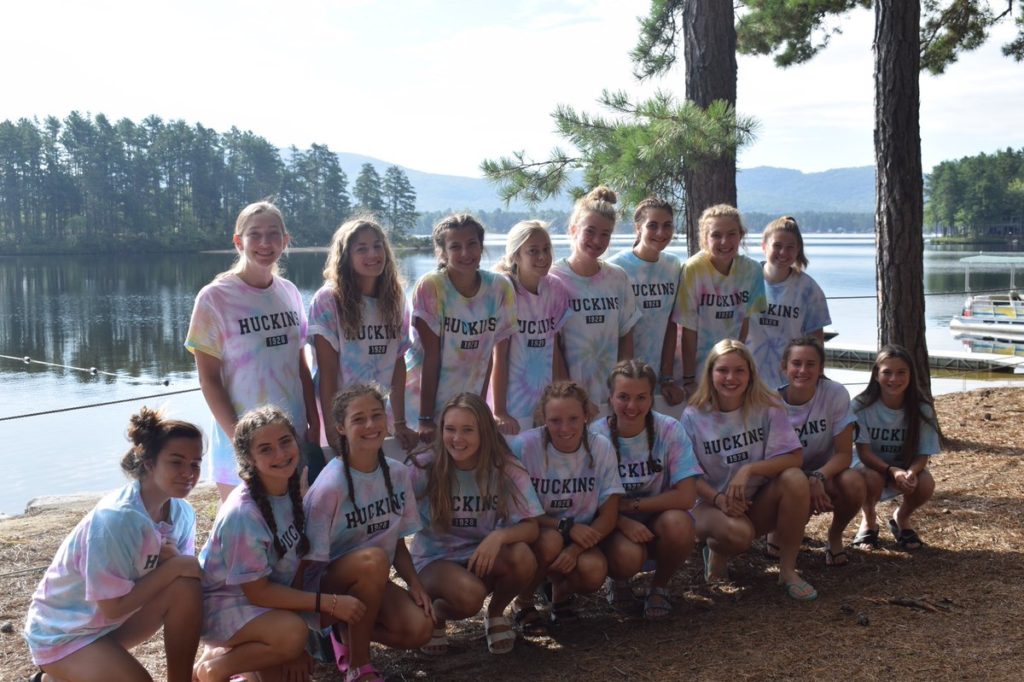 Varsity Women's Soccer Names Four to All-Catholic First Team
A round of congratulations are in order for some very talented Lancer soccer players: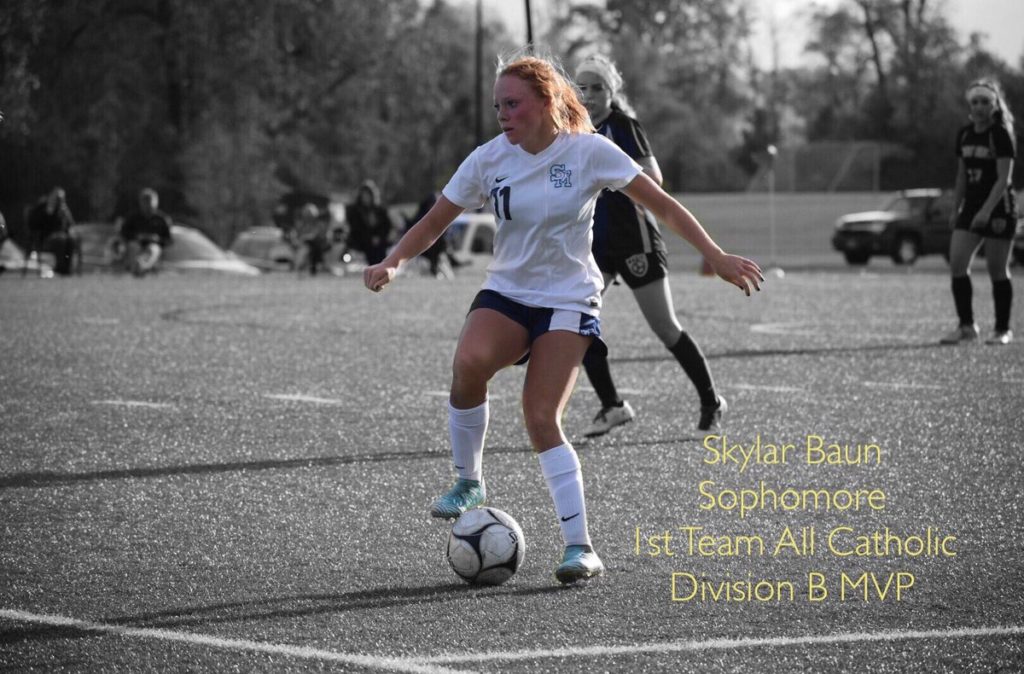 Sophomore Skye Baun was named Division MVP and made the First Team All-Catholic. Skye had 25 goals, 9 assists this season.
Sophomore Sam Carlon was also named First Team All-Catholic, after leading the whole Monsignor Martin in goals with 25 and also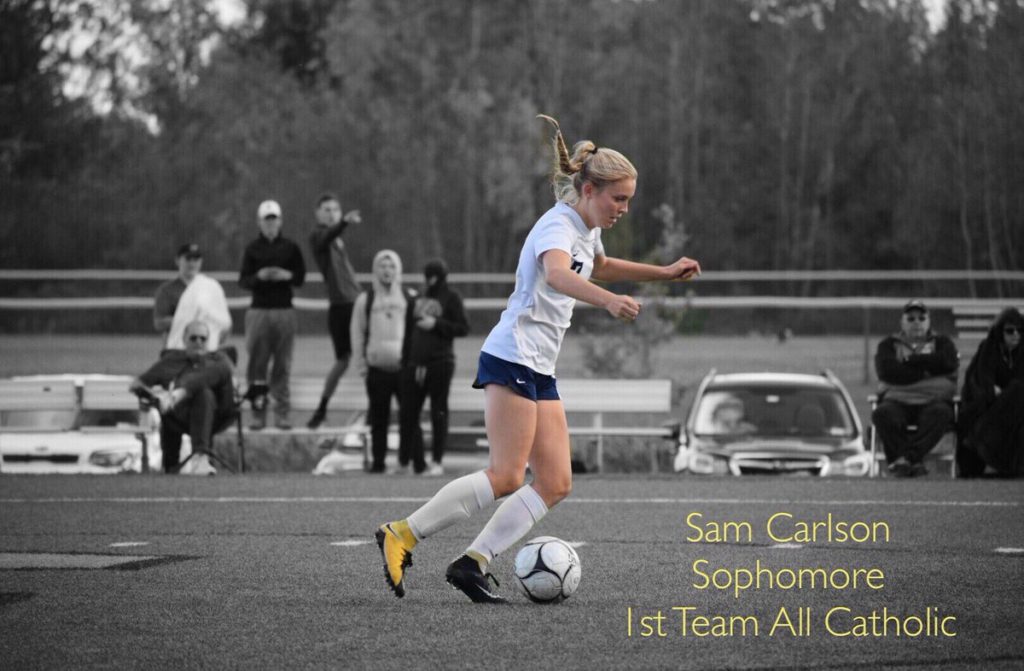 tallied 9 assists.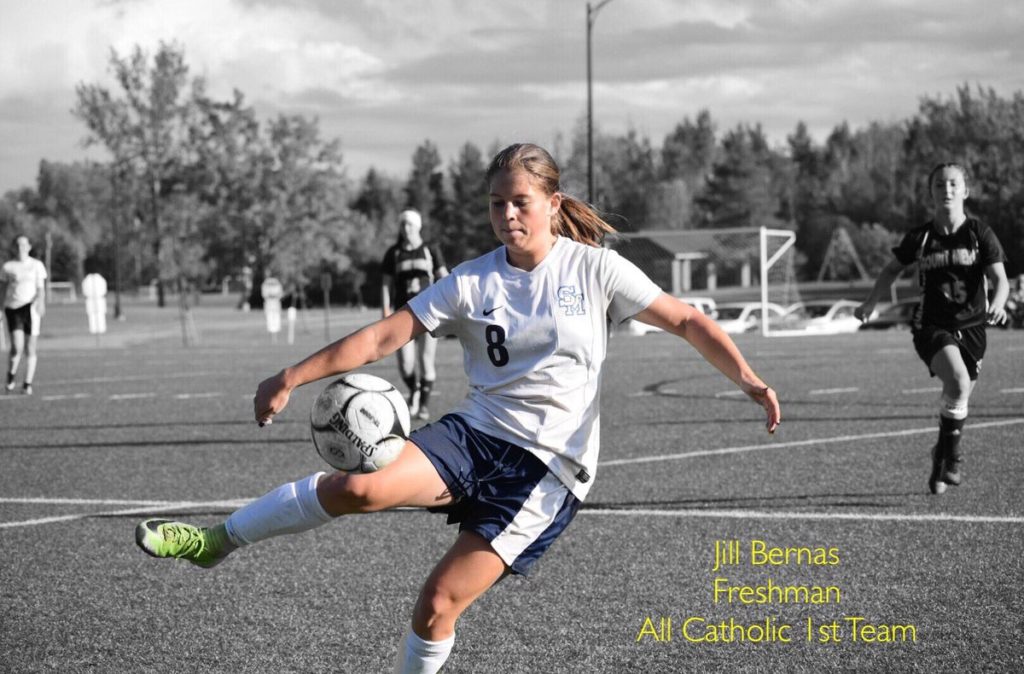 Freshman Jill Bernas had a fantastic rookie season, finishing tied for third on the team with 17 points. Jill earned a spot on the First Team All-Catholic as well.
Junior Madelynn Stearns made her third straight All-Catholic Team! She was a force in the midfield, tying the team for 3rd in points, with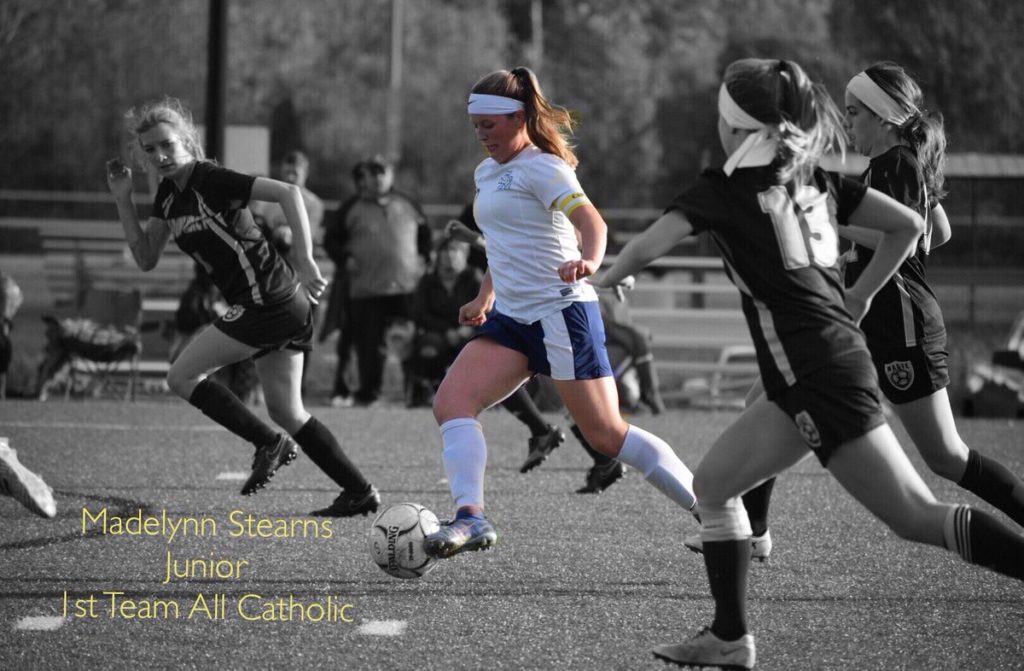 17 on the season!
Varsity Women's Soccer Takes Home League Regular Season Title
After a remarkable regular season, the Lancers finished on top of the league after regular season play.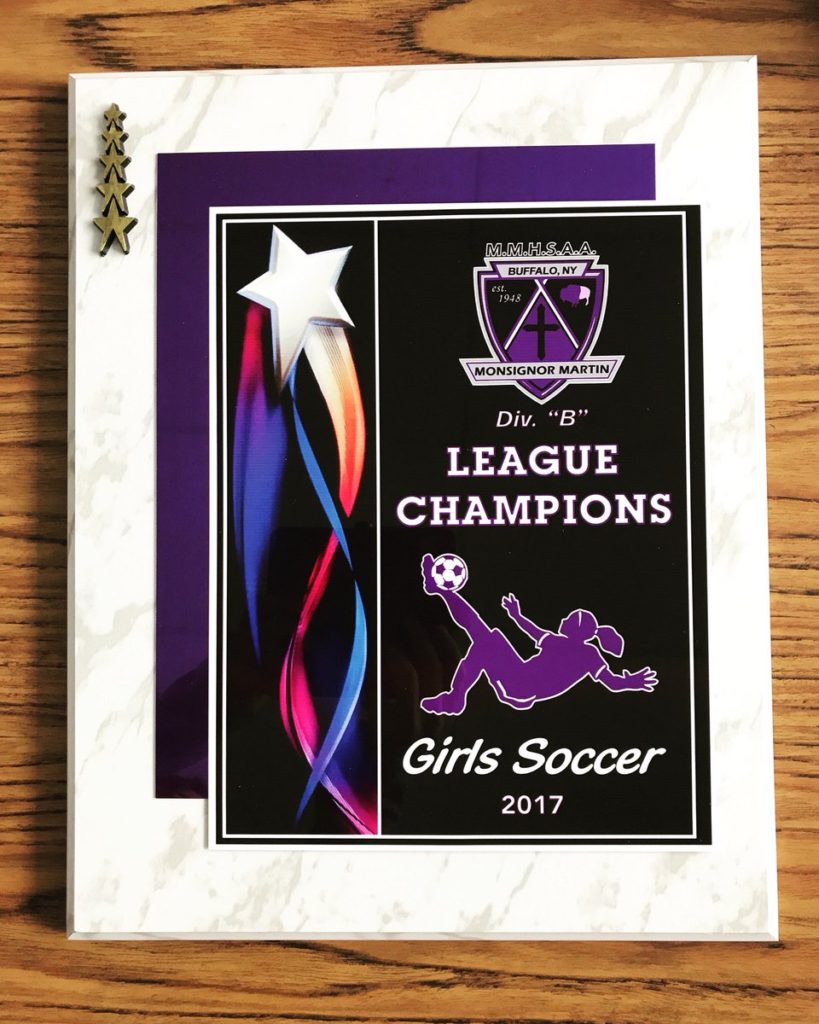 First Women's JV Soccer Team Takes the Field
In quite the bit of Lancer history, St. Mary's had such a turnout at women's soccer tryouts, that a JV team was fielded.  That team took the field for the first time on September 14, 2017.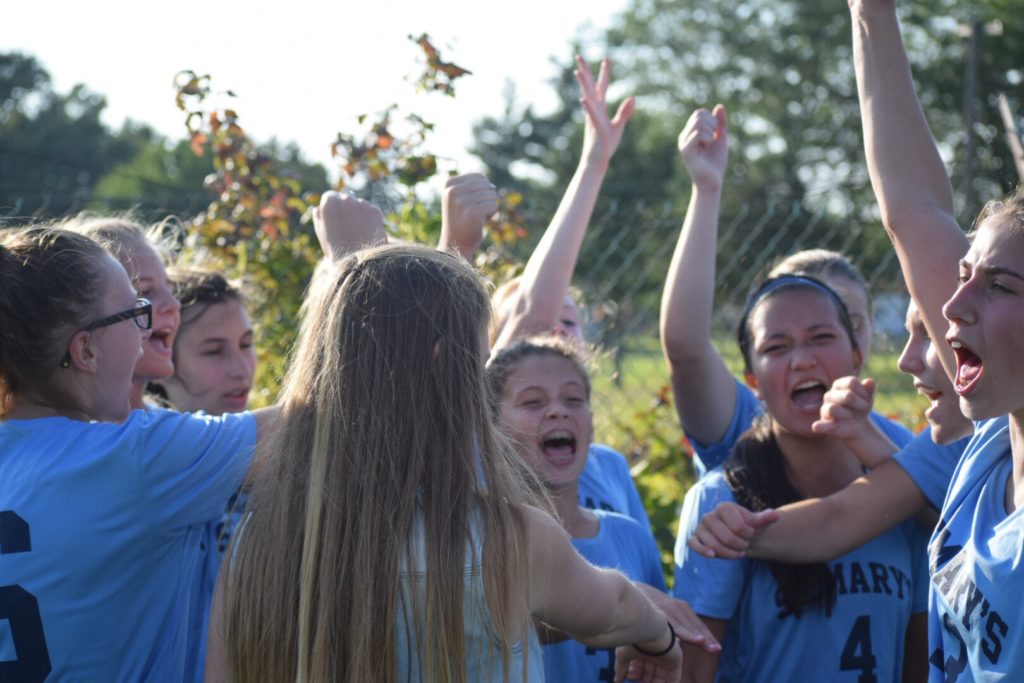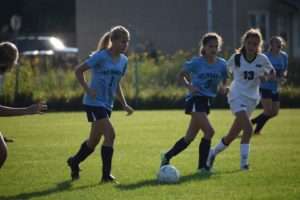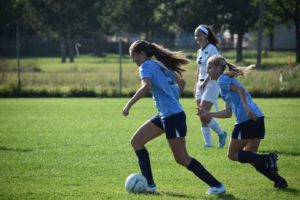 Women's Soccer Starts League Play with a W
The Lancers started Monsignor Martin League play with a 3-1 win over the Magic of Mount Mercy.
Sophomore Sky Baun had a goal and an assist and Sophomore Sam Carlson and Junior Madelynn Stearns had a goal each.
Take a look Sky Baun in action...