Five Lancers Named to All-Catholic Team
Senior Tyler Warmington was named Monsignor Martin Player of the Year, and fellow classmates Braden Callahan and Caleb Ross were named First Team All-Catholic. Junior Ethan Zink and senior Alex Bonuito were then named to the Second Team.
St. Mary's Gets Historic Wins over Canisius and St. Joe's
The St. Mary's Men's Soccer Team beat the Canisius Crusaders 3-0 yesterday in a huge Monsignor Martin League win! To continue on a roll, the team is ranked 3rd in
The
Buffalo
News
' most recent poll. The team then took down St. Joe's 1-0 in OT in the following game.
The Lancers look to keep the winning ways going as they head into the playoffs.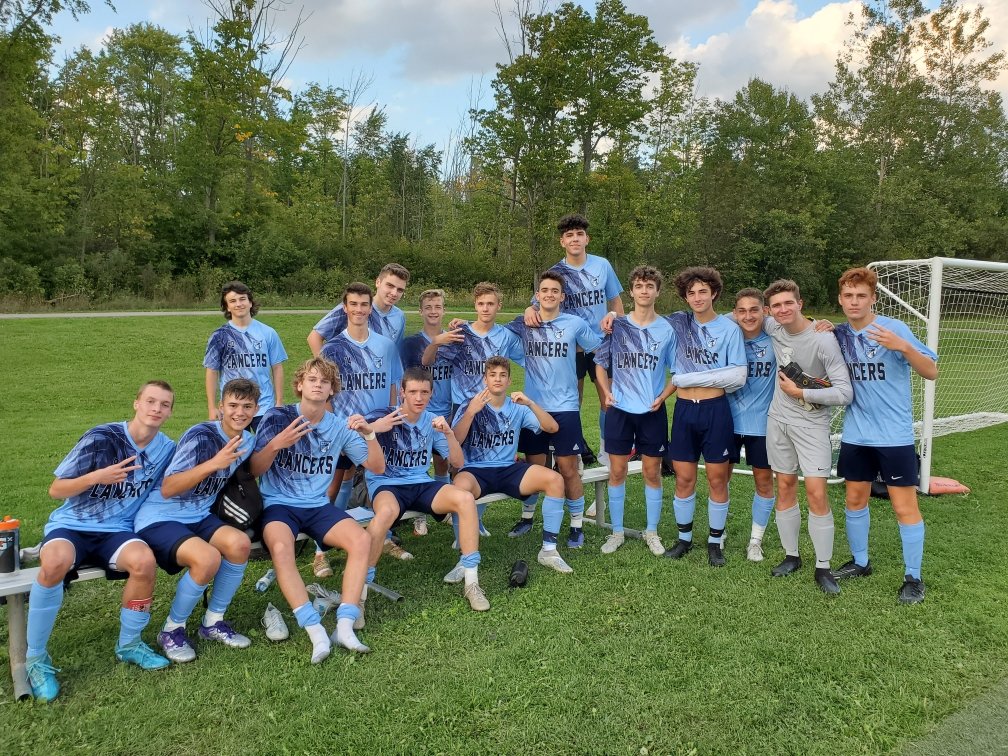 St. Francis Gets the Victory Over Lancers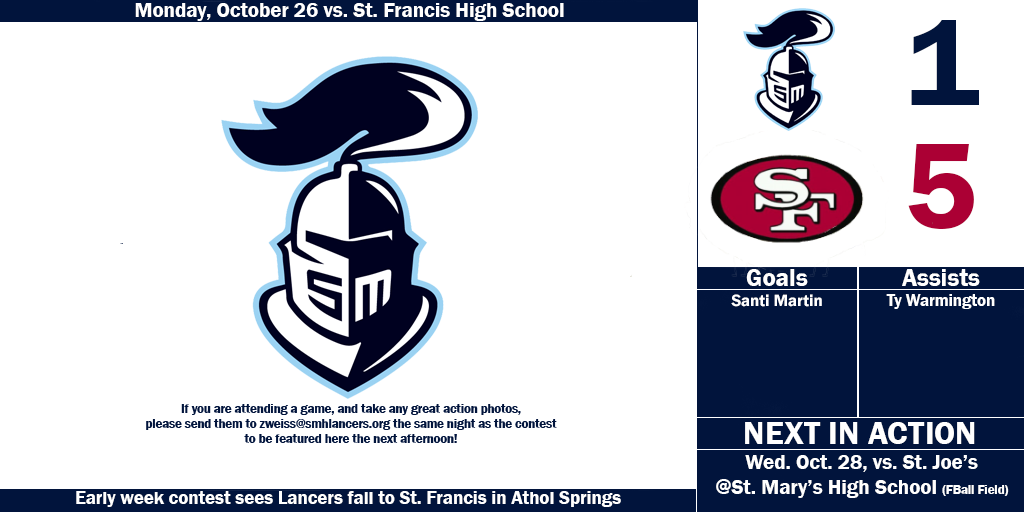 Lancers Scoring Frenzy Leads to Win Over Gow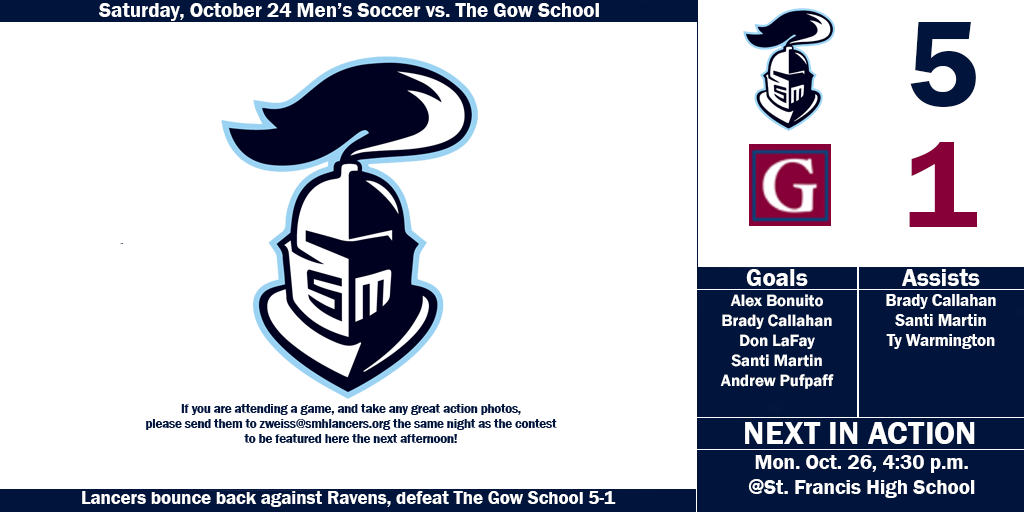 Varsity Soccer Comes Up Just Short at Canisius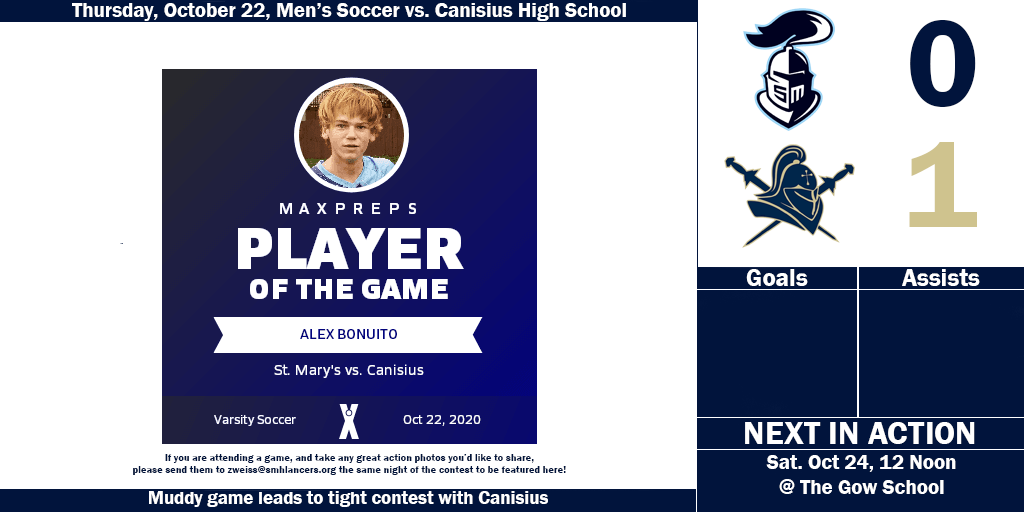 JV Soccer Comes UP Just Short vs Canisius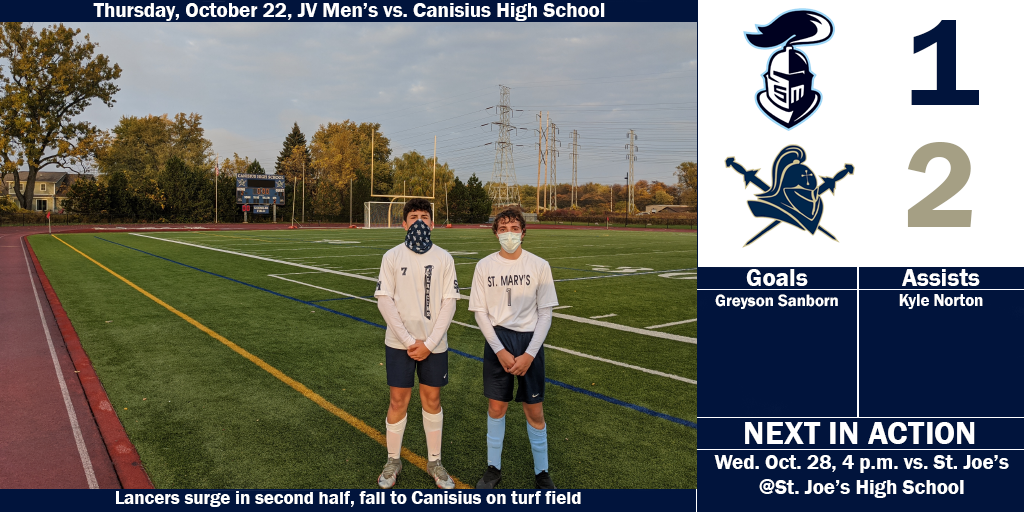 Varsity Soccer Celebrates Seniors and Gets the Win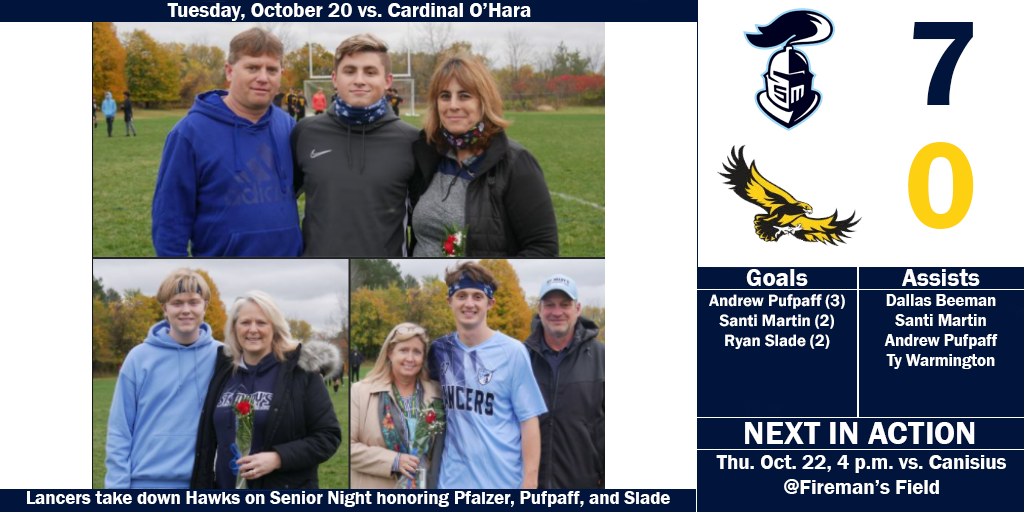 JV Soccer Gets the Big Win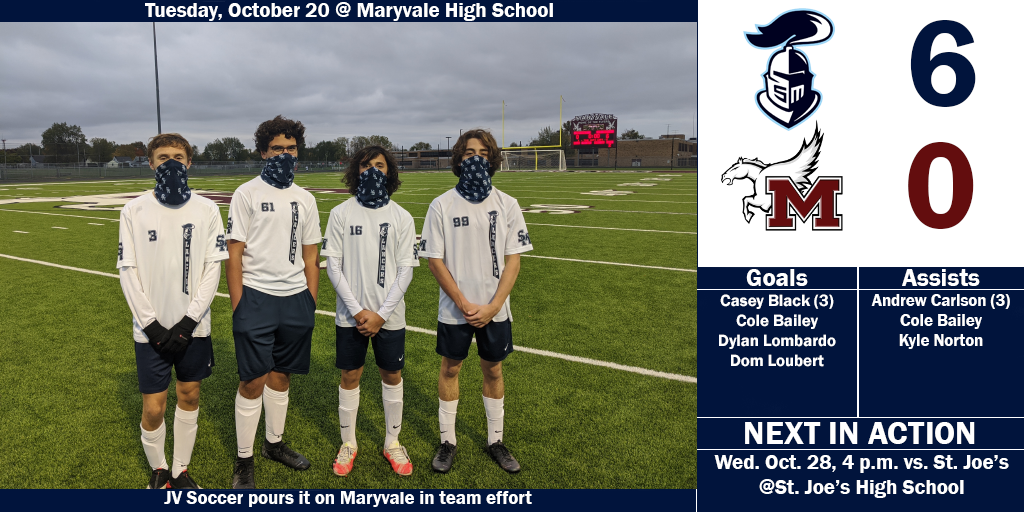 JV-Varsity Split Double Header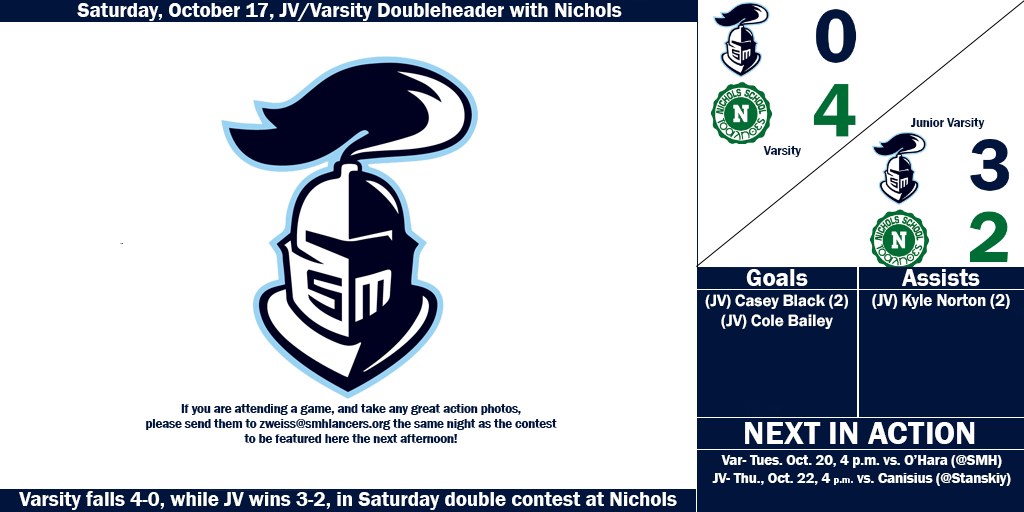 Varsity Loses a Heat-Breaker to St. Francis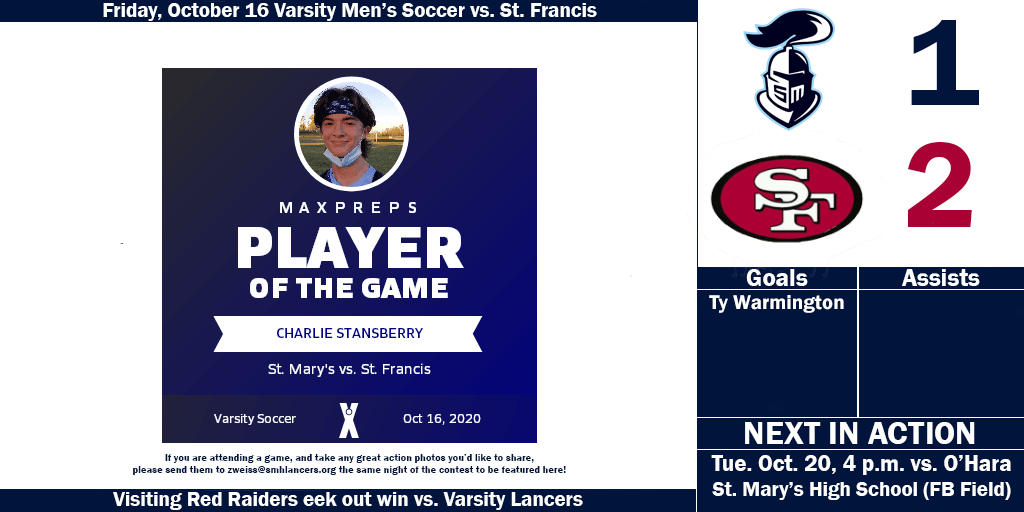 JV Gets First W of the Season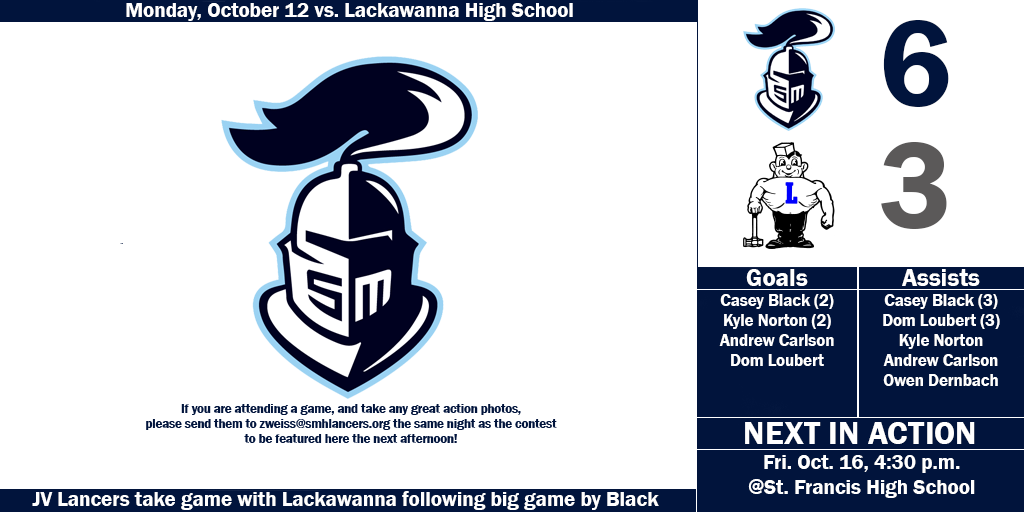 Lancers Pick Up First League Win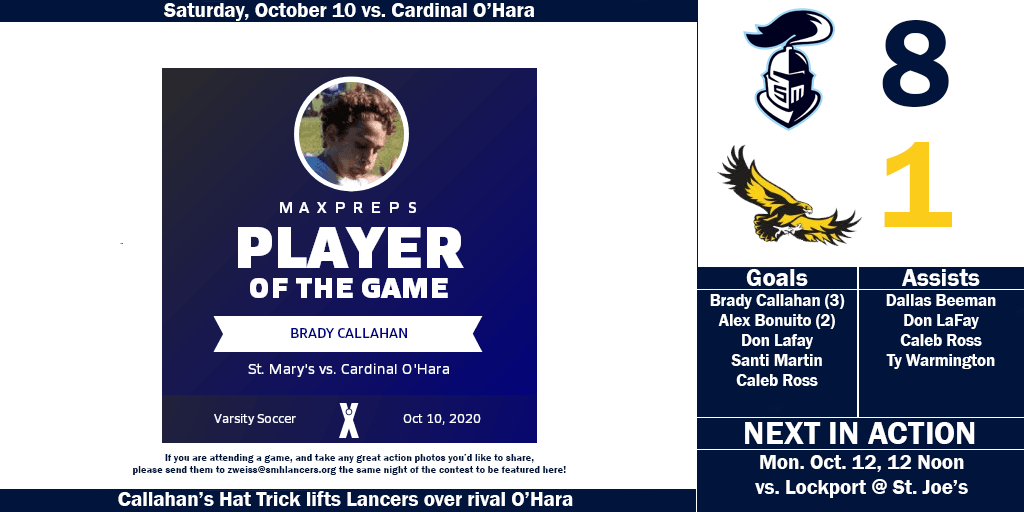 Lancers Continue to Gain Valuable Experience


Young Lancers Start Off Season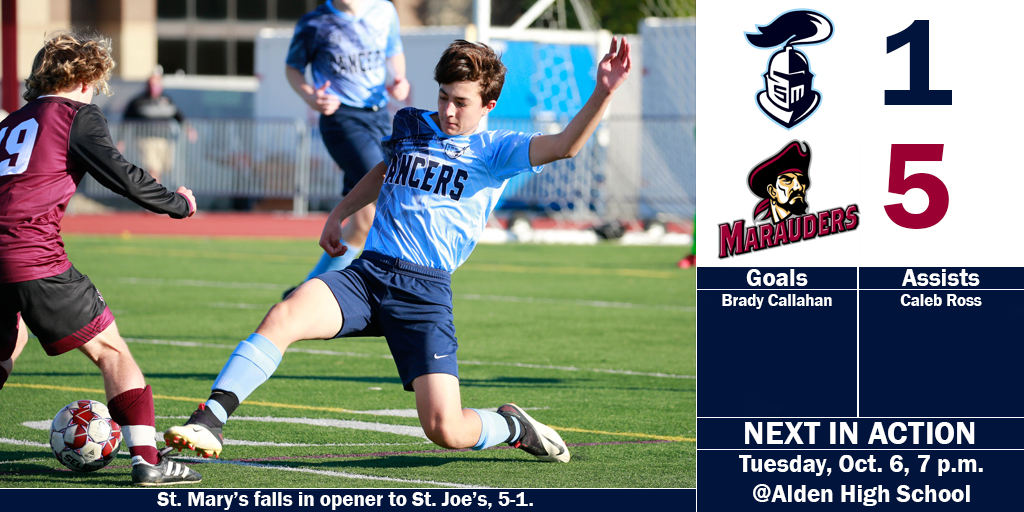 2019
Szablewski Named to All-WNY Team
Senior Luke Szablewski capped off a storied career at St. Mary's with a spot on the Men's All-WNY Soccer Team.
Men's Soccer Earns 7 All-Catholic Selections
Congratulations to:
Luke Szablewski (Offensive POY) '20
Noah Winiarski (Defensive POY) '20
Ethan Farrar '22
Brendan Murty '20
Andrew Pufpaff '21
Griffin Dempsey '22
Mike Vallone '20
Men's Soccer Goes Back-to-Back-to-Back-to-Back!
St. Mary's High School defeated Bishop Timon 4-0 to win their fourth straight Class B title. Congratulations to all of the seniors on outstanding careers!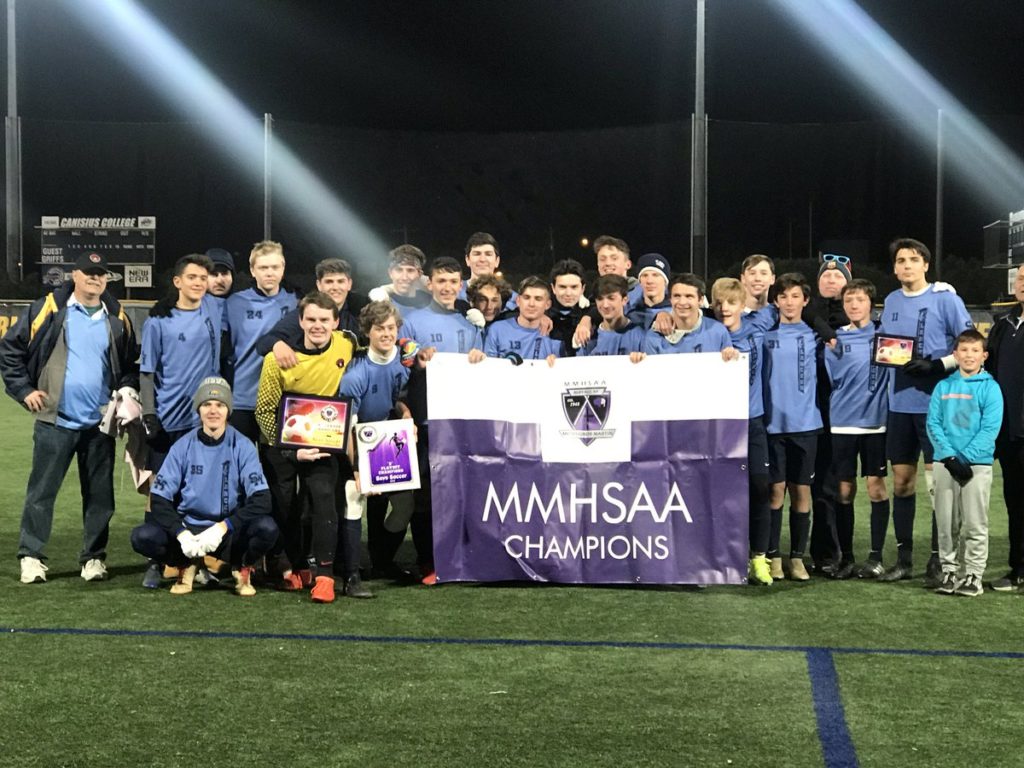 Senior Luke Szablewski Notches 100th Career Goal
Senior Luke Szablewski hit quite the milestone this past week, netting his 100th career goal in a Lancer uniform. Check out the recap, and congrats, Luke!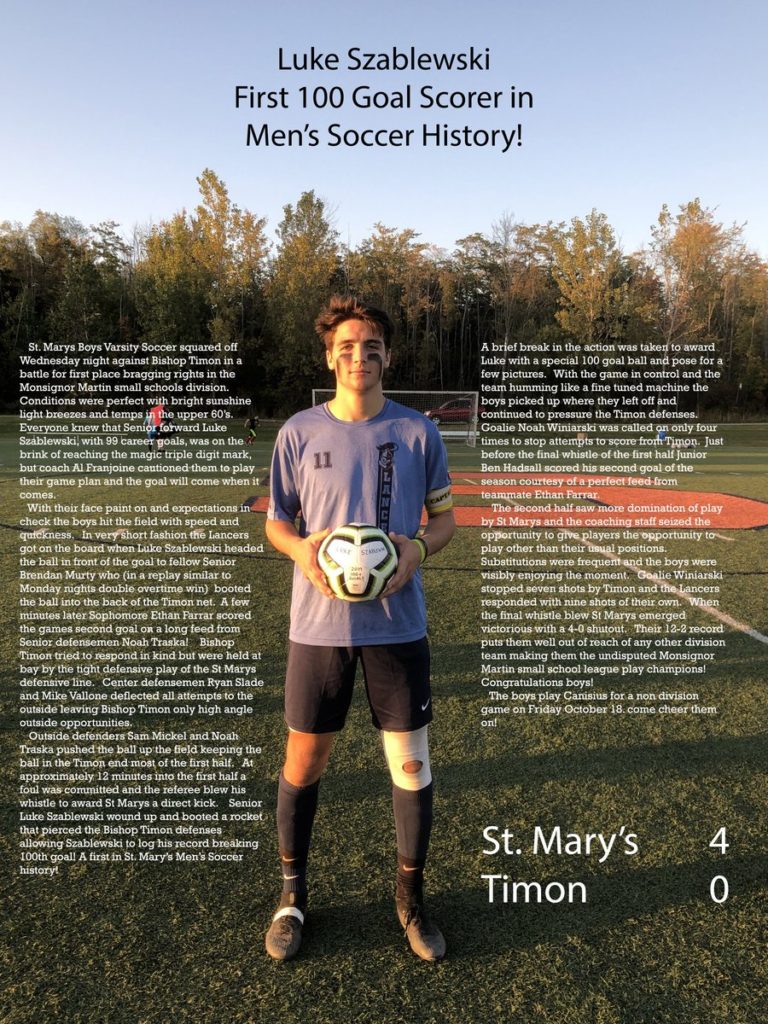 Soccer Honors Seniors
The St. Mary's Men's Soccer Team finished off a thrilling 1-0 victory over Gow in double overtime thanks to an incredible assist from Luke Szablewski and a Superman header by fellow senior Brendan Murty. What a game!
Afterwards, the Lancers headed back to school and honored their nine (yes, that's right NINE) graduating seniors. Thank you, boys for your service and deception to growing this program to one of the best in the league.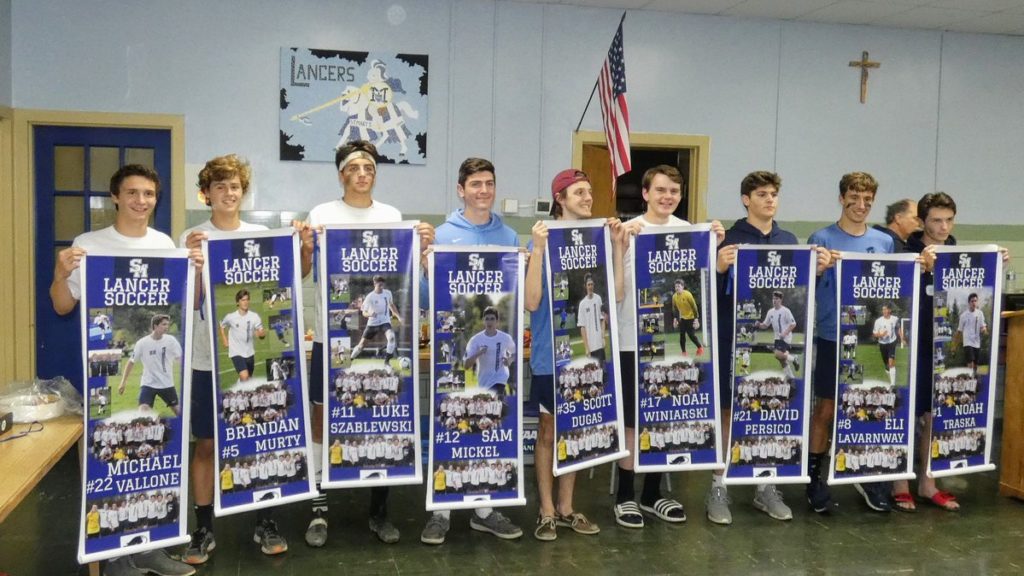 Lancers Get the Win In 2018 Championship Rematch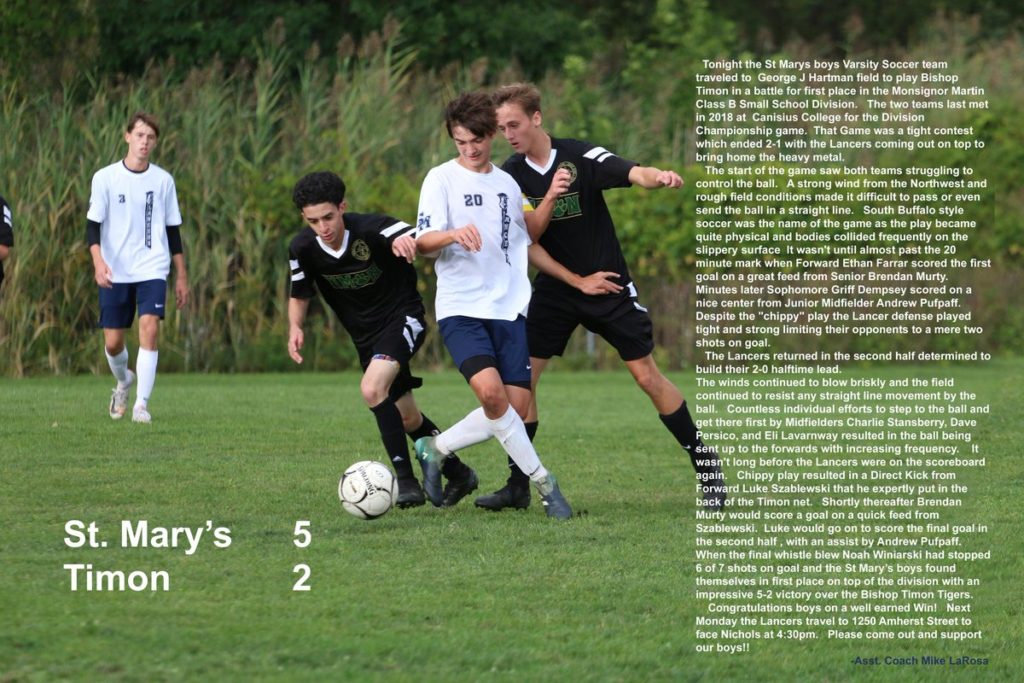 Lancers Pick Up a Nice Couple of Early-Season Wins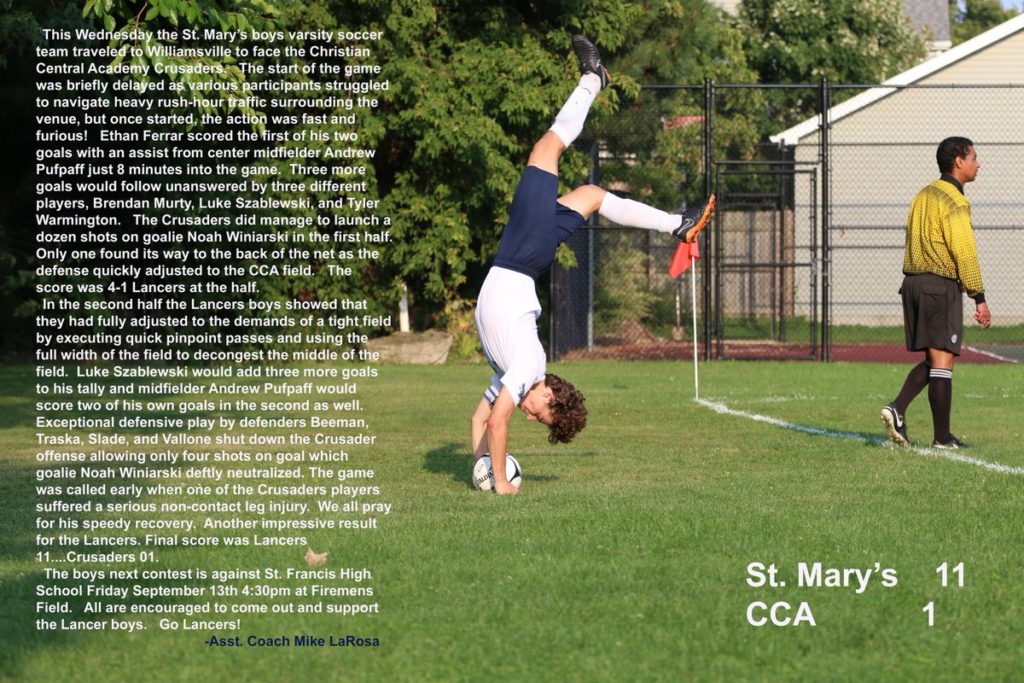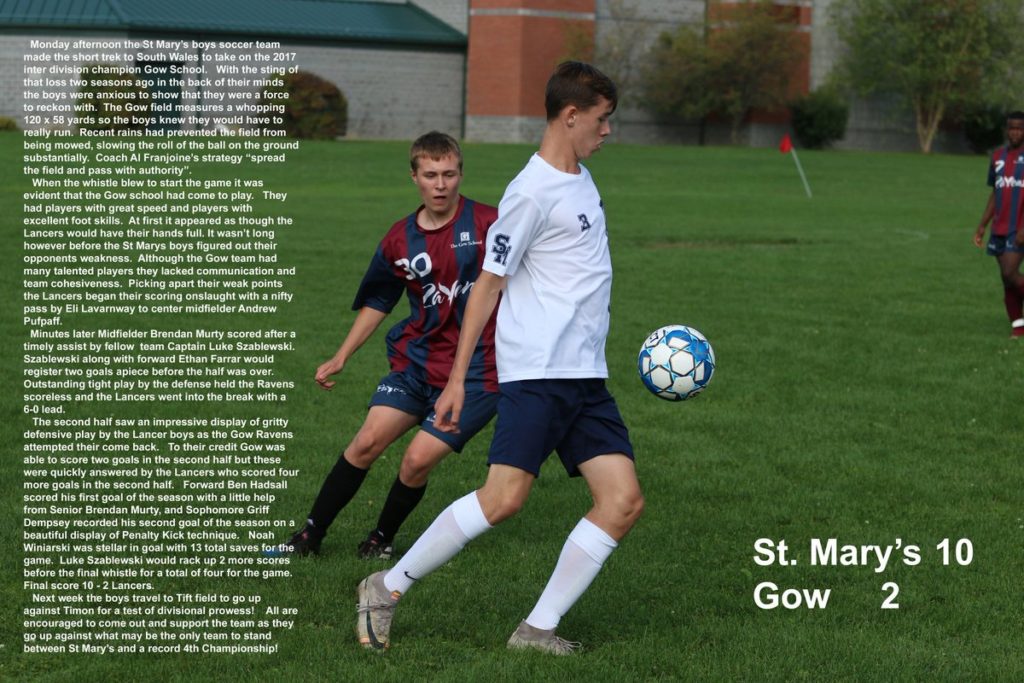 2018
St. Mary's Players Shine with 12 All-Catholic Selections
The Lancers have 8 First Team Division B All-Catholic members and 4 Second Teamers.  Check them out below.  Special shout out to Player of the Year, Nino Marino '18!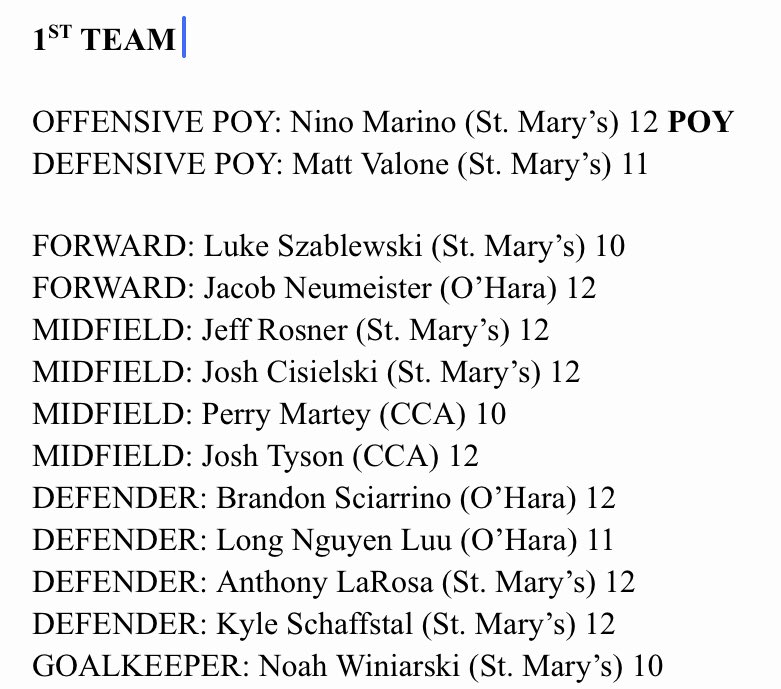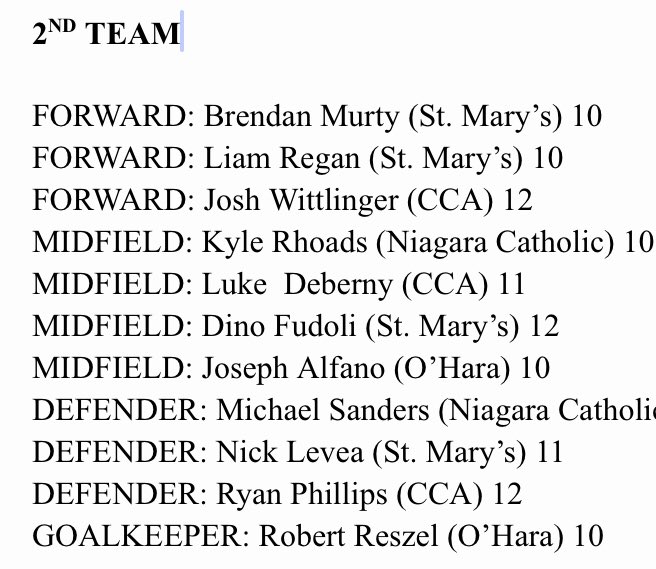 St. Mary's Wins Monsignor Martin Championship 
St. Mary's finished off an incredible regular season with a 6-1 victory over Cardinal O'Hara to take home the Monsignor Martin title! Luke Szablewski and Liam Regan scored two goals each and Anthony Larosa and Brendan Murty had single tallies for the Lancers, who captured their second straight division championship and have a 16-1-3 record for the season.
You can read the story in The Buffalo News here.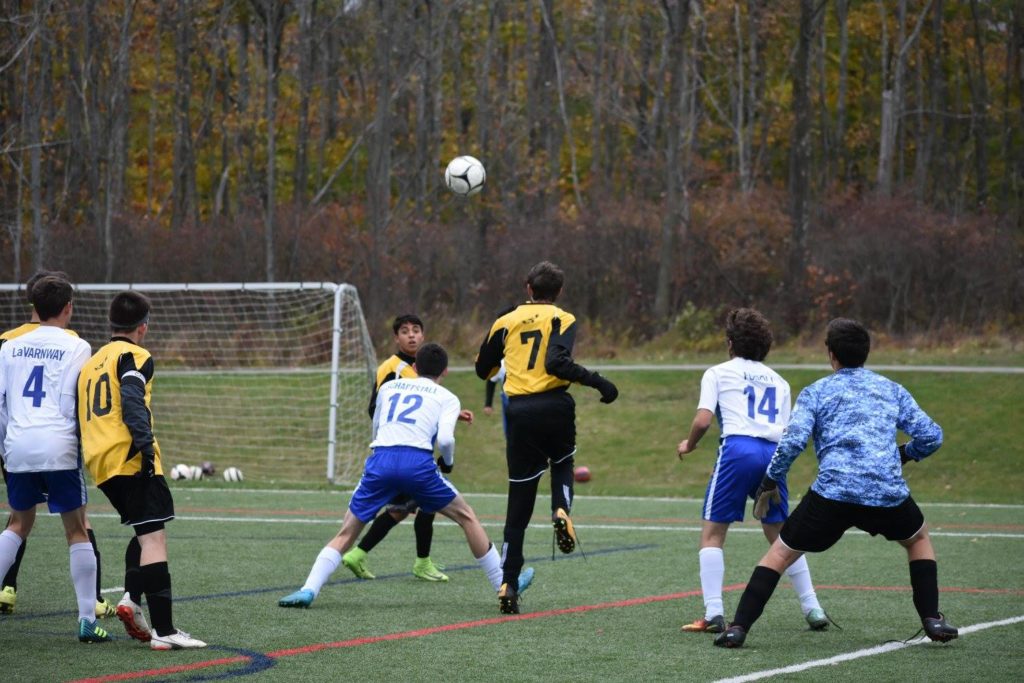 Noah Winiarski Earns Prep Talk Athlete of the Week
Our student athletes are on a roll! This week's Buffalo News Prep Talk Athlete of the Week is St. Mary's Men's Soccer goalie, Noah WIniarski! Coming off 30 saves against Fredonia last week, this Sophomore is sure doing his job between the pipes, helping the Lancers to a 10-0-3 record.  Way to go, Noah!  Read the full story from The Buffalo News here.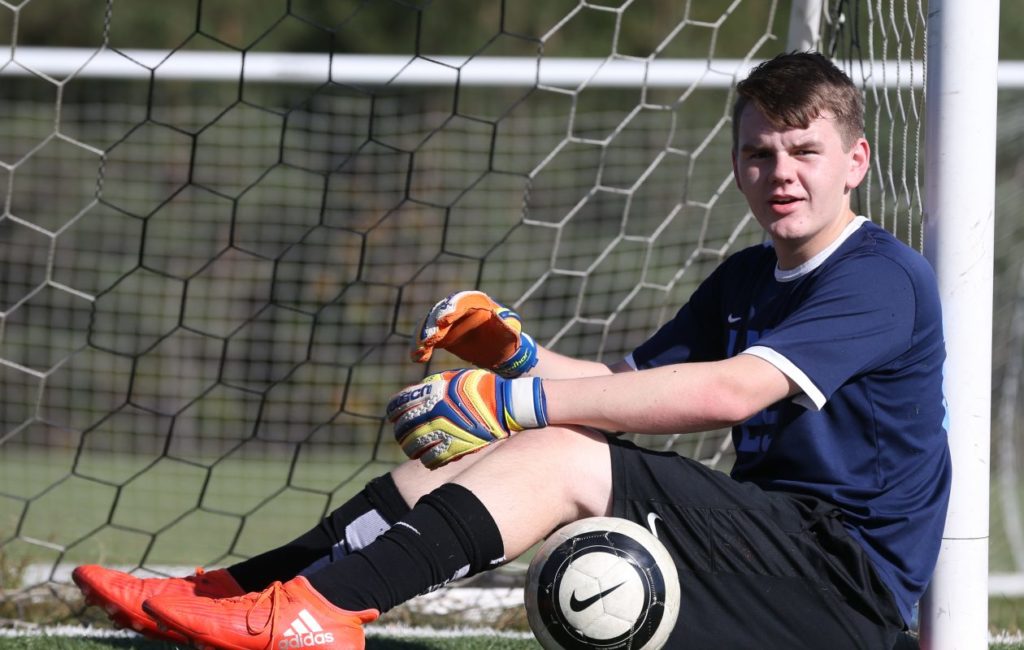 Photo credit: James P. McCoy/Buffalo News
Men's Soccer Starts Season with Strong 3-1 Win
Sophomore Luke Szablewski netted all three goals in the win ver Fredonia, with Senior Nino Marino recording two assists.
Here's a link to the story in The Buffalo News.
Senior Nino Marino and Team win Global Cup NI
Senior Nino Marino competed in Ireland this summer in the Super Cup NI with his Global Premier National Soccer Team. Nino assisted on the game-winning goal to send his team to the finals, and his team brought home the championship! Doing the Lancers proud, even across the pond!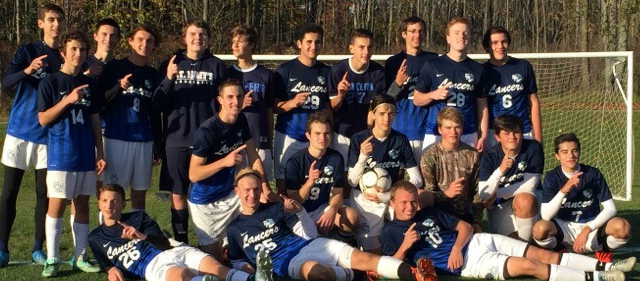 League Champs!
The Lancers won the 2016 Monsignor Martin League Title!