St. Mary's Names New Head Football Coach
St. Mary's High School has named Anthony Zito as the school's new Head Football Coach.
Zito took over the Football Team after Matt Ard officially stepped down from the head coaching position this spring. Zito brings a wealth of experience to the job, serving as the Defensive Coordinator of the Lancers for the past four seasons. He has also spent the past nine years with Lancaster Youth Football, coaching at all levels, including Pee-Wee, Freshmen, JV, and Varsity.
Coach Zito is looking forward to the opportunity in front of him: "I am very blessed to have the opportunity to be the Head Football Coach at St. Mary's High School," Zito said. "I will continue to build on what Coach Matt Ard started four years ago."
As a player, Zito built quite the impressive resume. Zito graduated from Lancaster High School in 1990 where he was a First Team All-NYS and All-WNY linebacker. He was also a USA Today High School All-American and Division I Defensive Player of the Year. Zito was also awarded the Shane Conlin Award, which is given to the best linebacker in WNY. He then went onto Buffalo State College where he was an All-American and was named to the All-Decade Team (1990's, First Team).
Zito was also a member of the St. Mary's Varsity Men's Basketball Coaching Staff from 2019-2022.
St. Mary's Athletic Director Zach Weiss is excited for Zito and the Football Program for the upcoming season: "Coach Zito certainly comes with an impressive pedigree and wealth of knowledge that will benefit our players tremendously," Weiss said. "He's been on the coaching staff for the past four seasons, so that type of consistency and familiarity was key in making this decision for our student athletes."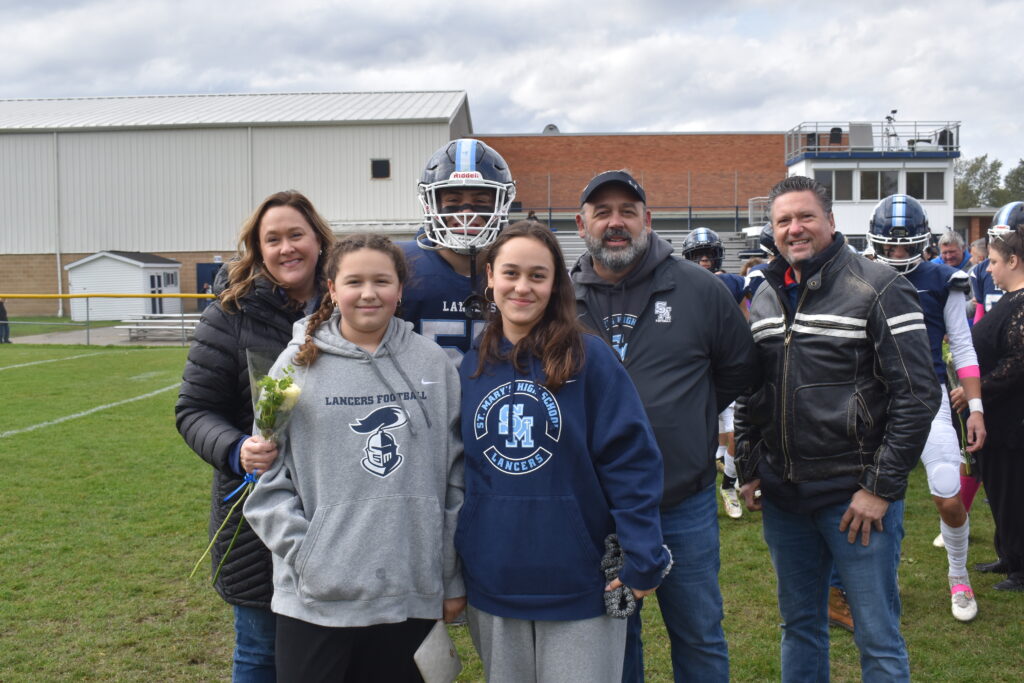 St. Mary's Wins Back-to-Back Championships
In an incredible Fall sports season, St. Mary's can add another championship to the trophy case! Congratulations to Coach Ard and the back-to-back Monsignor Martin Champion St. Mary's Football Team! They defeated Bishop Timon in an impressive 52-0 victory.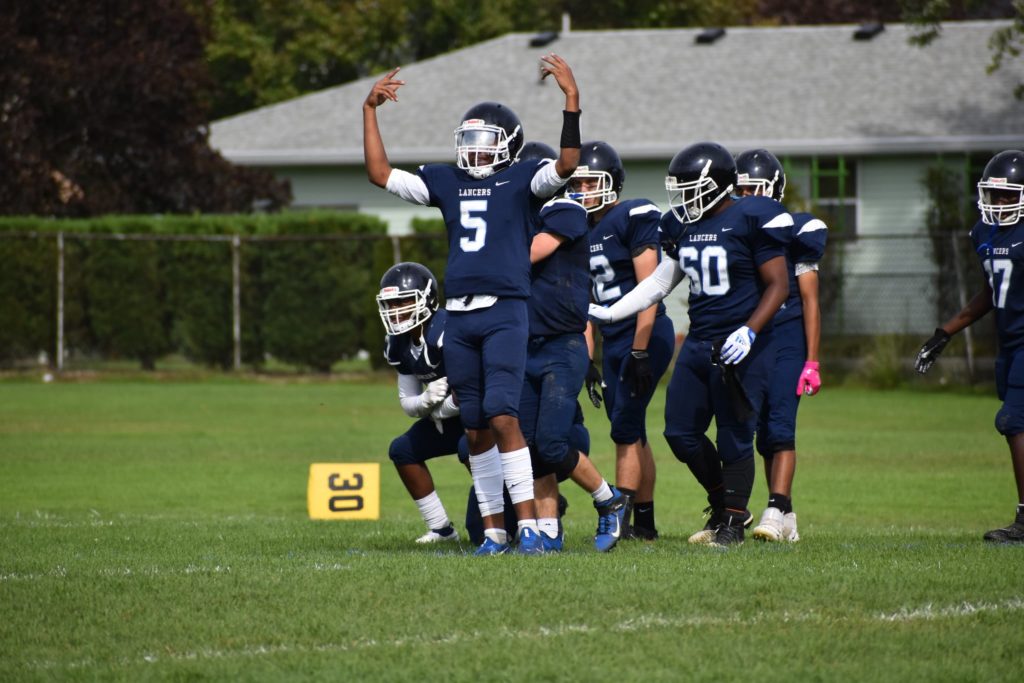 Also a special shout out to Christian Lewis who also broke the Monsignor Martin rushing record yesterday. What an accomplishment!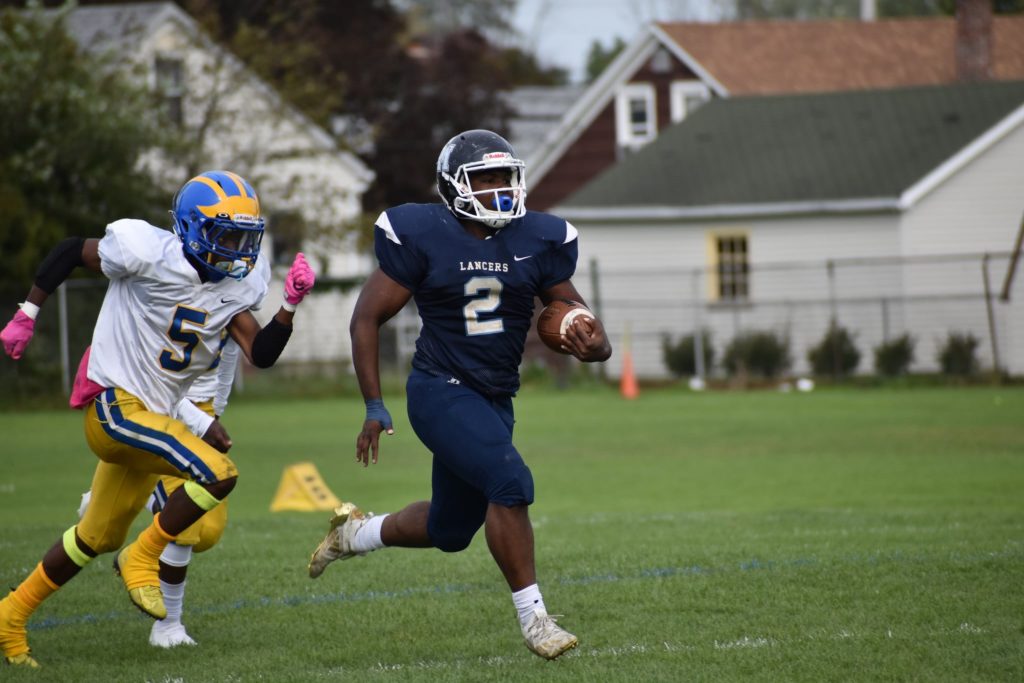 Christian Lewis running free over Cleveland Hill - just like he did all season!
Lancer Football Honors Seniors
These young men have had such an impact on this football program, and we could not be prouder of their hard work and dedication.
The Lancers capped off the afternoon with a BIG 44-0 win over Warsaw/Letchworth.
Senior football players:
#2 Christian Lewis, #3 Jack Bestpitch, #4 Ryan Hersey, #5 Jayden Wilson, #7 Trevor Sheehan, #9 Tommy Vaccaro, #10 Marco Fudoli, #12 Noah Renkas, #15 Jayden Whitt, #21 Alex Ellison, #26 Evan Kosinski, #56 Will Rhodes, and #74 Shalion Scott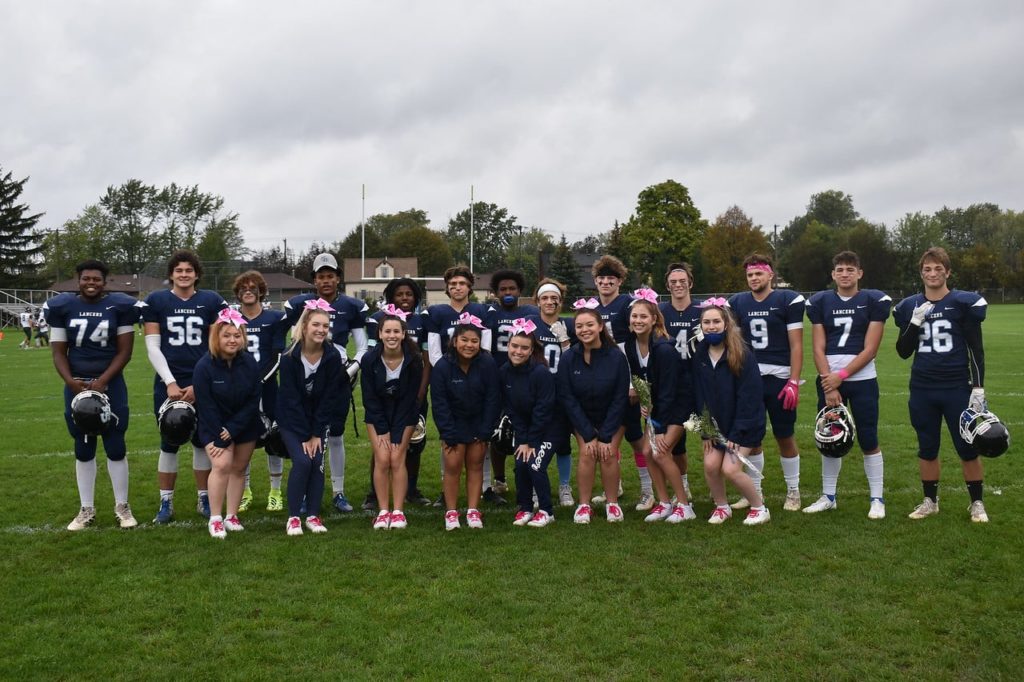 St. Mary's Defeats St. Joe's 30-16
Lancers Football with the big win over St. Joe's to kick off the season! Congrats to Coach Ard and the whole squad. Excited to see what the rest of the season will bring!
You can watch the highlights from the win here.
Lancers Capture Division B Championship
St. Mary's took down a tough Bishop Timon team to capture their first title 16 years! In an unprecedented spring season, the Lancers proved their resilience in brining home the crown.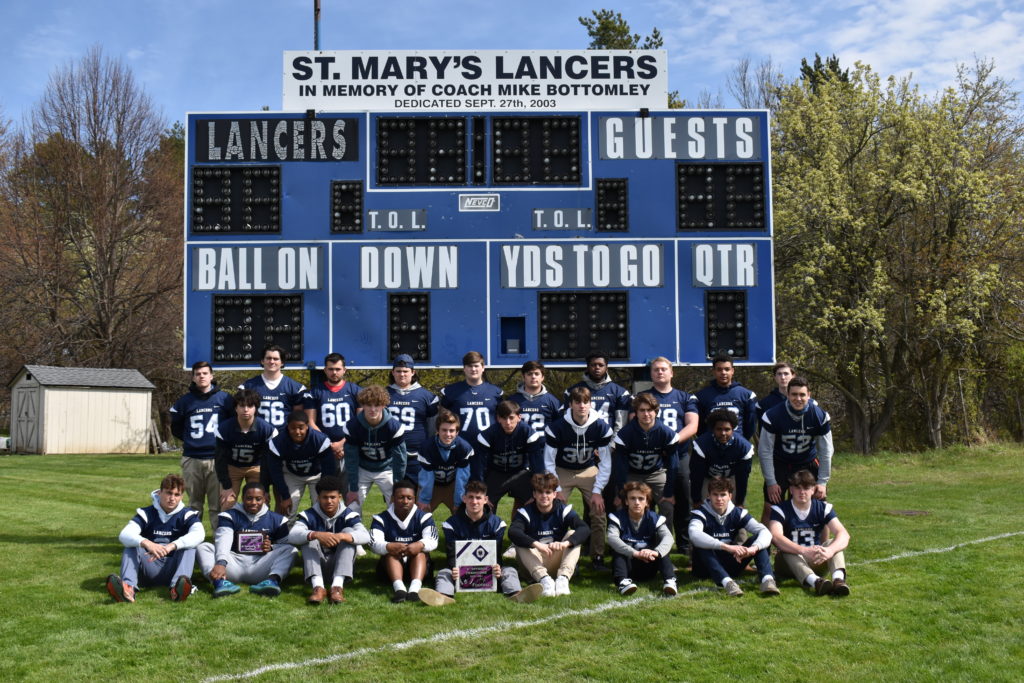 Lancers Name New Head Coach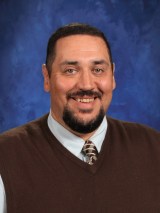 St. Mary's High School has named Matthew Ard as the head football coach for the 2019 season. Ard will become the 13th coach in program history after spending the last two seasons as offensive coordinator and coaching the linemen on both the offensive and defensive sides of the ball. Ard takes over the head coaching job after Chris Dickson stepped down to spend more time with his family and support his children in their activities.
Ard brings 20 years of coaching experience with him into his new position, coaching at high schools in West Virginia and Western New York. He has coached at University High School in Morgantown, WV and then back home at Williamsville East High School and held his longest tenured position at Maryvale High School, where he spent 11 years on that staff.  At these schools, Ard learned from the head coaches he worked under and plans to incorporate those lessons into the St. Mary's program: "I would like to thank Steve Griffin, Dave Hersey, Chris Glenn, and Chris Dickson for being such great models over the past 20 seasons," Ard said. "They have instilled things in me that I will now use and expand upon as head coach."
Ard plans to use all of this experience to really build the football program at St. Mary's: "Our goal is to really rebuild the program and restore it to its former glory," Ard said. "St. Mary's has such a rich football tradition, so we want to instill that in our guys.  We want to bring back alumni to have a role in this program again and really help build it up from where it is now to become one of the premier programs in the area."
Ard is confident in his coaching staff, who all bring vast amounts of experience and a wide range of talent to coach all of the positions on the field: "Beck O'Connor, Ryan Gallo, Nick Casillo, Anthony Zito, and Zach Weiss all bring an amazing amount of energy, enthusiasm, and experience of their own to this program," Ard said. "Take that and the support we get from the administration, like with the addition of our new state-of-the-art weight room, and this program is ready for the future."
Ard is a local product, graduating from Amherst High School in 1996. He then went on to get his undergraduate degree in adolescent education from West Virginia University and then came back home to complete a second undergraduate degree from D'Youville College before getting his Masters from the same school.  In addition to being the head football coach at St. Mary's, Ard is also the head of the social studies department, which is currently ranked second in Western New York according to Buffalo Business First.
"I have no doubts that Matt Ard is the right guy to become our next head football coach," said Head of School Kevin Kelleher. "Matt brings a level of energy and intensity to just about everything he does. He's the kind of guy you want involved in your school in as many ways as possible and you'd want to build a program around."  Athletic Director Brittany Heist agrees, "Matt brings so much experience to the table that our student athletes are going to really benefit from. We're excited to see what he does holding the reigns."
Football Gets It Done Against O'Hara
The Lancer Football Team got their first big win of the season against Cardinal O'Hara 28-6, putting us at the top of the division and securing a playoff spot!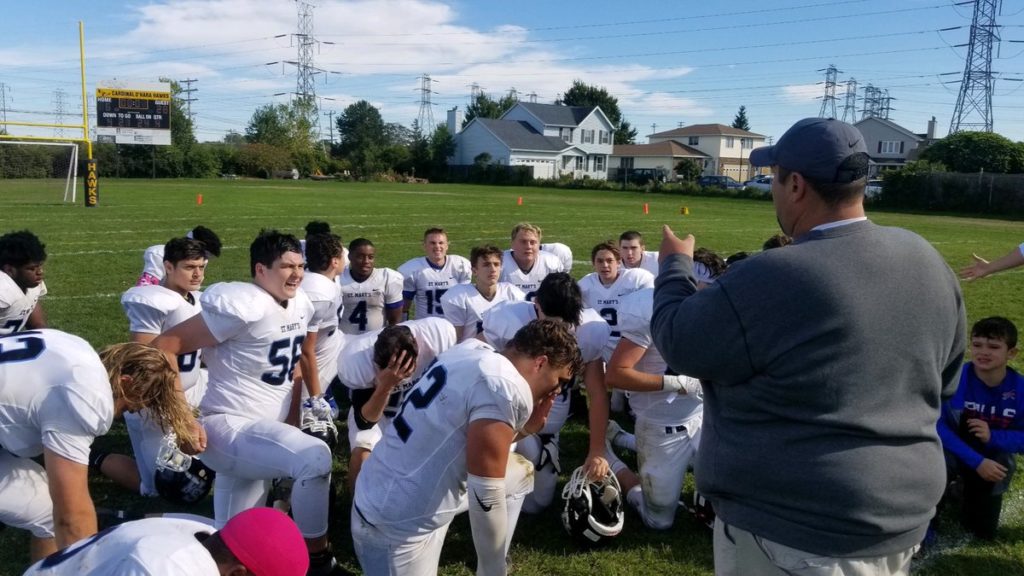 St. Mary's Falls In Tough One to Chaminade
The Lancers fall in a tough battle to Chaminade 28-6. The team continues to show improvement under first-year head coach Matt Ard week-to-week.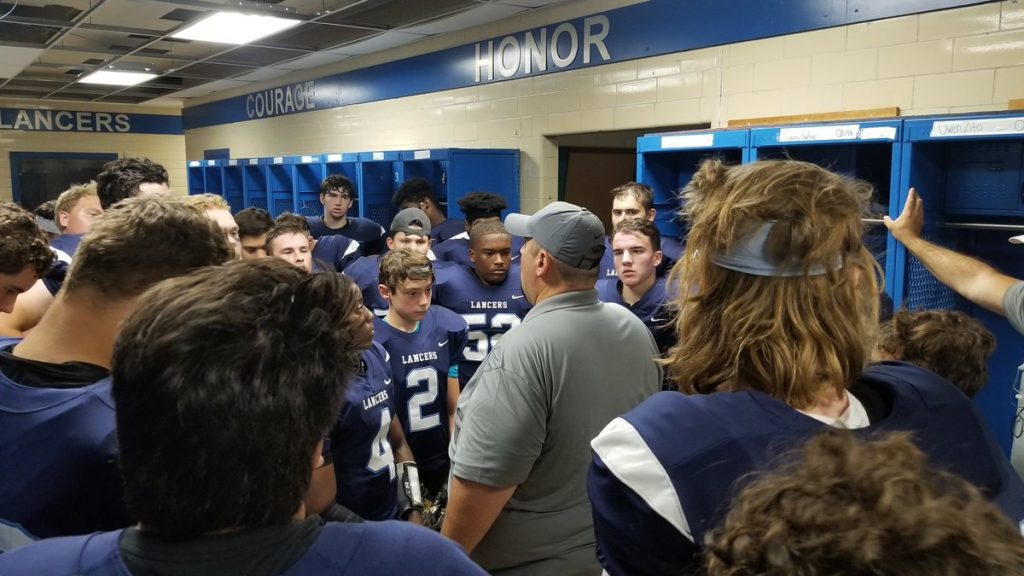 Lancers Land 3 on All-Catholic Second Team
Sophomore Running Back D'Jae Perry, Sophomore Defensive Lineman CJ Ozolins, and Senior Defensive Lineman Jake Lukasik were named to the MMHSAA Second Team All-Catholics this season! Congrats boys and Lancer Football on a great season!
Support Lancer Football and the Buffalo Bills
Two Western New York teams supporting one another!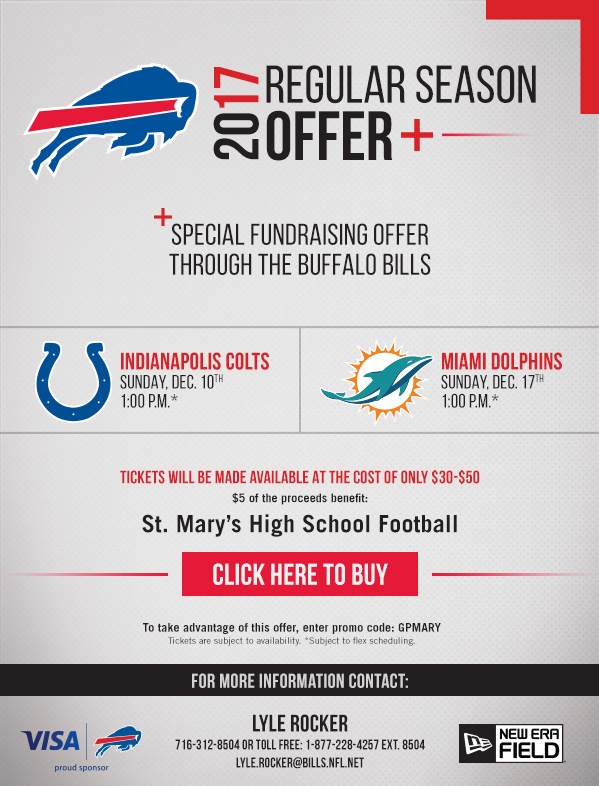 Football Off to 3-0 Start and Perry Earns Prep Talk Player of the Week
The Lancers are off to quite the start- taking down Bishop Timon, Nichols, and Bishop Kearney en route to a 3-0 record to start the season.  Sophomore D'Jae Perry had a MONSTER day against Bishop Kearney, carrying the ball 10 times for 243 yards on the ground, earning him Buffalo News Prep Talk's player of the week!
You can check out the article on The Buffalo News website.
Photo courtesy of: The Buffalo News