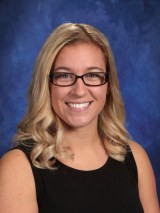 Department: Art
Years at St. Mary's: 4 years
Years of Teaching Experience: This is my 6th year teaching
Where Have You Taught Prior to Coming to St. Mary's: I have worked with the Seneca Babcock After School Tutoring Program, Huntington Learning Center After School Program, Our Lady of the Sacred Heart in Orchard Park, St. Joseph's School in Gowanda, Nativity of Our Lord in Orchard Park, St. John the Baptist in Alden, and South Park High School.
Hometown: Buffalo, NY
Fun Facts: I coach Cross Country and Track, and I am the Varsity Hockey Manager.
My grandfather on my mother's side is the one who taught me how to draw and paint when I was very young.
I have two dogs - Jackson and Maya Lou - both named after famous creative minds, Jackson Pollock and Maya Angelou. I am a die-hard Bills fan and a lover of anything chocolate!