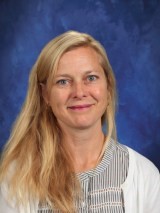 Department: Foreign Language (Spanish)
Years at St. Mary's: 2 years
Years of Teaching Experience: I have been teaching Spanish since 2000.  I have taught all levels, but mostly high school, which is my favorite level to teach.
Where Have you Taught Prior to Coming to SMH: I taught for 6 years in the East Aurora School District, then I resigned to take care of my four children.  I also taught at The Aurora Waldorf High School, Immaculate Conception, Academy of Aurora and other after school programs.
Hometown: I am originally from East Aurora, though we lived in Chicago and San Francisco before moving back to WNY to raise kids.
Fun Facts: I love the outdoors, traveling, spending time with my family and friends.  My trip to Macchu Picchu in 2007 was one of the highlights of my life.  I clearly remember looking at the iconic picture of the ruins in my high school Spanish class, as a student, and thinking that someday I would see it in person.  I walked the Camino Inca for 4 days to reach the ruins and the entire journey absolutely surpassed my wildest dreams.  The experience was magical!