Join the entire St. Mary's community nationwide on 9.12.2019 for a Lancer Giving Day to support the future of St. Mary's High School. This Giving Day will be an online effort, across multiple platforms, to create goodwill among St. Mary's alumni, families, friends, and supporters to encourage giving back to the school that we all love and owe so much to.
We will acknowledge the amazing 115-year history of the school and support the long, prosperous future that lies ahead for hundreds of more Lancers.
If you would like to make a gift to St. Mary's to help us continue to fulfill our mission of preparing young men and women for college and life beyond the classroom to be the leaders of tomorrow or in honor of an alum, teacher, or classmate, please click here.
We thank you so much for your support! We cannot continue to improve and do all of the amazing things we have planned for our students without your help!
God bless, and go Lancers!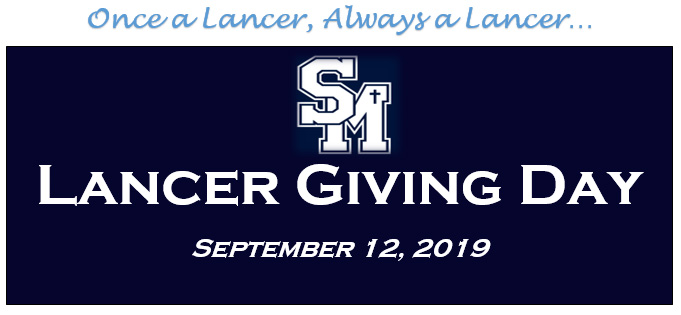 Thank you to our supporters!
| | | |
| --- | --- | --- |
| Saima Horab | The Friol Family | |
| John Bruso & Families Touched by MS | JoAnn Kelleher '63 | |
| Sarah Suffoletto '19 | Mary Helak Johnston '01 | |
| Keith & Emily Junik | Alex Hokaj '16 | |
| Kara Bestpitch '96 | The O'Neill Family | |
| Marnie Murray | Holly Dembinski '99 | |
| Erica Beiter DiNovo '90 | Kevin Kelleher '89 | |
| Tom Fay | Sue Phillips | |
| Patty LaMagna | Cleo Weiss | |
| Noelle Dugas '89 | Elaine Czenszak '62 | |
| Gregg Rutecki '67 | Peter & Linda Herr '82 | |