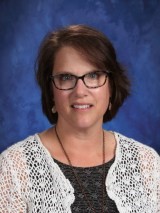 Department: Science
Years at St. Mary's: This is my third year teaching at St. Mary's High School, and I love it! 
Where Have You Taught Prior to Coming to SMH: I attended Cornell University in Ithaca, NY and, upon graduation, took a solemn vow never to live anywhere snowy and cold again.  I gleefully relocated to Los Angeles, CA for my graduate studies at UCLA.  After earning my PhD, I came back to Bethesda, MD where I received a National Science Foundation Postdoctoral Fellowship for my postdoctoral studies at the National Institutes of Health. When my postdoc was completed, I returned to (warm and sunny) Texas with my then-husband, and taught first at the Laredo Community College, and then in the Texas A&M System.  We moved to Buffalo, NY a few years later, and I taught at Buffalo State College for nine years in their chemistry department.
Hometown: I was born in Hanover, NH, but soon moved to San Antonio, TX, to Charleston, SC, and then to Bethesda, MD for my junior high and  high schools. 
Accolades:  I was blessed to be nominated by my students in the year-long, campus-wide "Nominate a Teacher" contest, part of Buffalo State's Year of the Teacher celebration.
Fun Facts:  I am a mother of two wonderful boys, neither of whom enjoy chemistry or the snow, and a doting companion to two poorly behaved, but much loved, rescue dogs.  Upon returning to upstate NY I have realized that warm weather is truly secondary to warm people.   Buffalo, and St. Mary's, has the nicest people I've ever met!