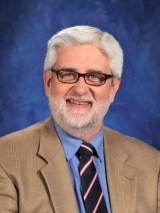 Department: Religion; Campus Minister
Years at St. Mary's: 2 years
Years of Experience: 18 years in Catholic high school education and 34 years in parish work; youth groups, retreats, confirmation classes, marriage prep, Mission Renewal, etc. etc. etc. You name it, I did it!
Where Have you Worked Prior to Coming to SMH: Immaculata Academy and St. Joe's
Hometown: Boston, NY
Fun Facts: I have 2 children, 1 wife, and 2 golden retrievers (Sweet Caroline and Cracklin' Rosie). I met my wife, Frankie, when I was 15 and she was 13.
I am a photographer, enjoy furniture refinishing, singing, acting, musicals, plays (I guess an all-around theater freak).  I also love creek walking!