Welcome to St. Mary's High School!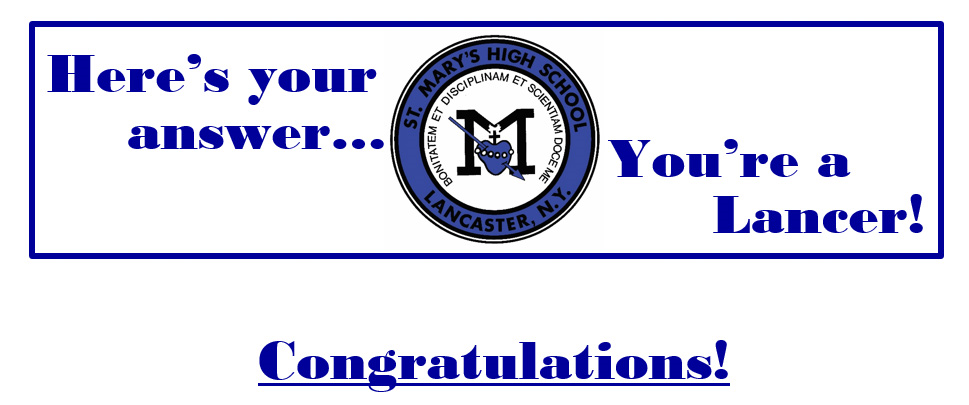 Members of the Class of 2025,
All of your hard work and long hours of studying have paid off! We know that the past year has been incredibly difficult on all fronts, and we are thrilled to be able to deliver this good news to begin 2021!
Your individualized scholarship and financial aid information has been mailed out to you, which you should receive in the next few days. The other information needed to complete your registration is attached to this email.
The Course Preference Sheet in these papers will need to be filled out and then scanned and emailed to adrabik@smhlancers.org. All of the other papers do not have a participant component.
To register:
Download the attached registration packet by clicking on the arrow.
Save the document to your computer with the file name as such: Last Name-First Name-Registration
Open the newly renamed file.
Go through the packet, filling out all the marked fields. You are able to type right onto the PDF forms so that we are able to streamline the entire application process.
Please fill out all of the empty fields on each page.
Save the packet again when you are completed.
Email the packet back to adrabik@smhlancers.org.
*Note: As long as you save the document you are working on, you should be able to go back into that saved document to finish up if you get interrupted in the middle of filling out the registration packet.
You are able to pay your tuition deposit and technology fee (with the option to also pay your activity fee) by clicking on the appropriate links in the registration packet – or by scrolling to the bottom of this page.
To keep everyone as safe as possible during these crazy times, this email and the forms that accompany it are taking the place of our traditional Freshman Registration Night. You have until Friday, January 29, 2021 to register online. If you would like to register and make your payments in-person, you can contact Andrea Drabik via email (adrabik@smhlancers.org) or phone (716-683-4824 ext. 211) to schedule an appointment Wednesday, January 27 – Friday, January 29, 2021 from 8:00 a.m. to 4:00 p.m.
The whole school just couldn't wait to share this exciting news with you, so we have a special message from some of our Lancers who want to remind you of all the amazing things you can do as a part of this family.  Check out our special message for you below or head to YouTube to watch: https://youtu.be/DO9387_Tm-U
Once again, congratulations, and welcome to St. Mary's!