Ciao Italia with Mary Ann Esposito Returns Home – The Chopped Edition!
October 29, 2022: St. Mary's High School – 5 p.m. Reception & 6 p.m. Demonstration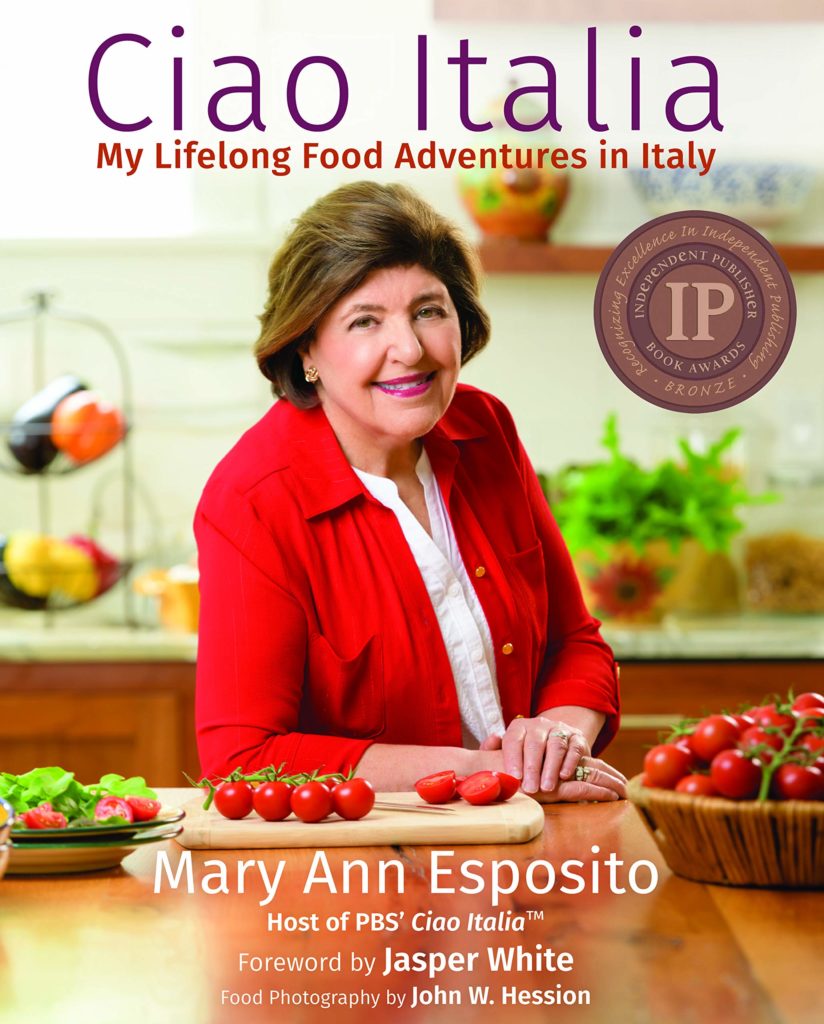 Please help us in welcoming back Mary Ann Esposito and her husband Dr. Guy Esposito (St. Mary's HS class of 1960)!
Mary Ann Esposito is returning to St. Mary's High School for Ciao Italia Returns Home – The Chopped Edition. Mary Ann Esposito, the host and creator of America's longest-running cooking show, Ciao Italia, will be returning to the cooking stage at St. Mary's High School on Saturday, October 29, 2022 at 6:00 p.m.
What is "The Chopped Edition?" Like the popular Food Network show, Chopped, Mary Ann will be on stage hosting and moderating while two teams – each with a local restaurant chef and a guest sous chef – engage in a friendly competition to see who can impress Mary Ann and a team of judges the most with their creative use of some surprise ingredients.
The sous chefs for the event will be Fr. Joseph Rogliano, the pastor of St. Mark's and St. Rose of Lima and a 1975 graduate of St. Mary's High School along with Msgr. David LiPuma, pastor of Our Lady of Victory Basilica and an alumnus of the Class of 1978 at St. Mary's High School. Msgr. LiPuma and Fr. Rogliano are excited to be returning to St. Mary's and joining Mary Ann, a fellow alumna, on the stage for this most unique and fun event.
This event promises to be a once in a lifetime affair. Doors will open at 5:00 p.m. for a wine and Prosecco reception, complete with a charcuterie board on each table. The on-stage demonstration and event will begin promptly at 6:00 p.m., followed by a plated dinner, featuring one of Mary Ann Esposito's award-winning signature recipes. There will be a Q & A after the event as well as audience participation throughout the evening.
The guest chefs will be announced soon!
Individual tickets for the event are $150 and can be purchased online at smhlancers.org beginning August 1st. There are also sponsorship opportunities available.
Please contact Mark Tramont at mtramont@smhlancers.org or 716-462-0693 for more information. Proceeds will benefit the St. Mary's Lancer Fund. Additionally, donations from the proceeds will be made to OLV Services and St. Mary's Elementary School.
Please see the following bios for more information on all of the evening's main participants.
More about Mary Ann Esposito:
Mary Ann is a graduate of St. Mary's High School in Lancaster, NY, received her Bachelor's Degree from Rosary Hill College (Daemen College) and holds a Master's Degree from the University of New Hampshire. Johnson and Wales University presented Mary Ann with their Distinguished Author Award. St. Anselm College conferred an honorary doctorate for her dedication to teaching and preserving authentic Italian cuisine.
Numerous organizations have recognized Mary Ann for her efforts to preserve the traditions surrounding Italian regional food and culture. She received the Order of the Star of Italy Cavaliere Award from the President of the Italian Republic as well as the Premio Artusi award for her work in promoting Italian food. The Italian Trade Commission further distinguished Mary Ann by naming her a Hall of Fame honoree. The Order Sons of Italy in America honored Mary Ann with a Lifetime Achievement Award in the Culinary & Cultural Arts of Italy Award.
For more information regarding Mary Ann Esposito:
Website (www.ciaoitalia.com)
Follow Mary Ann on Facebook www.facebook.com/maryannesposito
Please contact: Chris Esposito chris@doverstrategygroup.com
Ciao Italia has aired on PBS for 31 years, making it the longest-running nationally televised cooking show today. In addition to PBS, Ciao Italia is now available on Amazon Prime Video.
Msgr. David LiPuma is from Depew, NY. He graduated from St. Mary's High School in 1978 and Wadhams Hall Seminary College in Ogdensburg. He then went on to study at the Pontifical North American College in Rome. After receiving his theology degree from the Gregorian University in Italy, he made his way back to Western New York. Msgr. LiPuma was ordained to the priesthood in 1987 by the late Most Rev. Edward Head and served as a parochial vicar at St. Leo the Great in Amherst and St. Philip the Apostle in Cheektowaga.
In 1993, Msgr. LiPuma was named Acting Director of the diocese's Office of Worship. From there, he served as priest secretary for two bishops: the Most Rev. Henry J. Mansell and the Most Rev. Edward Kmiec. Msgr. LiPuma was then asked by Bishop Malone to take over at St. Peter's in Lewiston, NY where he served as the pastor for six years, overseeing growth in both the church and its school.
In 2019, Msgr. LiPuma was then named pastor of Our Lady of Victory National Shrine & Basilica and president of Our Lady of Victory Institutions. He succeeded Msgr. Paul Burkard. In some ways, Msgr. LiPuma's appointment is a bit of a homecoming. Msgr. LiPuma was baptized by Msgr. Robert Wurtz, who was the pastor of OLV, prior to Msgr. Burkard. Msgr. Wurtz passed away as the pastor of OLV, and Msgr. LiPuma feels blessed to have been able to anoint Msgr. Wurtz just before he passed away.
Fr. Joe Rogliano is a graduate of St. Mary's High School, St. John Fisher College, and Christ the King Seminary in East Aurora and was ordained in 1985. Fr. Joe held many positions with several parishes and the diocese until his first assignment as pastor of St. Anthony and St. Joseph Parish in Lockport, NY. During his tenure, the parish community of Sts. Anthony & Joseph experienced tremendous growth and renewed vitality.
In 2006, he was assigned pastor of 14 Holy Helpers in West Seneca, NY, a position he held until 2010 when he became the pastor of St. Mark and St. Rose of Lima in North Buffalo. Through his stewardship and vision, the combined parish community and St. Mark's Elementary School has seen a resurgence in growth. Fr. Joe has become a vital member of the North Buffalo community and has served many other organizations and charities as well as his daily priestly duties.
Shea Zappia started his cooking career in his father's restaurant, Simme's Bar and Grill, when he was 13 years old. The restaurant started as a humble neighborhood bar & grill in Lancaster, NY. The space was remodeled into a popular casual fine dining destination, Simme's Martini Bar and Restaurant. As he became more serious about cooking, he enrolled in culinary school at a ECC, choosing a local college so that he could get his education and continue to work at Simme's. While in culinary school, he was urged by one of his instructors to try out for the American Culinary Federation's Regional Hot Food Competition Team. He made the team and served as team captain for three years, winning one bronze and two silver medals and a nomination as the ACF's National Student Chef of the Year in 2005 and placed second in the Northeast, barely losing in a close competition in Toronto. Competitions is where he feels he gained the "classical training" and set the trajectory for the rest of his career.
He was presented opportunities to go elsewhere, but chose to stay in Buffalo as it has been on the cusp of a large revitalization in the culinary scene, in which he saw an opportunity to make a name for himself and his food in his hometown. He left his father's restaurant at the age of 21 and worked in various private clubs in the city while still competing and eventually coaching young ACF culinarians in hot food competitions. After moving around from private clubs to other restaurants in the city, he got his first sous chef job at 24 years old at Curly's Bar and Grill. The owners were CIA grads and esteemed local chefs that worked in Switzerland, Austria, Jamaica and Lake Tahoe and under the likes of Chef Wolfgang Puck. They were pioneers of farm-to-table in Buffalo and also regarded as the first real "fusion" style restaurant, elevating blue collar food with international influences.
After two years as Sous Chef, he was promoted to Executive Chef. That same year he was nominated as Best Chef of Buffalo 2013 by Artvoice Magazine. The following year, Curly's received a 8 of 10 "plates" from Andrew Galarneau of The Buffalo News. In 2015, he competed in the local Nickel City Chef Competition with Krista Van Wagner, Chef/Owner of Curly's, who was a Nickel City Chef and a powerhouse in the local culinary scene. The pair scored the highest in NCC history (at the time) and remained undefeated during her time as a Nickel City Chef. He served as Executive Chef at Curly's for seven years.
He left Curly's to explore an opportunity as Executive Chef of Mangia Ristorante and then on to Executive Chef of Savor Restaurant in the Niagara Falls Culinary Institute. At Savor, he ran their fine dining restaurant and retail outlets for three years. While at Savor, the culinary team garnered multiple awards for dining excellence from the Chaine Du Rositsseurs and the American Culinary Federation. He left Savor to become a Corporate Executive Chef for Sysco Foods where he specializes in Culinary Development and Training as well as consulting for key clients. He works part time as a private chef for the Jacob's family of Delaware North and also as an Adjunct Professor of Culinary at the Niagara Falls Culinary Institute, teaching culinary foundations.
More details about

the

actual event in

October

to follow…