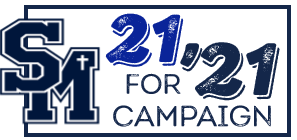 Lancer Alumni,
With 2020 behind us, we would like to thank each and every one of you for your kind thoughts, prayers, and continued support of St. Mary's High School.
Over our 117-year history, St. Mary's has succeeded in the classroom, on the field, court, track, and in preparing our students for life beyond our hallways. The talent, hard work, and determination of our students, faculty, staff, and administration have allowed us to find success and live up to the challenges in front of us. The work of continuing our traditions is no easy task. It takes the most talented teachers, state-of-the-art technology, new training equipment, and students and families that recognize the importance of a private Catholic education.
The challenge we are posing to our Development staff and supporters this year is to increase participation in our Annual Fund by class year. Our goal is to achieve a 21% giving rate by each class. For example, if there are 100 alumni from your class, we would need to see 21 donors give to St. Mary's this year! Donations can be at any level and all will be counted. You can also join our "Club 21" by signing up to give $21 each month via auto-pay, which is an easy and convenient way to keep up the challenge!
This challenge will begin on January 1, 2021 and end on December 31, 2021. Please visit the leaderboard (here) for updates on your class!
The first class to reach that 21% goal will receive a cocktail party at the school on a to-be-determined date. Your donation helps keep St. Mary's High School affordable, and we are so appreciative that you remember us in your charitable giving.