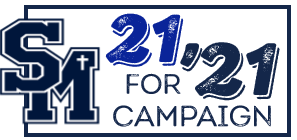 In many ways 2021 has felt like a marathon. In other ways, it's hard to believe that we're into 2022.
We want to thank all of our alumni who donated to the 21 for '21 Campaign! Over the course of the year, we raised nearly $100,000 and had donations from every class year sans four from 1948-2021. Here are the top classes to contribute:
Class of 70 16%
Class of 65 14%
Class of 71 13%
Class of 64 11%
Class of 86  9%
Class of 85  7%
Congratulations to the Class of 1970! They are the big winners and will be honored with a reception at the school at a later date.
Just because 2021 is over does not mean the giving has to stop! As St. Mary's continues to grow - enrollment is the highest it has been in decades - our needs for improvements to the building, more teachers, and more also grow exponentially. We need the support of our Lancers to help us succeed into the future.