Mary Ann Esposito, native of Depew NY and chef/host of Ciao Italia with Mary Ann Esposito, America's longest-running television cooking series, has been asked to create a dish honoring Dr. Anthony Fauci, Director of the National Institute of Allergy and Infectious Diseases, for the National Italian American Foundation's (NIAF) 45th Anniversary Gala.
The NIAF's 2020 Leonardo da Vinci Award for Leadership in Health and Science will be presented live to Dr. Fauci during the virtual gala on Saturday, Oct. 31st.
Chef Esposito will share the tribute recipe – Fettucine Fauci ai Funghi Freschi – in a video during the gala's pre-show festivities, beginning at 6:30 p.m. Guests are then encouraged to make the dish at home. The recipe is available at ciaoitalia.com.
Chef Esposito will be joined on-screen by Dr. Fauci and other honorees and supporters including Leonardo DiCaprio, Robert De Niro, Martin Scorsese, Andrea Bocelli, Francis Ford Coppola, Tony Bennett, Al Pacino, Alan Alda, Michael Douglas, Patti LuPone, Isabella Rossellini, Mike Piazza, Franco Harris, and Frankie Valli.
Chef Esposito has been involved with NIAF for the past 15 years, promoting the history, recipes and joy of Italian regional food. Her fans can see her when she makes her triumphant return to Buffalo in Ciao Italia with Mary Ann Esposito Returns Home, which will be run by her alma mater, St. Mary's High School in Lancaster, NY. "Everyone at St Mary's is anticipating Mary Ann's return to the school for this event April 24 & 25, 2021," stated Mark Tramont VP of Institutional Advancement.  "This event will have Mary Ann on stage providing a cooking demonstration of a meal while a group of area chefs will be preparing that meal for the attendees. Afterwards entertainment will be provided by the Bobby Militello Quartet." Tickets and further details are available at smhlancers.org (this event will adhere to required social distancing protocol for everyone's safety and enjoyment).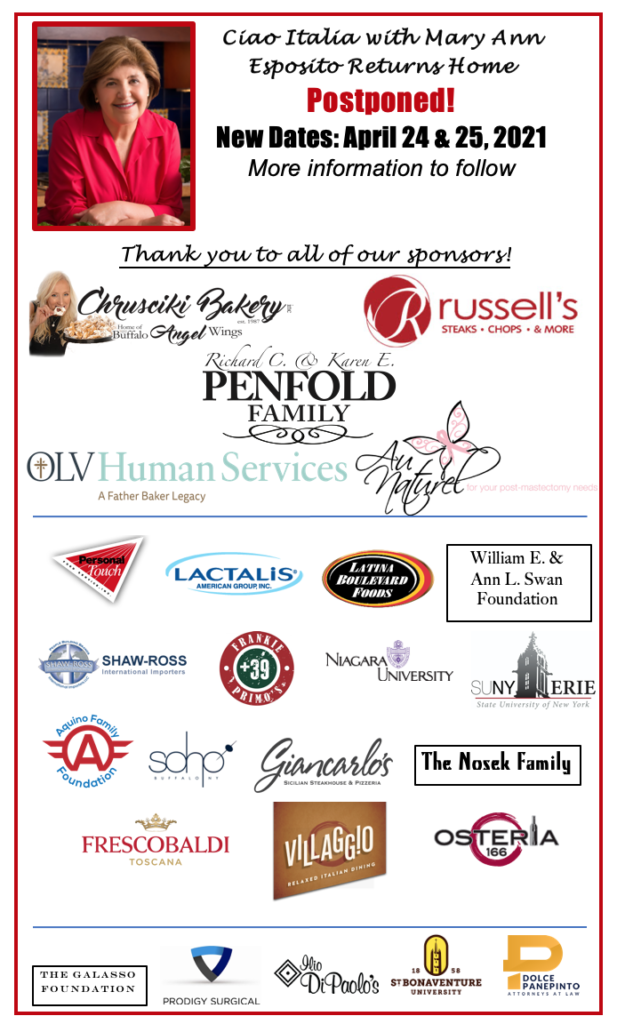 Chef Esposito grew up in Depew, NY, she and her husband, Dr. Guy Esposito, are graduates of St. Mary's High School, Lancaster class of 1960.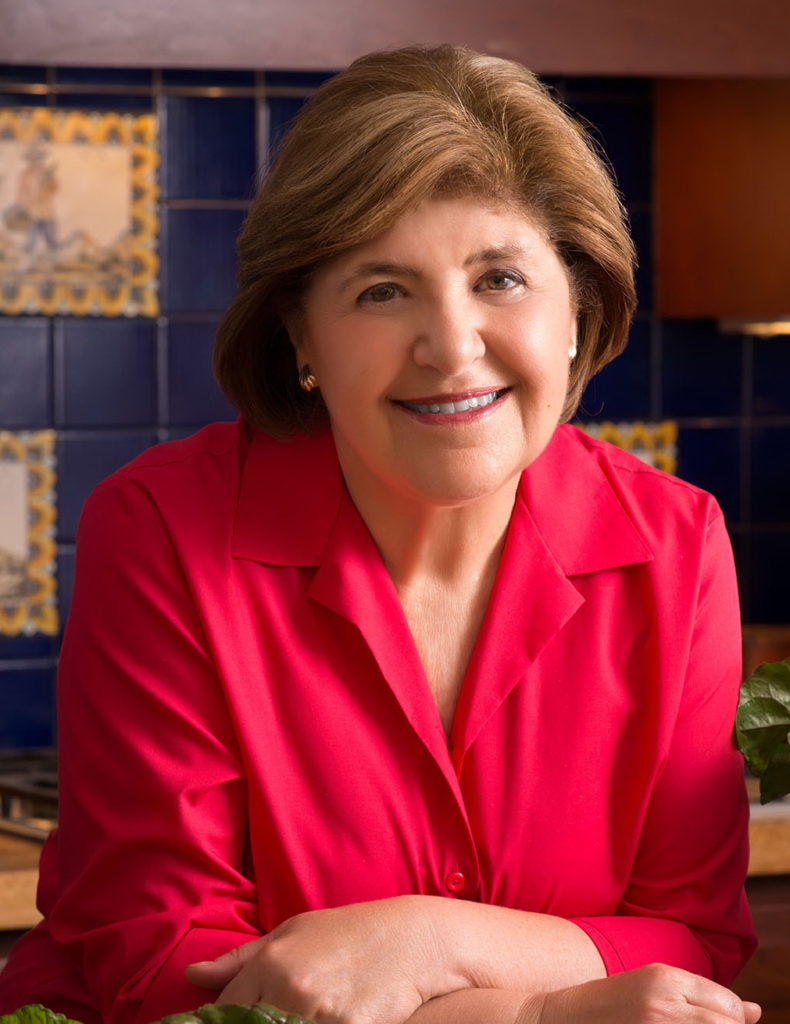 Ciao Italia has been aired on PBS for 30 years, making it the longest-running nationally televised cooking show today. In addition to PBS, Ciao Italia is now available on Amazon Prime Video. Mary Ann's recipe's are available in one of her 14 cookbooks including her latest Ciao Italia: My Lifelong Adventures in Italy. www.ciaoitalia.com
More about Mary Ann Esposito:
Mary Ann is a graduate of St. Mary's High School in Lancaster, NY, received her Bachelor's Degree from Rosary Hill College (Daemen College) and holds a Master's Degree from the University of New Hampshire. Johnson and Wales University presented Mary Ann with their Distinguished Author Award. St. Anselm College conferred an honorary doctorate for her dedication to teaching and preserving authentic Italian cuisine.
Numerous organizations have recognized Mary Ann for her efforts to preserve the traditions surrounding Italian regional food and culture. She received the Order of the Star of Italy Cavaliere award from the President of the Italian Republic as well as the Premio Artusi award for her work in promoting Italian food. The Italian Trade Commission further distinguished Mary Ann by naming her a Hall of Fame honoree. The Order Sons of Italy in America honored Mary Ann with a Lifetime Achievement Award in the Culinary & Cultural Arts of Italy award.
For more information regarding Mary Ann please contact:
Chris Esposito
chris@doverstrategygroup.com
St. Mary's High School, Lancaster, NY– Founded in 1904, St. Mary's has been preparing its students to achieve success for 116 years. A community of over 400 students and faculty, it continues a tradition of scholarship in the footsteps of countless alumni, parents, friends and supporters.
Today, we are proud to be a private, Catholic, college-preparatory school offering an outstanding education in a co-ed environment that mirrors the world in which we live. We are ranked #7 academically out of the 131 of Western New York high schools by Business First. Further to that, we are the highest-ranked private co-ed school in the ranking. Our curriculum is both cutting edge, with a one-to-one Google Chromebook program and significant investments in STEM, and still focused on traditional values and our Catholic faith. Our small size and breadth of extracurricular offerings, including more Varsity sports than any other Western New York Catholic high school, give every student an opportunity to become involved and grow as a leader.
All proceeds go to the St Mary's Scholarship Fund.