St. Mary's welcomed back some recent alumni to discuss their experiences about their college application processes and life on campus thus far in College 101 – A Panel Discussion.  The panel was also on hand to answer any questions from the audience, which consisted of current St. Mary's sophomores, juniors, and seniors along with their families.
The College 101 Panel is part of a series of efforts by St. Mary's to offer students different opportunities to learn more about life after graduation as early and as often as possible.  St. Mary's also offers a college tour program twice a year that invites students and their parents to tour 6-8 schools over a weekend in different parts of the country, where transportation and lodging are provided for a nominal fee.  For example, last year's fall tour visited schools along Interstate 90 West, including Ohio State University, University of Cincinnati, Xavier University, and University of Pittsburgh, among others.  St. Mary's also has a Director of College Counseling on staff who specializes in helping students through the rigorous college application process.  Throughout the year, college admission counselors from around the area are also available for small group meetings on the St. Mary's campus, and the school holds several college fairs for sophomores, juniors, and seniors.
Mr. Kelleher knows the importance of offering these types of programs for the families at St. Mary's: "At St. Mary's, we're constantly striving to open our students' eyes to different life experiences to really prepare them for college and beyond," Kelleher said. "We believe it is in everyone's best interests for our students to start thinking about college as soon as possible, so the admissions process as a whole doesn't seem so daunting to them.  We have the programs and staff in place to prepare our students to take that next step in their education, which is really what a college-preparatory school should be all about," Kelleher concluded.
The panel members consisted of eight St. Mary's graduates who are currently enrolled in some of the nation's top schools― local and across the country and large and small in terms of enrollment.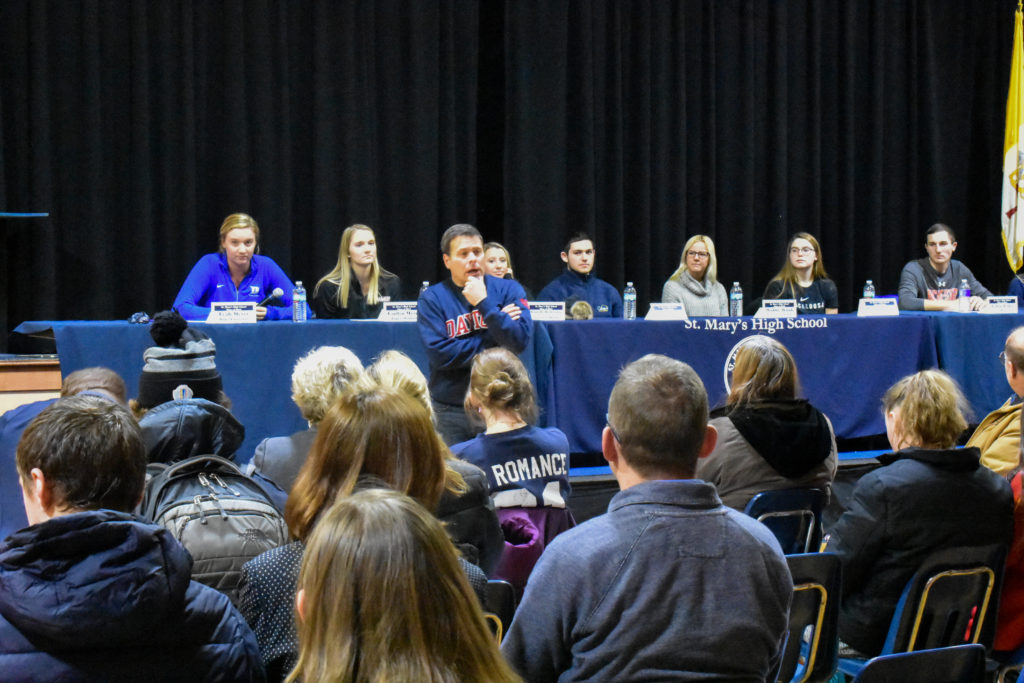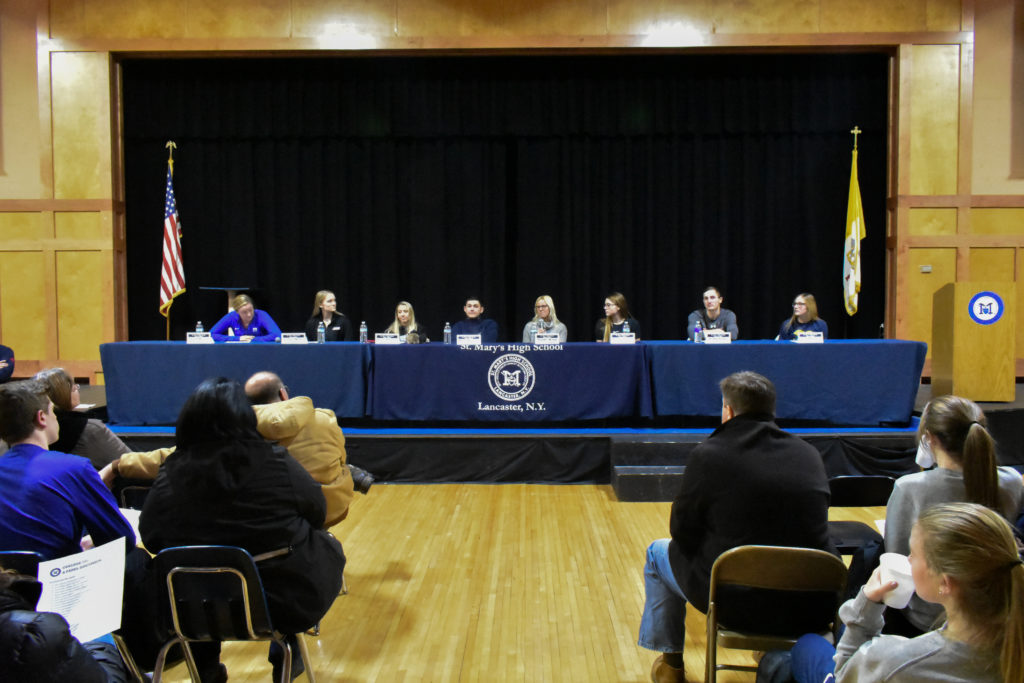 Pictured  from left to right are: Leah Meyer '15 (Duke University), Caitlyn Meyer '17 (James Madison University), Danielle Hockwater '16 (University at Buffalo), Brad Berchou '16 (Canisius College), Maddie Wnuk '16 (University at Buffalo), Kendra Ciezki '16 (University of Alabama), Collin Tytka '17 (Rochester Institute of Technology), and Erin Hufford '17 (Canisius College).