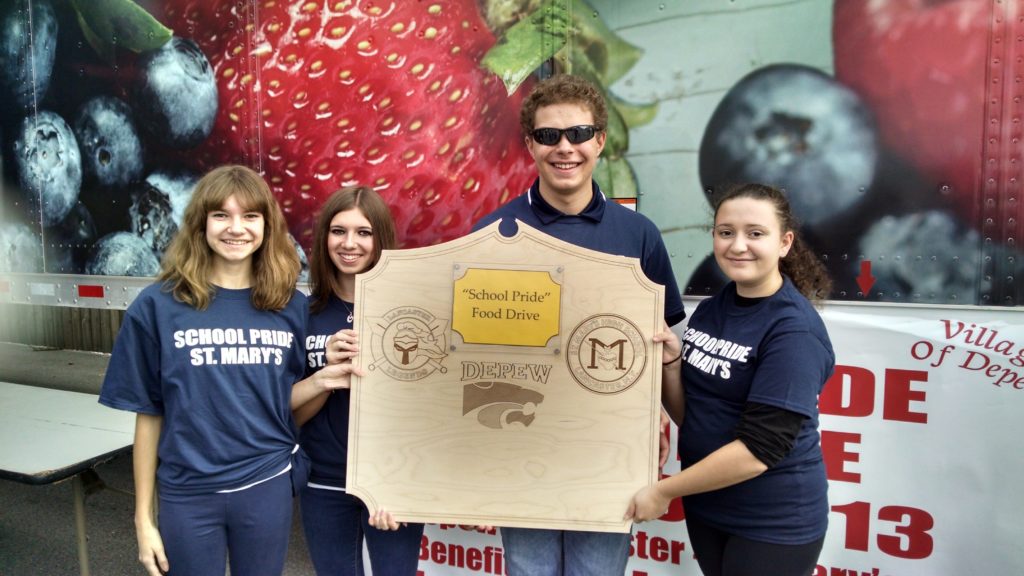 St. Mary's students (from left to right Alyssa Okon '21, Chelsea Okon '18, Andrew Wargo '18, and Emma Ridolfi '20) pose with the winning plaque.
Like The Little Engine that Could, St. Mary's High School came out on top of the Village of Depew and Tops Friendly Markets School Pride Food Drive.
The food drive, which ran from September 11 through October 13, involved three area schools – Lancaster High School, Depew High School, and St. Mary's High School – in an effort to donate non-perishable food items to three food pantries located in Depew – Tri-Community Food Pantry, St. Martha's Food Pantry, and Trinity Food Pantry. 
In addition to donating as much food as possible, there was a competition within the drive to see which school could bring in the most donated food items.  Given the sheer size difference among the public school giants Lancaster and Depew and the small, private St. Mary's, we went right to work devising plans on how to best get the entire student body involve through class competitions, where class that brought in the greatest amount of food got a free dress down day.  We also promoted the food drive through in-school announcements, in the Scoop, through our social media channels, and we held a dress down day on the last day of the drive, asking students to bring in at least one canned good for a final push.
Service to the community is really one of the pillars of St. Mary's.  Head of School Kevin Kelleher knew that despite the odds, his students would persevere: "The spirit of service in our hallways and then the action to carry out that spirit out is amazing." Kelleher said.  "We really stress how important giving back to the community is, so to see our kids come through in such a big way to help people literally in our own backyard is truly touching."
A press conference was held on October 14 to announce the winner of the School Pride Food Drive.  Student representatives from each school were present to hear the announcement.  Depew Trustee and the organizer of the entire food drive, Audrey Hamernik, declared St. Mary's the winner of the drive, awarding the school a beautiful, wooden plaque to display in the school for one year and a sponsored dance at a to-be-determined date. 
St. Mary's senior, Chelsea Okon was one of the student representatives at the press conference and was thrilled to be a part of the whole day: "Thank you to the Village of Depew and Tops for affording us the chance to participate in such a wonderful cause.  I know I speak for all Lancers when I say what a great feeling we've had over the last month," Okon said.  "To see the culmination of all of our donations, knowing we have helped provide meals for people in need that we might see on a daily basis – that's the real prize. The whole process has been so rewarding."