This year's Fall Play will be: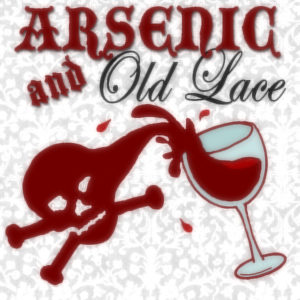 Photo credit: StageAgent
According to StageAgent, here's a look of what's in store when we meet Mortimer and his rather peculiar family:
Mortimer Brewster is living a happy life: he has a steady job at a prominent New York newspaper, he's just become engaged, and he gets to visit his sweet spinster aunts to announce the engagement. Mortimer always knew that his family had a bit of a mad gene -- his brother believes himself to be Teddy Roosevelt and his great-grandfather used to scalp Indians for pleasure -- but his world is turned upside down when he realizes that his dear aunts have been poisoning lonely old men for years! When Mortimer's maniacal brother, Jonathan. (who strangely now resembles Boris Karloff) returns on the night that the aunts were planning to bury the newest victim, Mortimer must rally to help his aunts and protect his fiancé -- all while trying to keep his own sanity. as well. An uproarious farce on plays involving murder, Arsenic and Old Lace has become a favorite amongst regional theaters throughout America.

Read more here.
Auditions will be held in The Gus after school on Thursday, September 14, with callbacks the following day, Friday, September 15.
We can't wait for what will surely be another amazing performance in from the Performing Arts Department!
9/18/17- The Cast List has been announced for the Fall Play this week.  Here are your leads for Arsenic and Old Lace:
Abby Brewster- Stephanie Baran
Teddy Brewster- Scott Brown
Martha Brewster- Molly Callahan
Officer Brophy- Andrew Domros
Mr. Gibbs- Jacob Fay
Mortimer Brewster- Joe Flading
Officer Kline- Julia Hartloff
Elaine Harper- Mackenzie Kwilos 
Dr. Einstein- Vincenza LaMagna
Rev. Dr. Harper- Joe Lebron
Mrs. Witherspoon- Riley O'Malley
Officer O'Hara- Kylie Wagner
Jonathan Brewster- Matthew Walter
Lieutenant Rooney- Jeff Zoyhofski
Student Directors/Understudy- Brianna Propis and Madison Meredith